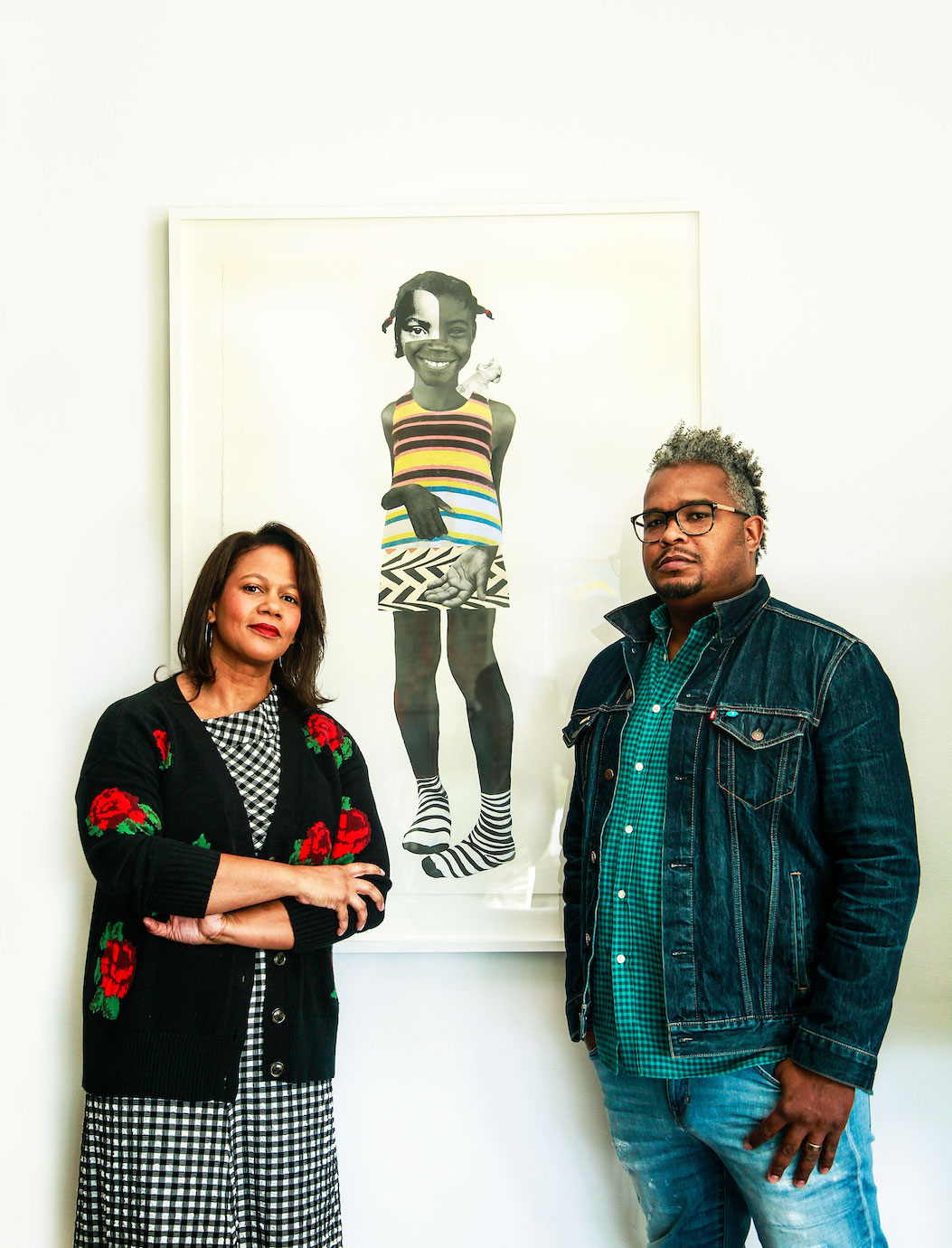 "It takes a lot to make a film or a television show,"says music publishing and talent management entrepreneur Ric Whitney, during a conversation comparing the art and entertainment industries. "There are a lot of voices involved. Art, on the other hand, is often very individualistic, uniquely personal. One of the things about contemporary art that makes it really interesting is that somewhere along the line, an individual made something with their hands that expressed a moment—and we need people to do that." Ric sits alongside his wife, Tina Perry-Whitney, the general manager of the Oprah Winfrey Network. The pair share a love of art and style that has taken them across the globe on a mission to adorn their sophisticated Hollywood Hills home.
Ric and Tina aren't your average art collectors. African-American and in their early 40s, they have a keen interest in contemporary and conceptual work from artists of diverse backgrounds, and their mindful patronage is exactly what the Los Angeles scene needs right now. "We collect everything from painting to sculpture to mixed media, installation and photography, all created by individuals who are both established and well-known and artists who are emerging and are perhaps lesser-known," says Ric. "One common denominator is that every artist is creating interesting, contemporary, conversational works that are true to their practice," adds Tina.
The wide range of artists and mediums in their collection has sparked many conversations with visitors to their home about style, meaning and even appraisal value—though Ric and Tina aren't so much interested in flipping art or attaching themselves to trends. Instead, they are attracted to artists and art that move them, and are primarily focused on establishing an intimacy with artists that engenders an altruistic approach to artist development and patronage. "We both work in creative fields, and we live with artwork because it fuels us every day," says Tina.
"We have a very strong African-American artist base, but we collect across all races, ethnicities, genders and sexualities," she goes on. "We've been collecting for about six years, so it's interesting to look at the world and our country during that period, and see how the work we're collecting reflects a time which has been tumultuous and complicated for identity, racial and social politics." A penchant for social commentary and activism is apparent in the collection. Some of the couple's early acquisitions include works by Charles Gaines, who is known for his conceptual and abstract assessments of race and politics. Other early purchases of work by emerging artists Samuel Levi Jones and Brenna Youngblood truly sparked their collector bug.
Like the cerebral work of Gaines, Jones and Youngblood, much of the couple's collection requires some degree of unpacking. The thought-provoking collage imagery by Deborah Roberts challenges and celebrates aesthetic notions of African-American girls, while the sculptural work of Lorna Williams examines deconstruction and reconfiguration. There is also a striking painting from the 1980s by long-standing LA artist Joe Ray, as well as a substantially-sized conceptual work by Jamal Cyrus, winner of Art Basel's BMW Art Journey Award in 2018. A 7-foot-tall sculptural piece by Aaron Fowler, which stands prominently in the kitchen with text reading "I Don't Deserve It But He Keeps Blessing Me," is arresting in its medium, messaging and sentiment.
"A lot of our sensibility, our taste and our collection is driven by the idea that it's not about looking at something immediately and understanding exactly what the core is," says Ric. "There's a misconception that LA is shiny; it's Hollywood; it's glitz and glamour," he continues. "But when it comes to art, it's not all shiny. There are some extraordinarily thoughtful artists creating amazing work out of LA, and we happen to be here at this moment."