This year, visitors returned to Miami's Ice Palace studios for the 20th edition of NADA Miami. Two decades into the boundary-breaking fair's tenure, it's hard not to marvel at the numbers: 146 exhibitors (up from barely 50 in its founding year) from more than 40 cities fill the Miami film studio, each with a distinctive approach to overhauling the outdated standards of art selling and exhibition. But it's even more striking to reflect on what the New Art Dealers Alliance, a nonprofit founded in resistance to this antagonistic paradigm, has managed to accomplish. With top-notch contemporary programming and a bent for ethical art-dealing practices, NADA has established a powerful network of independent for- and not-for-profit galleries that has attracted the attention of an ever-growing number of influential international collectors. Here, CULTURED breaks down the highlights from the fair's momentous and cutting-edge anniversary offering.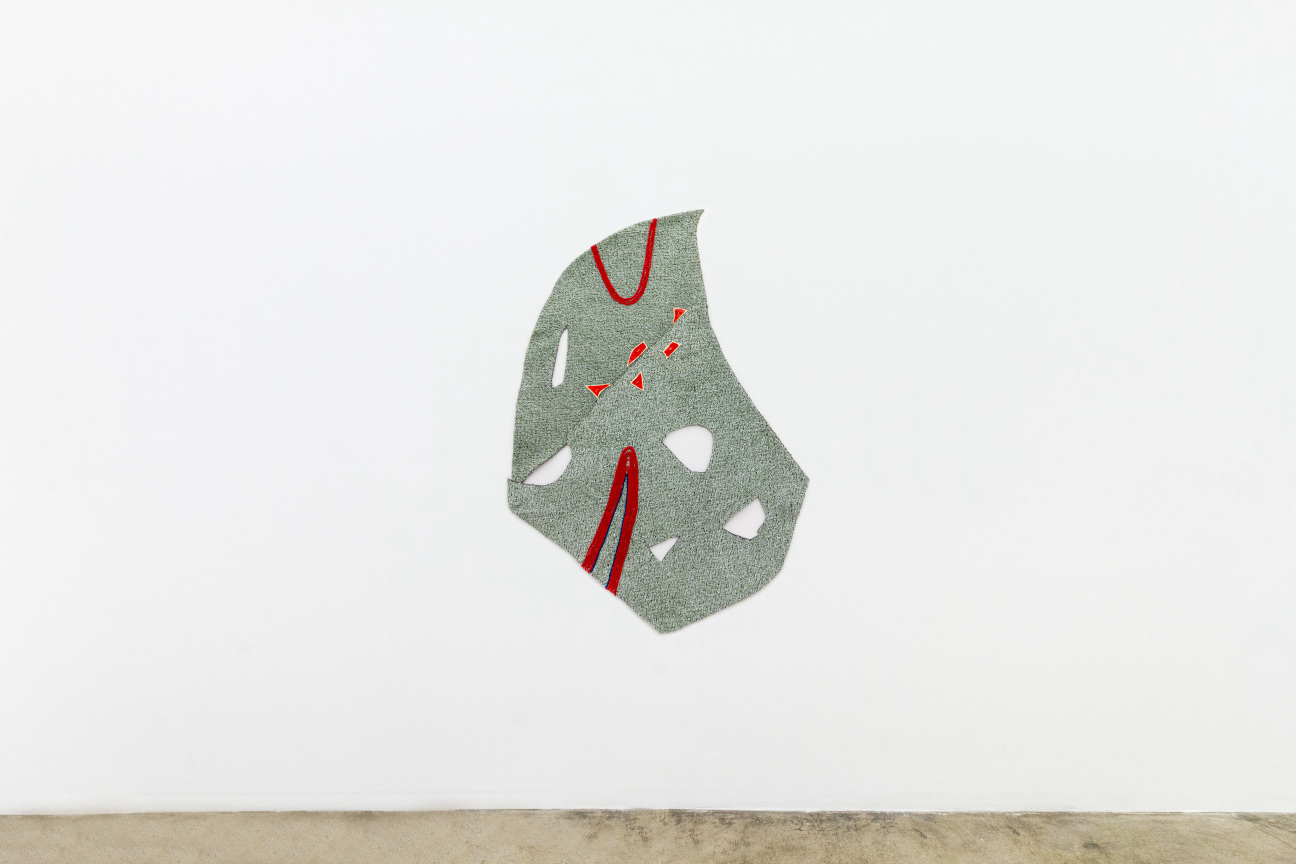 Teresa Baker
De Boer, Los Angeles
Given that Teresa Baker's practice is guided by a fixation on natural landscapes, the prevalence of astroturf in her wall-hung assemblages may seem counterintuitive. But when one considers that it is precisely this artificiality that makes the material both ripe for repurposing and a resilient canvas for other materials, a new set of dialogues make themselves known in her works. "I'm interested in bringing this traditional material that's been used in very particular ways throughout my cultural history, and bringing it into these abstract pieces that I'm creating. I'm giving it life in a new way," the Los Angeles-based artist explains.
Through a layering of textiles, yarn, and spray paint, Baker's "intuitive" practice draws from her immediate surroundings and the symbolism of her own Mandan and Hidatsa tribes for inspiration. Indeed, the series on view at De Boer's booth was partly made during a recent residency on Fogo Island in Newfoundland, a landscape reflected in the works, while materials including willow and tanned animal hides draw on the artist's heritage. While the "relationships" between this clash of assembled materials "are a little fragile," Baker asserts that it's the act of "exploring that fragility" that motivates her, adding: "That speaks to life!"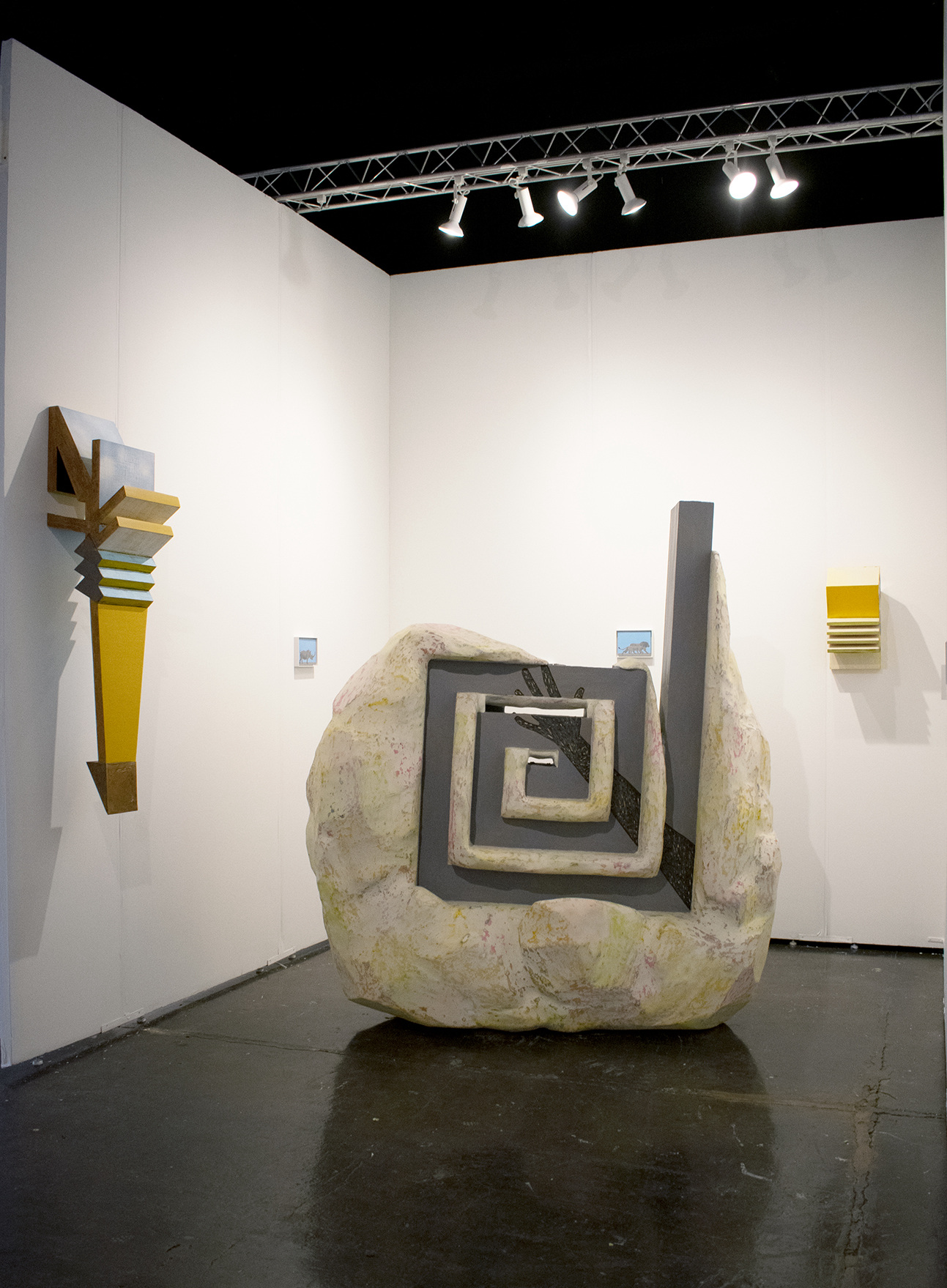 Sarah Tortora
Ulterior Gallery, New York City
A monumental plywood-and-cement sculpture by Sarah Tortora towers over viewers that venture into Ulterior Gallery's booth. Her Excalibur (Double Helix), 2022, a towering monolith that reaches nearly 7-feet tall and 6-feet wide, depicts an epic gypsum concrete-and-cement-fabricated rock formation spiraling around the silhouette of an arm. While the work began as an allegory to the ubiquitous "sword in the stone" myth, it took on a life of its own in a way that surprised the New York-based artist: "The 'stone' itself began to resemble a second spiral. Interlocking spirals made me think of the double helix of DNA," she says, nodding to the piece's two-part title. "For me, all materials—whether gypsum cement…[or] human DNA—are inextricable from one another. I prefer to consider consciousness itself another 'material,' a spirit that is inextricable from the body."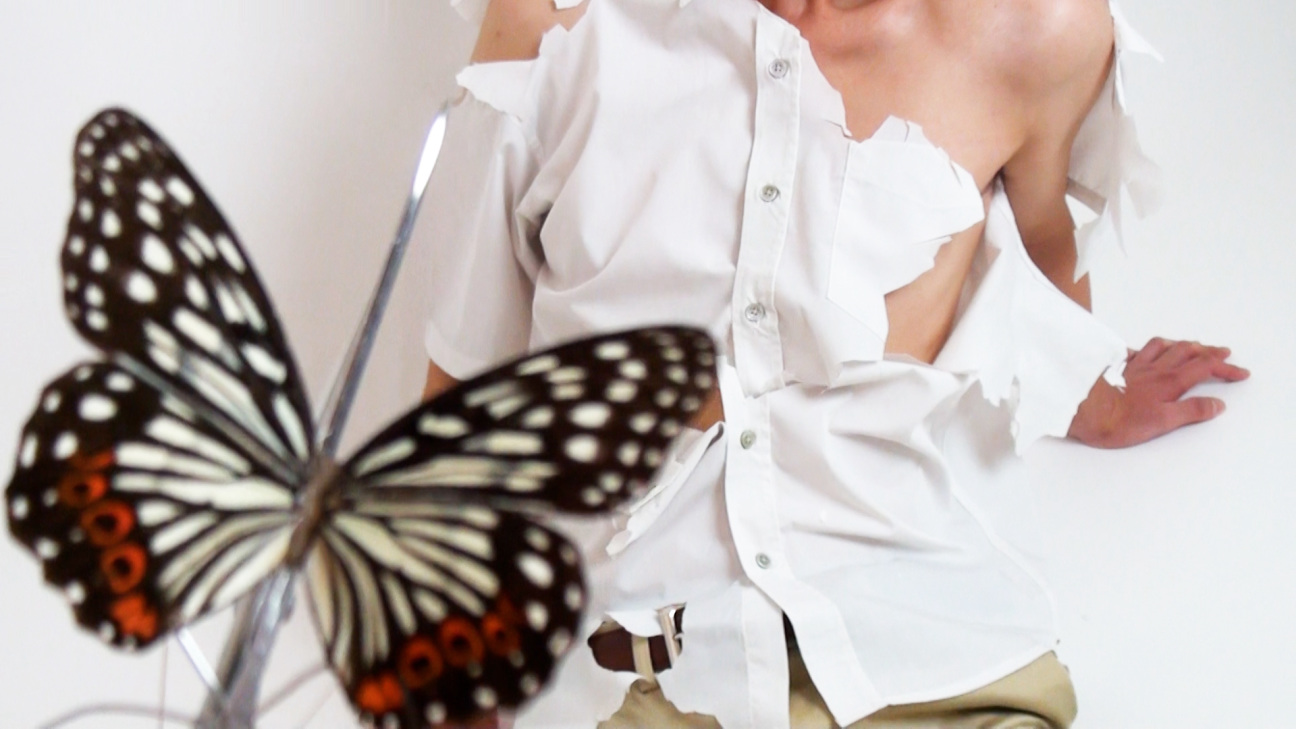 Fuyuhiko Takata
Waiting Room, Tokyo
Hiroshima-born video and performance artist Fuyuhiko Takata makes his U.S. debut at NADA with a solo booth at Waiting Room. The artist's practice, built on ethereal video works that conjure the narrative incongruity and uncanny symbolism of dreams, often draws directly on cross-cultural philosophy and myth. The results are mesmerizing and unsettling—Takata's elaborately-crafted props, costumes, and set designs manage to capture the elusive ambiance of dreamscapes on film.
Among several older works on view is the never-before exhibited The Butterfly Dream, 2022. The four-and-a-half minute sequence centers on a young man who dreams of cutting his own clothes off with a pair of butterfly-adorned scissors, the wings of which flap in hypnotically intimate detail as the scissors open and close. While Takata names Yoko Ono's iconic Cut Piece, 1964, as an influence, the broader inspiration is an East Asian fable, he explains, "about a man who takes a nap and transforms into a butterfly in his dream. I felt a certain erotic attraction to this story's aesthetic atmosphere since I was a child, which led me to this work." And why the scissors? "The combination was totally intuitive. It's my work to make sure I don't miss the poetic ideas that come along from time to time."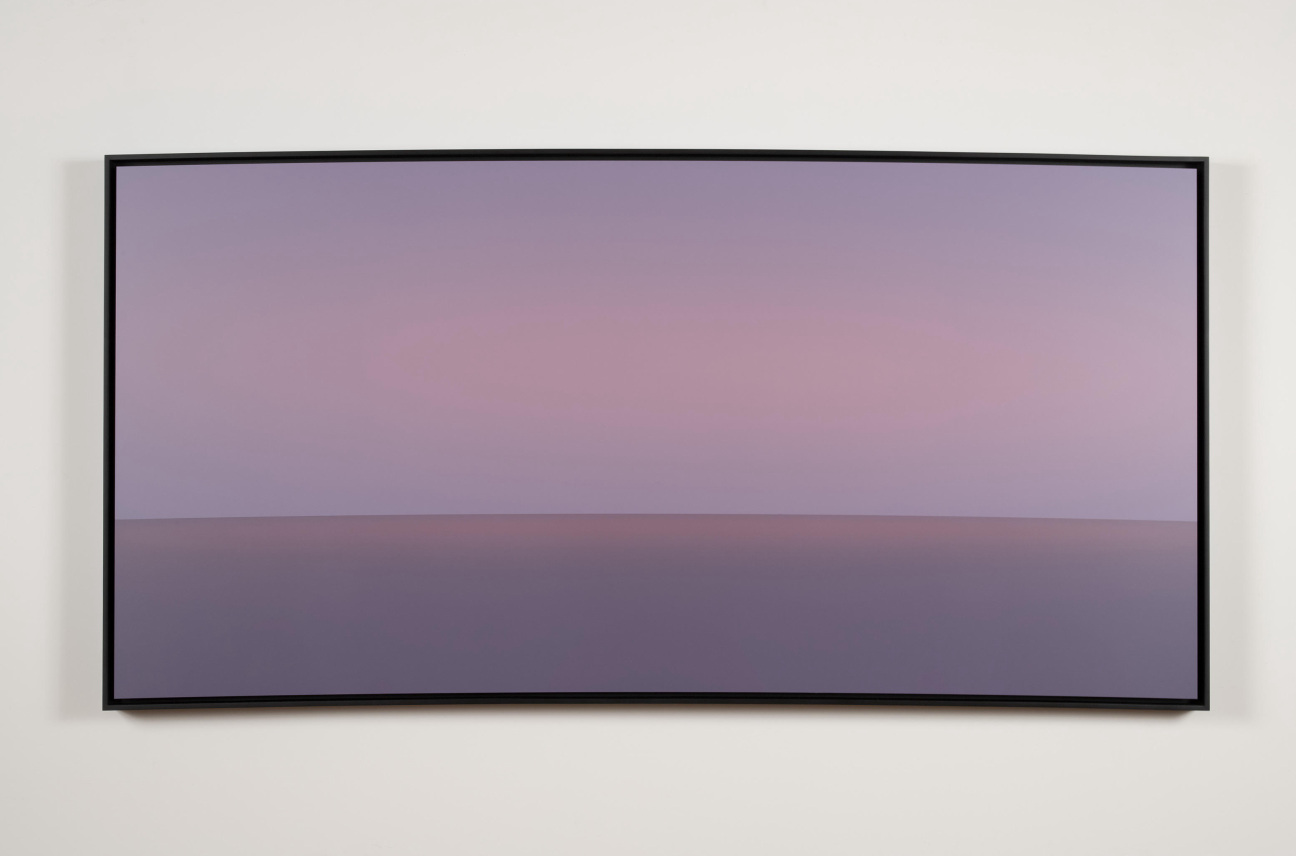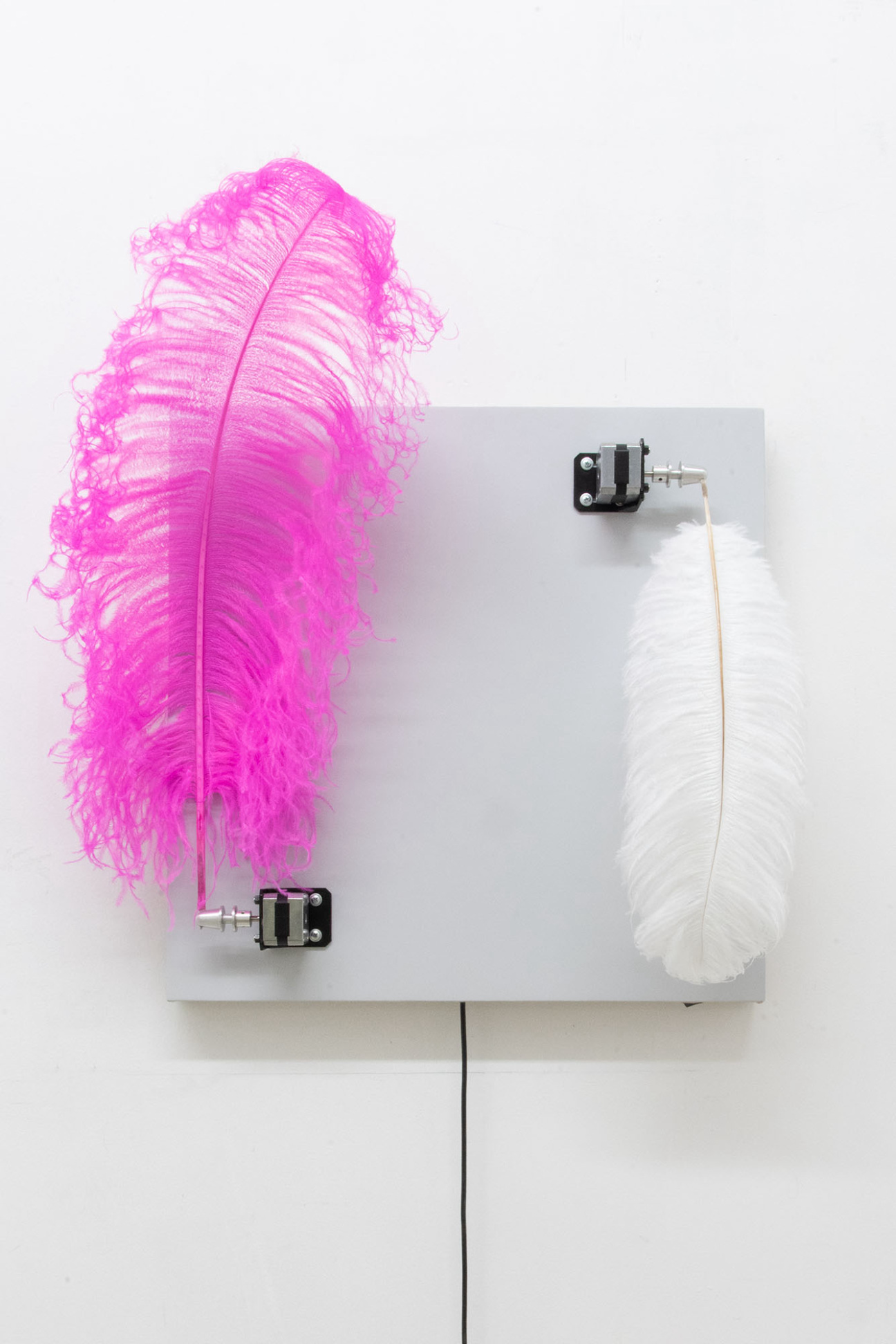 Craig Kalpakjian and Robert Sandler
Kai Matsumiya, New York
"Imperfect minimalism" is how the gallerist Kai Matsumiya characterizes his presentation of wall-based works from Craig Kalpakjian, Jessica Wilson, Robert Sandler, and Pedro Wirz. Cases in point are the three Kalpakjian canvases which, in their simple geometry and sunset-like hues, evoke barren landscapes. "When we're looking at gradations, we typically go from dark to light, or light to dark," Matsumiya explains, gesturing toward Natural Beauty #GJER&5UVeXBF7zF05, 2021. "But everything's wrong about this piece. The framing is curved, it's heat-pressed. It's kind of splotchy, in fact," he muses. And yet, "the accumulated imperfections have a certain comforting effect." In addition, a pair of mechanized wall sculptures from Sandler's "Walk This Way" series feature little beyond ostrich feathers affixed to small motors—yet from this, hints of a narrative emerge. In one, a trio of magenta feathers on a blush-tone backdrop bend, snap, and tremble, an austere nod to a burlesque tease. In the other, an orange plume mounted on a white board alternately droops and perks up—a pattern which, Matsumiya confirms, is in fact "quite naughty."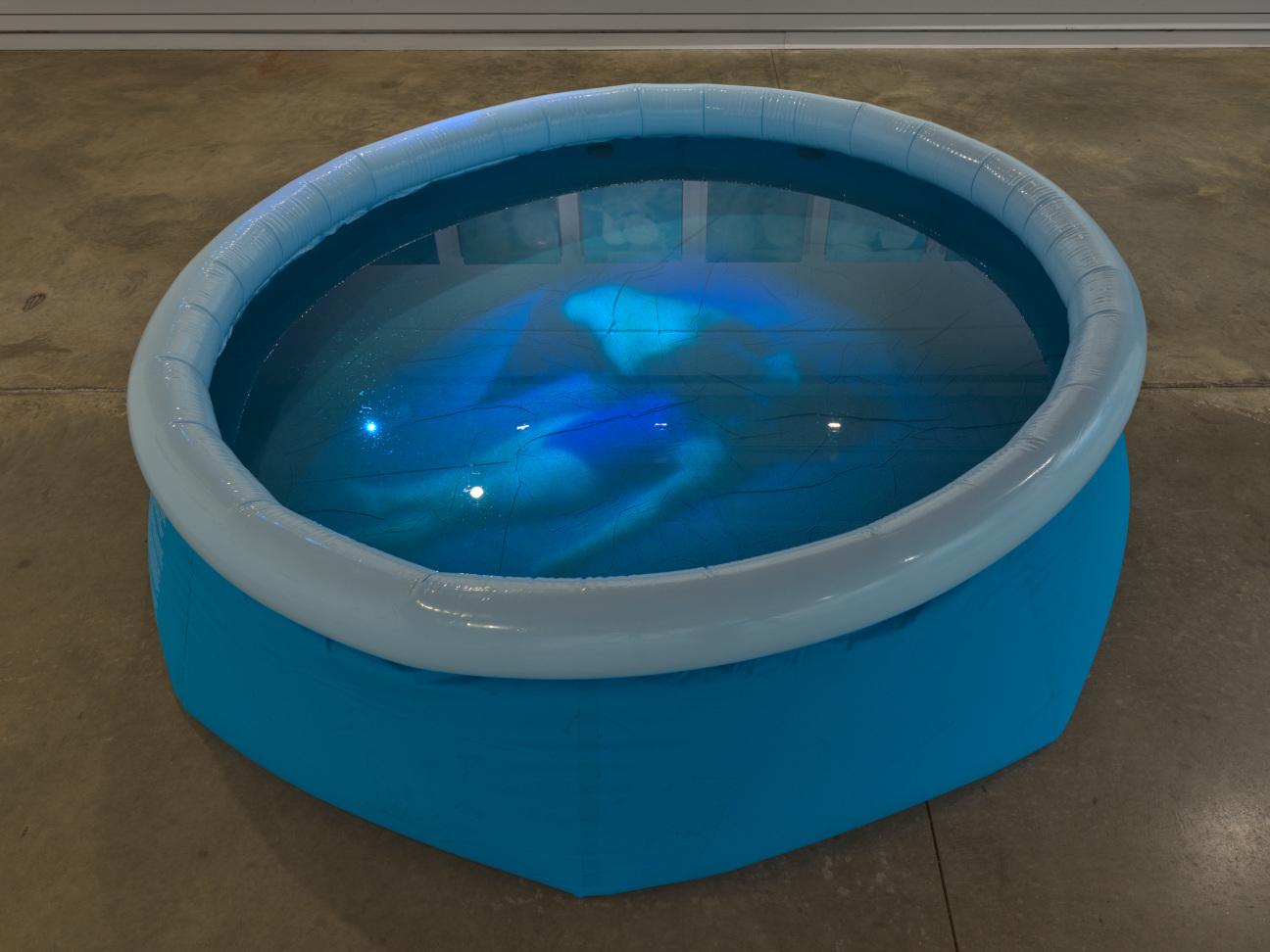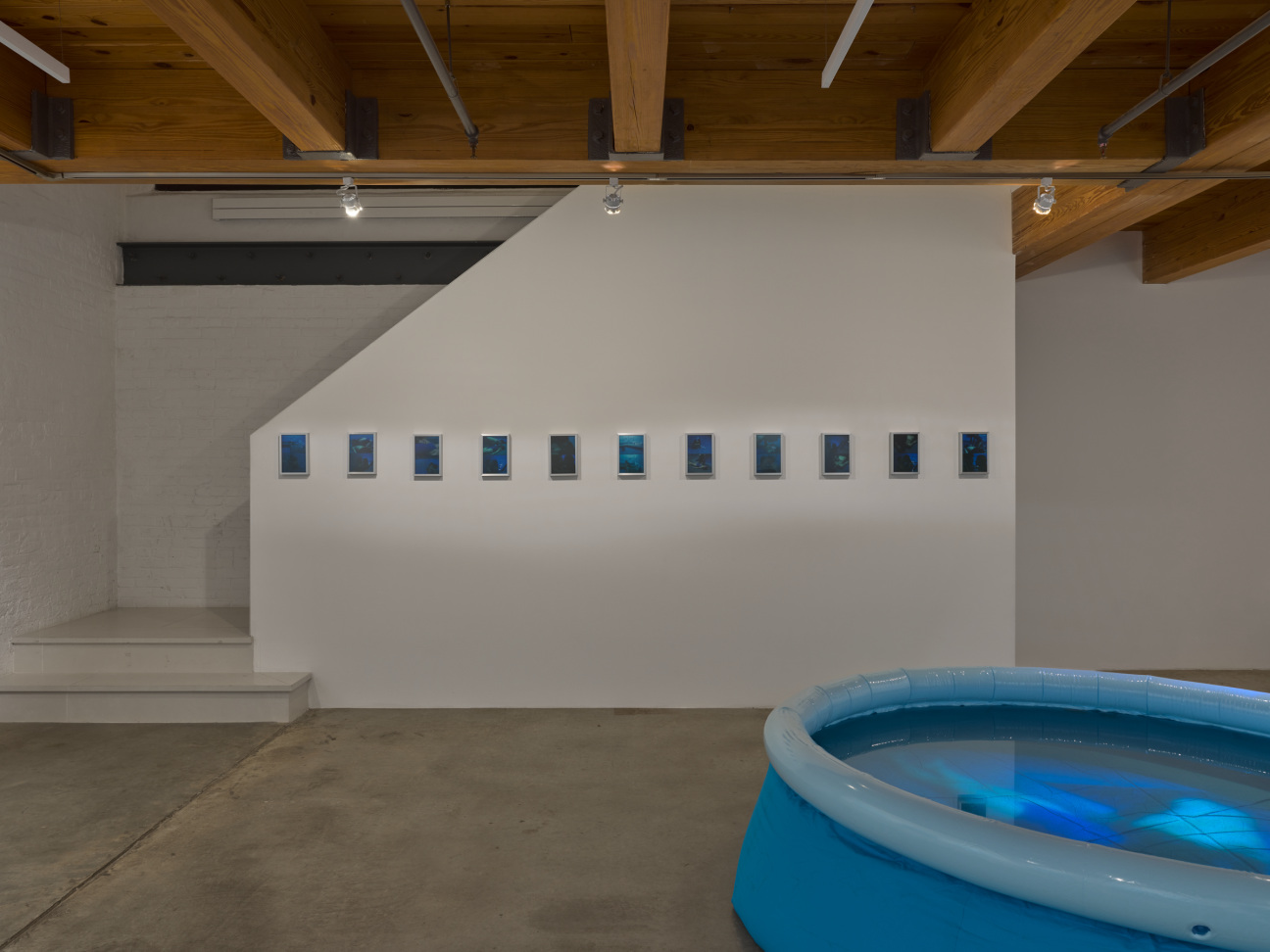 Cristine Brache, Elliot Reed, Jesse Gouveia, Stefan Hoza, and Gaby Collins-Fernández
Anonymous Gallery, New York City
When it comes to planning a group exhibition, the director K.O. Nnamdie asserts that it's crucial to conjure the feeling that is most often missing from art fair presentations: "We came to the word 'intimacy,'" he says.
The offering at Anonymous is just that. Themes of family and "chosen family" thread their way through works spanning photography and painting. "Some artists are focusing on communities, or they're focusing on friends. Some artists are focusing on their actual family, and the trauma that has happened through that construct," he continues. One standout example was Cristine Brache's splashy multimedia installation titled Goodnight Sweet Thang, 2022. A water-filled kiddie pool serves as the backdrop onto which is projected a Super 8 video that flits between scenes of a happily frolicking couple and the same couple performing CPR on eachother. For Nnamdie, Brache touches on the "trauma that happens in relationships, and…wanting to preserve something."
Some works critique a society-wide lack of intimacy, like the reflective aluminum canvas from CULTURED Young Artist alum Elliot Reed's minimalist text-driven Placeholder Series. Created in 2020, it features a bright red backdrop emblazoned with the word "nudity" in the same bloody hue, rendering the text nearly illegible to the eye. For Reed, this perception operates as a metaphor for the hidden messages embedded in contemporary media, the ephemerality of newsworthiness, and the commercialization of individual trauma through its transformation into digestible hashtags. "It's really this feeling of being invisible in plain sight," Nnamdie says. Others conjure intimacy through a mix of nostalgia and angst, like those of the photographer Jesse Gouveia. In one image, a young man puts away his white socks, mining the tender vein of the coming-of-age narrative. "So what you have in the presentation," the gallerist explains, "is a myriad of different experiences that are not unique at all. They're all universal moments of being intimate—or attempting to be intimate."
NADA is open to the public until December 3, 2022 at Ice Palace Studios in Miami.