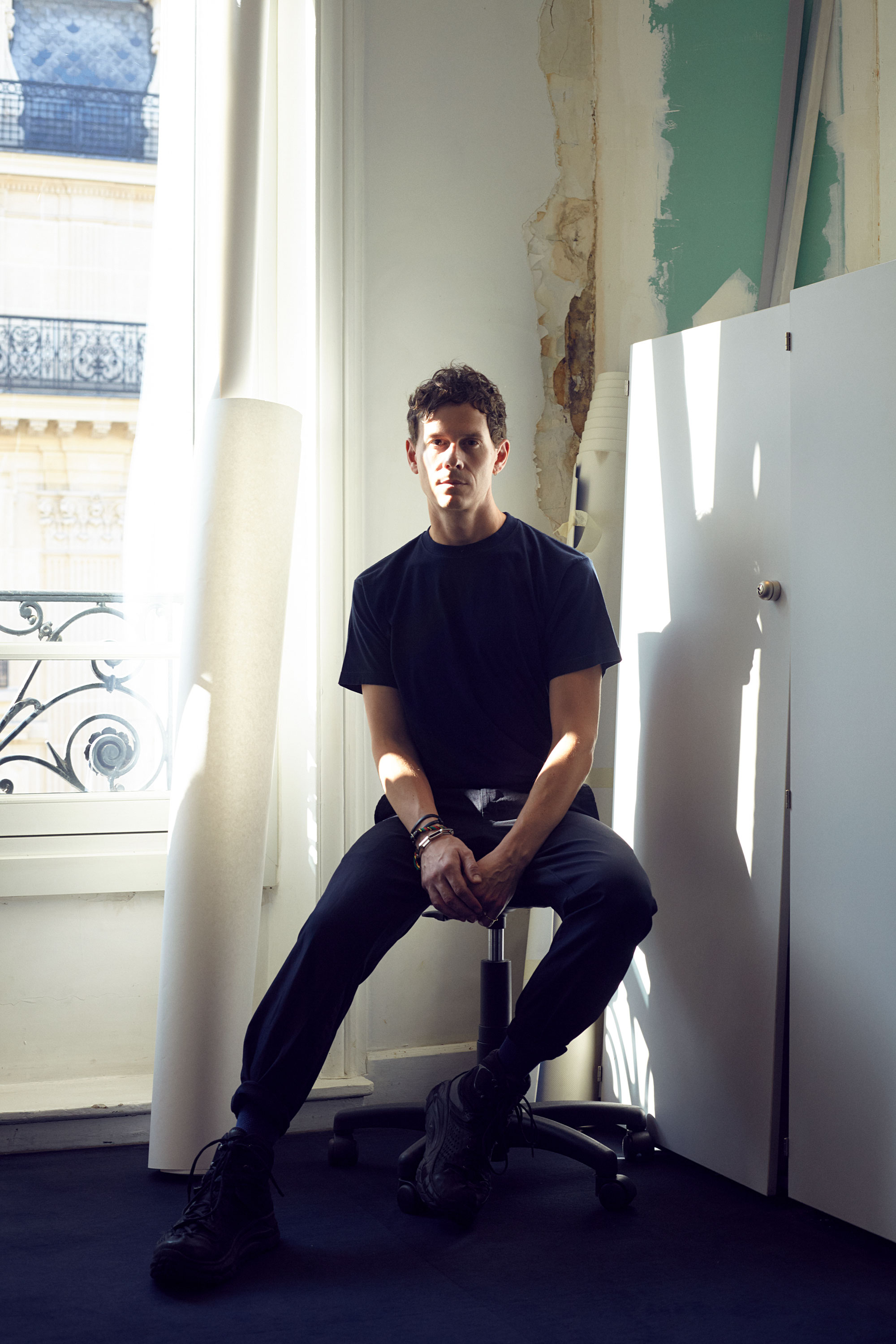 "I don't have one muse, and I don't believe in just one kind of woman," Casey Cadwallader, 38, says during a call on a Friday morning in late July. "What I did was put a bunch of women together in a space to do a photoshoot, but what I was dreaming about was what they were going to talk about together," he adds. The models in Mugler's Fall 2018 collection—Cadwallader's big moment as the brand's newly appointed artistic director—included new influencers like the queer Dominican-American, New Jersey-bred rapper 070 Shake and non- binary French DJ Dustin Muchuvitz, alongside alums of the house Debra Shaw and Amy Wesson.
In Cadwallader's 25-piece capsule collection, Shaw wears a mock neck asymmetrical coral gown with delicate draping, 070 Shake models a cropped black leather biker jacket and Wesson stuns in a sculptural black suit with deep-flared trousers. Other notable pieces include streetwear and denim elements, oversized cinched jackets, high-waisted velvet pants and a red belted patent leather coat. "Instead of doing a capsule with inward-facing, I could've done a project about a certain kind of dress and done it 25 different ways. Instead I did outward-facing, where I imagine representing a bunch of different things I wanted in the collection later." Cadwallader adds, "Whether that is leather, structured tailoring, sculptural tailoring or very complicated fluid dresses. Maybe that one pink dress will have four babies the next season, and that one structured jacket will have its own range."
Cadwallader's appointment at Mugler was announced in December 2017. The artistic director stepped into the role previously held by David Koma, who after four years left to focus on his namesake brand, and Nicola Formichetti, Mugler's inaugural artistic director who was helming Diesel before stepping down late last year. Cadwallader's fashion pedigree is both bonafide and particular, with a degree in architecture from Cornell and an internship for Marc Jacobs that drove him into fashion. Previous stints at TSE, Narciso Rodriguez, Loewe, J. Mendel and serving as Acne Studio's design director demonstrate his adaptability and range to work for distinct fashion brands.
Both Cadwallader's Fall 2018 and Resort 2019 collections palpably evoke those of Thierry Mugler, with bodycon staples and powerful suiting filtered here through a technological contemporary lens. A fashion titan of the '80s and '90s, Mugler's fantastical and surreal designs defined '80s maximalism with cinched waists, soaring shoulder pads and pure sex on the runway. In the '90s, Mugler—who remains creatively active— embedded himself in pop culture, directing the original cut to George Michael's "Too Funky" music video and dressing Demi Moore in the now- iconic black gown for Indecent Proposal.
"I tried to make a connection back to the spirit of Mr. Mugler, though I'm very different from him," says Cadwallader. "We have different passions, but we have many things in common: architecture, sculpture, form, a love of women."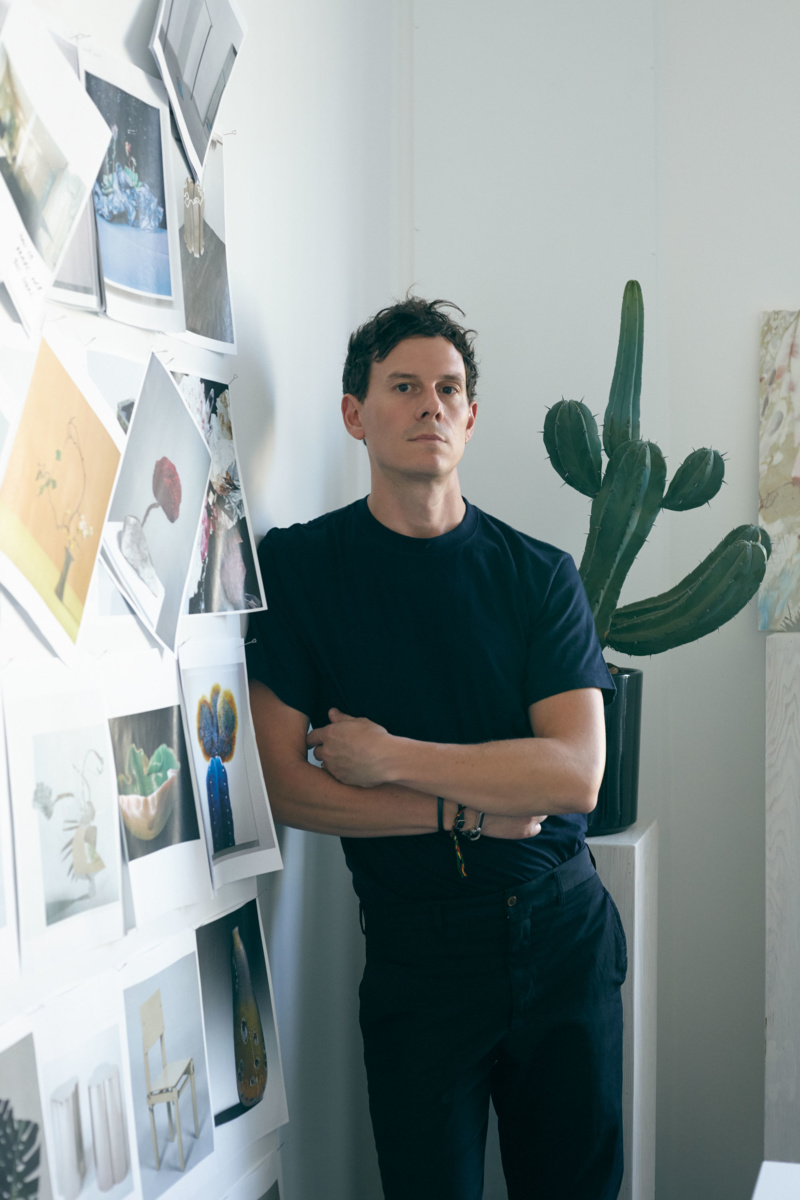 Wandering through the recent Camille Henrot exhibition at Palais de Tokyo, Cadwallader walked straight into a sculpture by British artist Samara Scott. At the time, Cadwallader was already thinking about making transparent trench coats with the interior printed or hand-painted, and the seeds of a collaboration were planted. "This woman has the most insane sense of texture and color," Cadwallader says of the Glasgow-based artist. "Working with Samara is very exciting for me because it's really about letting a project take its own shape. We pushed each other to make these trench coats with all of her crazy materials vacuum-sealed into this ultrasonically-welded, double-layered PVC." Two of the coats the duo designed made it into the debut Fall 2018 collection—the one modeled by Wesson is a wearable piece of art akin to Scott's kaleidoscopic visual compositions of debris and everyday objects. Cadwallader and Scott work organically, with no expected rollout of pieces per season, debuting whatever works and feels right as a collection approaches. More coats along with "stretchy and sexy" pieces are in the works for Spring 2019.
In just six months at Mugler, Cadwallader has already made his mark at the house and beyond. In May 2018, the team was in the midst of Resort 2019 week when the designer was asked to submit sketches for Beyoncé's On the Run II tour. The entire team switched gears to "Beyoncé week," creating five complete looks—three of which the pop icon wore on stops in London, Cardiff and Paris, where she was in head-to-toe leopard with a wide-brimmed hat, jacket and bodysuit.
As Dan Thawley, editor-in-chief of A Magazine Curated By, explains it, "Before even putting on a runway show, Casey has been able to express his far-reaching vision for Mugler, which is less about riffing off vintage silhouettes and more about considering the radicalism that Thierry Mugler brought to fashion in the '80s. Casey is thinking about different body shapes, about technical finishing and new ways of mixing fabrications. His idea of the Mugler woman is more about the Mugler person, or the kind of individual that can embody a Mugler personality."
"What I'm trying to do is to continue refining my formula—how much of it has to do with tailoring, fluidity, art and material innovation," explains Cadwallader. "The most important thing for me is sculptural tailoring, and that really comes from my architectural interpretation of form-making, which is inspired by Mr. Mugler's own hyperarchitectural form-making. That's one of the things I want the house to be most known for."
Craving more culture? Sign up to receive the Cultured newsletter, a biweekly guide to what's new and what's next in art, architecture, design and more