Liberation of the female form and reemergence into the outside world are both complex topics, but Lauren Taschen aims to tackle both in her newest exhibit "BodyLand." The thread that holds the collection together is all that is natural: the body and the land. To make this high-brow concept tangible, Taschen brought together an impressive roster of contemporary artists, including Ariana Papademetropoulos, Eleanor Swordy, Sarah Cunningham, Karon Davis, and Vanessa Beecroft. "This group of mostly young and mostly female artists are united in the consistency of the interest, and they afford aspects of their relationship with nature and landscape as well as their relationship to the female body in their artistic practice," she says. This month, the results of their labor are on display at Berlin's Galerie Max Hetzler.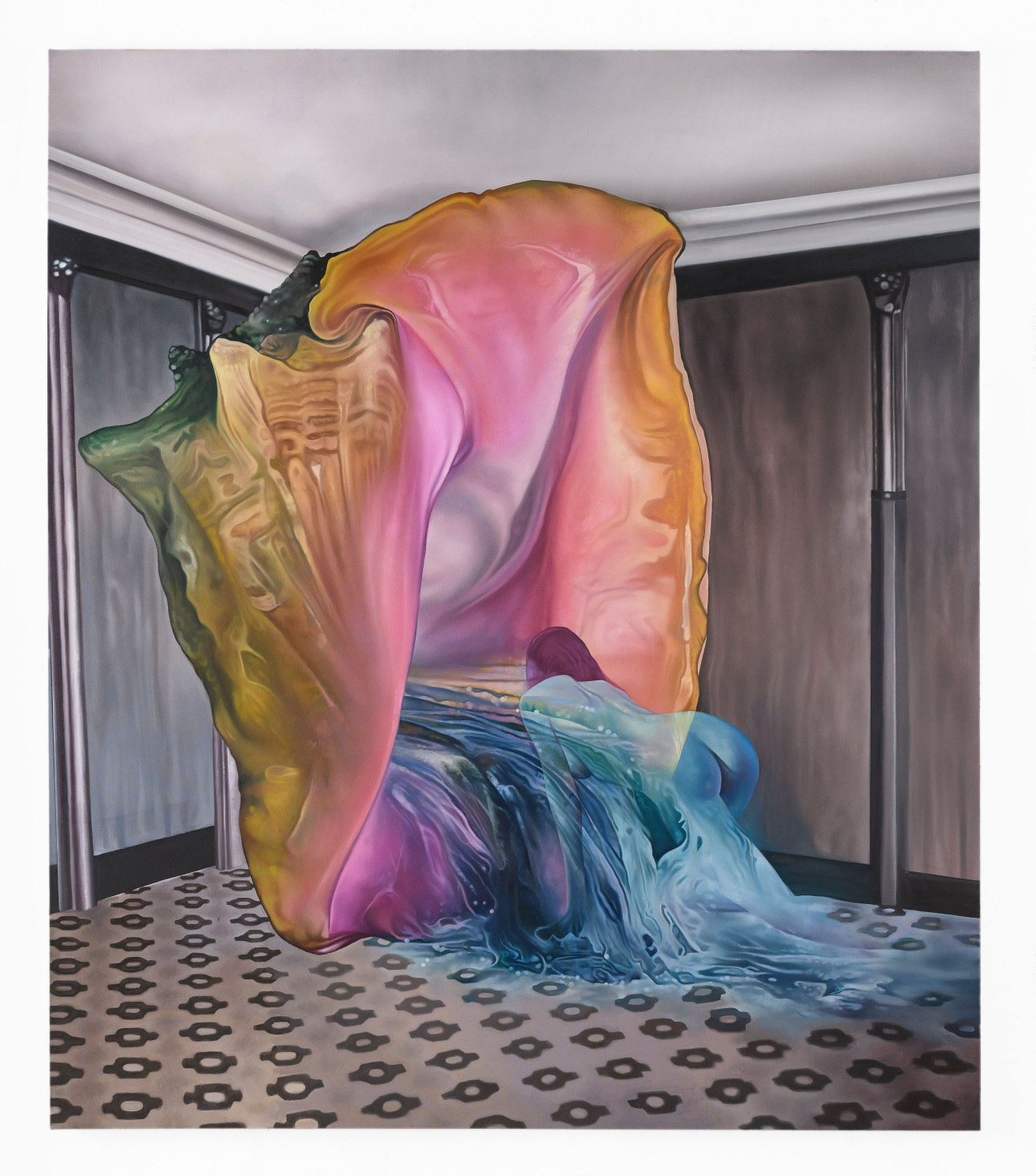 The show aims to recontextualize our relationship with the earth, eschewing masculine depictions of conquerers, male artists appropriating the female form, and the sublimation of nature to industry. Instead, Taschen gives audiences a vision of harmony with the earth, all in the feminine tradition of mother nature. "The artists in this exhibition share a deep understanding of Mother Nature, the environment and the earth. In their work, we find safe spaces, such as the shell or the snails's shell, showing nature as a place of home, shelter, but also as a sexual place," she says. "The self-reflective female gaze at the female body renders it both more tender and more intimate than the appraising male gaze." Vibrant uses of color, and modern interpretations of figure drawing, come at a time when women's bodily autonomy has come into question (most recently with the repeal of Roe v. Wade). In that light, having female artists paint their own portraits is in itself a radical act.
Other works in the exhibit explore interior spaces, highlighting the past couple years spent indoors and the pull many felt to get their feet planted back on fertile ground. These works additionally seek to reclaim the domestic sphere, once a site of restriction for women, as an avenue for personal and artistic liberation. If stuck at home, why not take the opportunity to dabble in surrealism? Taschen explains: "All works in this exhibition are, fundamentally, products of the pandemic, created in the seclusion of the studio or in other spaces to which the artists retreated during the last few years. Their engagement with a cultivated nature in the context of the garden also explores situations which have traditionally been regarded as within the female sphere but which were widely discovered by society during pandemic seclusion."
"BodyLand" is on view at Galerie Max Hetzler's Goethestraße 2/3 location in Berlin from November 4 to December 23, 2022.