"Ask him who his motha is," Raul Lopez beckons from behind a seafood tower. "Ask him!" The designer, who co-founded the legendary fashion brand Hood by Air and now helms his own eponymously backward line, Luar, is gesturing toward a handsomely dressed man balancing a tray of fondued scallops, steam still exhaling from their pearly white shells. "He is," instantly responds Davide Spada, the composer of this particular evening at Palm Heights. The fashionable reef resort—with its Pierre Paulin lounge chairs, Mario Bellini sofas, Ingo Maurer lights, vintage art books, and rare copies of Interview—is a design mecca in the middle of the Cayman Islands, and has become a frequent haunt of aesthetes and eccentrics.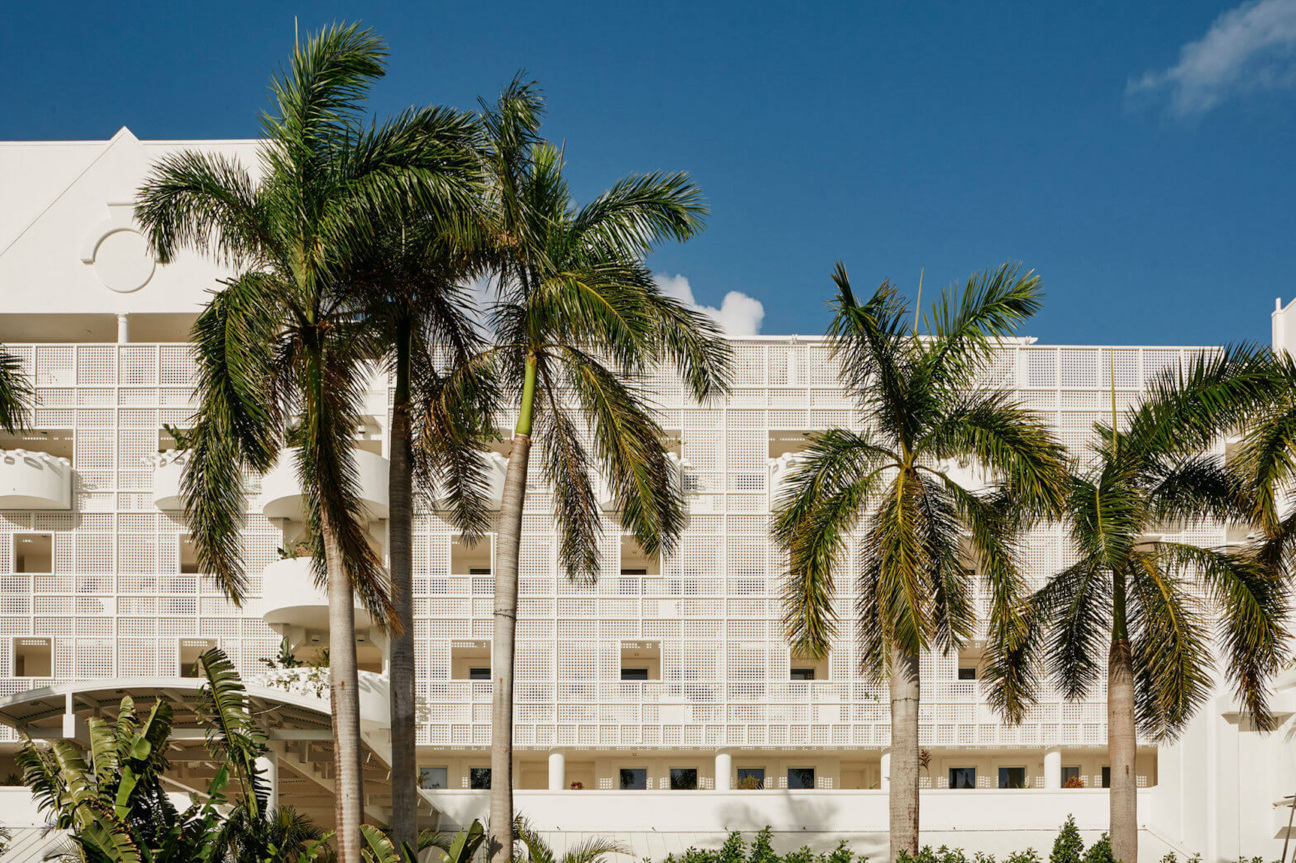 "He is my motha, too," chimes in Bambi Grimotes. "We go waaaay back. Davide, papi, where is the mignonette?" In a colorful tunic, Grimotes is as warm as the muggy Caribbean humidity that dances in and out of the hotel's restaurant, Tillies. Like half of the room here tonight, he is a New Yorker that needed to get out of New York, and pounced at the chance to relocate upon invitation by the hotel. In fact, many of the guests here picked up the phone when they didn't know why it was ringing, finding themselves at Palm Heights in one variation of a residency or another; some certified in formal programming—like the neo-classical pianist Karim Kamar, who brought the respirative orchestrations that he typically stages on London's streets to a literal barge on the Caribbean sea—and others called forth with the open suggestion to experiment. "I needed to lounge," Grimotes smiles into a glass of champagne before raising it to address the room. The occasion is Grand Cayman's Pride and it's a notable one. "Cheers, my loves."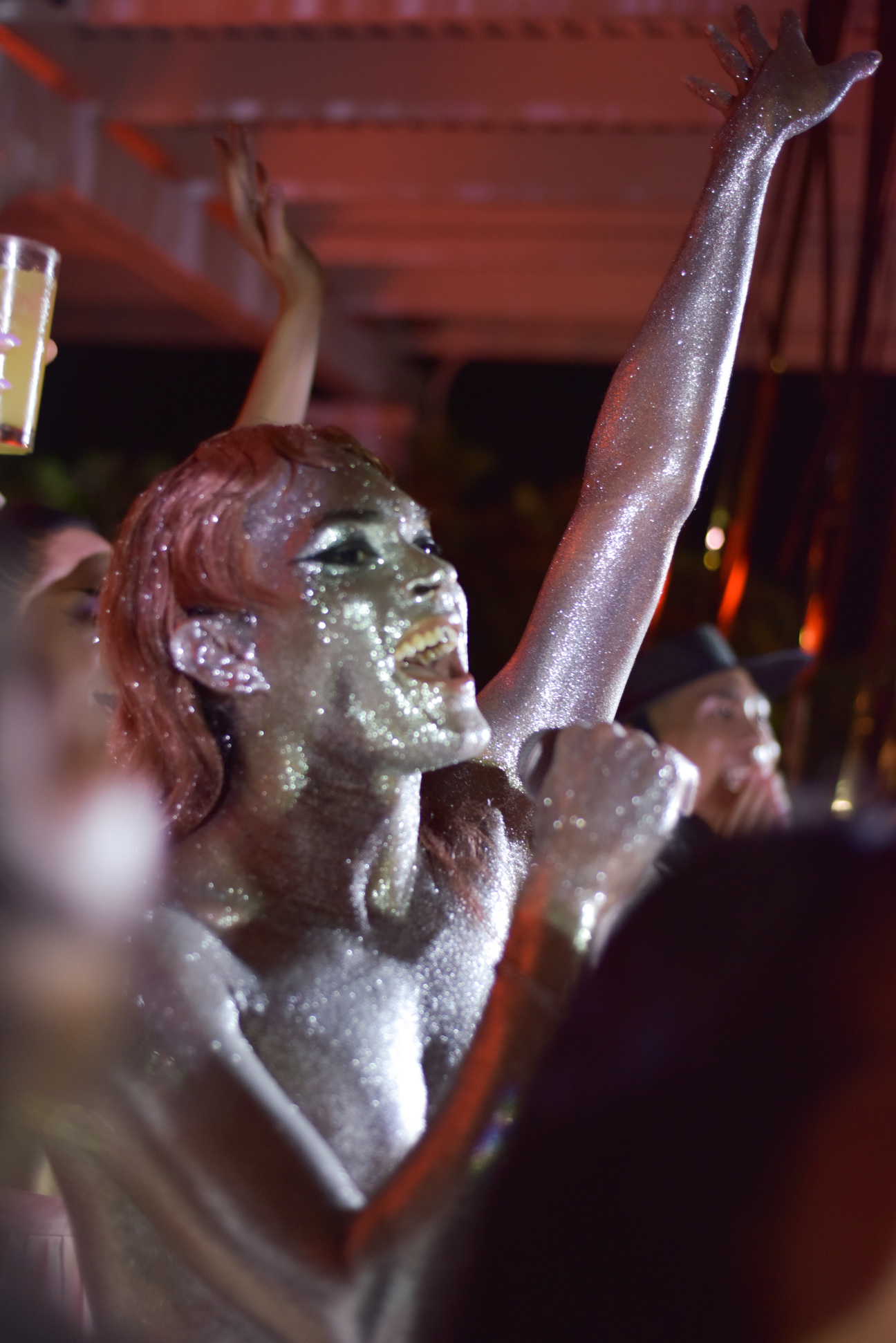 The history of lesbian, gay, bisexual, and transgender people in the greater Caribbean is of course as varied and complex as the islands that populate the tropical region. With a dark past intervened by colonial British rule and religious extremes, not every destination is as much of a paradise as the cruise lines might have you think. While the U.S. commonwealth Puerto Rico, for example, grants LGBT persons the same rights as heterosexual individuals, the Bahamian government has no laws of protection against discrimination or harassment based on sexual orientation or gender identity. In Jamaica, one of the most popular commercial travel getaways in the world, sexual intercourse between same-sex partners is legally punishable by imprisonment, torture, beatings, and vigilante executions. In 2006, Time magazine labeled the country "the most homophobic place on Earth." The Cayman Islands have demonstrated considerably more social progression than the rest of the region, and last year the island of Grand Cayman officially observed its first Pride celebration, spearheaded by the Cayman LGBTQ Foundation. "It was historic," says Gabriella Khalil, the creative director of Palm Heights, which was the host of the country's inaugural Pride flag rising last summer. In the midst of peak COVID-19 travel lockdowns, it was a momentous but intimate event attended by islanders and long-term crashers of the hotel. "Now it's our second time celebrating it, but it really feels like the first."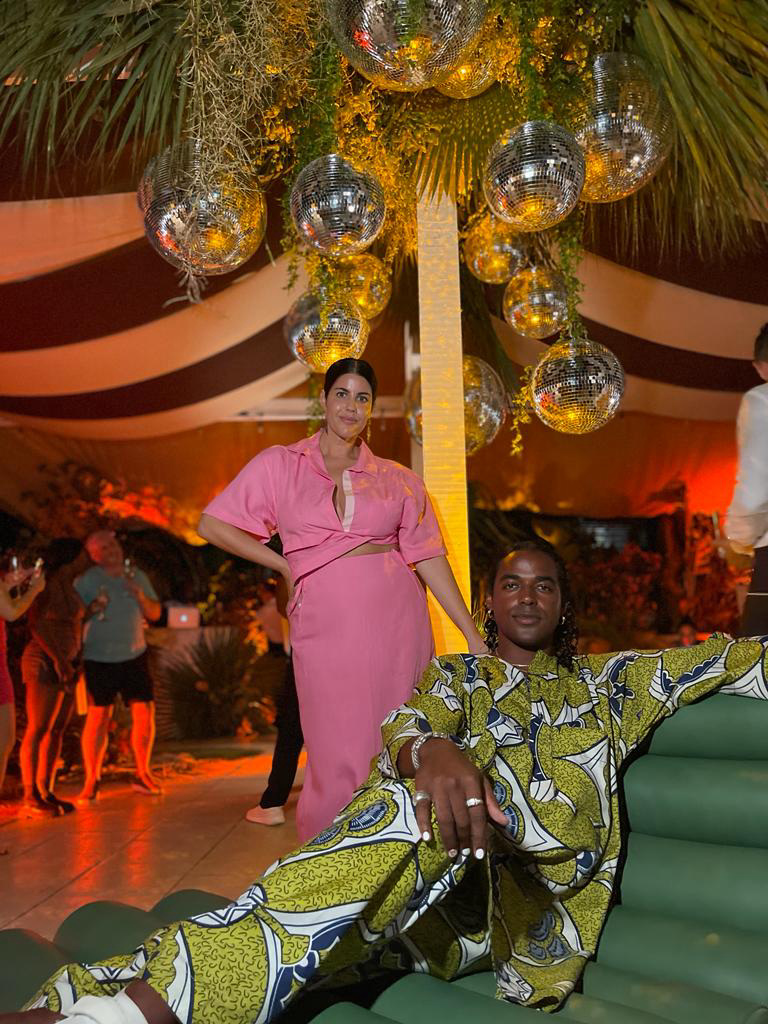 An American turned Londoner, Khalil earned her postgraduate degree in contemporary art at Sotheby's Institute before working at private galleries in the British capital and then segueing into interior design. When she founded Palm Heights in 2019, she recruited designers Sarita Posada and Courtney Applebaum to join her in sourcing important pieces from all around the world—from the French designer Pierre Chapo to artworks by 20th-century multihyphenate Charles Rennie Mackintosh. The enchanting 52-room luxury hotel, she says, combines all of her passions, from art to design to food and, of course, personal connection. It's why the property reflects her own family's diverse heritages (Italian American and Middle Eastern) in its island-favorite pizzeria-shawarma-cart combo, Paradise Pizza, and the colorful hookah pipes that bookend Art Deco settees on its rooftop lounge. And why the youngest Khalil—her daughter Grace—is a local legend. It's also why Palm Heights' Pride festivities are less of a parade of corporate activations and more of an open call for some of Khalil and company's favorite artists.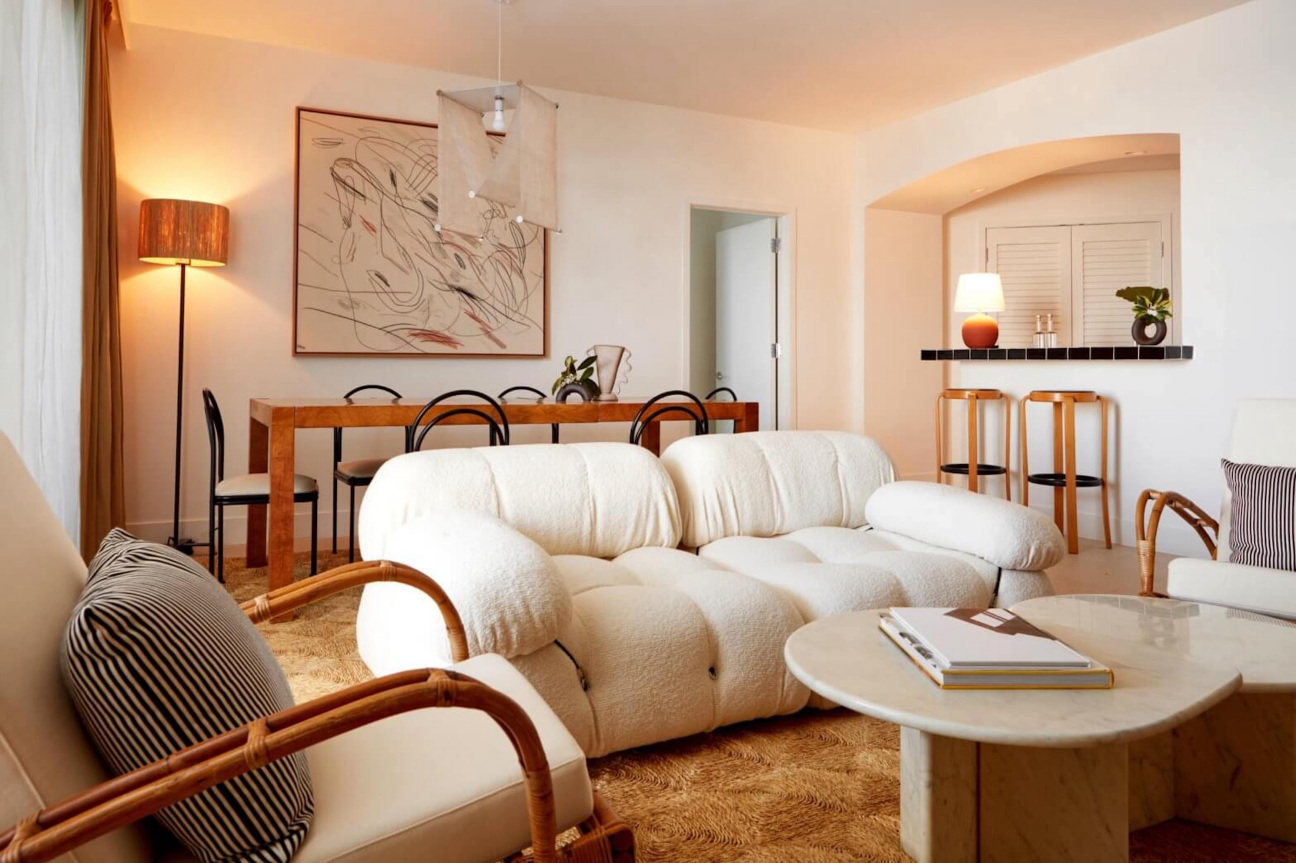 "This is my eighth time down here," Gabe Stone Shayer tells me, his blond braids gently whipping a passerby from another table. "I first came in search of culture to inspire and expand some of the ideas I had been working on." Raised in Philadelphia via Moscow, the American Ballet Theatre soloist likens being queer in the Caribbean to his experience as a Black American going through puberty in Russia. "It feels like being an alien in a space in which the rules don't apply," he admits. "But just because they don't technically apply to you it doesn't mean you don't learn from them." Apart from happy hour at Coconut Club, Shayer's favorite part about returning to the hotel is when his visits align with fresh blood. "You see these young artists lost, swimming in the misunderstanding of why they've been called here. I always try to reassure them the task at hand is to have the freedom to do whatever the fuck they want to do." For Cayman Pride, Shayer's own task revealed itself as a barre dance class that he taught at Palm Heights' raw creative campus, a multi-level, cross-disciplinary arts space that is part of Khalil's larger vision for the property. Entitled "Days of Dance," it was just one of the many happenings led by LGBTQIA+ identifying artists and performers from around the world, including floral exhibitions by Maurice Harris' Bloom and Plume, Summer Camp by Opening Ceremony's Humberto Leon, Brunch Cabaret with UK drag troupe the Bitten Peach, and running sessions with Ultra Black Running founder Dora Atim.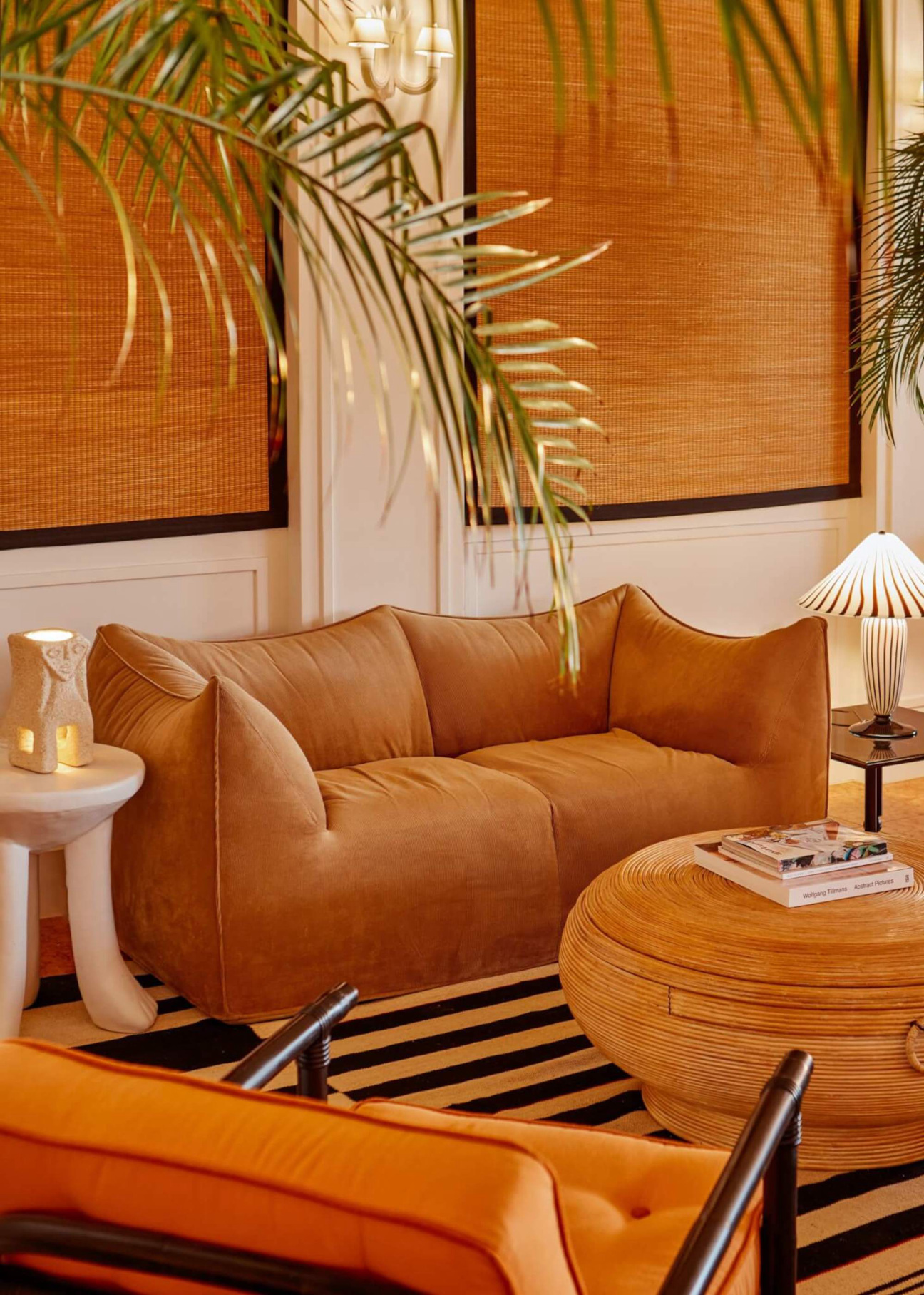 "Even though this is Pride Week—and we're celebrating something that is very international on an island—what we're doing here is really just reflective of us as people," explains Gerardo Gonzalez, who says that the most interesting parties have the most different kinds of people. "We've always gone for what's unique but culturally relevant, and worked with artists with various forms of expression. In a lot of ways this week has been our normal programming." The former chef behind legendary New York eateries El Rey and Lalito, Gonzalez was responsible for bringing much of the creative cast to the Caribbean, including Lopez himself years before Palm Heights officially opened.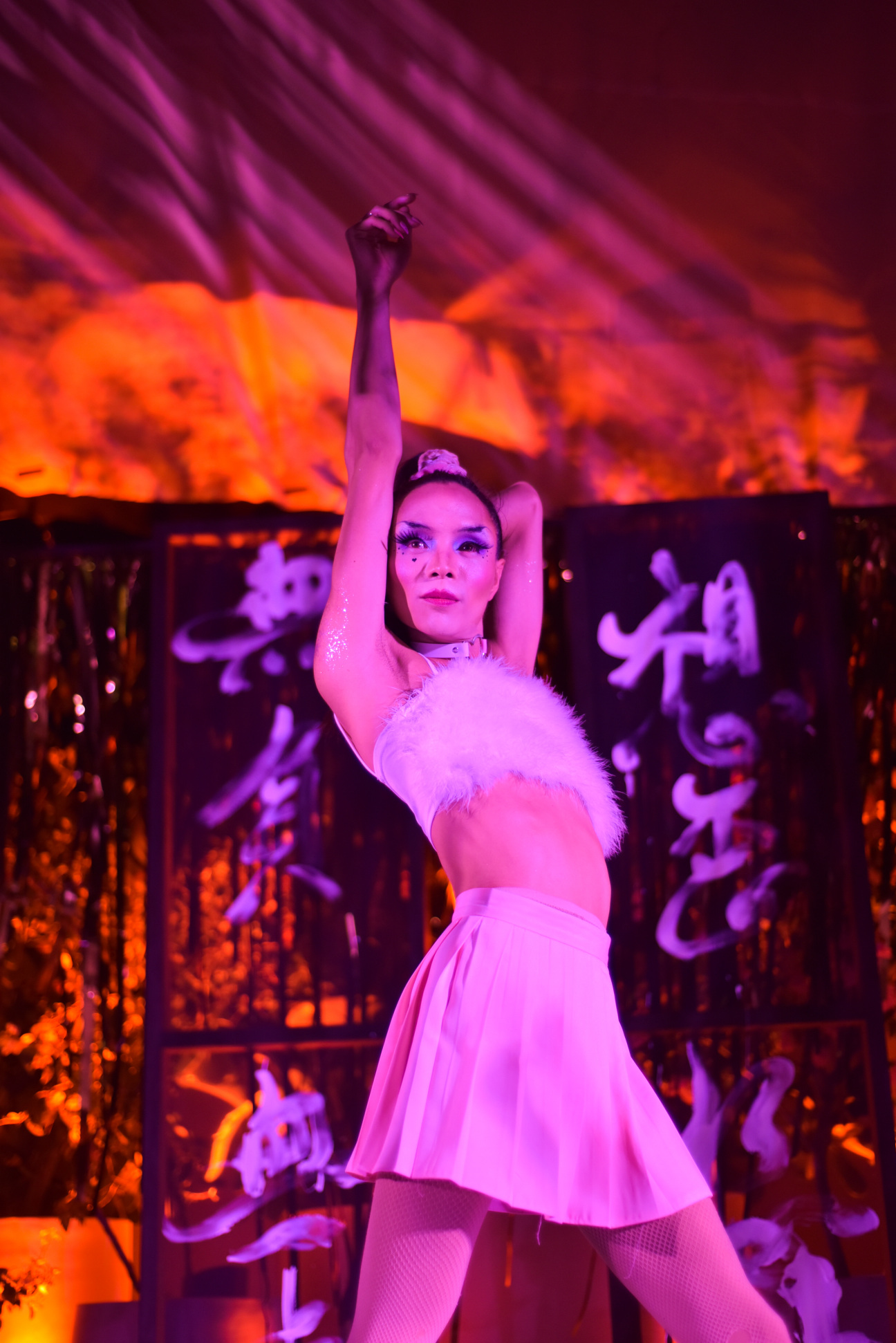 Indeed, the fashion designer, whose official hotel title remains an ambiguous joke amongst Palm Heights' frequenters, might be Spada and Grimotes' motha, but he isn't their mother in the queer sense. He didn't take them in off the streets, cook them dinners, sew their clothes. It might actually be derivative, in fact, to call the queer artists that gather this week at Palm Heights a family as a whole—they're not. But they're also not a family in the image of a JP Morgan Chase Pride campaign on social media or gay cruise stage performance, either. While some like Kamar and Shayer will surely collaborate with one another after their time here, others may not speak again until their eventual return. That isn't the point. At Palm Heights, the connections you make, though valuable, aren't as important as the freedom you're entrusted. "We don't ask for or force anything," Khalil says. Still coated in glitter from the previous evening, Gonzalez nods in agreement: "If anything it's a transference of inspirational energy." On second thought, maybe that is the kind of family we deserve.