In Milan, Salone del Mobile has just wrapped its 60th furniture exposition, the first full-fledged version of the fair since the COVID-19 pandemic began. Though delayed two months from its usual April timeline, as visitors strutted down long pavilion corridors to peer at the latest collections from furniture and home brands from around the world, there was a palpable excitement in the air. Exhibitors, too, brought their best to display. Back were the grandiose installations that have marked pre-pandemic editions—a live olive grove set the scene at Flexform while Baxter grew a succulent garden—collaborations with world-class architects and designers and innovations abound. As our concept of what it means to live comfortably has shifted quite dramatically over the last two years, the furniture world has too. These trends from the fair and its related events are here to stay.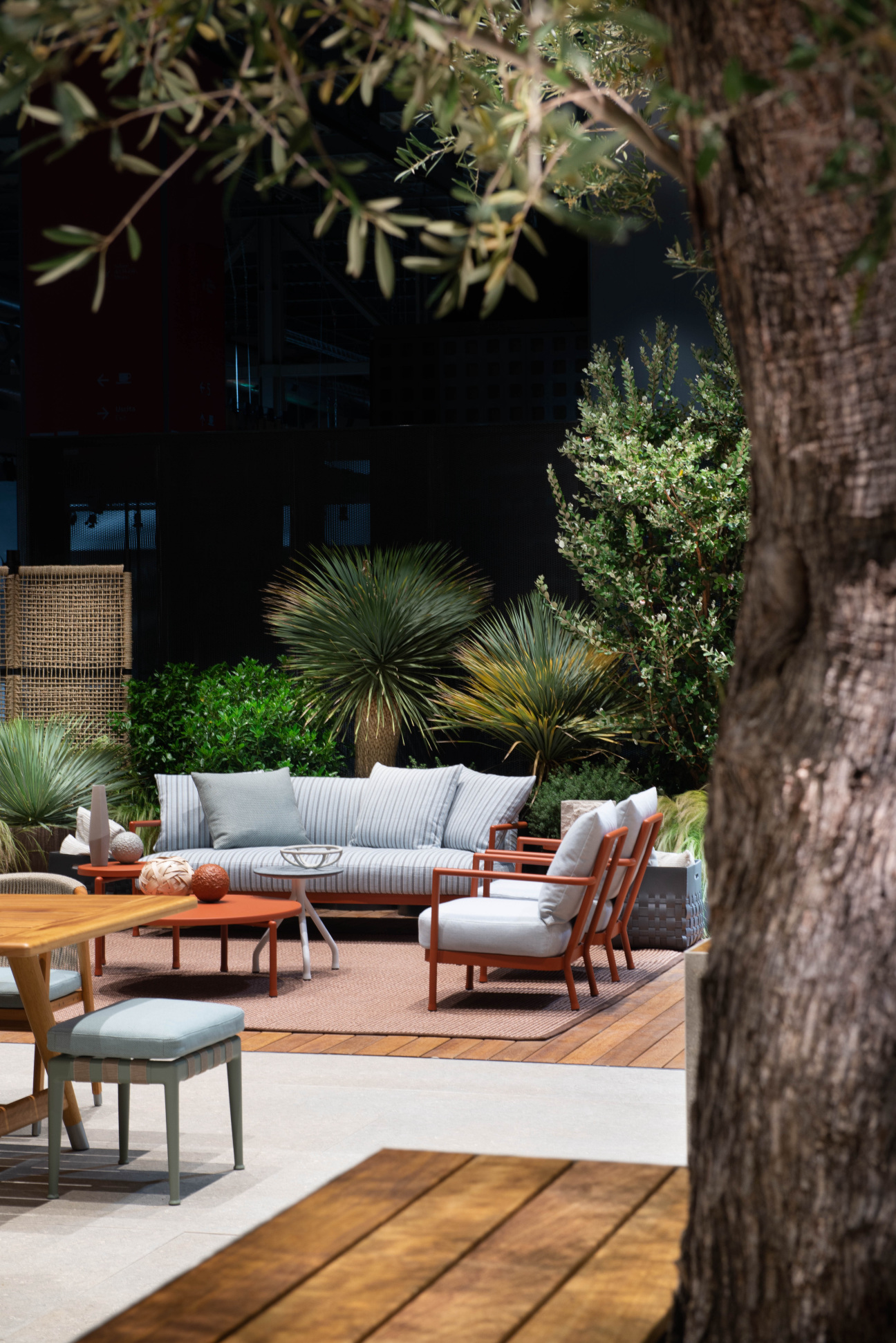 Outdoors Is the New Indoors
As COVID-19 lockdowns have people everywhere giving thanks for their outdoor domestic spaces, so too is the furniture industry. Outdoor collections were aplenty at the fair this year, with many splitting the difference in design and materials between appropriateness for the living room or the patio. At Flexform's presentation, laid out loungers and wood-structured sofas with built-in side tables were upholstered in plush, interiors and exteriors-friendly fabrics, making the transition from poolside to beside easier than ever. Meanwhile, Italian peer Baxter explored the versatility of lacquer, on bases for side chairs, stools and dining tables whose cushions are covered in leather treated for the elements.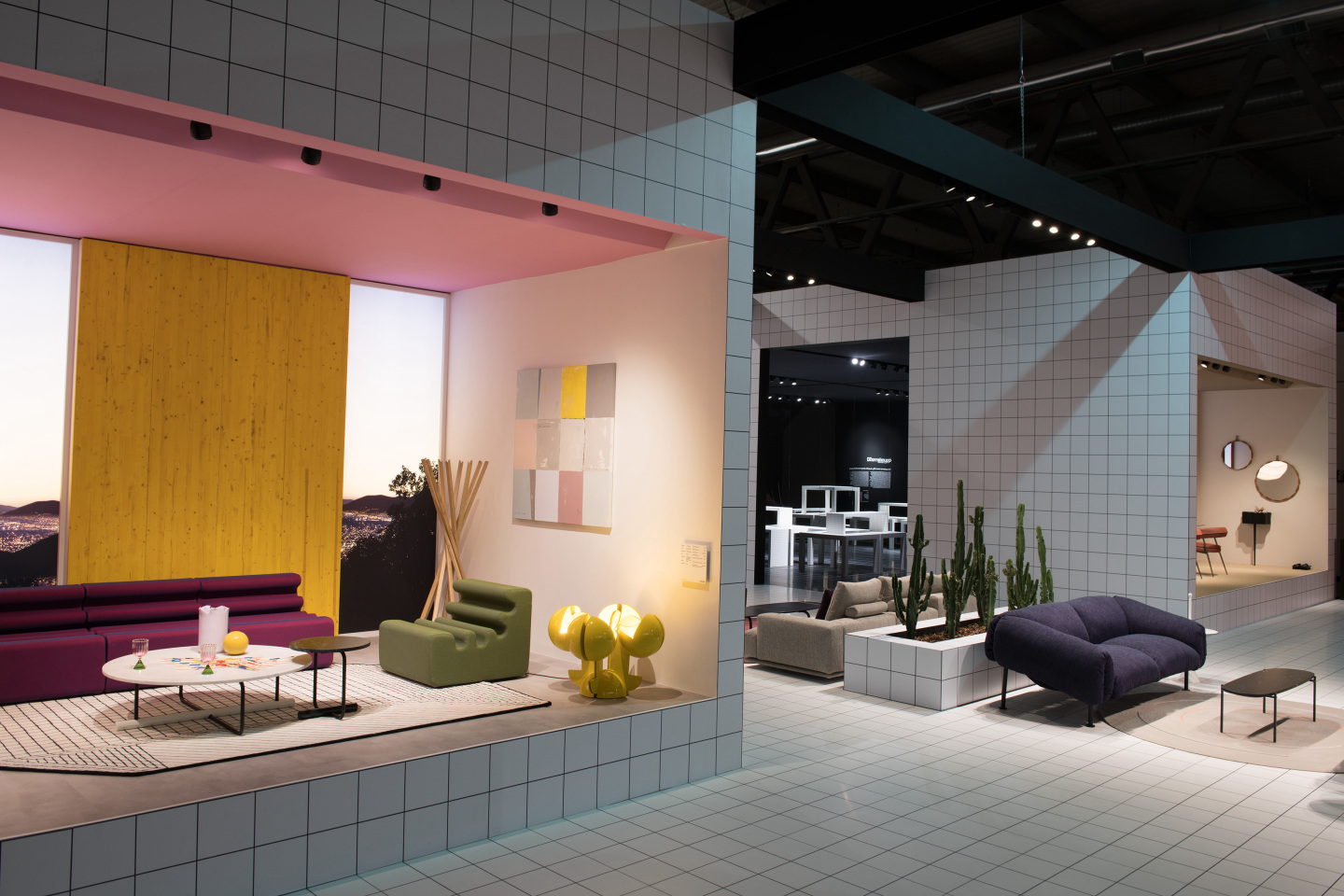 Bold Colors Make a Statement
This year, Poltrona Frau explored its most daring collaboration yet with artist Felipe Pantone: a technicolor smattering of paint chip-like swatches covers the 110-year-old design brand's iconic Archibald armchair. Though the limited-edition rainbow-hued seat sold out ahead of its FuoriSalone presentation, artist Greta Rosset helped visualize the brand's 2022 True Evolution theme with a similarly colorful light installation. At Roche Bobois's Salone del Mobile booth, the Missoni Home collection of fabrics covered iconic Mah Jong loungers by Hans Hopfer in a variety of bold stripes, a fun way to add pizzazz to an interior. Bold greens made appearances on seating at Zanotta and Arflex where the latter also experimented with yellow stripes, links and solids for plush outdoor armchairs and sofas with pillow-like cushions. At Acerbis, the late Nanda Vigo's 1994 wood cabinet demanded attention with its pink lacquered front, like a series of oversized drawer pulls.
The Ultimate Victorian Party Pouf Makes a Comeback
Once only found in historic French palaces and similarly French museums, the Victorian borne was reinvented at Salone this year. Switzerland's de Sede, of Ubald Klug 1972 Terrazza sofa fame, released a square version of the classic round piece, updated to reflect the segments of its modular DS-600 sofa. Covered in a marbled print, the piece was party-ready. At the entry of Arflex's booth, a bouclé-upholstered vision in white greeted visitors, proof that the design world's obsession with the knobby fabric is here to stay a bit longer.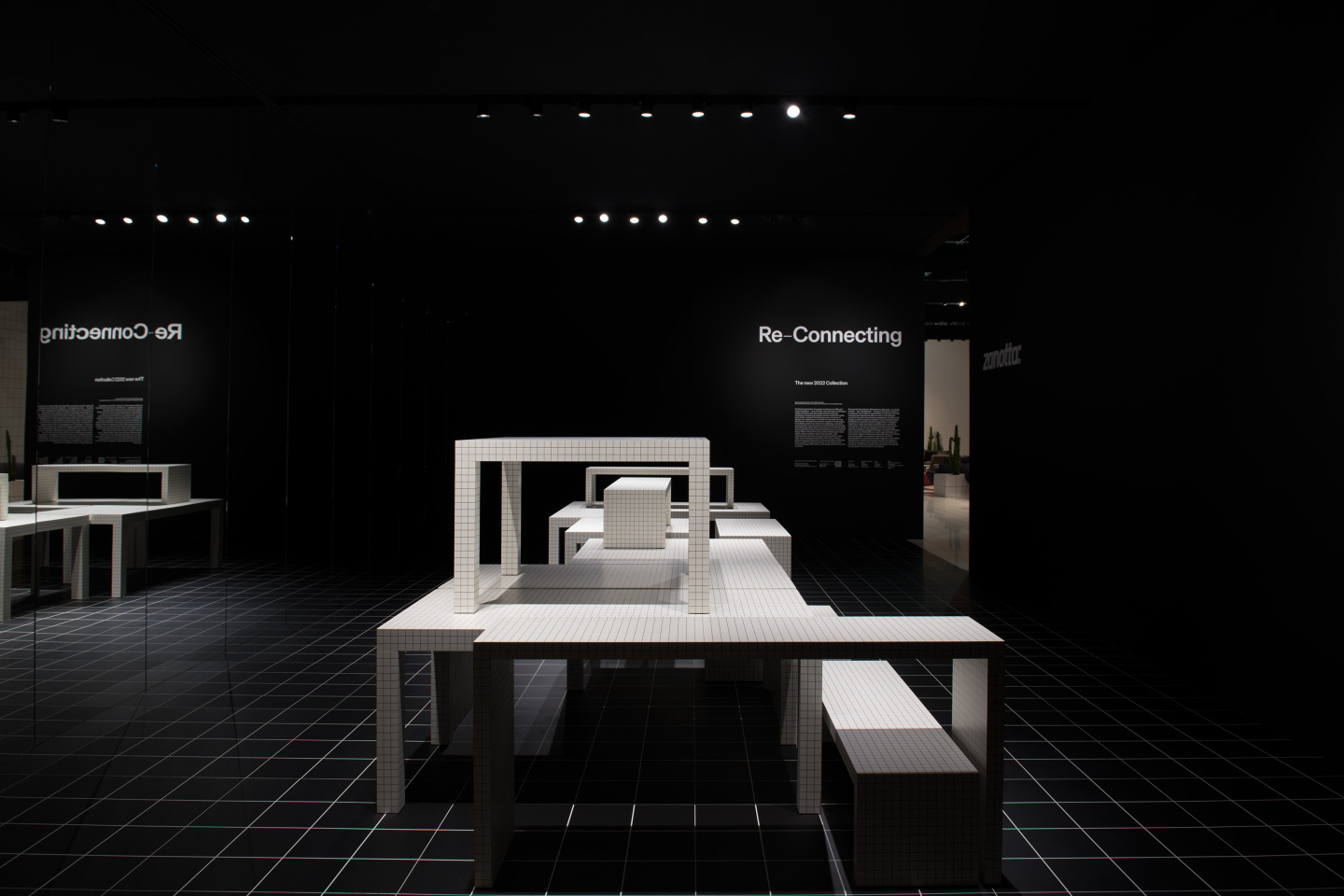 Tell Your Mother, the 1970s Are Back
Naturally, a 50th anniversary is bound to pop up at a fair where so many of the exhibitors are centuries old. This year, the swinging seventies were on view most obviously at Zanotta—where a section of the booth was dedicated to reissues and new sizes of Florentine design studio Superstudio's iconic 1972 white gridded tables and vignettes of the new collections were set against lightboxes displaying the kind of nighttime skylines one might find of Architectural Digest covers of the same era. In new collections by brands like Minotti, Living Divani and Casamilano, the '70s spirit was found in the trend toward large, lounge-like, often tufted sofas—think Mario Bellini's 1972 Camaleonda (also on view at B&B Italia's booth) with an angular emphasis and, in some cases, the ability to converse in the living room or the garden.
Plus, the Milan Design Week Collaborations We Loved
Daniel Arsham x Kohler Co.
In the palazzo that houses the Milanese Senate archives, artist Daniel Arsham designed a new large-scale installation to reveal his collaboration with Kohler. The site-specific "Divided Layers" installation created a tunneled catwalk of a series of arched panels, all seemingly floating over a shimmering pond. Each panel represented a layer in Arsham's new work for Kohler, the Rock.01, a 3D-printed sink originally revealed at Design Miami/ in Miami Beach last December. The limited-edition piece is composed of an organic, pearlescent sink basin with one edge resting atop a brass "rock" form.
The technology used to 3D print the ceramic sink is entirely new and invented by Kohler, Arsham reveals. The brand called upon him specifically as the first artist allowed to explore it with a dedicated printer and a patented clay recipe. It is also far more sustainable as the precision in the printing means no waste clay is introduced, a large part of Kohler's Believing in Better platform, which sets out goals for the company's environmental footprint, including becoming Net Zero by 2035. For now, the Rock.01 is a custom order, but a Kohler representative revealed that the brand is working hard to perfect the tech for large-scale production in the future.
Kengo Kuma x Gandiablasco
The Japanese minimalist architect designed not only the Gandiablasco booth itself at Salone del Mobile, where long rolls of tatami mats created elegant and delicate dividers between the products on display, but he also tried his hand at rugs for the brand. The textural series of floorcoverings is woven with thin wood slats or dowels—materials quite familiar to those who have spent time in any architecture studio's model shop—that provide tensile strength and an intriguing look. On view were two editions, both exploring shades of black and gray.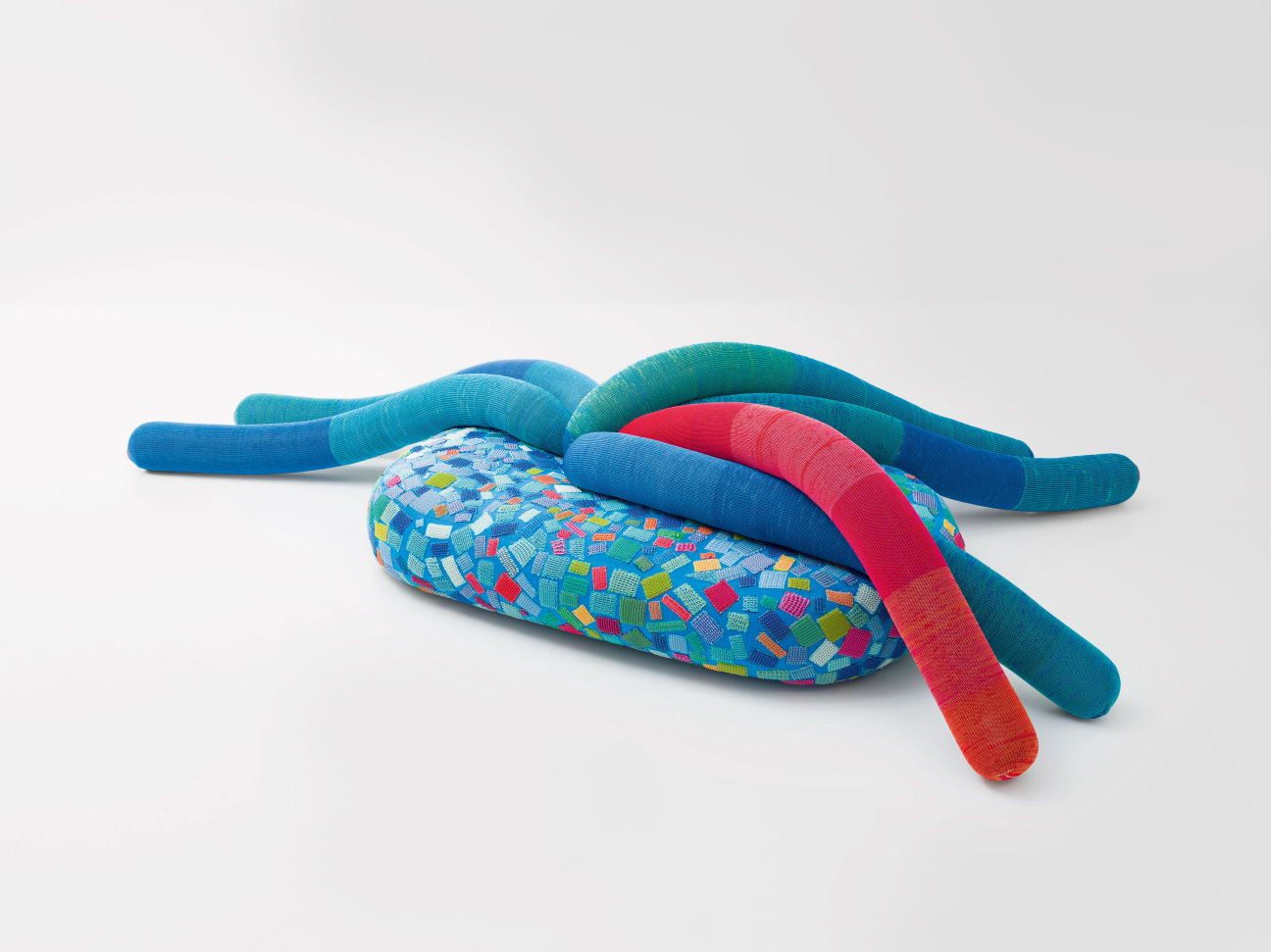 Paola Lenti x Campana Brothers
At its newly transformed showroom in Meda, just north of Milan, Paola Lenti explored its new collections through the Japanese concept of mottainai, the Buddhist idea that waste is created when things are not valued. The design brand then called upon Brazilian design duo Fernando and Humberto Campana to create a special series of seating and rugs with sustainability in mind, of materials and systems. Using offcuts from Paola Lenti's factory, upholsteries were created and sewn onto a synthetic felt made of plastic bottles; padding was also made of the same material. The result is colorful, zany and feel-good design that also does as good for the industry as it looks. In true Campana Brothers form, it toes the line between art and furniture.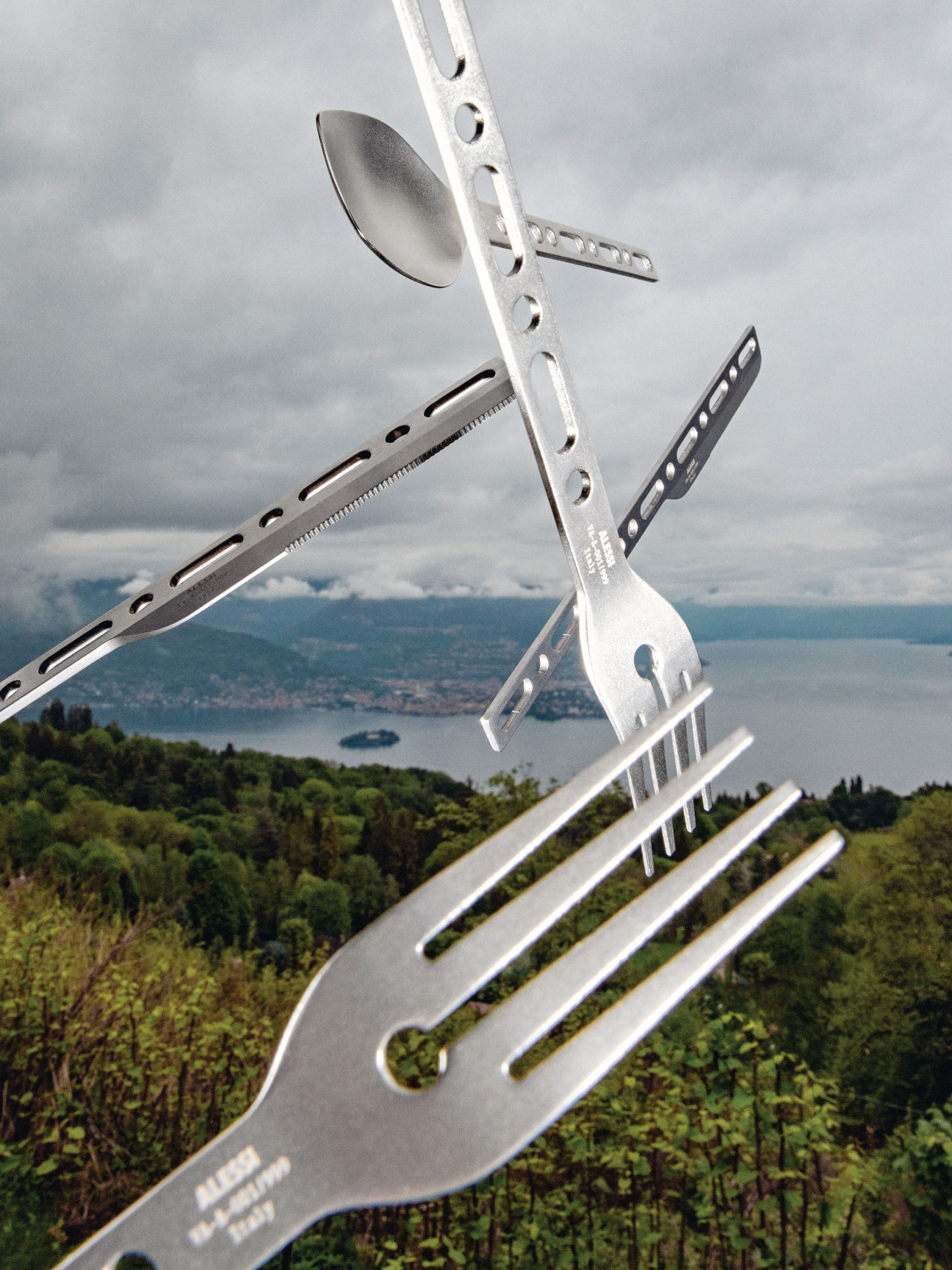 Alessi x Virgil Abloh
On its centenary birthday, Italian design brand Alessi presented an exhibition, dinner and all-out bash at the Galleria Manzoni to launch the Alessi 001 Occasional Object, a tech-forward limited-edition stainless steel cutlery set designed nearly a year ago by the late Virgil Abloh and his London studio Alaska Alaska. The geometric cutlery feels part protractor, part Swiss army knife in all the best ways and marks the start of an ongoing collaboration between Alessi and the studio for a series of said "occasional" works. Surrounded by a graphic exhibition by Studio Temp, the installation also presented 12 mantras of the Alessi brand, visualized by interactive installations that included a craftsman building Moka espresso pots and a gilded toilet paper display.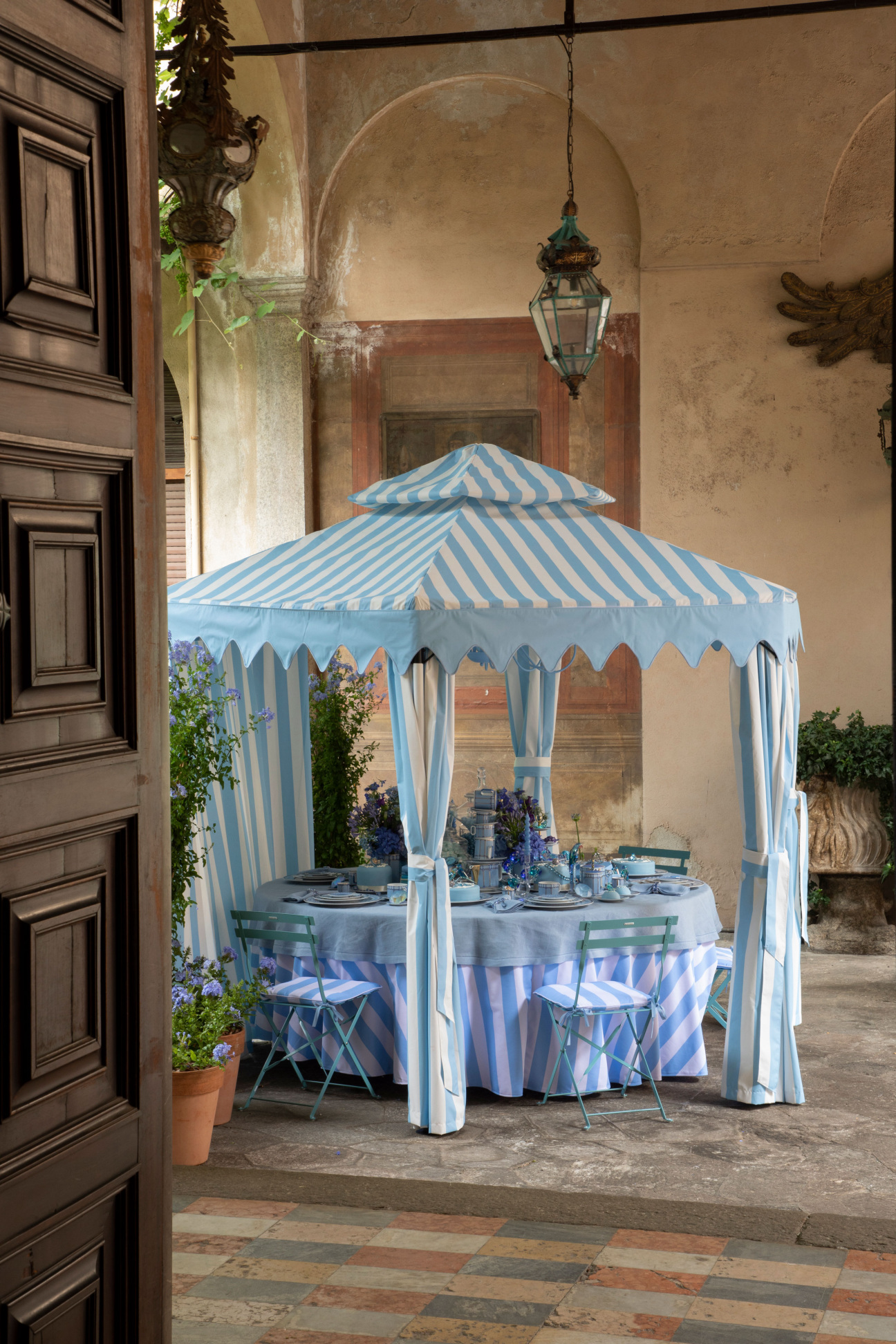 Swarovski x Rosenthal
Perhaps one of the week's most sophisticated affairs, Swarovski hosted a garden party with china brand Rosenthal in the backyard of the Casa degli Atellani, the Milanese home of descendants of Italian architect Piero Portaluppi. Monochrome displays of tented tables fancifully set with blue, pink, yellow and green dishware, crystalline-studded petit fours, cake stands, tea sets and other objects of tabletop desire were the main attraction but a string quartet, gelato stands, cotton candy and champagne aplenty sweetened the deal.