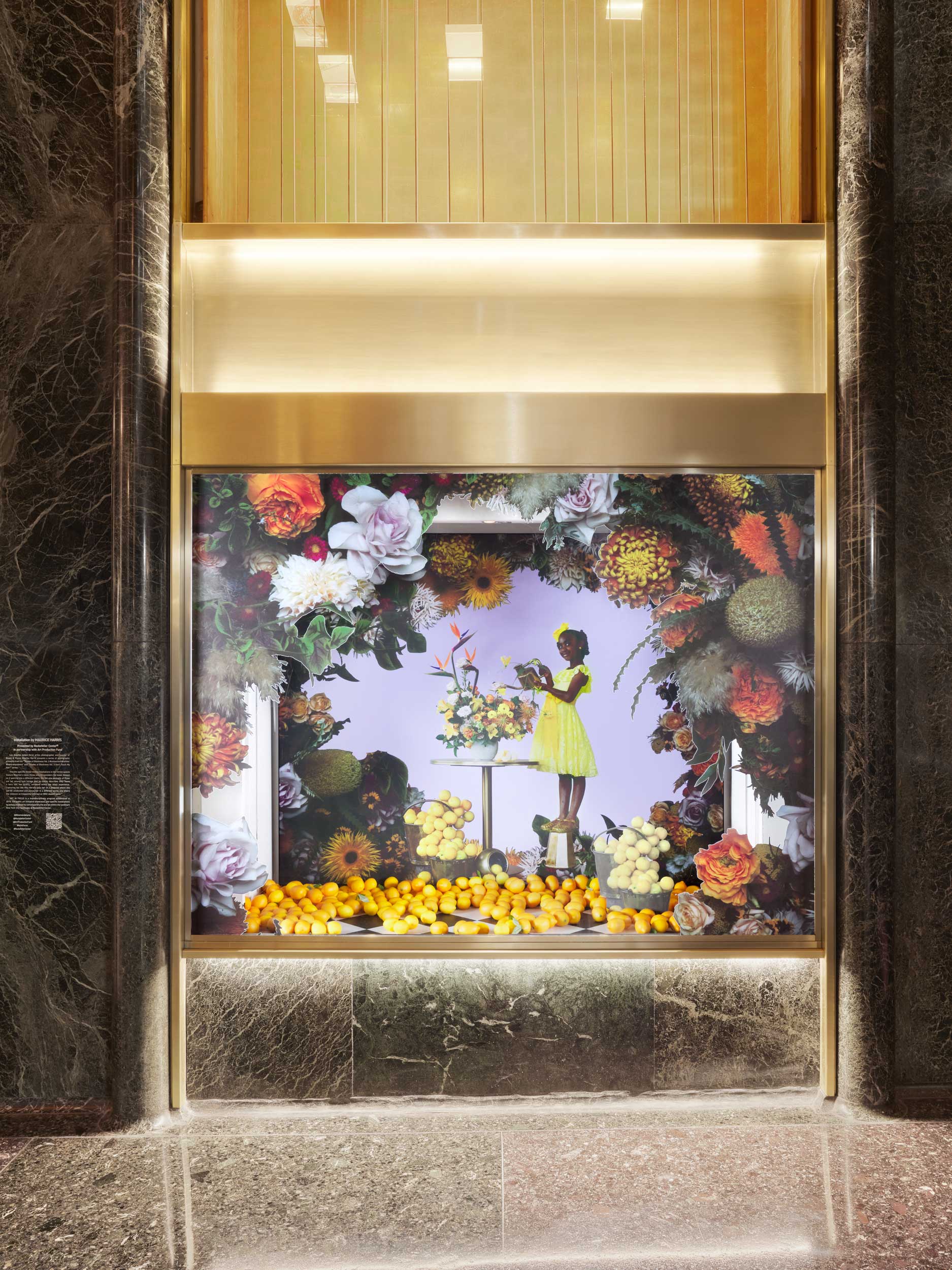 This week, the genius of California-born floral artist Maurice Harris has bloomed on the east coast. A new installation at New York's Rockefeller Center, a continuation of its partnership with Art Production Fund, has just opened, featuring work from Harris's "Shades of Blackness Vol. 2 #untouched #nofilter #naturalopulence" and "Shades of Blackness Vol. 3 Don't Touch My Hair" photographic portrait series paired with his signature whimsical floral arrangements. Presented as vinyl murals, the portraits represent a new medium for the artist, proving his creativity is ever-expanding.
Located throughout the Rockefeller Center campus, the mixed-media floral installations and bold portraiture are stippled by intricate detail. It is work that exudes natural beauty, at once standout and harmonious, embodying "a fairytale-like quality, reframed within the Black experience," says Harris.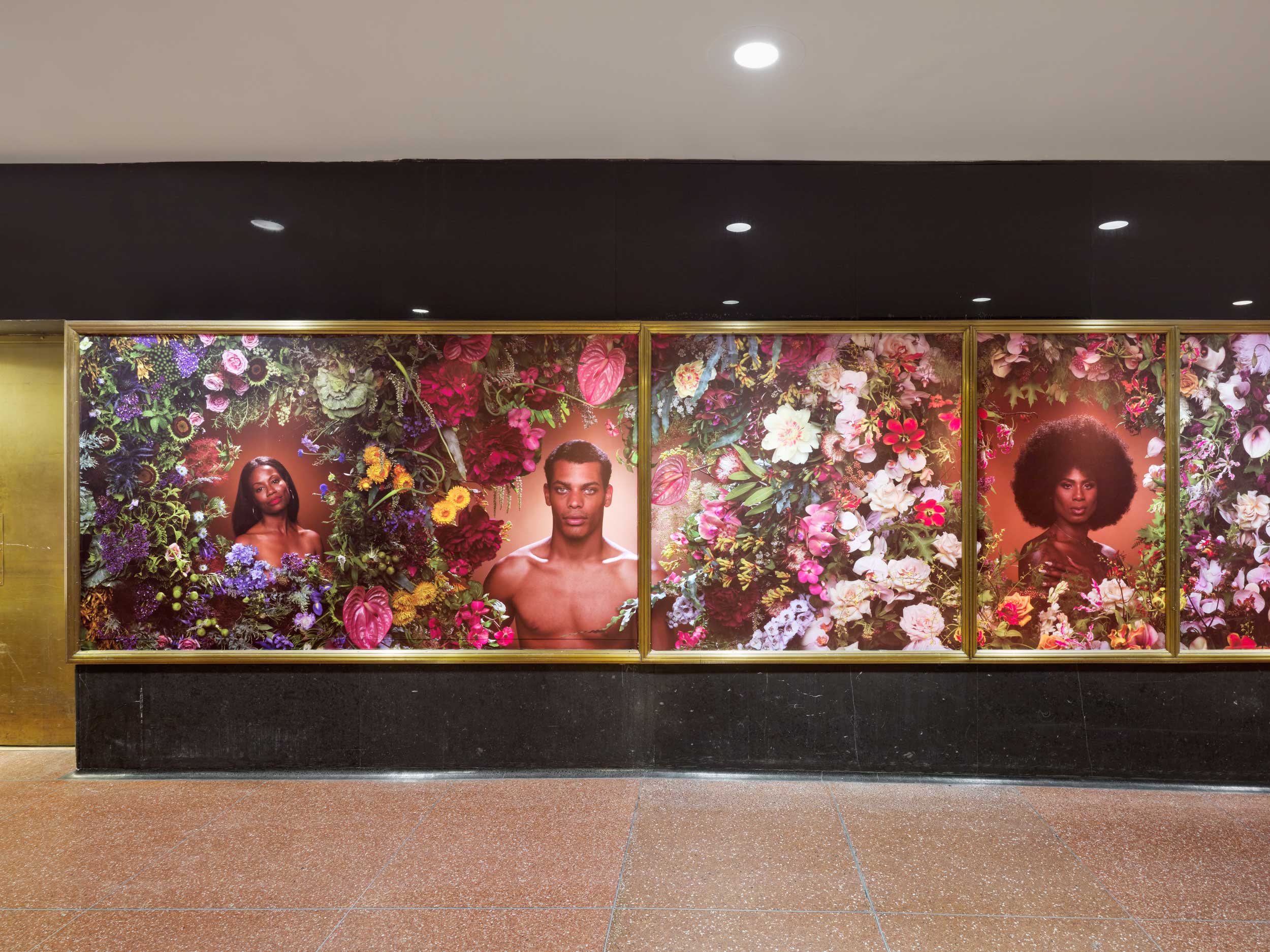 The portraits depict his family and community members, notably his niece (and muse) Elyse and brother Moses. The latter co-founded Harris's coffee shop, Bloom & Plume Coffee, in Los Angeles. My brother, Moses, in blooms exhibits a shirtless Moses in front of a golden backdrop and framed by a vibrant arrangement of deep magenta, blush and tangerine varieties. Each flower placed with intention, the arrangement delicately outlines Moses's body, gently showered in light. Artworks depicting Elyse have been placed in otherworldly vitrines decorated with augmented flowers complemented by genuine flower arrangements, creating a captivating depth. "Capturing her like this literally puts her on a pedestal where she can be celebrated and places her in a different world," the artist explains, "one where the violence so frequently inflicted on WOC doesn't exist."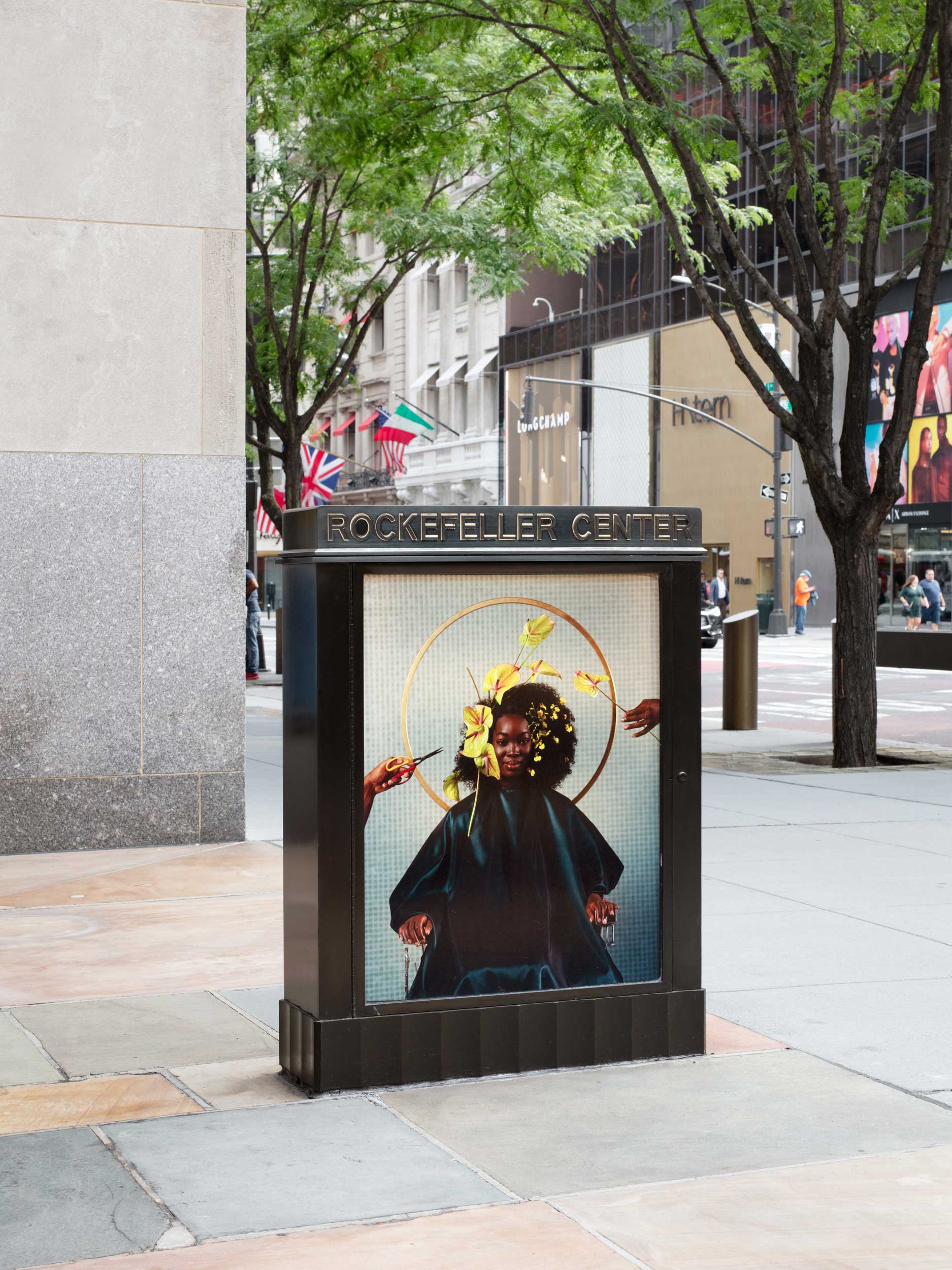 Harris describes these series as "investigations into how we, as people of color, find our beauty and agency. Born from my deep desire to learn to love myself for who I am (which is not easy when you are a big black gay man that doesn't fit into society in any conventional way) I went on a journey to find myself in other people."
His spectacular flower arrangements gained recognition in Los Angeles with the opening of his shop Bloom & Plume in Echo Park, and have since earned a decorated clientele graced by the likes of Béyonce, Gucci and LACMA. The installation at Rockefeller Center includes floral frame features for viewers to further immerse themselves in Harris's worldmaking, escape the Midtown noise and take a step into his dynamic visions.
Craving more culture? Sign up to receive the Cultured newsletter, a biweekly guide to what's new and what's next in art, architecture, design and more.