Elizabeth Fazzare: What's the relationship between you and your stage self?
Connor Holloway: Can I say it's complicated? I love to perform. There are parts of me that come alive on stage that don't live and breathe in any other setting, and that's really special. But I also believe that success as a performer really requires a type of unwavering confidence. I've always struggled with my confidence as a dancer. (I call myself a recovering perfectionist.) So, for me to find joy and freedom on stage, I have to actively silence my inner critic. I don't know that unwavering confidence exists, but I still aspire to it, nonetheless.
EF: How would you describe the role and responsibility of an audience?
CH: I think an unfortunate misconception for audiences attending classical performance art forms is that there is a strict etiquette to follow. Although I cannot speak for all performers, I say, "Hype us up!" Applaud, laugh, gasp, cry! Let us know you're out there and on the journey with us! The greatest performances I've attended or have been a part of are the ones where the audience and the performers feel like they're in conversation with each other.
EF: What do you hope to see more of on stage in the near future?
CH: Being gender non-binary, I'm hopeful for a near future filled with more gender inclusivity on stage—especially in classical ballet. I think potential is limited when institutions pigeonhole artists, characters and narratives into one preconceived box. In a time where revivals sprout like dandelions, I want to be surprised by out-of-the-box casting and character interpretations. Better yet, let's write some new stories!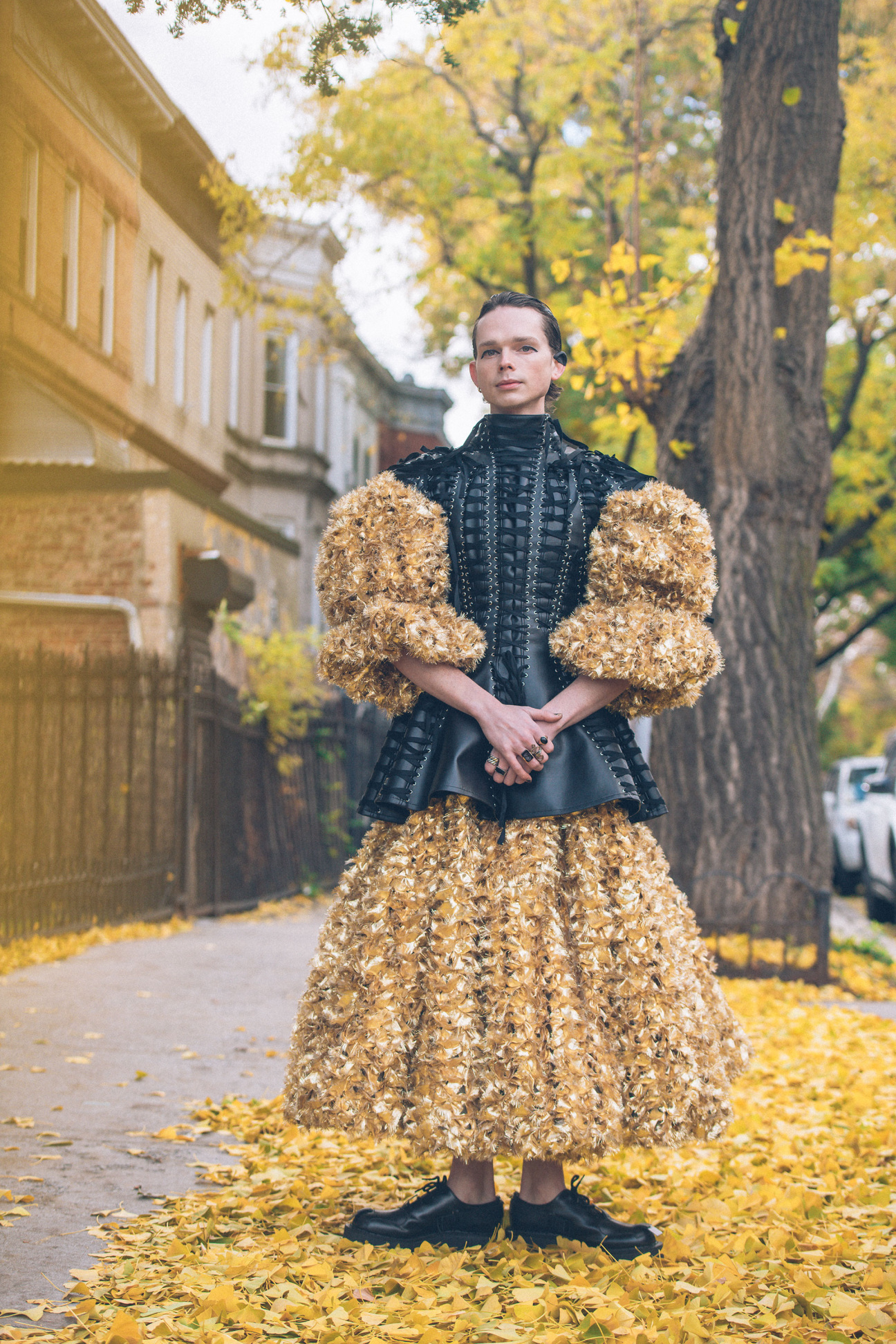 EF: What is your preferred pre-performance ritual?
CH: Makeup dance party! There's always a certain side of the corps dressing room that's blasting pop divas and painting face and it's simply the best. I love the process of putting on makeup because it's my time to connect with myself and transition from person to performer. And blasting pop music is just fun,it boosts my energy and helps me loosen up a bit if I'm feeling nervous.
EF: What is one song always on your pre-performance playlist? What is one song you won't be able to get out of your head this summer?
CH: My friend and fellow dancer, Tyler Maloney, is the unofficial DJ of the corps dressing room. We love to get amped up with Ariana Grande, Doja Cat, Kim Petras, Rosalia, SZA and, without a doubt, a mélange of K-Pop deep cuts. But I'd say my personal must-play song is currently "NDA" by Billie Eilish. My binge song for the summer will be a rotation of "That's Where I Am" by Maggie Rogers and "June" by Rozzi.
EF: What's the most important piece of advice you've gotten for being on stage?
CH: "Where are you looking? Who are you talking to?" It's not really advice but something my friend and American Ballet Theatre peer, Cassandra Trenary, asked me during a rehearsal recently. It sounds so basic, but it's really stuck with me. Dancers can easily disappear into their own bodies and forget their surroundings. Making deliberate eye contact with my cast helps me stay present during a show and not get overly fixated on my technique. I really believe on-stage camaraderie is palpable for an audience and essential for an effective and impactful show.
EF: Does recording a performance for publishing purposes change how it feels to be on stage? What's the relationship between your archive and your live work?
CH: The beauty of live performance is that it's ephemeral. For both audiences and performers. You just have to be there! Being on stage is the ultimate act of presence and knowing that something so vulnerable is being recorded is intimidating. That being said, I do think recordings serve an important role in marketing, education and access. I just like to keep in mind that recordings are two-dimensional. Performers are not. And no recording can recreate the same experience as being in the room.
What themes are you currently exploring and how can we expect to see them manifest in new work?
CH: It's a constant goal of mine to be able to make ballet feel fun, relatable and accessible.