Cultured Magazine: Let's start at the beginning.
Michael Sherman: We met at Go Get Em Tiger in Los Angeles. Vinny's beard was half the size. Then I forget what happened after that.
Vinny Dotolo: We were drinking coffee regularly. It was around the same time that… What was that art fair that was down in…?
MS: Oh, yes, the LAXART fair.
VD: We just started chopping it up about art and artists. Sherm was a little further into collecting than I was and there was something that stood out at the fair and we both started talking about it. That was really the start of us not only becoming friends but just having this constant conversation around art and artists.
CM: Where does Spaghetti Western come in?
VD: The Spaghetti Western idea started a couple years ago. It really has just been something that we've cultivated together in our heads. This [interview] is a real launchpad for it to turn into something else.
CM: Why take it public now?
VD: This is going on our third year of working together and finding artists that we both love and putting them into Spaghetti Western. Now it's like, "What do we do with all this beautiful work? How do we make it available for others to see and for people to know that they're in the Spaghetti Western collection?" We've never really talked about it with anybody before.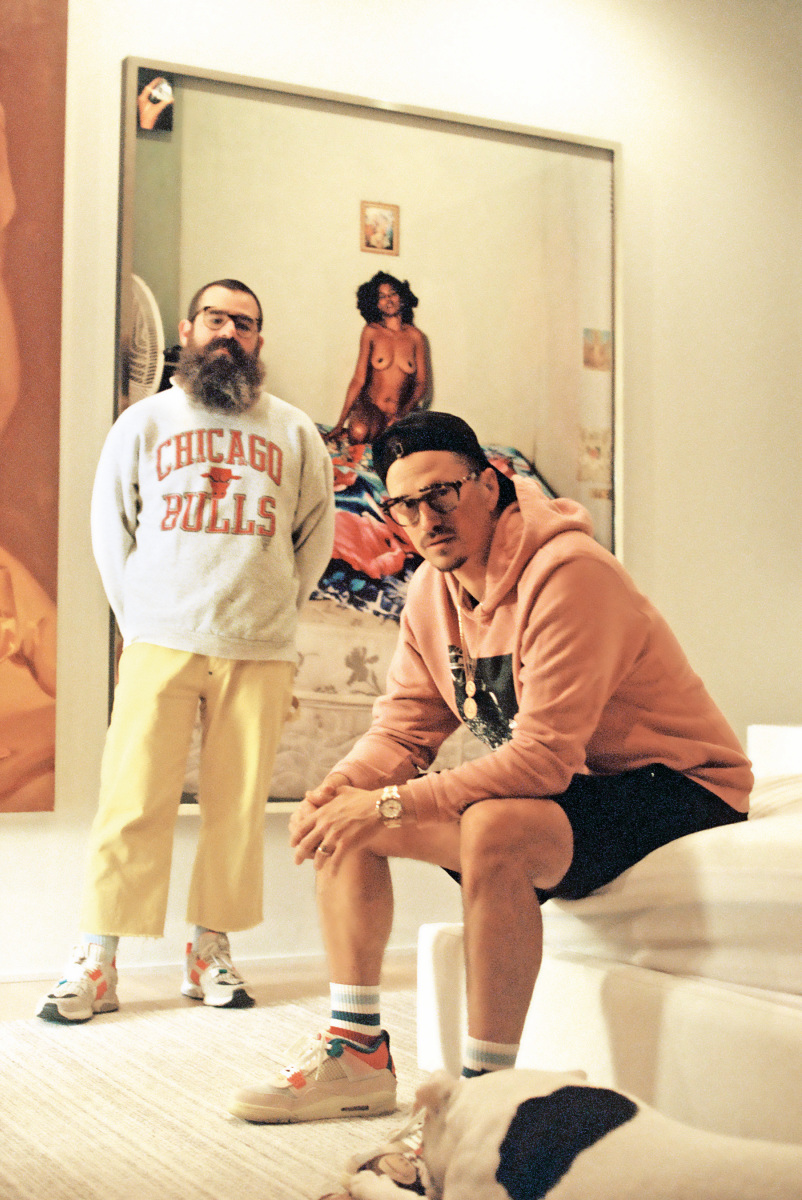 CM: Including the artists?
VD: Yes, including the artists. This [conversation] is a moment where we're saying, "Hey, look what we've built together." People know about us individually. Now we can hopefully go out there and say to people, "Do you want your artist to be a part of this great and growing collection with two collectors that are passionate about the arts and artists?" We both also contribute to culture at large through the restaurant from my end and through film on Sherm's end; it gives more meaning and context to the collection.
MS: It's helpful when you have a friend who loves the same artist as you, and you're like, "Man, we should help this person get into the museum. They're so rad. They're such good people." Part of the approach to our collection is knowing the people we collect. Maybe not all of them personally, but the majority of the artists that we collect, we've met, we know. They're wonderful people.
CM: Is that a rubric for purchases?
VD: Interestingly enough, up until this point we've acquired things individually because of how we have navigated through the gallery system. It's just getting a response, starting there, and then building relationships. Sometimes Sherm acquires a work or I acquire a work, and then we say to each other, "Hey, would you want to put this into Spaghetti Western?" I'm hoping that we can now go out and say, "I'm collecting this piece specifically for Spaghetti Western." We're both on the board at the Hammer Museum. Sherm is also on the board at the Balitmore Museum of Art. Given these things, it's hopefully something that is exciting for young, mid-career and older artists to be a part of.
CM: Where did the name come from?
MS: Vinny is Italian and makes pasta. I'm a filmmaker and my favorite genre is westerns. It felt like the right extension of both our practices combining.
CM: Are there themes that appear in the collection that are maybe not what you set out with?
VD: I don't think we necessarily have a theme. Ultimately, we'd just like the collection to be about great art.
MS: The real beginning of Spaghetti Western was actually a Christina Forrer work. Vinny and I had been talking about Christina's work, and we were both like, "Oh, man. I love it," and then I had gotten this offered to me and it was expensive; I couldn't afford it. I was always thinking about how you could make a collection with your best friend that had equal parts. It's not necessarily shared values but shared ideas about what we love in the art world.
VD: Honestly, sometimes it comes down to just financial ability too. We might get offered something great and sometimes you can't squeeze it. It just doesn't work. We're not made of unlimited funds here.
CM: It is popular wisdom not to mix money and friendship. How do you guys like hacking the collection together?
VD: It's really simple. It's equal. It's 50/50, and that's it. MS: First of all, there's no greed—we're trying to build something that we can showcase at some point. It's about supporting artists and making sure that their work gets seen, whether that's at somebody else's museum, a Spaghetti Western place of rest or in some town where there's not a lot of art to see: not LA, not New York, but somewhere where people need access to art. Our fundamental purpose is pushing the narrative of collecting in a positive way.
CM: Sounds like you want to share the joy you have in geeking out together with others so they catch the bug too.
MS: 100 percent.
VD: Exactly. We want this work to be seen by other people. We haven't been able to put our finger on where that is yet because we've been in build-mode to make it something that people would be interested in coming to see. We're going to be the only ones that put the limitations on it.
MS: I would love to get a cool old schoolhouse in Portugal and turn it into the Spaghetti Western Museum. That would be my dream: to have a place of resting in Europe as well as America.
CM: Do you collect some people in-depth?
MS: Absolutely. Jonathan Lyndon Chase was someone that we collected separately, and then, when we started Spaghetti Western, we talked about certain artists that we'd love to collect deeply. We combined our Lyndon Chases and then we bought three drawings from them recently that we've added into Spaghetti. Devin N. Morris is someone that I was introduced to through my friend, curator Essence Harden. I went to visit Devin and I was blown away. Devin is like an engineer. He really understands how to put a piece of art with different mediums together. I called Vinny and said, "Man, I just had the best studio visit." Vinny looked at the art and said, "Oh my god, these are amazing." I was like, "We should heavily collect Devin. I feel strongly about him as an artist" and then we did.
VD: It's hard to get multiple works by artists especially now with how big collecting is. I hope that we can continue to support these artists as they grow and their bodies of work grow and evolve.
MS: The tricky part for us is just the pricing moves so fast these days that it's hard to keep up with. That's part of collecting. I think that's the beauty of discovering artists and meeting new faces and new people.
CM: Where do you discover new artists?
VD: Personally, art fairs help me see something that maybe I have only seen on the internet, or in JPEGs or on PDFs, etcetera. We learn a lot from group shows, when a gallery that we've been following picks up an artist, and from Instagram.
MS: For me, you have to see art in person. It's also nice to meet somebody before you buy their work. I'm big on energy. I like discovering artists and then doing studio Zooms with them and then buying the work.
CM: Do you have any tips for aspiring collectors?
MS: I have a couple of friends who wanted to start collecting art during the pandemic. I told them that there are so many amazing artists with work under $5,000 and $2,000. Every collection starts somewhere. You should always buy something that you love and want to hang in your house.
VD: That gut reaction, you got to trust that. It always comes back to prove itself.
CM: Everyone is LA-bound for Frieze and to escape the New York winter doldrums, any hot tips?
MS: We love Matthew Brown, David Kordansky, Night Gallery, François Ghebaly, Sarah Gavlak.
VD: I'm going to add Chris Sharp in there. Matthew Marks.
MS: Commonwealth and Council. Paul Soto. Charlie James.
VD: Paul Soto, for sure. Parker Gallery does amazing shows. There is so much to see. The real advice is to make sure you make time for it.
MS: Effort is everything.