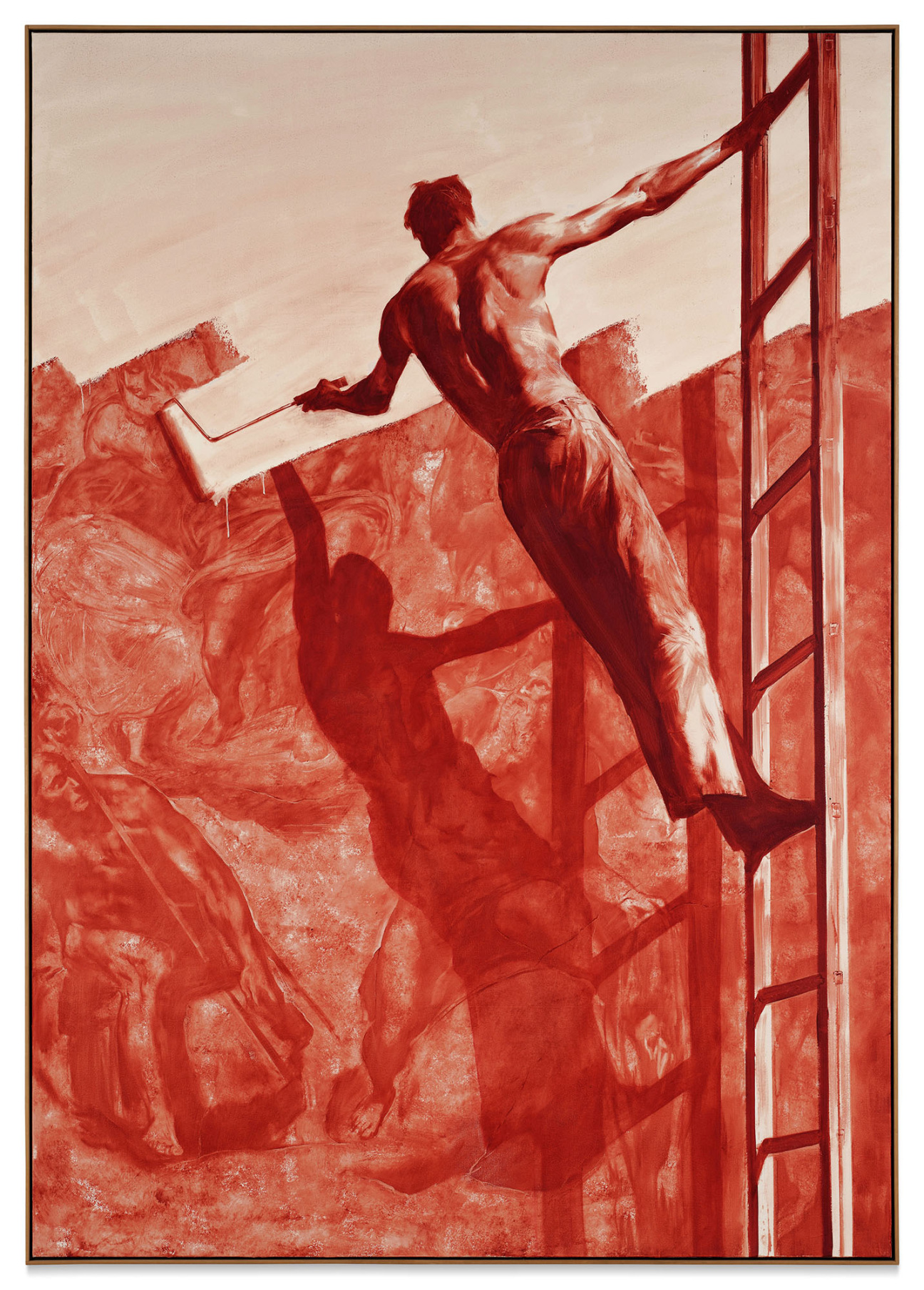 Plenty was at stake at Christie's, Sotheby's, and Phillips over the last two weeks, with $1.9 billion worth of art coming to auction, including high-wattage collections like those of storied collectors like Emily Fisher Landau and Chara Schreyer, Hollywood filmmaker Ivan Reitman, and music industry mogul Jerry Moss, among others.
Some nights were livelier than others, with, for example, many works at the season's first evening, Christie's 21st century-sale, selling on one bid, while there was more robust competition at the same house's 20th century-sale two nights later, and a rally at Phillips the following week.
The mixed results from night to night produced an overall outcome that met expectations; with fees, the season's sales totaled $2.1 billion. The sales were bound not to reach the stratospheric highs of some past seasons under perilous global conditions. Russian collectors have exited the scene since the onset of the war in Ukraine, many in the Middle East may be sitting these auctions out due to the Israel-Hamas conflict, and some Chinese bidders sat on their hands.
All the same, auction records were set, with young artists like Jenna Gribbon and Mark Tansey, the late Fernando Botero, and 20th-century master Arshile Gorky notching new auction highs.
Below are some of the highlights and low points of the season.
The Highs
The highest ever total for a woman's collection, $406 million, with Emily Fisher Landau
Sotheby's achieved a "white glove" $406 million sale of 31 works from collector Emily Fisher Landau. Pablo Picasso's Femme à la montre, 1932, was the star at $139 million. Records were set for Agnes Martin and Mark Tansey. All the same, this was accomplished by letting nearly a third of the works hammer at prices below their low estimates, leading to some chatter among dealers about how much the house may have actually lost on the sale.
Picasso sets highest record for any work at auction this year
A remarkable work by Picasso, Femme à la montre, 1932, estimated in excess of $120 million, became the priciest work of the season and the second-highest ever by the Spaniard when it fetched $139 million at the single-owner Emily Fisher Landau sale.
There had been talk of the work eclipsing Picasso's $179 million record and soaring to $200 million, but in the eyes of New York advisor Todd Levin, that's no disappointment; the $139 million is a more sane and sober price, he says.
Female artists commanded strong attention
Work by women artists sold well, at the higher and lower end.
At the Fisher Landau sale, abstractionist Agnes Martin set a record, with her canvas Grey Stone II earning $18.7 million. At Christie's 20th century sale, an untitled Joan Mitchell canvas fetched $29.2 million, smashing her previous $16.6 million high.
At Christie's otherwise disappointing 21st century-sale, young female artists sold well, with, for example, Stefanie Heinze's Third Date fetching $239,400—nearly quadruple its low estimate.
"It's been a great season for the ladies," said New York dealer and advisor Cristin Tierney.
A Rothko work on paper surprises, sets a record
An untitled 1968 Mark Rothko work on paper in blue, green, and black brought unexpected fireworks to an otherwise lackluster 20th-century-sale at Sotheby's on November 13. The piece nearly tripled its $7 million low estimate to hammer for $20.5 million, or $23.9 million with fees.
"I think that was a surprise to everyone, including the house," says Levin. "It set a record for a work on paper, and there was very active bidding in the room and on the phones. As Rothko works on paper go, it's a solid B+, but not an A+ example by any stretch."
Phillips achieves its second-highest sale ever, highlighting Nabis
On Nov. 14, Phillips held a $155 million sale, the second-highest total in company history, beginning with 30 works from the Triton Collection Foundation highlighting the French historical painters the Nabis, followed by 20th-century and contemporary works, led by a $35 million Gerhard Richter. In the context of a sluggish season, both sales fared remarkably well, says Tierney.
"The works were correctly priced, and [in Triton] they had good examples from a good collection," she says. "They had works from a fabulous Alexander Calder to a Paul Sérusier and they sold them well."
The Lows
Christie's 21st century-sale fizzles
On the first night of the season, Christie's 21st century-sale failed to thrill, achieving only $107.5 million with fees against a low estimate (sans fees) of $99 million. Offerings by market darlings like Keith Haring, Jeff Koons, Cy Twombly, and Andy Warhol, while they sold, failed to exceed their low estimates, which market observers agreed were unsupportably high for works that weren't of the greatest quality and already had some market exposure.
Nineteenth-century works fail to excite at Christie's 20th century-sale
A few oohs and ahhs escaped the crowd at Christie's 20th century-sale when Paul Signac's 1888 Portrieux, Tertre Denis (Opus no. 189), which bore a $7 million high estimate, failed to launch, one of just two works out of 63 that did not find buyers. Perhaps foreseeing a similar fate for Théo van Rysselberghe's canvas, Péniches sur l'Escaut, 1892, the house withdrew the work before the sale. A number of Post-Impressionist works that were, in experts' eyes, fine canvases but overpriced also failed to sell.
Sotheby's fudged its 20th-century numbers, says an advisor
When Sotheby's claimed that 94 percent of lots sold at its 20th century-sale, it was accounting for 31 of 33 lots. But Levin points out that this doesn't account for eight works that were withdrawn and, by his lights, should have been counted among those not sold, which would bring the house's rate down to just 31 out of 41, or 75 percent.
"I find that to be extremely bad practice," says Levin. "That's making statistics say what you want them to say."