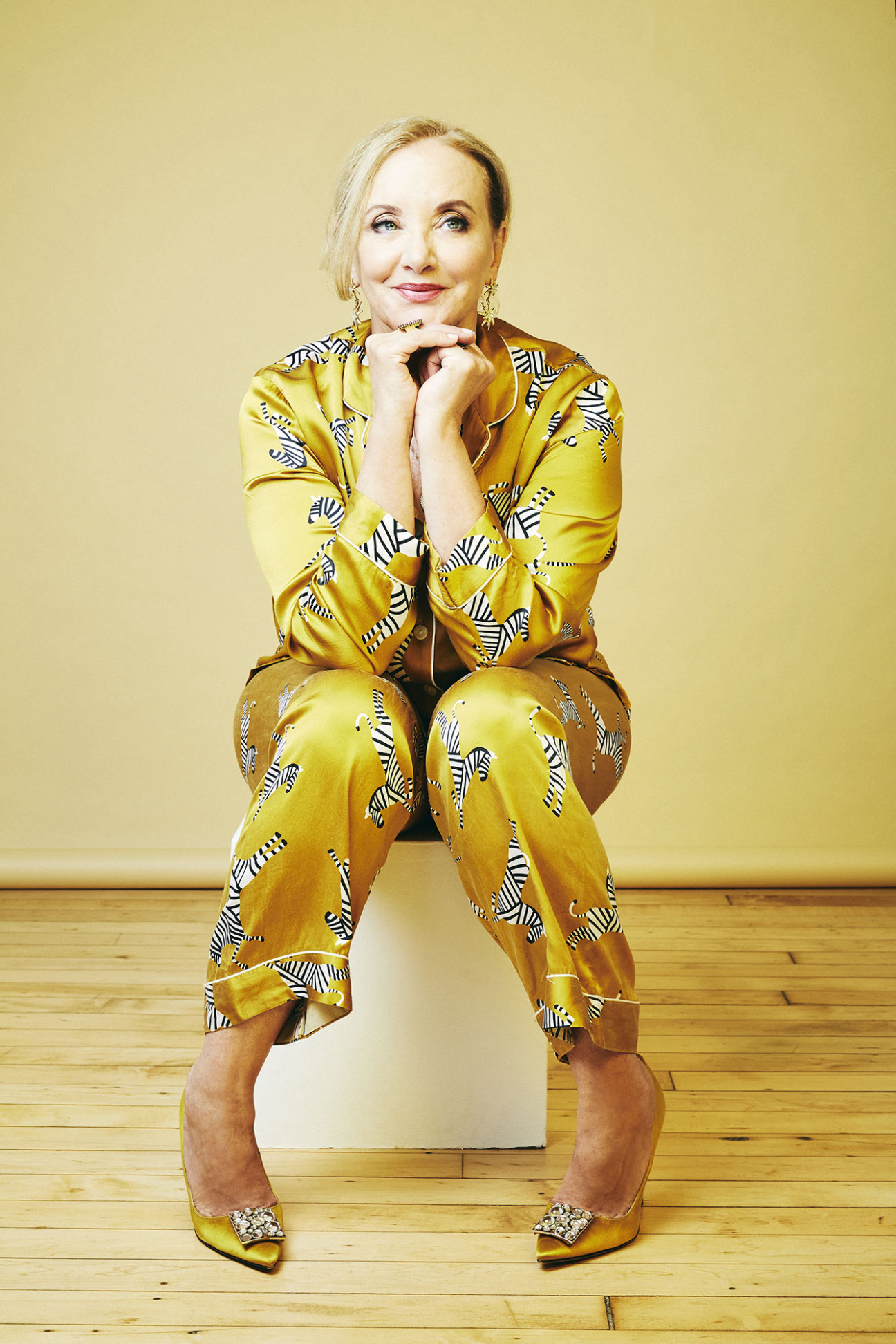 Welcome to Rules To Live By, where CULTURED asks sartorial voices—renegades, visionaries, and annotators—to unpack their style DNA and share the edicts they follow (and break) in the absurd game of life.
When J. Smith-Cameron was growing up in South Carolina, prep was the fashion currency in her school's hallways. But Smith-Cameron, meanwhile, was sporting knockoffs from Sears, until she and her best friend discovered the thrift store. The pair dug through piles of clothes to find embroidered shirts, loose jeans, and bandannas, channeling hippie aesthetics a few years too late. They didn't mind being off-trend, though, because they saw clothes as costumes. "And this was before I was a professional actor!" says Smith-Cameron, laughing.
She's carried this sense of sartorial play throughout her career, sporting styles as austere as her Succession character's powersuits and as sumptuous as the cobalt Carolina Herrera dress she was captured in for Vogue earlier this year. Off-camera, she's tapped into the old school glamor of icons like Audrey Hepburn and Barbara Stanwyck, with nudging from her stylist Cat Pope. "I would never have had the balls to do that without her," confesses Smith-Cameron, but as her onscreen personas already know well, you don't need balls to assert yourself in this world. Pope convinced the actor of this, telling her, "You're a glamorpuss. Va va voom is your way."
J. Smith-Cameron's Rules to Live By:
1. Never wear uncomfortable shoes. No matter how dazzling they are, you will look like a fool if you're limping or stumbling. Once, Martha Raddatz had to hide my Manolo Blahniks behind the White House drapes while I padded around the Bidens' Christmas party in flip-flops!
2. Always get eight-plus hours of sleep. When I was a child, I hated going to bed because FOMO. I was an insomniac from 25, when I got burglarized three times in a row, but a doctor figured out the right pill for me. Isn't modern medicine a miracle?
3. Never be rude to strangers. If it's someone you know quite well—say, your landlord or Kieran Culkin—rudeness can be warranted, especially if handled with style and wit. But for goodness' sake, be kind to the cashier, the lady who lives downstairs, the cabbie. Be polite with colleagues. They won't catch on that you're insulting them if you have lovely manners.
4. Always try new things. You may be cursing yourself at first, but I guarantee new adventures broaden your horizons and make you a more interesting person.
5. Always make sure to vote. It is the shiniest, most influential right we have! Don't let the bad guys win! Vote them out! And make every single one of your friends do it, too.
6. Never ever get on an airplane without a sweater, and preferably a lap robe. Air travel costs a fortune and is bad for the environment, but on top of that they keep you and your dinner frozen.
For other fashionable people's rules to live by, check out our interviews with Rachel Tashjian, Gia Kuan, and Emmanuel Olunkwa.