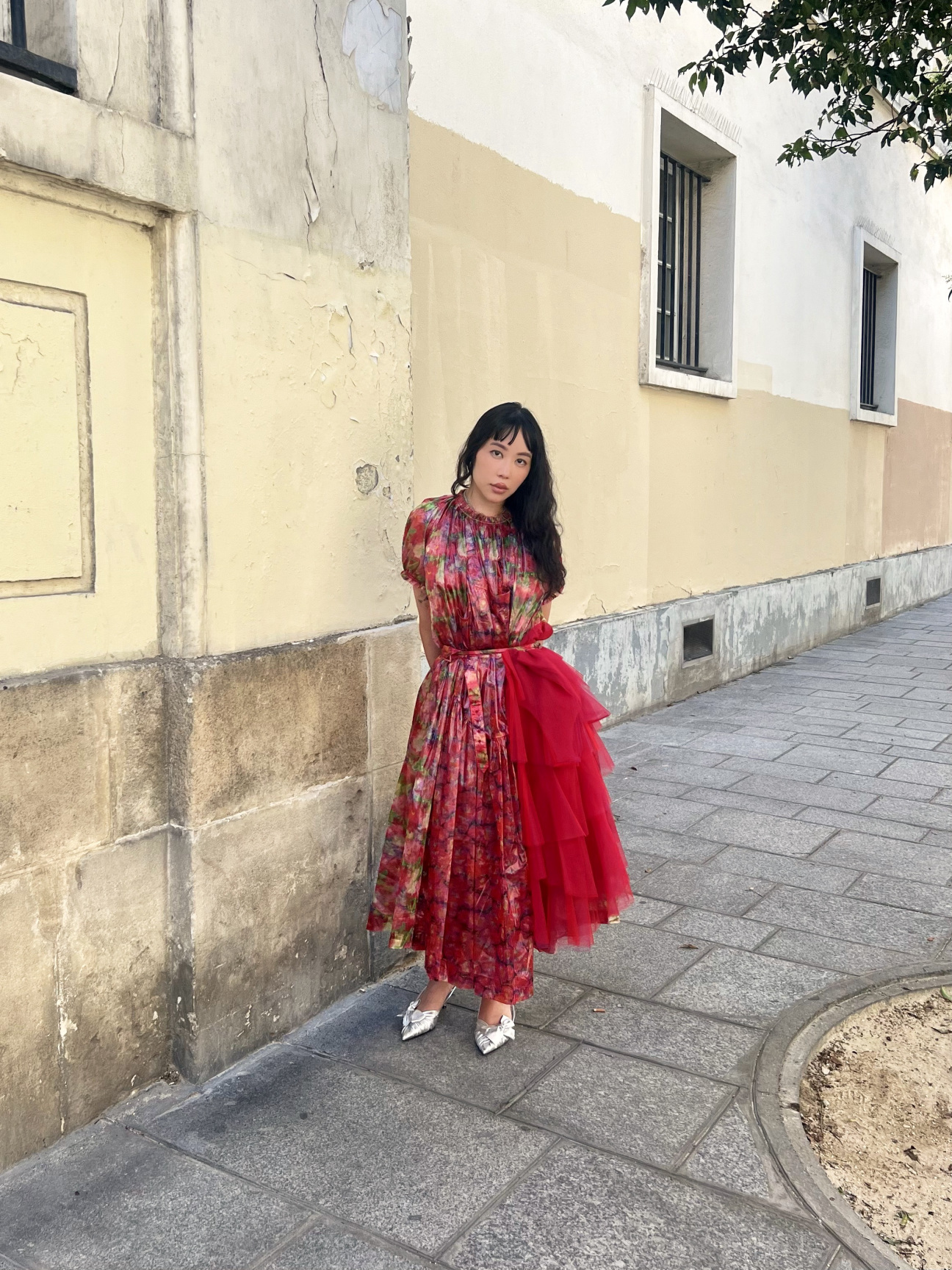 Welcome to Rules To Live By, where CULTURED asks sartorial voices—renegades, visionaries, and annotators—to unpack their style DNA and share the edicts they follow (and break) in the absurd game of life.
Gia Kuan is a mood-dressing cognoscente—the Taiwanese-born founder of PR firm Gia Kuan Consulting cycles through the roles of chic businesswoman, '90s teen queen, and Steve McQueen-inspired renegade on a weekly basis. This summer, she made headlines for pulling Bad Binch TongTong, Simone Rocha, and Kim Shui into her red and pink fantasy nuptuals with artist and gallerist Anatoly Kirichenko. At home, Kuan's standard two-door closet is as full as it is intergenerational—archival Comme des Garçons and Jean Paul Gaultier finds neighbor pieces designed by her own clients, who include Telfar, Lu'u Dan, and Priscavera. Growing up, however, Kuan says buying for the brand name was never a concern, if not outright discouraged. Here, she shares how she went from emulating Ally McBeal to organizing and starring in the wedding of the year, along with priceless tips on the art of making it in New York.
CULTURED: Who taught you how to dress?
Gia Kuan: I would say it's very much my dad. Both my parents, honestly. Neither of them are in fashion, but I feel like they have a natural sense of style, my dad especially. He taught me the idea of being comfortable with yourself and the idea of style over brand. He was always very anti-labels, so he actually to this day doesn't really know what I do.
CULTURED: Can you describe his style?
Kuan: Honestly, he dresses like a gangster. He worked in politics and crime enforcement all his life—he was basically the equivalent of the CIA, but in Taiwan—so he's always had to wear a uniform. But he experimented with style off-duty. He was very influenced by American style, that very '90s look. He always has a leather jacket or a bomber jacket on. He always has aviators on. A LOT of double denim. He's had a pony tail for, like, the last 20 years. He has an earring, a gold hoop. We got our ears pierced together!
CULTURED: Who were some of your early style icons?
Kuan: I liked a lot of men's wear. In terms of women, I was a big Paris Hilton fan. Anything that she was wearing, I would get. I watched a ton of movies and TV shows. There was a whole period of my life where I watched Beverly Hills, 90210 from season one to 10. I was very into Clueless. But then I also loved Paul Newman. Whatever he was wearing in movies, I would try to channel. And he was also my dad's favorite.
I've always loved Gregg Araki movies. The way they dress his movies in the late '90s was a huge inspiration for me. Ally McBeal was also a huge influence. I wanted to go to law school purely from watching so much Ally McBeal and Legally Blonde. I wanted to be a fab-looking girl lawyer that dressed really cute. But I'm actually a fashion girl, not a law girl at the end of the day.
CULTURED: How would you describe your current style in a few words?
Kuan: I still have the same influences. It's also very much based on what I feel like that day. I "mood dress." If I'm feeling very corporate that day, I'll wear a suit. If I feel like a teenager that day, I'll dress like a teenager. It's very instinctive. And I don't really plan my outfits either. It takes me about five minutes to get ready every day.
CULTURED: What does your closet look like?
Kuan: It's currently color-coordinated and very tight. I have a lot of stuff, but I also get rid of a lot of stuff. I try to cycle out as much as possible. There are certain sections that are archival pieces that I've bought and saved just for collecting purposes—vintage Comme des Garçons or Jean Paul Gaultier or Chanel from the '90s. Most of my wardrobe is old and collected vintage. Then about 20 percent of it is emerging designers or independent designers that I like and work with, because I think that's the only category that I would support new.
CULTURED: So what are your staples this year would you say?
Kuan: Last year was definitely this leather jacket, and then the whole year before I just got two-piece sets. Right now I've been wearing jeans again, which I didn't do the last two years. A lot of denim.
CULTURED: What kind of denim are you going for?
Kuan: Baggy jeans. I have this pair of balloon jeans that I wear all the time. They're really comfortable. I also wear this pink Evisu skirt and denim jacket ensemble a lot. There's also this Calvin Klein denim jacket and jeans ensemble that I've been wearing a lot too. I have this one velour tracksuit from the Jordan brand that I work with. They're just so easy. It's kind of like a uniform, but it still looks good.
CULTURED: Your wedding was an iconic New York fashion moment. How did you land on the styles you wore?
Kuan: I started thinking about it a couple of months ago. I had an idea of what I wanted: not white because I wanted to do a Chinese wedding color, which is usually red. So I landed on red and pink. Pink is just because I like pink. I didn't really want a long gown ... Everything except one look was commissioned and custom. I already worked with Bad Binch TongTong, but it was just giving him the idea of a city hall look. I had a very basic reference that I kind of just let him run with. Same with Simone Rocha. With Kim Shui, I wanted something that was an homage to Chinese dressing, but more of like a two piece. We chose the fabric together. We wanted this tacky but funny looking pink embroidered fabric that you see on tablecloths and curtains. She found it at the Garment District.
CULTURED: How do you feel about where the New York fashion community is at right now?
Kuan: There's so much self expression with younger kids' dressing these days. There's a lot of DIY and a lot of upcycling, which I love. At the same time, there's also so much of this one aesthetic I'm seeing right now that's a little bit more led by TikTok. At the end of the day, that's always gonna be an influence in terms of how people consume. But what I do think is amazing is the awareness and the ability to be more resourceful. Gen Z is pretty aware of fashion and how they want to consume it. Growing up, I definitely wore a ton of fast fashion because the repercussions of it just weren't ingrained in my mind.
Gia Kuan's Rules To Live By:
Always treat others as you'd like to be treated.

Always eat well and nourish your body and soul. You are what you eat!

Always stay calm and carry on—be cool about it.

Always push yourself a little out of your comfort zone, only then do you learn and progress.

Always listen before you speak. Easier said than done. You'd be surprised how many conversations go awry from lousy communication and speaking or acting in haste without observation.

Always travel as much as you can—continue to see more, experience more, gain perspective. Stay curious.

Never panic. When a leader loses their cool, the rest can just turn into a crumbling mess. People channel off your energy, and if you're not together it will only panic others.

Never hold grudges, life is a little too short for that.

Never try to overcomplicate things; the solution is often more simple than you think.

Never develop a big ego, it only becomes a projection of insecurities.

Never be late if you can prevent it; time is gold. No one likes to be treated like their time doesn't matter.

Never be a follower, period.