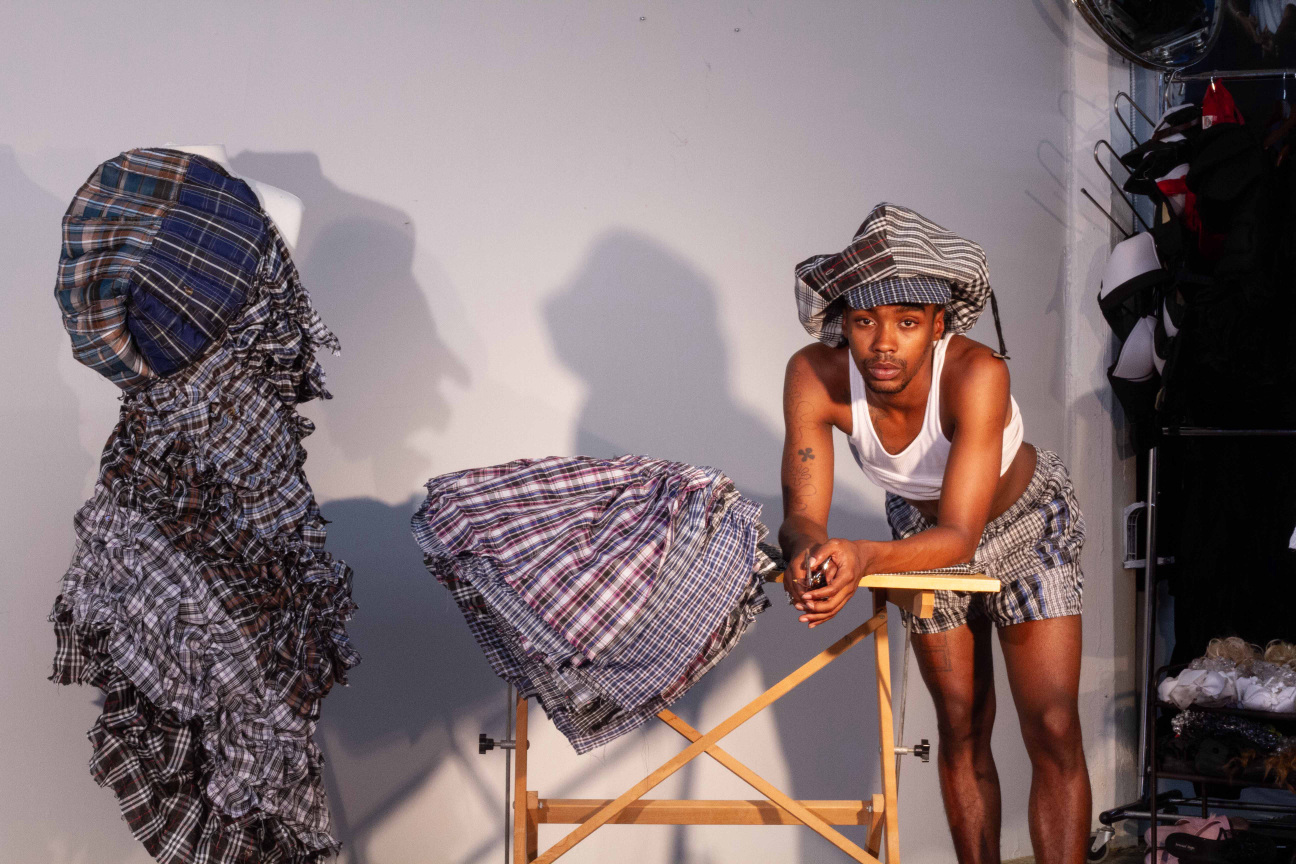 A recent Fourth of July getaway inspired the 24-year-old designer DJ Chappel to create a run of garments decorated with the stars and stripes of the American flag. "My friends and I went to Massachusetts, someplace very pro-America, and we were just being, I guess you would say, campy," he recalls. "Wearing red, white, and blue, shooting BB guns, and being really American."
Chappel has plans to unveil the pieces this fall as part of his latest collection, which includes a number of never-before-seen archival works. Though this is the first time he's explicitly experimented with a flag motif since he began designing in 2018, Chappel's clothing has always reflected his uniquely American perspective: an embrace of Black queerness infused with his New York upbringing and finished with an irreverent, surrealist twist.
Think double-brimmed trucker hats, prairie skirts constructed out of layers of plaid boxers, and handbags woven from opalescent hair bobbles. It's a little Vetements, a little Hood By Air. Canal Street souvenirs by way of Salvador Dalí.
Largely self-taught as a tailor, Chappel begins each piece with a character in mind—a holdover from his time as a student at the Point Park University dance conservatory in Pittsburgh, where he worked in the campus costume shop. (Duality Junkie, as his ready-to-wear brand was previously known, is based on one such character.)
Chappel's designs are beloved by rising R&B starlets like Liv.e and keiyaA. They have also become the foundation for a more holistic creative practice. Chappel is a creative director, a stylist, a filmmaker, and above all, a collaborator. For a commission from the Rhode Island School of Design Museum, The Let Out, on view Sept. 25, Chappel and his partner, the photographer Ryan Cardoso, set out to conjure the energy that buzzes in the street when an event concludes.
"At the end of a party or a gallery opening, there's that scene where everybody's gathered outside," explains Chappel. The pair will install a banner emblazoned with photographs of clothing from RISD's collection, styled on a crew of intimidatingly cool-looking characters—all of whom are played by Chappel himself.
This feature is part of CULTURED's Emerging Designer portfolio, featured in the September issue.