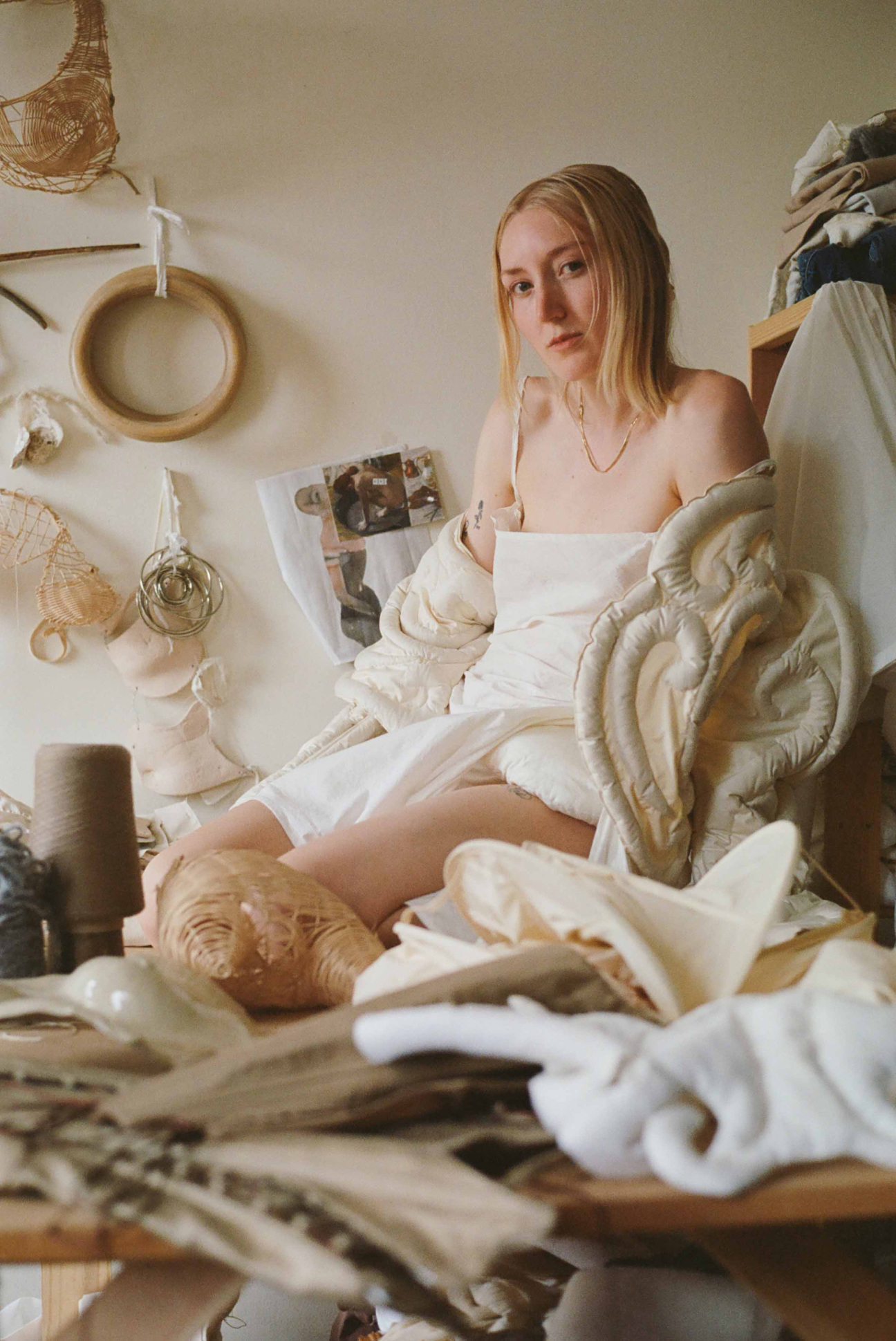 A maze of dirt piled atop a linen blanket. The woody scent of frankincense wafting in the air. That's what visitors encountered when they stepped inside St. Mark's Church one afternoon last February for Zoe Gustavia Anna Whalen's New York Fashion Week debut.
The 28-year-old artist-designer instructed the models wearing her gauzy bias-cut gowns, dramatically boned panniers, and pillowy embroidered jackets to make their way through the winding labyrinth in a steady, unhurried procession. "I wanted the focus to be less on the runway than on this sense of community, slowness, and meditation," explains Whalen.
Guests were given paper bags so that they could take home a handful of soil after the show. Infused with the room's energy, it doubled as a spell to carry into the world. This mystical presentation is a reflection of Whalen's upbringing outside Boston, where she practiced a form of Earth-centered spirituality and attended supportive women's circles with her mother.
After arriving in New York, she studied fashion design at Parsons and cut her teeth at some of the city's buzziest brands, including Eckhaus Latta and Interior. Her vision for the future of garment-making is largely informed by the past, taking cues from preindustrial wearables like medieval chain mail and hip-shaping Victorian undergarments.
Her pieces, which she produces with the help of an in-house team, are constructed from deadstock fabric and other delicate discarded materials that she sources from thrift shops and antique fairs. Working this way allows Whalen to cut down on waste, an imperative given the industry's outsize role in climate change. It also adds to the singularity of each design. "There's such a bounty of these beautiful, embroidered tablecloths and crocheted coasters," she says. "Using these secondhand textiles can contribute to the ineffable magic of an object."
This feature is part of CULTURED's Emerging Designer portfolio, featured in the September issue.