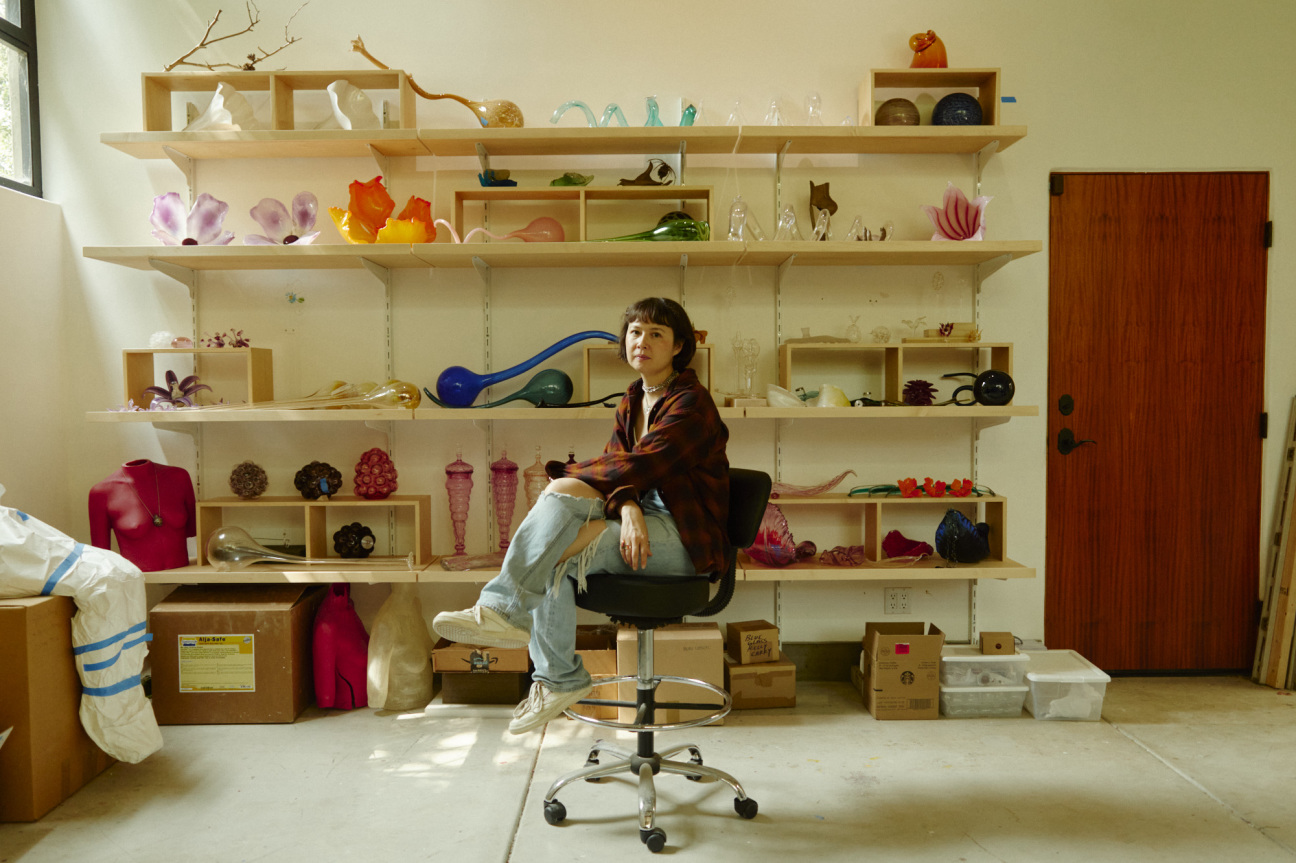 When the world shut down, Kelly Akashi took up stone carving. It was the spring of 2020, and the meditative, outdoor process felt well-suited to an era of isolation. Now, slabs of calcite, sandstone, and marble rest on sawhorses outside her studio, a converted garage in the unincorporated city of Altadena, just northeast of Los Angeles.
Inside, there is more evidence of Akashi's omnivorous appetite for craft traditions, which she uses to make art that manages to be both precise and indeterminate. A floor-to-ceiling shelving unit occupying a full wall of Akashi's studio holds an array of colorful, pristine glass and bronze objects—snake-like tubes, yawning blossoms, and several expressive replicas of her own hand, a motif in her work.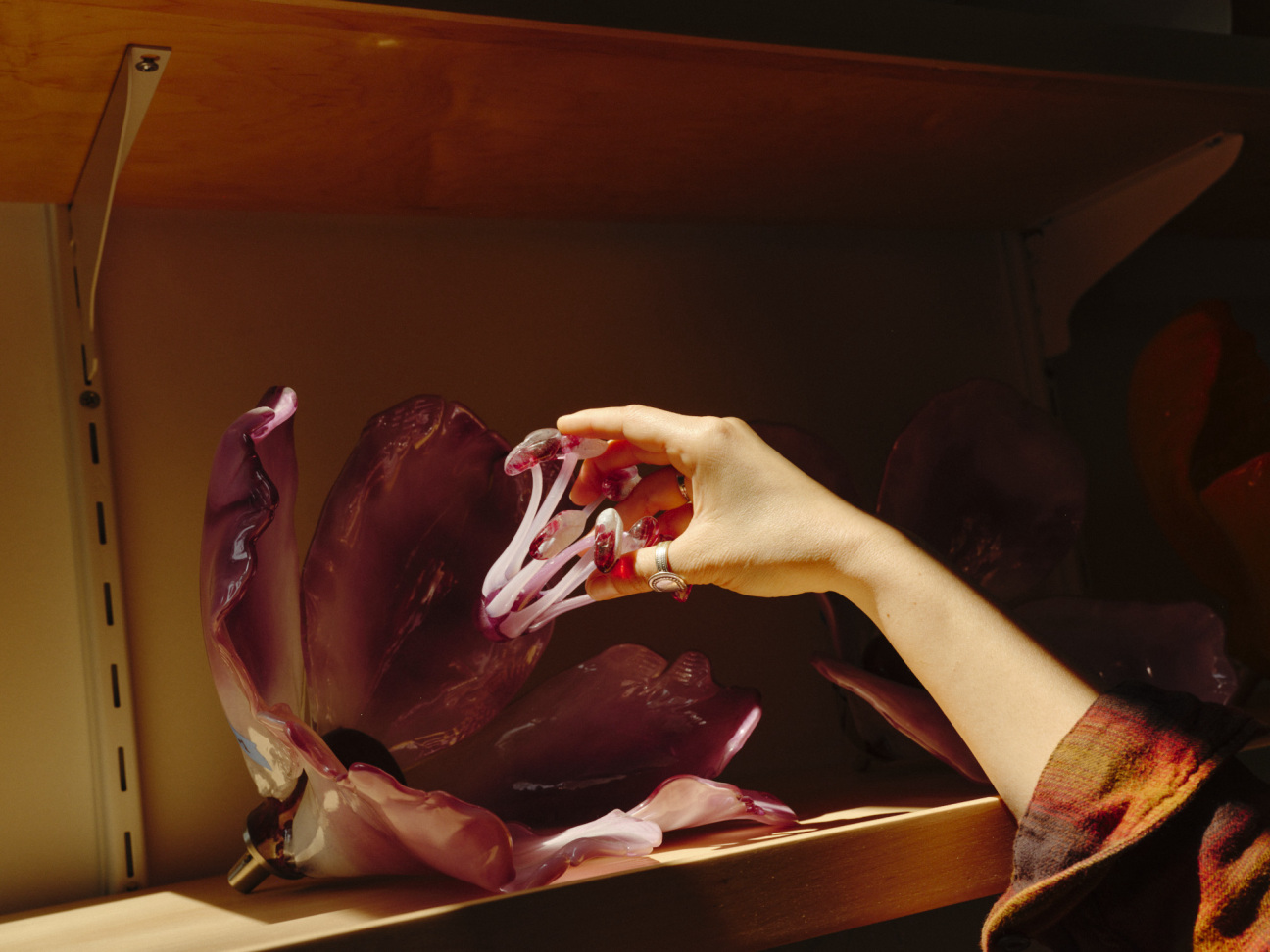 Many of these pieces will never appear in exhibitions. "I try to be careful not to make any of my studies too precious," explains Akashi. Some of them end up archived in labeled boxes, a record of the experiments that go on to inform completed artworks. "I always say the best time to make work is when I don't have a bunch of deadlines," she notes. "It's really nice when there's just no goal."
In a moment when crushing economic pressures in most international art centers force artists to become results-driven, Akashi's insistence upon open-endedness feels especially optimistic, as it underscores art's ability to unfurl less direct, but still potent, modes of meaning-making. Her circuitous way of working defines "Formations," the first major exhibition of Akashi's work, which opens at the Museum of Contemporary Art, San Diego, in September. (It originated at the San José Museum of Art in September 2022 and then traveled to the Frye Art Museum in Seattle.)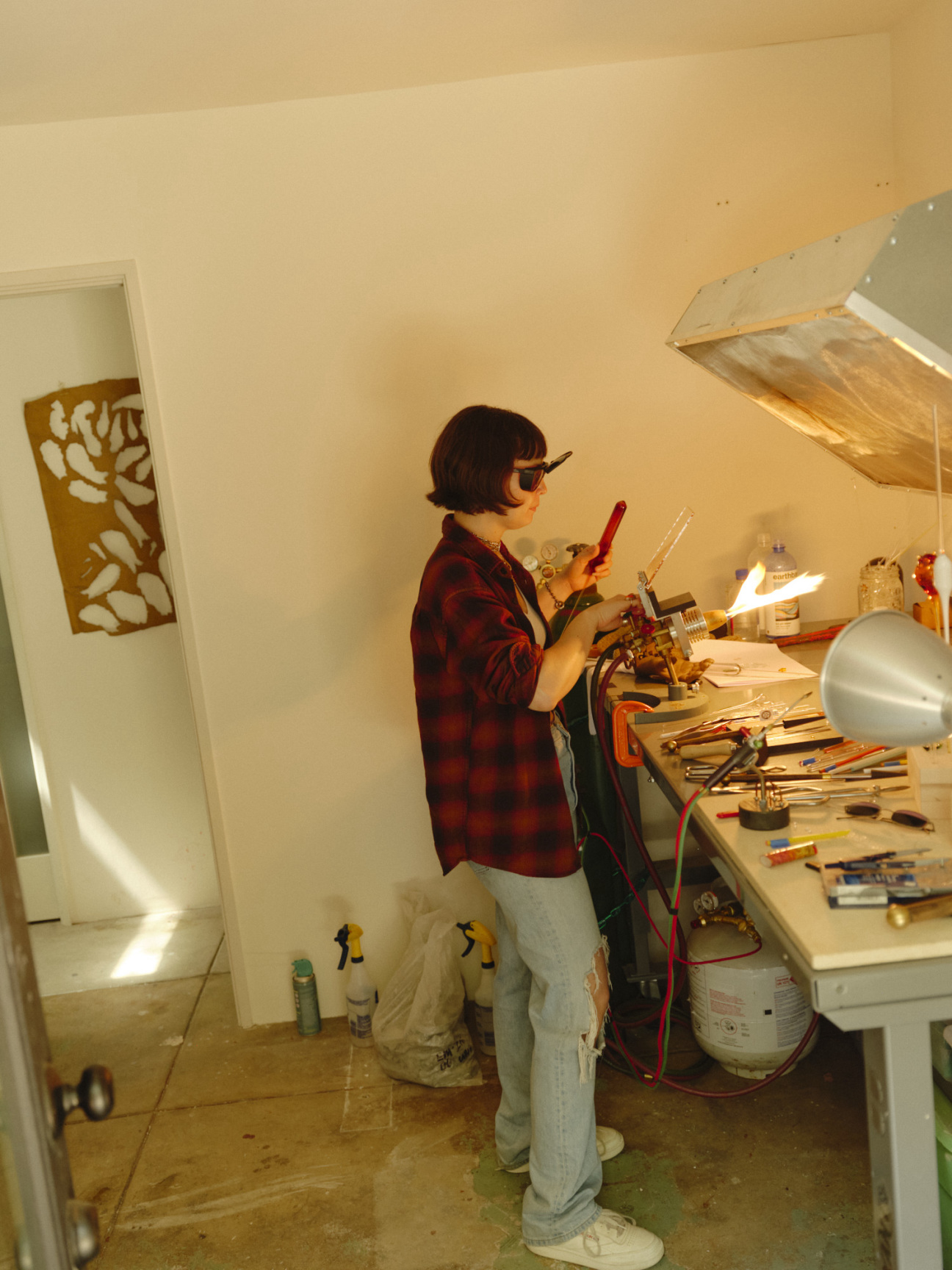 The show spans the past decade of Akashi's career and treats her materials—photography, wax, bronze, glass, earth, fossils, medicine, plant matter—as part of a constellation. In fact, the exhibition feels so coherent that it could be mistaken for a single installation. The golden rope Akashi has used for years drapes over walls, anchoring delicate-looking bronze body parts and glass orbs. Casts of flora bisect slabs of earth, or grow out of dirt mounds on the floor. Human hair extends from glass bowls. "It's not this linear, dry narrative," says Akashi. "It's meandering. But meandering paths create a lot of volume, and loop back on themselves."
Akashi's family has deep roots in Los Angeles: Her grandfather ran a business in Little Tokyo, and her father grew up in Boyle Heights before the Japanese American family was forcibly interned during World War II. She grew up around the paintings her mother made in college, though when asked why she became an artist, Akashi often cites a 1996 copy of Spin magazine that featured photographs by Nan Goldin. "There is an insistence on stories and relationships," Akashi explained of Goldin's appeal in a 2022 interview with fellow artist Julien Nguyen, featured in the "Formations" exhibition catalog.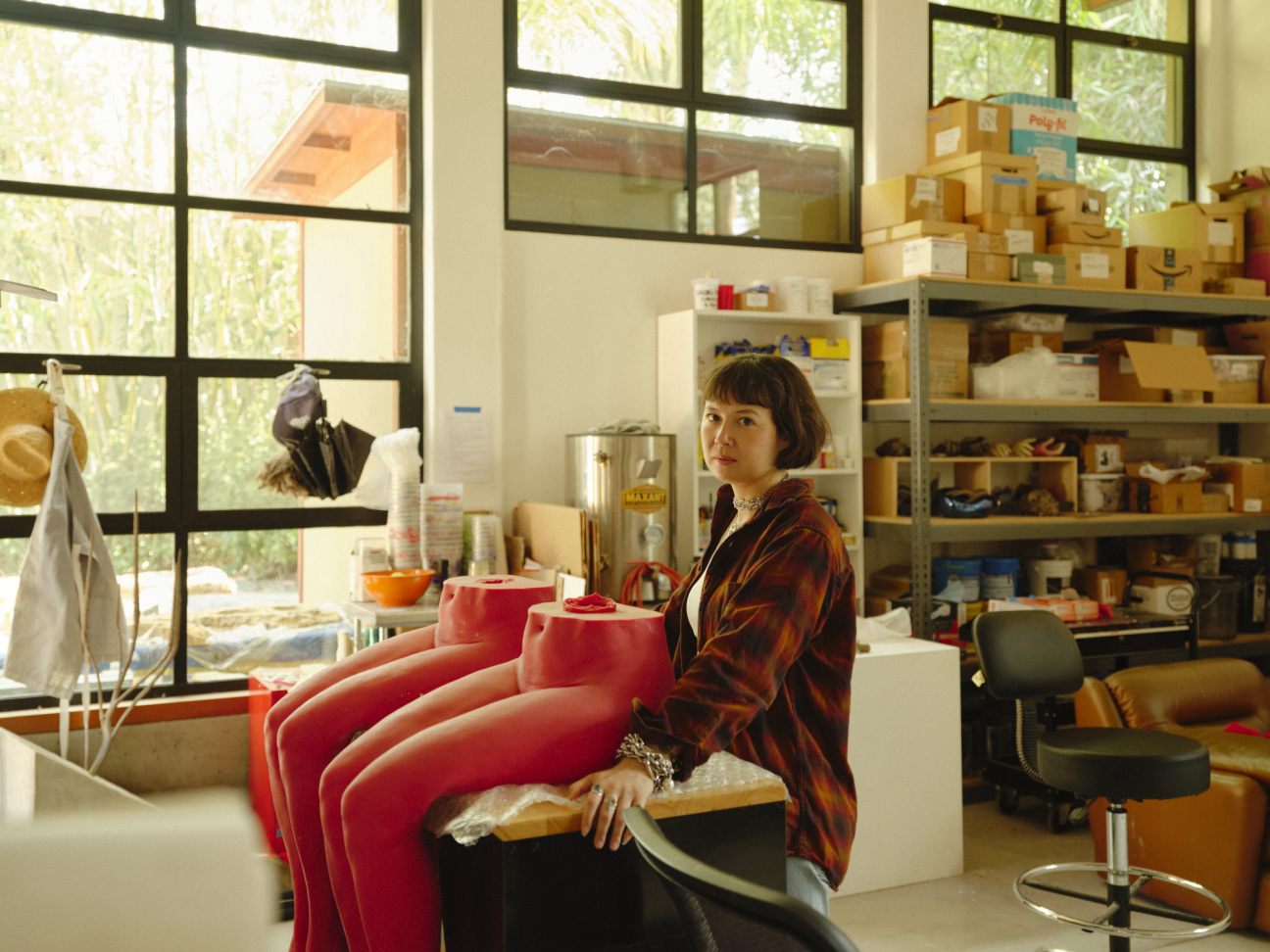 This pivotal encounter with contemporary photography led her to study the subject at Otis College of Art and Design, where she graduated in 2006. But, as she told Nguyen, "At some point, I started realizing maybe it was never really about photography." Like Goldin, Akashi was interested in collecting, archiving, and connection-making; photography was just one way to pursue these urges.
By the time she received an MFA from the University of Southern California in 2014, Akashi had begun working with wax, bronze, and glass. The wax came first—during her first semester of graduate school, when her mother taught her candle making—and led her to make wax replicas of her own hands. A friend who worked at a foundry offered to cast them in bronze free of charge. "It's a terrible thing he did for me," she jokes, "because now I'm hooked."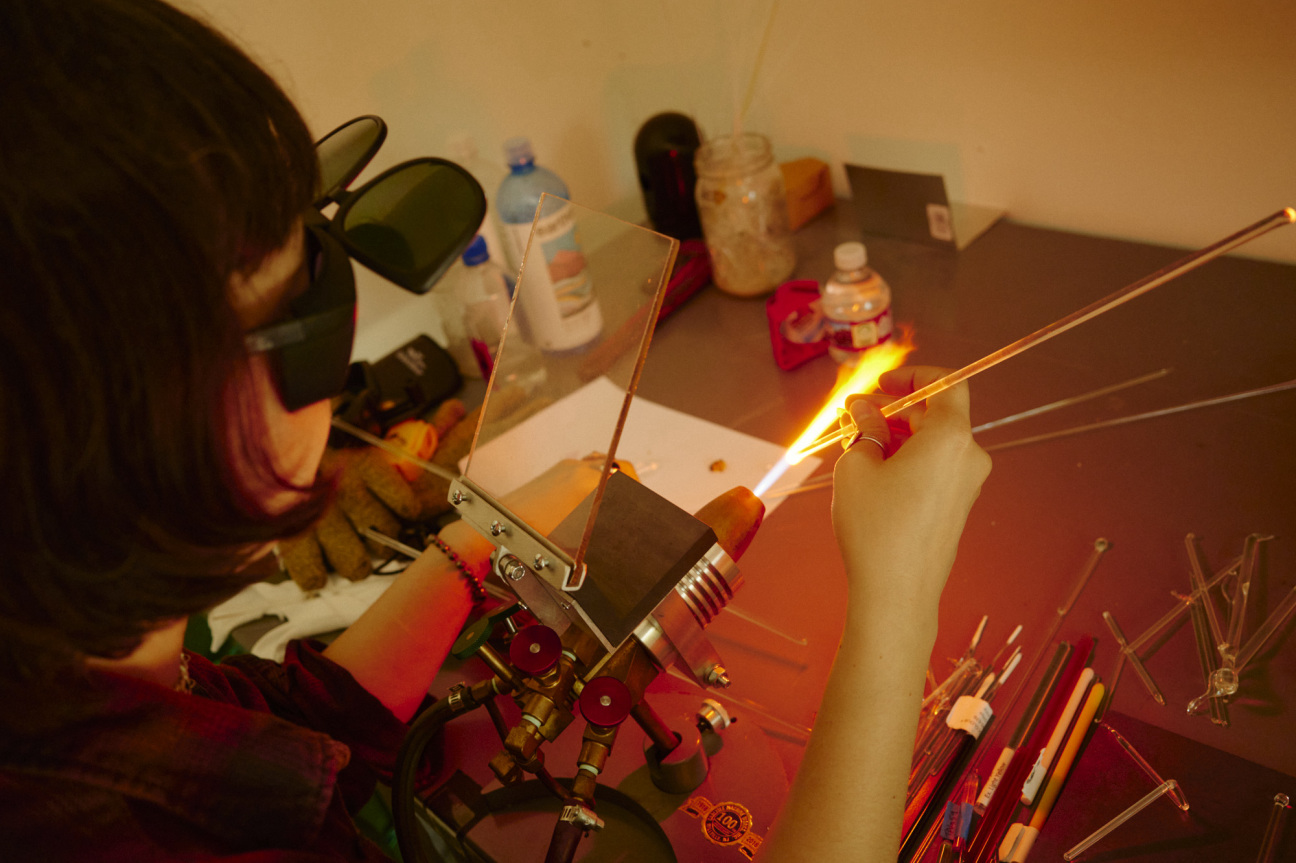 Glass came next, and over the years, Akashi has taken multiple trips to Pilchuck, an epicenter of the American studio glass movement. She spent the summer of 2022 learning glass-blowing techniques in Murano, Italy, a hub for glassmaking since the 1200s. For Akashi, these ways of working are all extensions of the same impulse: to explore time and our inability to control it.
The sculpture Pincer, 2017, included in "Formations," consists of a pearl-hued, shell-like basin with small glass balls interrupted by disembodied bronze fingers at the bottom. This work helped Akashi begin to grapple with nonhuman perspectives and inspired her to research fossils. She has always used her own figure—through casts of body parts and materials collected from her life—as a threshold. With Pincer, she started to think about how to "situate the human timeline on these other timelines that are just as valid."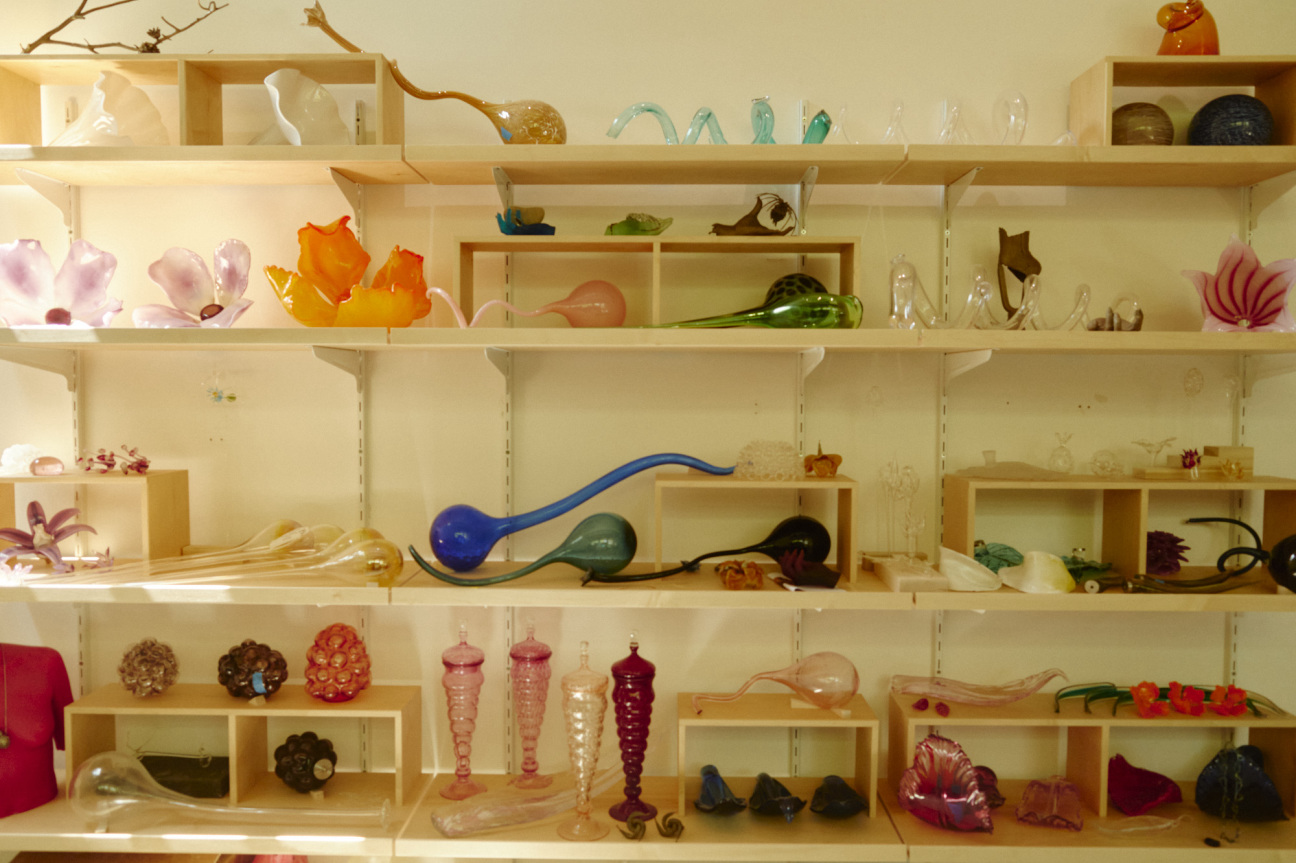 In 2020, she traveled to Poston, Arizona, to visit the remains of the camp where her father had been interned in the 1940s. She knew that internees planted trees during their time there. "They're these last witnesses of that time," she says. "That's why I wanted to go there initially, to see if there were any trees." There were, and she made bronze casts of the branches she collected. In "Formations," these sculptures lie across large pedestals of rammed dirt, intended to make viewers feel like they are immersed in the earth.
Over the past year, Akashi has become increasingly interested in outer space. So when Shamim M. Momin, director of curatorial affairs at the University of Washington's Henry Art Gallery in Seattle, asked if she wanted to collaborate with any department at the university for an exhibition, "Encounters," opening the week after "Formations," Akashi suggested astronomy.
In collaboration with astrophysicist Tom Quinn, she has been working on a simulation that shows the merger of the Milky Way and Andromeda galaxies, which scientists predict will happen in approximately 4.5 billion years. In the simulation, the galaxies cross each other and then, propelled by gravitational forces, sling back and meld. "It's so romantic and horrifying at the same time," she says. "There's something about getting people to see things that aren't for us. They're just things happening in the universe."
"Formations" will be on view from September 21, 2023 through Feburary 18, 2024 at MCASD. "Encounters" will be on view from September 20, 2023 through May 5, 2024 at Henry Art Gallery in Seattle.