Welcome to Rules To Live By, where CULTURED asks sartorial voices—renegades, visionaries, and annotators—to unpack their style DNA and share the edicts they follow (and break) in the absurd game of life.
Pink vinyl bodysuits, couture Dior gowns, Thom Browne houndstooth coats: a quick scroll through Kimberly Drew's Instagram provides a lifetime of inspiration. A sartorial diplomat, the Pace curatorial director's outfits help her adapt while still making a statement in the venn diagram of worlds she's made a home in. The mind behind the book This Is What I Know About Art and Substack Something I Saw, Drew also co-edited, with J Wortham, the essential 2020 anthology Black Futures. Over the creative's time in New York, fashion has become way more than a recreational activity. Drew has found herself walking in shows for the likes of Chromat and Collina Strada, and partnering with brands like Reebok, UGG, and Kate Spade. In the midst of a whirlwind summer season, Drew called up CULTURED to talk about being anti-storage unit, buying convenience store bikinis at Art Basel, and the time Tina Knowles let her wear one of her Art Smith bangles.
CULTURED: Who taught you how to dress?
Kimberly Drew: My sense of style is most impacted by the women in my family, as well as the women that I watched on television: Raven-Symoné, period. Or Zenon: Girl of the 21st Century.
CULTURED: How did you express yourself with clothing as a kid? Did you have any rebellious phases?
Drew: I actually didn't because I was a kid who wore uniforms for much of my life, up until high school. It was a really hard transition to learn how to dress. I didn't grow up very wealthy, so I didn't have a vast closet. The learning curve has been almost a 20-year journey of finding out how I want to look and who I want to be in the clothes that I wear.
CULTURED: What significant milestones have marked your fashion journey?
Drew: I went to a conservative, New England prep school. It was an assault on my self image because I was one of the few Black students and one of the few on scholarship. When I was graduating, I literally remember the outfit I was wearing—a turtleneck and slacks—and I thought, I want to be in a space where I can wear what I want and be who I would like to be. I got to Smith [College, for undergrad], this very liberal environment, and it was a shock to the system. The first night on campus I was in the nude house where you had to streak. I was not ready, but that's where I learned I could try on different looks through character play. It took working in New York to really be like, "This is who I actually am."
CULTURED: How would you describe your current style?
Drew: I'm firmly in a politic of fashion diplomacy where you dress for the space that you're in. It's very Michelle Obama (the Obamas were elected my first year of college); if she went to Copenhagen, she'd wear Stine Goya. I'm that kind of dresser. Since 2017, when I started working with more fashion brands, I've embraced that diplomacy.
CULTURED: Is telling a story with your clothes important to you?
Drew: The way I dress is crucial for me as I navigate difficult industries. It helps me feel confident and remember who I am. It's like dressing well for the airport to get an upgrade. You can look at yourself and be like, "Oh, I'm that bitch." Even being at Pace… there's the pumps crew, there's the fully dressed crew, and there's the sharp suits crew. In the arts, we understand that our clothing tells a story about ourselves and our work.
CULTURED: Can you describe your closet and your process for getting dressed in the morning?
Drew: I'm anti-storage unit. I like to see everything. I built my own walk-in closet, color-coordinated and oriented by fabric and shape. It's therapeutic for me, like healing my inner child who didn't have many options. My closet is 100 percent open. Even at Pace, my cubicle has five to six pairs of shoes in it at all times, and there's three dresses in the closet. I keep spare shoes and dresses in my cubicle. It's like being Awkwafina in Crazy Rich Asians, always ready to change and adapt to the occasion.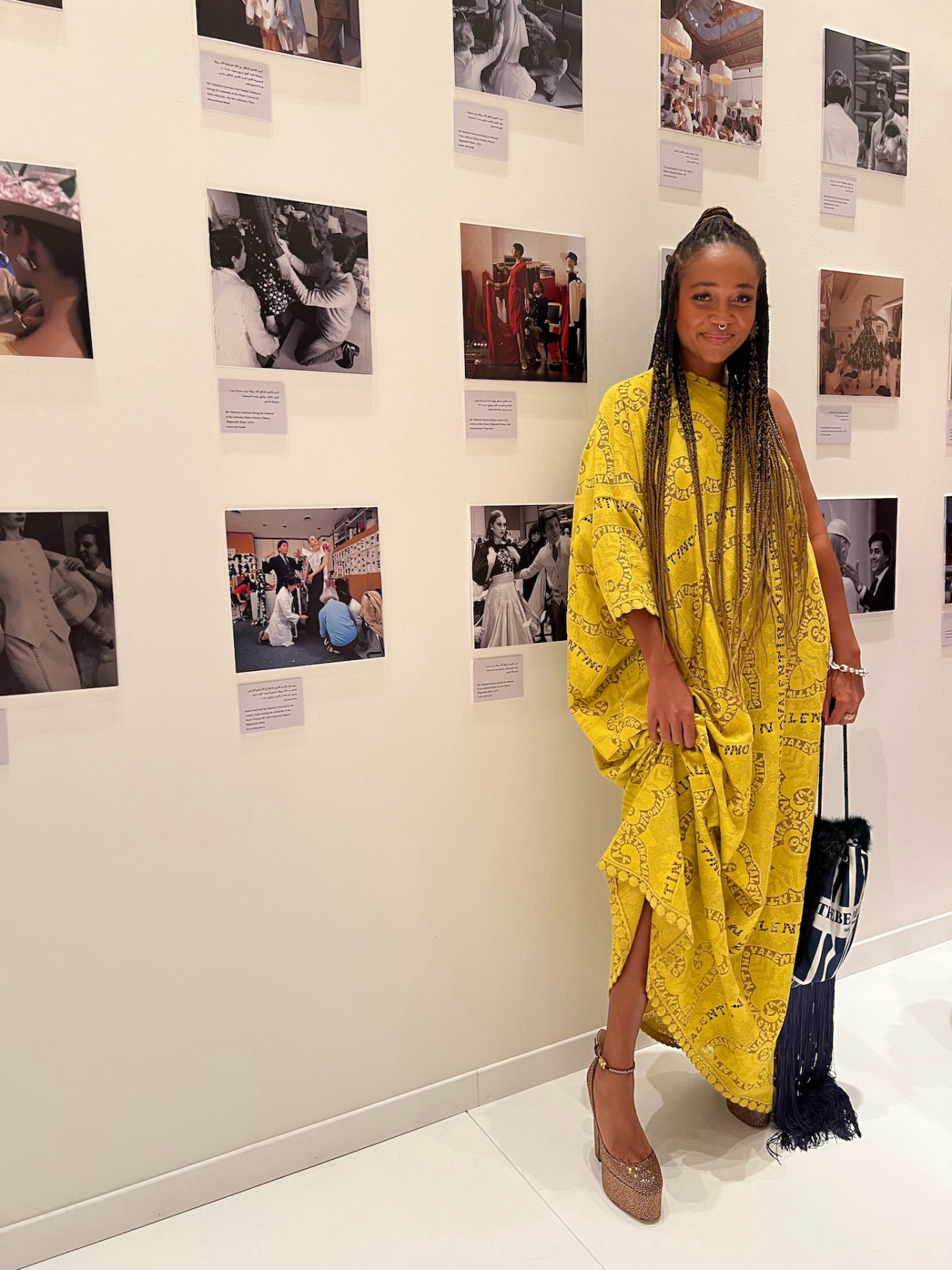 CULTURED: When you see someone stylish on the street, where do your eyes instinctively go first?
Drew: I look at people's eyes first. I recently started telling people they look nice because it feels good to hear. I made a private promise to myself to be more affirming.
CULTURED: Having walked the runway multiple times for the likes of Chromat and Collina Strada, could you describe your initial experience and how it feels now? How does this role fit into your identity and work?
Drew: I think my first show was Chromat, but I can't remember which one. I love design, especially with Chromat and Collina, who are good friends. Seeing the earliest stages of an idea come to life is akin to what curators do. Seeing the business of creativity in a different shape is really exciting to me, in the same way as when I went to my first Salone and saw the capital-D design world and was like, "Woah! I don't know how any of this works."
CULTURED: Whose closet would you pull a Bling Ring for?
Drew: Steal? I would literally never. I would be so devastated. But what I will answer is who would I sweet talk into [letting me] borrowing things from their closet. I wrote about Tina Knowles, Beyoncé's mom, many years ago. The best part about that shoot was that she's been collecting art since she was 19 years old. She also recently got Bling Ring-ed. When we were shooting together, she let me wear an Art Smith bangle, and it was the sweetest gesture ever. Earning that level of trust is a significant part of my life.
CULTURED: What is something that people would be surprised to learn about your fashion sense?
Drew: I am equally a cheap beer and fine wine person. I'll just buy something convenient. During Art Basel, I went to a convenience store and bought like three bikinis. I also bought Gatorade because I was hungover. And then I'll pair that with my Prada beach bag and Prada towel. When I was in Paris, I met a really incredible couturier, and I was with a friend who has a similar taste to mine, and she had on a very quick and easy dress, and the couturier was inspecting her garment asking, "Where is this from?" It was a cheap $25 dress, but he was like, "The construction is incredible." That's the sweet spot, where the price does not really matter. The sustainability matters, but for the ease, it's about finding your silhouettes.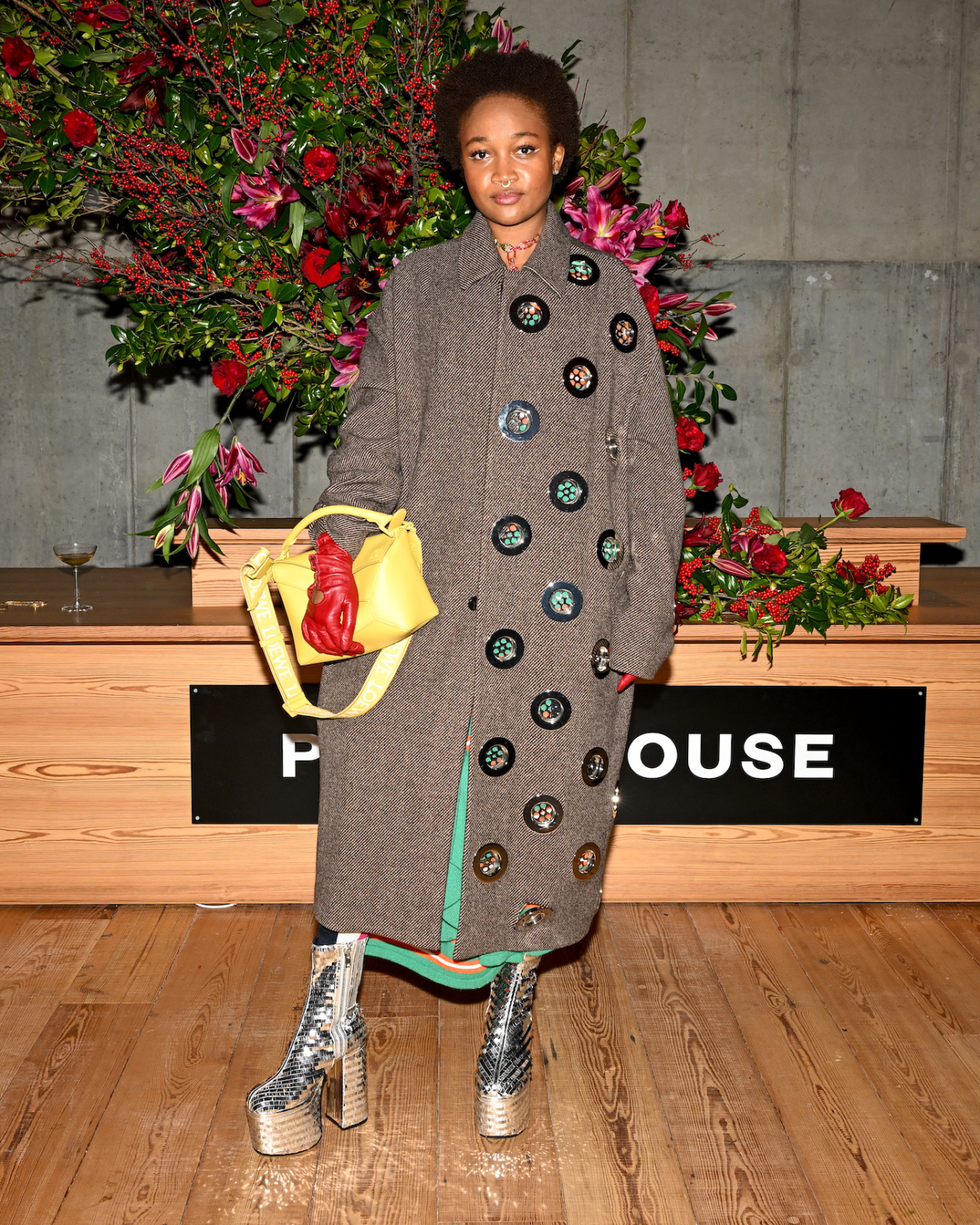 Kimberly Drew's Rules to Live By:
Never forget that flats are an option.
Always dress like yourself.
Never forget that you're the only person who gets the honor of being you. (That's my mantra.)
Always just buy it.
Always make sure that everything that's under the clothing is well taken care of.
Never mind the stains that people can't see.
Always go to the fucking cobbler.
Never forget to pick up your things from the tailor.
Always eat before you go to a gala.
Always have a bag big enough to fit a protein bar. It's actually such a New York thing.
Always carry spare cash to share on the subway.
Never underestimate anyone in any room ever.