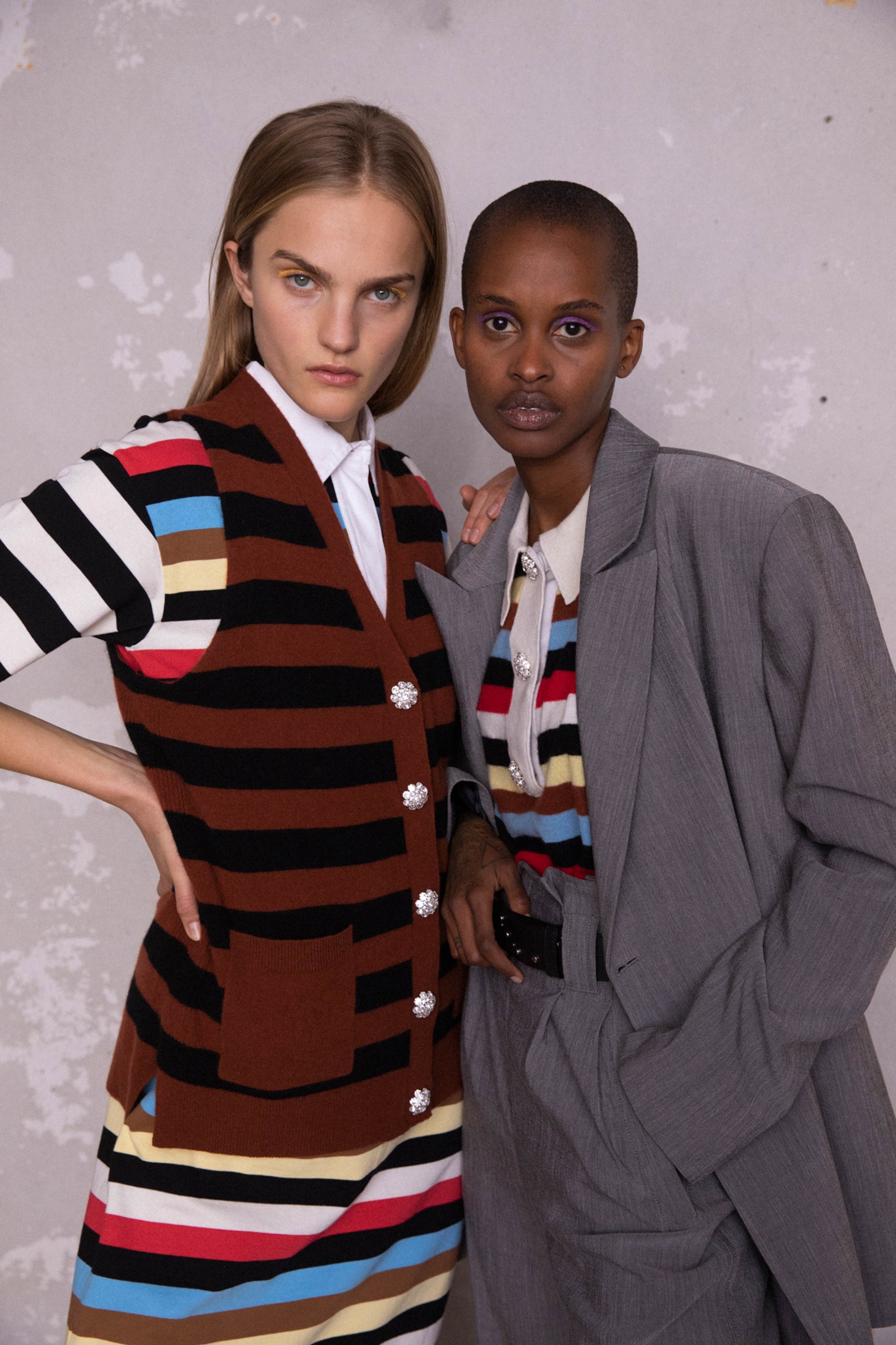 If you are a brand that steadily gained access to the closets of the fashion cognoscenti and had clip rate expansion plans going into 2020, this year has certainly been a rude awakening. Such is the case with Ganni, the Danish label that offers a mix of both affordable and adorable clothes, shoes, and accessories. Buoyed by the social media clout of its irreverent and adventuresome #GANNIgirls (many of whom possess the Danish knack for playful personal style), Ganni had indeed been on a roll. In 2019, the husband and wife duo of Creative Director Ditte Reffstrup and CEO Nicolaj Reffstrup opened new stores in Los Angeles, New York, and Miami and were lauded for their sustainable production practices. But that was then. Now, after having to temporarily shutter stores due to COVID-19 and shelter in place at their Copenhagen base, the Reffstrups are ready to reflect and redirect. "You know when you wake up with a hangover and promise yourself you don't want to drink again? There was a bit of that going on," says Nikolaj Reffstrup, describing how time in quarantine offered him a much-needed mental detox and perspective shift. "We promised ourselves we would use this as an opportunity to initiate change in the organization and be extremely aware." Here, Cultured caught up with the couple—who last week held their CPFW presentation and unveiled a new collaboration with Levi's—about taking a step back to move forward.
On a personal level, what's been the most challenging but ultimately beneficial aspect of this time?
Nicolaj: "I am a person who, and I know this is ridiculous, but I get F.O.M.O. [fear of missing out]. All this time and focus on family has been amazing and helped me work on being in the moment more. In business, we understood that this could be a time to break up with bad habits, as we all have so many of them. I know I do."
Ganni has been growing very quickly in recent years. Do you feel this growth is still sustainable or did this moment offer a perspective shift?
Ditte: "Yes for sure, especially for me. In the 10 years since we took over Ganni, we have had three kids. I look back on all that has happened, and I realize how overwhelming it has all been. I am not the type of person who stops and reflects too much about things, because I am always busy thinking about the next collection, my kids and what to do with their lunch boxes. I haven't given myself the time to consider where it's all going. It has been a wake-up call in good and bad ways. I realize I have been a bit emotional about not taking a full maternity leave ever, and spending too much time at work. It's tough though, because Ganni is also something that I love. It's not something I do just for work."
What have been the key learnings that have allowed you to look at your business in a different light? And new ideas that have come as a result?
Nicolaj: "We initiated a program to prioritize our responsibility strategy that accelerated plans for the next year. Anything related to 3D technology has always been an interest of mine, so we quickly figured out a way to launch a virtual showroom for the sales process. We reduced the numbers of samples we produce and also our collection size substantially. We'll be creating less stuff, closer to season, and we won't be tied up to the fashion circuit. We're building upcycling and recycling into a more eco-flow of merchandise. We are also prioritizing e-commerce big time. It's already had a massive impact on our business."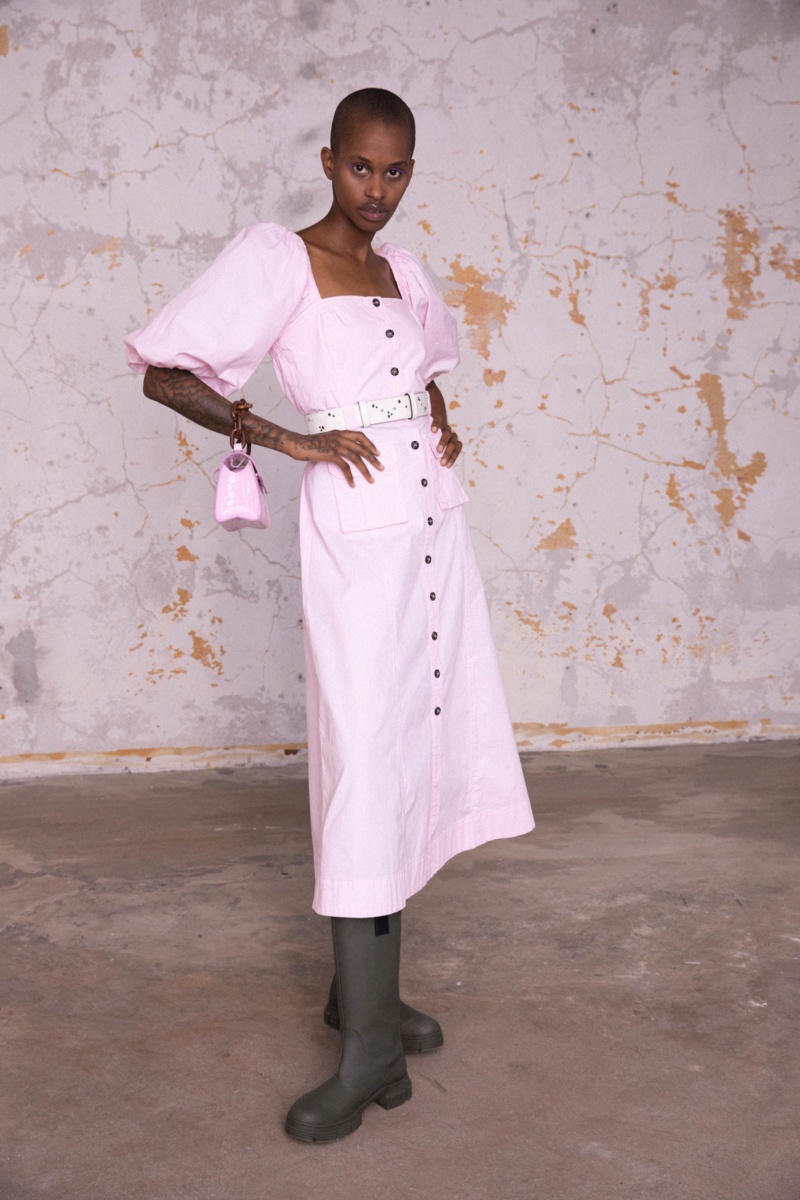 Streamlining is important now, after a period of so much excess in the industry. How is this being applied at Ganni?
Nicolaj: "The industry has been craving this change for so many years, but nobody dared to take the first step. You might remember when everyone from Tom Ford to Tommy Hilfiger and Burberry launched See Now, Buy Now collections and they soon all returned to following the fashion circuit after a few seasons because the rest of us didn't tag along. Hopefully we'll all think about making that change on a global scale now."
Ditte: "From the creative side, we had to cut down the collection and kill some darlings. In the beginning, that was really difficult. I think the best way to explain it is as if you have written a book and you really nail the story, all the details, and feel good about it, then someone tells you that you have to cut 50% of the pages. When you start doing that, though, you realize you can actually tell the same story, but half as long. Then somehow it became even stronger. The collection we have been working on now is back to where we started. It's super honest and Ganni to the bone, so in that way I am very positive and excited to show it."
In terms of Ganni's company culture, I've heard you take a very specific approach when it comes to team meetings. What does that look like?
Nicolaj: "We synced the whole organization to have very short, high-frequency meetings, just 15 to 20 minutes max. It's basically an approach I didn't realize that I was applying from my tech background. It was only when we partnered with an LVMH-owned fund that they pointed it out to us. Apparently we're very lean and agile in how we conduct our business. I put a clock on the table and time everyone's response. Every person quickly explains what they were doing yesterday, what they are working on today, and what they have planned for tomorrow. Rather than discussing what's happening six months down the road, when the world will have completely changed, you create this structure where you are constantly realigning yourself. It's a bit like how people say Amazon is stubborn on vision but loose on the details—in many ways we are similar. We have a clear idea of where we want to go, but we're like a robot bouncing around and bumping into things until it finds its way through."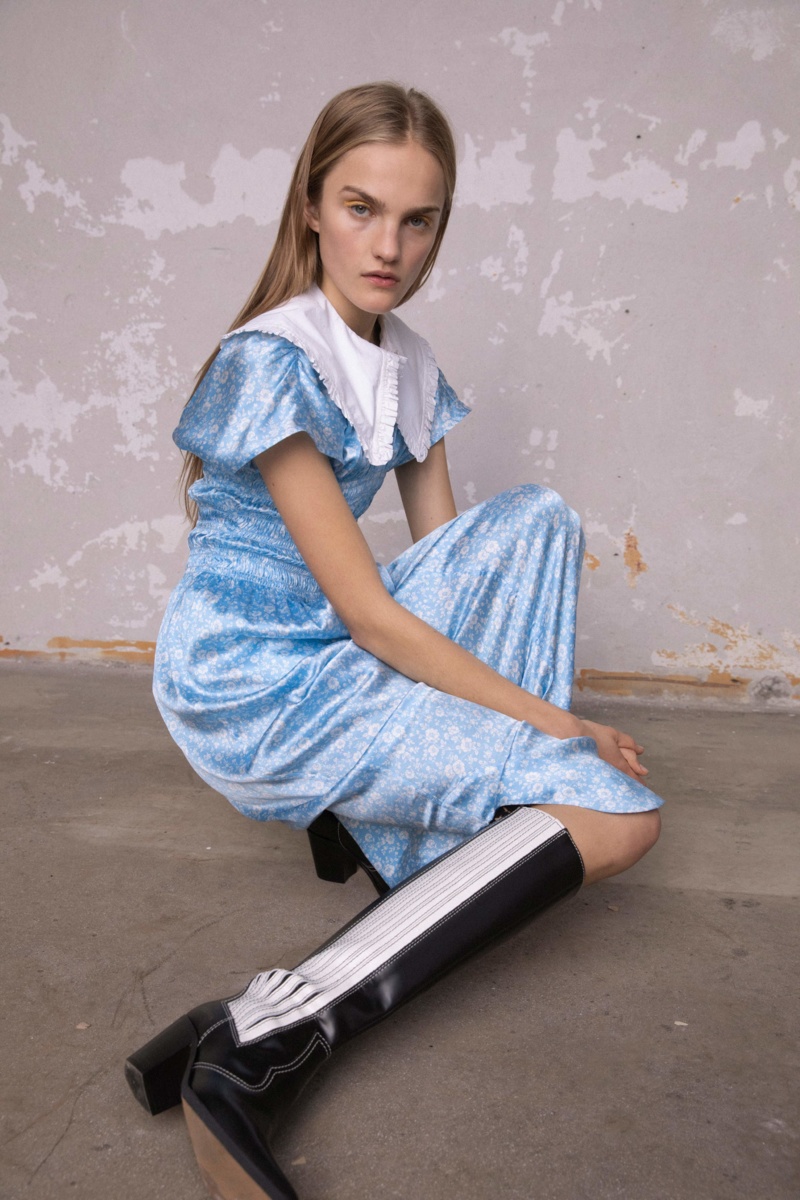 The Black Lives Matter movement's momentum is being felt in Denmark as well. What is your approach to diversity and inclusion, both internally and externally? How can Ganni improve?
Nicolaj: "It's such a sensitive topic, and I feel guilty for growing up in this bubble we have here in Denmark. I am not saying there is no racial injustice going on here, because there certainly is, but the sheer scale of what is happening in the US is mind-blowing. The good thing to come out of this is it's making us aware of how much we need to learn. We've tried to contribute in different ways. We closed our online shop for one week and encouraged that our community donate instead of shopping. We've committed to commissioning work from the Black creative community. We donated $100,000, which is a lot of money for us, across three different organizations: Black Lives Matter, the NAACP and the ACLU, but this is just the beginning. We're also building libraries in our three offices in New York, London and Copenhagen to educate ourselves on racial injustice. It's a big project for us. We want to do a lot better."
Ditte: "We're so grateful that we have a New York team in place because they are constantly guiding, reminding and teaching us about how we need to be more aware. As a brand, we've always thought of ourselves as being inclusive. We dress everyone. We just want to make girls feel good in their own skin. That's always been one of our core values. Every woman should feel welcome because fashion can often feel like an exclusive club."
You're currently in midsummer in Denmark, with over 17 hours of daily sunlight. How are you using this time to recharge?
Ditte: "We always spend our summer holidays in Denmark. What I look most forward to every summer is to go back to where I am from, a small fishing town. No one knows anything about fashion really. It's all about what kind of fish we are going to catch today and when we are going to swim in the ocean. It's a very slow and simple life. After these past few months, it feels like medicine to go there and enjoy the long summer evenings with old friends."