For our Summer 2023 issue, CULTURED asked four iconic photographers to share a music-inspired summer snapshot from their archives.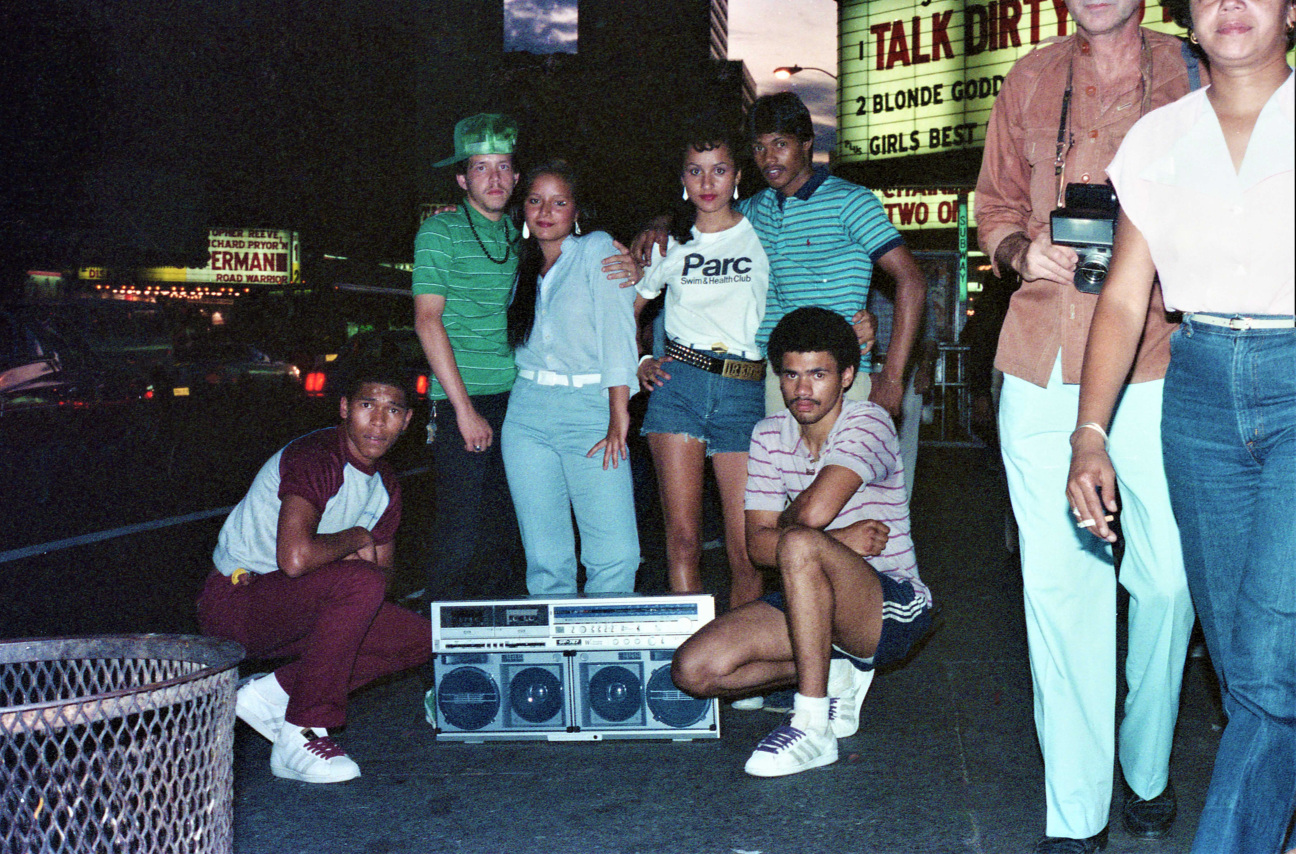 The Brooklyn-born Jamel Shabazz has captured the raw alchemy of street life across the world, but the 63-year-old photographer is best known for documenting the birth of hip hop in his hometown. His instinctual style allows him to capture city dwellers at their most confident and expressive—in moments of celebration, uproar, and ennui. On a humid evening in the ultimate crucible of humanity, Shabazz snapped a photo that has stuck with him to this day.
"It was a Saturday night in Times Square during the summer of 1981. It's just a group of friends enjoying the evening with their boombox. I had just gotten home from Germany, where I'd been stationed, and I took this photograph during a period when I was rediscovering the New York that I had been so homesick for during those years. I used to hear the song "What's Happening Brother" by Marvin Gaye in my head whenever I photographed the streets. That song is about a Vietnam [War] veteran coming back to America, and he's trying to understand what's happening.
As a young photographer who was trying to get better, Times Square was the place to go. Back then, it was like Las Vegas for many young people. People from all five boroughs and the rest of the world would gather there to see a movie go to dinner, and just socialize. On this particular evening, I was developing my skills shooting at night, and as you can see from the composition, I was still figuring it out. Technically, this is not a good photo—it's full of distractions.
I spent pretty much the entire afternoon and early evening standing on the corner of 7th [Avenue] and 42nd Street. When the trains came in, hundreds of people would get off who I wanted to photograph; I would pull them over and show them my portfolio and engage with them, and like that I built up a body of work. I found a lot of couples, and focused my lens on love, diversity, [and] people from all over the world. When I saw this group, I thought, Everything is there. The fashion is there, the friendship is there, the hip hop is there. It just represented everything to me.
When I look at this picture, I think of one song that I would use if I posted on social media. And it's a great song by the great Joe Bataan. He did a song in January 1980 which I listened to in Germany that really inspired me with this attitude of documenting Latino culture. It was a song called "Mestizo." It's a song about pride and dignity among Latino people. So it wouldn't surprise me if that was on one of the cassettes and it was a good chance that it was, but with with so many years passing, I don't remember vividly.
I think so many of us being away from home—[when] I was stationed in Germany—music connected us with the world. It became a part of the creative process for many of us. Everyone had stereo equipment and that was just something that we did; all of us just made music. I have some of those tapes and I tend to listen to them periodically and that takes me back into my youth. To me, it was almost like taking a photograph; you freeze the moment in time.
When I got over [to Germany], for whatever reason, I just didn't have the clarity to realize I should be documenting my experiences. I promised myself when I was returned back to the States that I would document. When I came home, my father was my teacher, and one of the greatest gifts that he told me was, "Never be without your camera. Everywhere you go, document your experience." So for the past 45, about 40 years, I carried my camera everywhere I went. And I was never without memory.
[This photo] represents me returning back to the streets, embracing diversity, and just trying to find my way and trying to connect with people. It was bigger than just making images. I came home to a war zone, a lot of hatred and conflict, and AIDS and crap was on the horizon. I came home and I wanted to engage with people and try to find out what was going on and lend my voice to try to ease some of the hatred. It was all about me trying to find my way; I liken the camera to a compass, because it guided me on this path that allowed me to meet people."
For photographer Ming Smith on a music-inspired snapshot from summers past, click here.