Lunch breaks are sacred moments in the day, but it's all too easy to become absorbed in the digital vortex of a phone, or the endless line of a salad bar. But warmer days call for a different kind of midday respite. Here, CULTURED shares New York's best-kept secrets—seven museum cafes across the city that make excellent hideaways for a sunny summer lunch hour.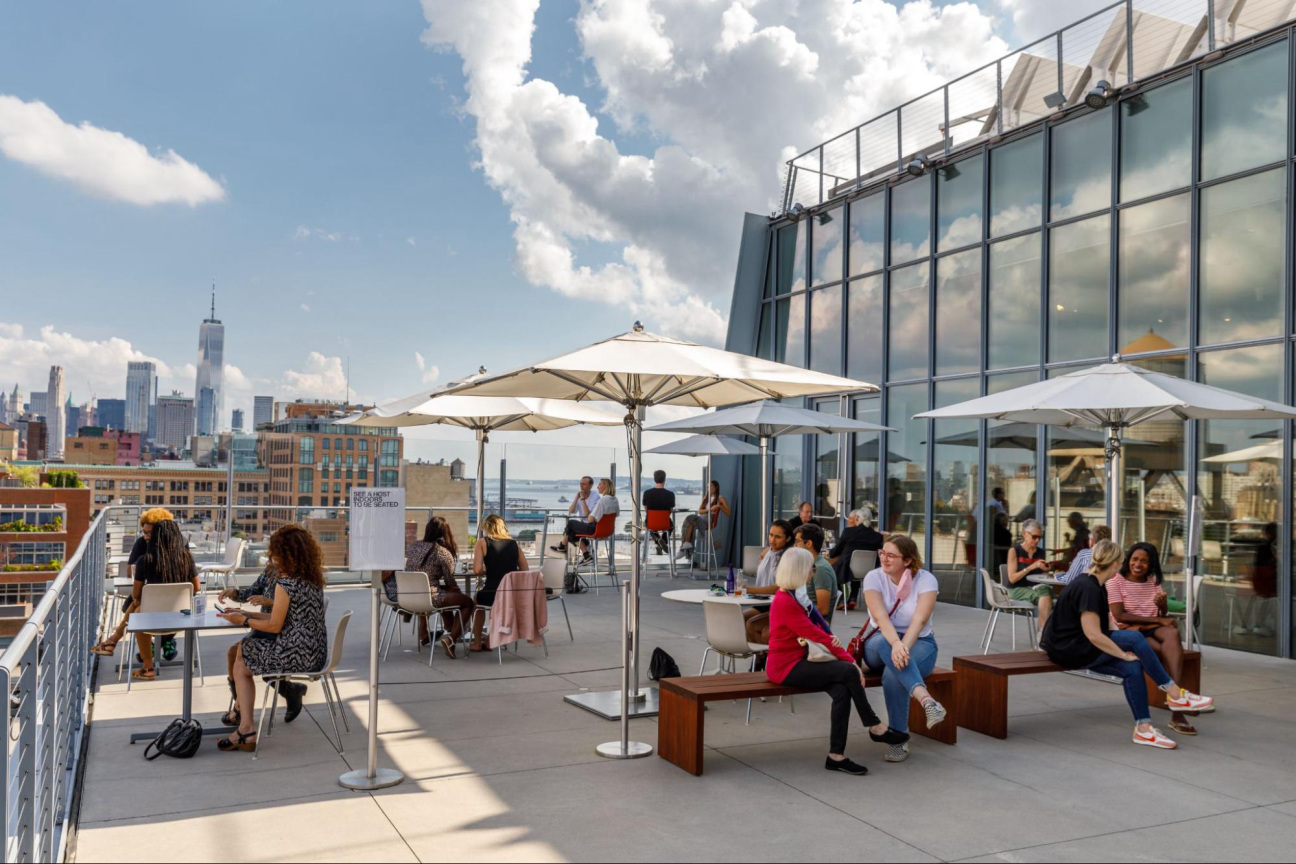 The Whitney Studio Bar & Cafe at the Whitney Museum of American Art
Meatpacking District
Whitney Museum and the Studio Bar & Cafe are open Wednesday-Monday.
While the familiar first-floor cafe of the Whitney Museum undergoes renovations, an even more tantalizing lunch spot has emerged. The 8th-floor Studio Bar, which does require paying for admission to the museum, now hosts the lunch crowd. On your way up, take in the first-floor group show, "Refigured," and Jaune Quick-to-See Smith's multi-floor retrospective. The Studio Bar features a terrace that offers unparalleled views of the Manhattan skyline. Looking for a place to unwind after work? The museum offers a "Pay-What-You-Wish" deal on Fridays from 7-10 p.m., and the cafe stays open for a sunset drink.

Mina's at MoMA PS1
Long Island City
MoMA PS1 is open Thursday-Monday.
Mina's is open Thursday-Sunday.
Nestled in Queens's contemporary art mecca, Mina's is a serene hideaway. After taking in shows like Daniel Lind-Ramos's "El Viejo Griot—Una historia de todos nosotros" or Standing on the Corner's "Seven Prepared Pianos for the Seven African Powers," pop into the peaceful monochrome space. The café's Mediterranean cuisine, curated by Cooking for Artists author Mina Stone, is not only visually stunning but also genuinely delectable, and a bottle of Greek natural wine can be procured for $26. Pair a glass or a maple lemonade with an assortment of mezzethaki—whipped feta, olives, and fava beans.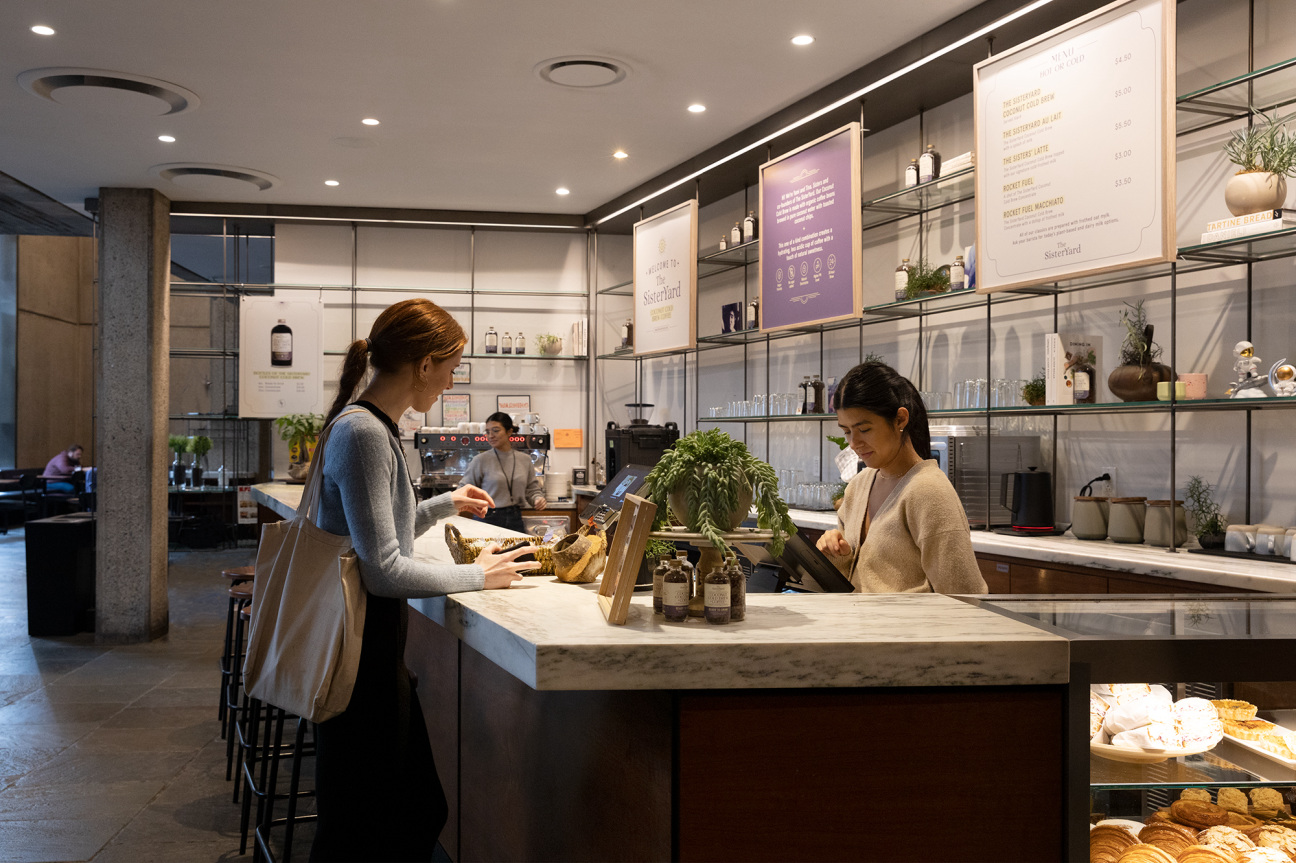 The SisterYard at Frick Madison
Upper East Side
Frick Madison and The SisterYard are open Thursday-Sunday.
While the Frick Collection's historic building is under renovation, the renowned institution's artworks have found a temporary home on Madison Ave. The stark, angular building—the brainchild of modernist architect Marcel Breuer—stands in illuminating contrast to the Frick's Old Master collection. After gazing into the eyes of a Rembrandt or a Johannes Vermeer, settle into the lower-level cafe operated by The SisterYard. The sister-owned company is known for a coconut cold brew that can convert the most stalwart of coffee atheists. Grab a coffee and a sandwich and sink into the vast, airy space around you.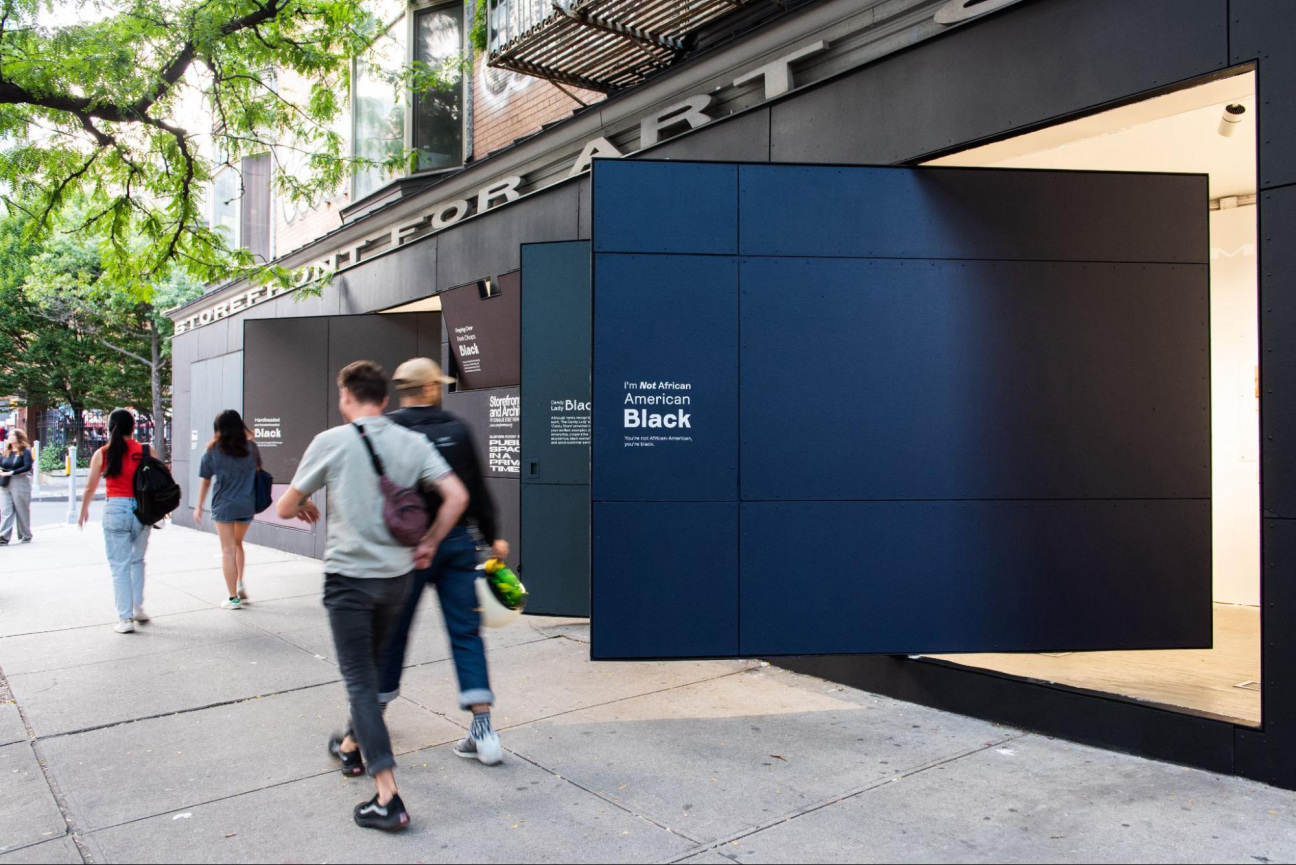 Storefront for Art and Architecture
Nolita
Storefront for Art and Architecture is open Wednesday-Saturday.
The Storefront for Art and Architecture is a unique entry on this list, mainly because it doesn't have a cafe. The gallery's distinct architecture also sets it apart: nestled on the first floor of a corner building in Nolita, it interacts with the street as a storefront would on a pleasant day. Panels in its walls swing open to unveil the latest exhibitions to passersby. On a downtown lunch break, you can stroll past the Kenmare side of the building, currently featuring Amanda Williams's installation What Black Is This, You Say? After an en plein air viewing, make your way across the street to one of the neighboring restaurants—La Esquina, Zooba, Bar Pasquale, or, if you have a sweet tooth, Eileen's Special Cheesecake—and do some people-watching.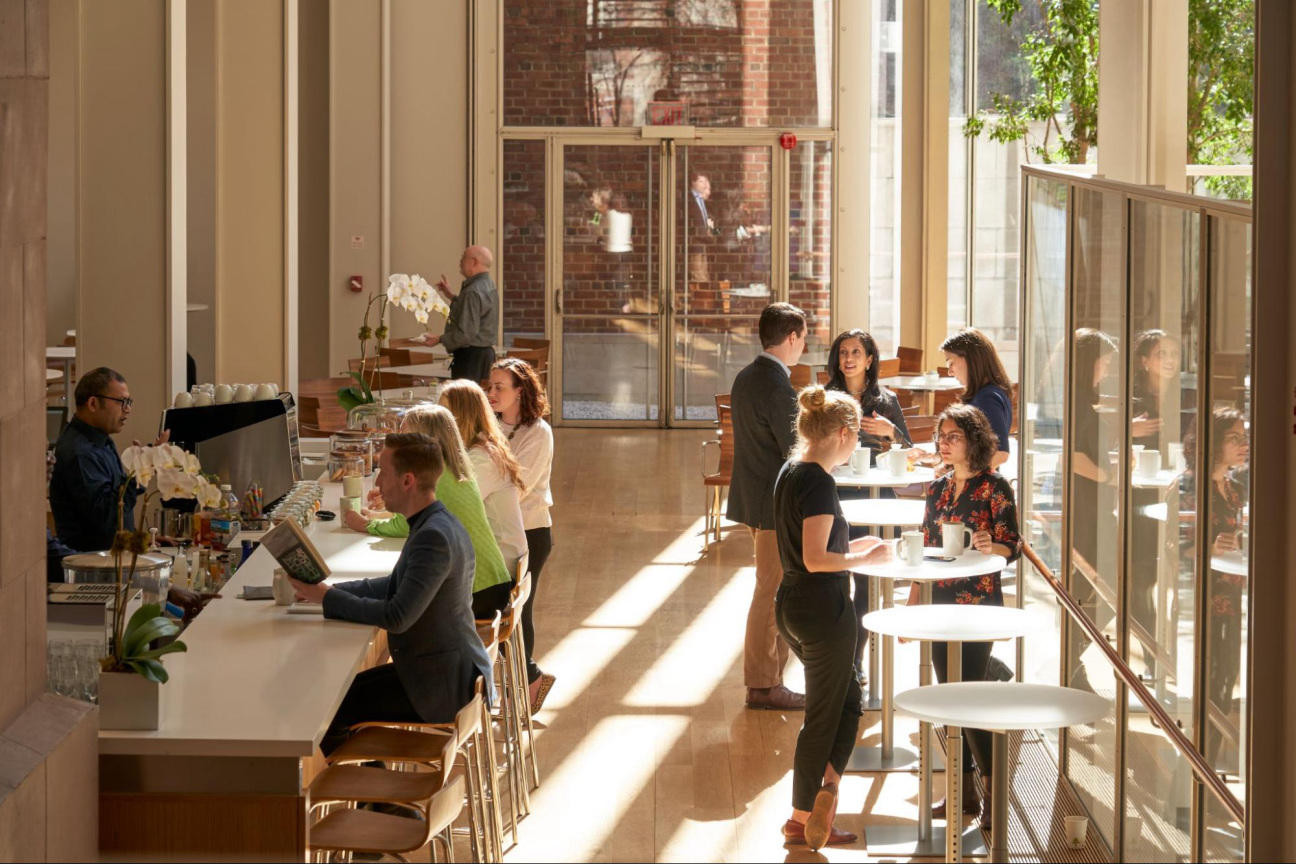 Morgan Café at The Morgan Library & Museum
Murray Hill
The Morgan Library & Museum and Café are open Tuesday-Sunday.
Seating options abound at the Morgan Library's cafe, which is framed by sun-filled windows. The Morgan Café, with its thriving indoor tree, is reminiscent of dining alfresco. Ideal for romantics who appreciate contemporary digs but relish the scent of old books, it's a grandiose paradise that comes alive during the summer months.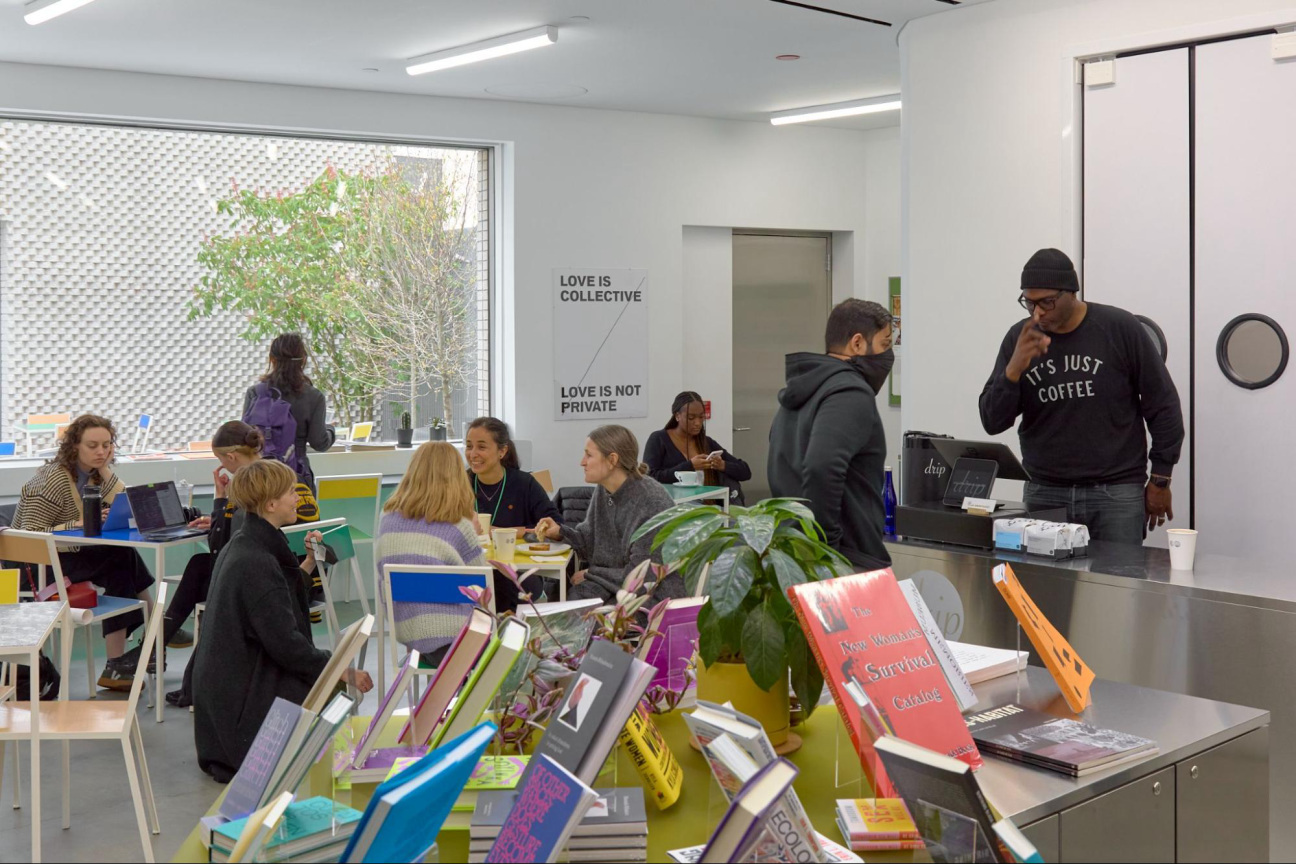 Amant Café & Bookstore at Amant
East Williamsburg
Amant Galleries are open Thursday-Sunday.
Amant Café & Bookstore is open daily.
Just five minutes from the Grand Street L train stop, a contemporary oasis of textured marble, clay brick, concrete, and steel awaits. For North Brooklynites, Amant is the perfect place to spend a precious lunch hour, or even linger to complete some work. After meandering through its halls and courtyards—designed by local architecture firm SO-IL—and taking in Sung Tieu's engrossing "Infra-Specter" exhibition, settle in at the Amant Café & Bookstore. Select from drip coffee makers' light bites and slow-drip coffees, browse the bookstore's selection of artist books, poetry, and non-fiction manifestos, and enjoy the reprieve from your desk.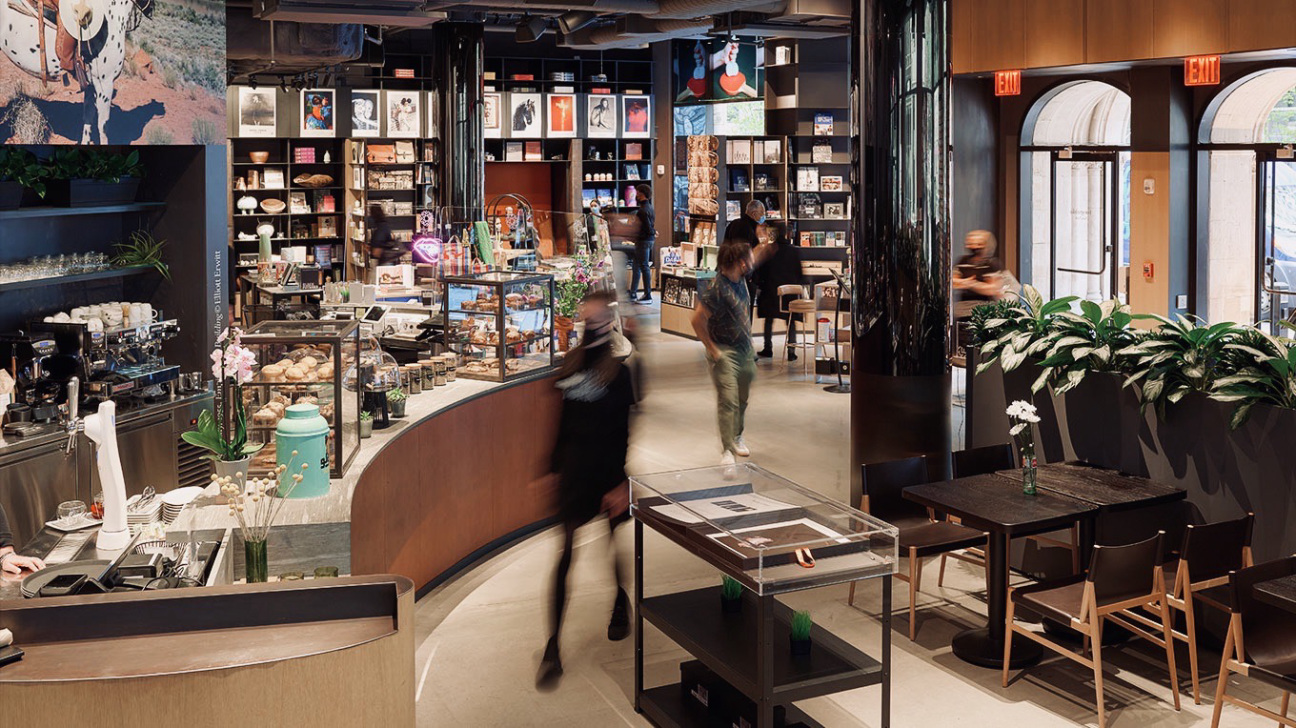 Café at Fotografiska New York
Gramercy Park
Fotografiska New York and Café are open daily.
Fotografiska is your lunch spot if you're craving a near-religious experience or nursing a guilty conscience. Housed in a church-like Renaissance Revival palace, this venue is home to floor after floor of exhibitions including "Listen Until You Hear," organized in collaboration with For Freedoms, and Terry O'Neill's "Stars," which could easily draw you in for hours. But if you're tight on time, just wander into the cafe on the first floor. Snag one of the menu's "Creative Recharges"—an organic turmeric golden latte, for instance—and a bakery snack. The café boasts a wider selection of gluten-free pastries than most, including a lemon poppyseed muffin and pignoli cookie. Don't miss the wall of photographic poster prints, which offers an art-viewing experience in and of itself.