When I met the artist Lap-See Lam at New York's Swiss Institute this May, she showed me photographs of her recent visit to Sea Palace: a triple-decker, floating Chinese restaurant resembling an imperial complex. In 1991, it set off from Shanghai on a tour of European port cities, but failed to gain traction. So it docked for good in Gothenburg and fell into disrepair. Twenty-seven years later, in 2018, its owner, entrepreneur Johan Wang, brought it to Stockholm, where it now comes alive annually as a Halloween fun house rented out by an amusement park.
"It's a weird experience to walk in there now," says Lam, 33, scrolling through once-lively, orientalized interiors, now filled with carnivalesque signs advertising alcohol. She first spotted it as a student at Stockholm's Royal Institute of Art, from the window of the school's 3D Lab. "It's sad. It's made into this spectacle of exoticism … a melancholic symbol of displacement in so many layers."
In her own works, which span sculpture, virtual reality, animation, film, and even a mobile app, Lam excavates similarly layered histories of the migration of people and objects. She uses moving images to craft narratives that flow between reality and fantasy to explore the way diaspora can make identity into something slippery or manufactured. Her work often unravels threads between her ancestral home of Canton, China, and her birthplace of Sweden.
"My intention has never been to make an autobiographical work," says Lam. "Usually the material comes first, and it opens up things that are lost over generations or in translation, but that we do carry with us."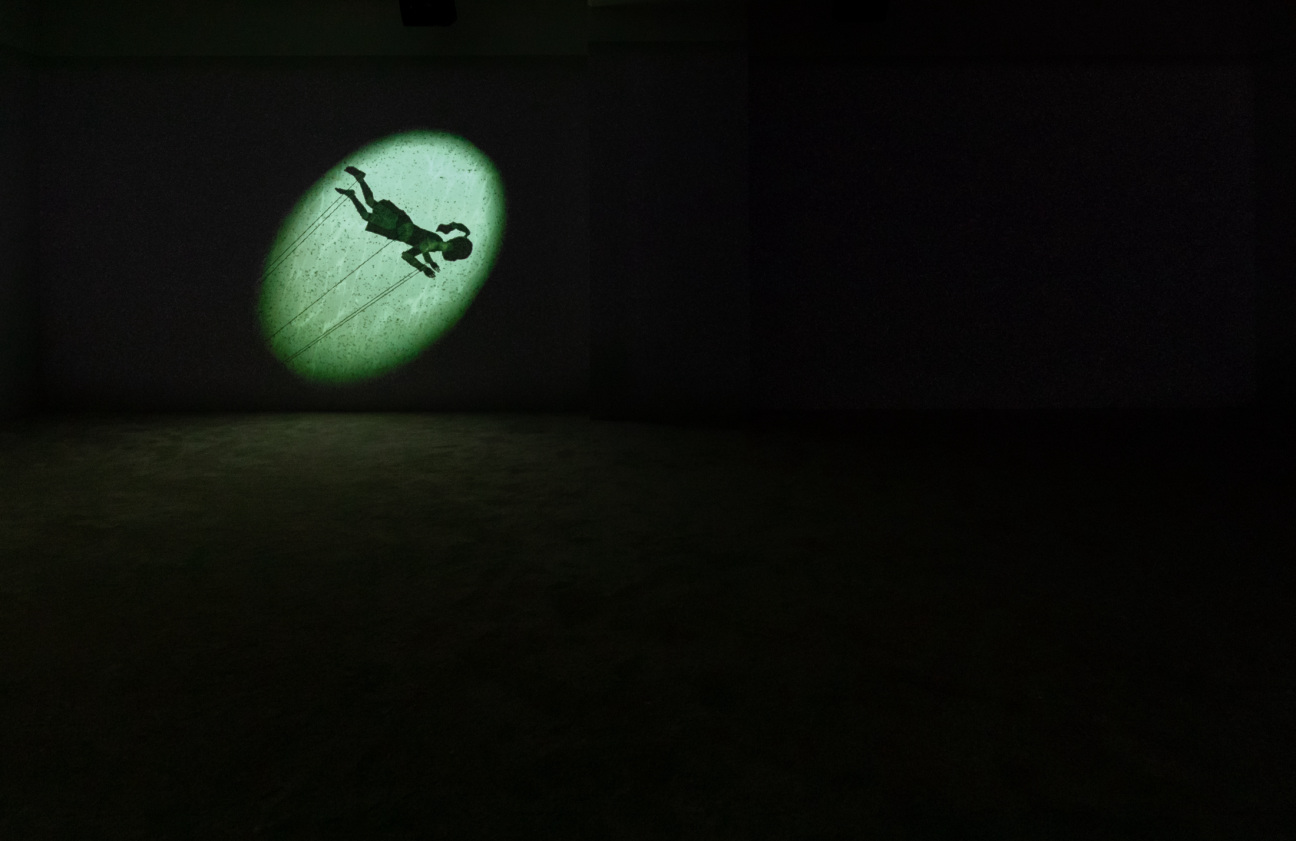 It was a natural step for her, then, to use Sea Palace—a Chinese immigrant's proud cultural export with an unwitting afterlife as an Orientalist haunted house—as the touchstone for the work she's made in recent years. These include the immersive video installation Dreamer's Quay, 2022, which will go on view at the Buffalo AKG Art Museum later this year, and "Tales of the Altersea," 2023, a new body of work comprising sculptures and a 10-channel video projection. The latter is currently on display at the Swiss Institute, her first solo exhibition in the United States.
Installed in the basement, the eponymous video is a 360-degree panorama of silhouettes inspired by shadow puppetry. This art form, too, is inextricably linked with migration: not only are the performances themselves roving, but shadow puppetry is a Chinese folk art that spread to Europe. In Lam's shadow play, twin sisters move through an underwater world, encountering shipwrecks and an eerie cast of characters, including an octopus, a bipedal fish, and other creatures from Chinese mythology; digital fragments of chinoiserie from Sea Palace float in the background. At the end of the video, the girls reunite as a dragon-headed chimera that flies off, escaping the darkness of the watery labyrinth.
The creature references another ghost: Sea Palace's old, retired figurehead, a scale-covered dragon complete with a tail at the restaurant's stern. In an act suggestive of preservation, Lam 3-D scanned it, then created brass circles that she overlaid with jagged neon lines and mounted outside the video gallery. Passing these sculptures, visitors essentially enter the belly of the beast.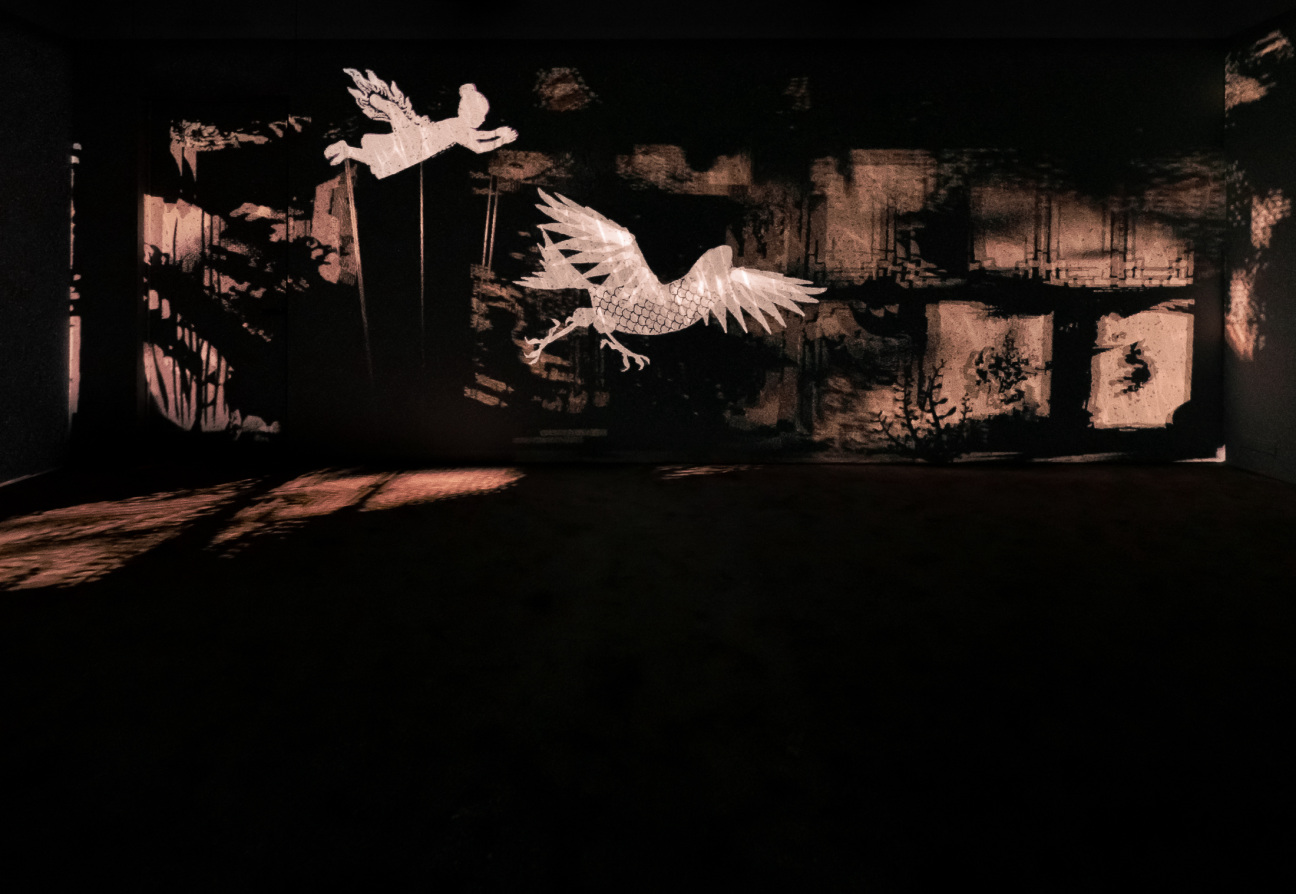 "Tales of the Altersea" is the latest in a series of what Lam calls "chapters" within a "world-building work expanding in all directions." The root of this wandering saga is her own upbringing in one of Sweden's first restaurants run by Cantonese immigrants. Lam's grandmother had traveled from Hong Kong to Stockholm in the 1970s, where she opened the restaurant, Bamboo Garden, which allowed her to bring over more siblings. Lam's parents eventually took over the business. To succeed—and survive—the family had to adapt, designing a stereotypical Chinese space and offering a menu familiar to Western tastes. "It was this projected image of Chineseness—and people had to perform that. Still, since I had this very personal relationship to it, I understand it as a real place," she says of the restaurant. "I use these contradictions in my work."
Lam began making art tied to her family's history after her parents retired in 2014. Chinese restaurants around Stockholm were struggling to stay open, and she received permission from several owners to 3D-scan their interiors. The imagery has since served as source material for several projects, as well as a way into conversations with her own family. "Nostalgia is not present in our family because they choose to not look back in order to look forward," she says. "I think [my work] is a way to get closer to that history."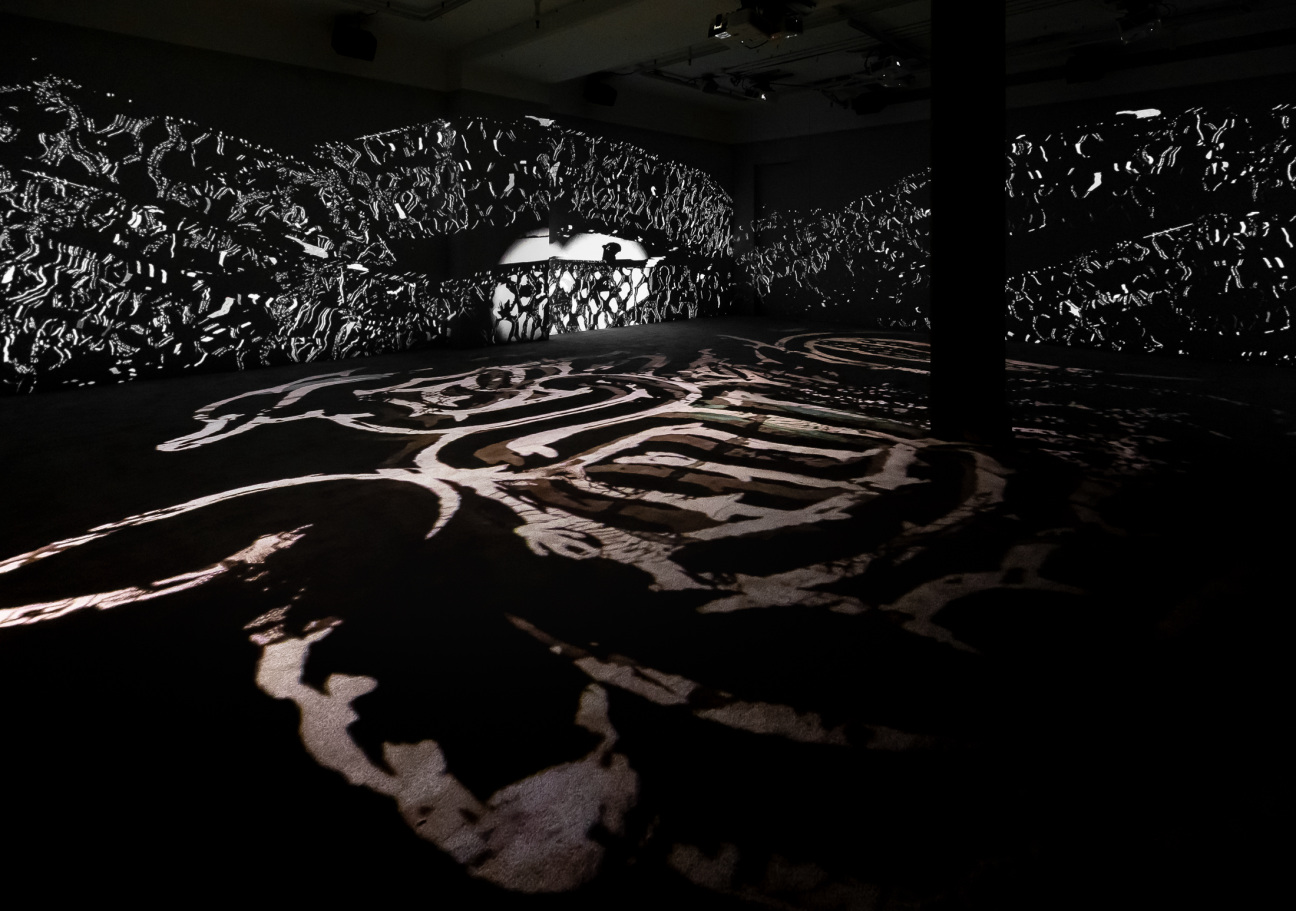 Beyond Between, 2018, created when Lam was an MFA student at Stockholm's Royal Institute of Art, visualizes nebulous values of authenticity that feed the Western imagination. A scale replica of a Chinese roof hanging, the sculpture is made from ghostly white, 3-D milled polystyrene and a handful of green ceramic tiles sourced from a Chinese restaurant's decorative roof. The seamless mismatch of material within this artificial, archetypal ornament points to the tensions that imbue Lam's works: around the fetishization and othering of Chineseness, assimilation and acculturation, and cultural disconnect felt across and between generations.
As Lam pulled her storytelling into the digital realm, her imagery became more fragmented and abstract. Mother's Tongue, 2018, a video experienced through an app produced with filmmaker Wingyee Wu, chronicles the life of a fictional, family-owned Chinese restaurant over three generations, with the narrative unfolding through glitchy interiors. Phantom Banquet, 2019–21, commissioned for Performa 19, invited viewers to don VR headsets and enter the desolate shell of a banquet hall, haunted by splintered forms of furniture and decor from real-life restaurants. With each project, Lam says, she takes "another step of withdrawing representation," both literally, through her shadowy imagery, but also metaphorically, as she denies viewers a pat interpretation of cultural history. "This disintegration of material is very connected to mourning and grief," says Lam. "I think of people who are invisible at these places, or the history that is invisible."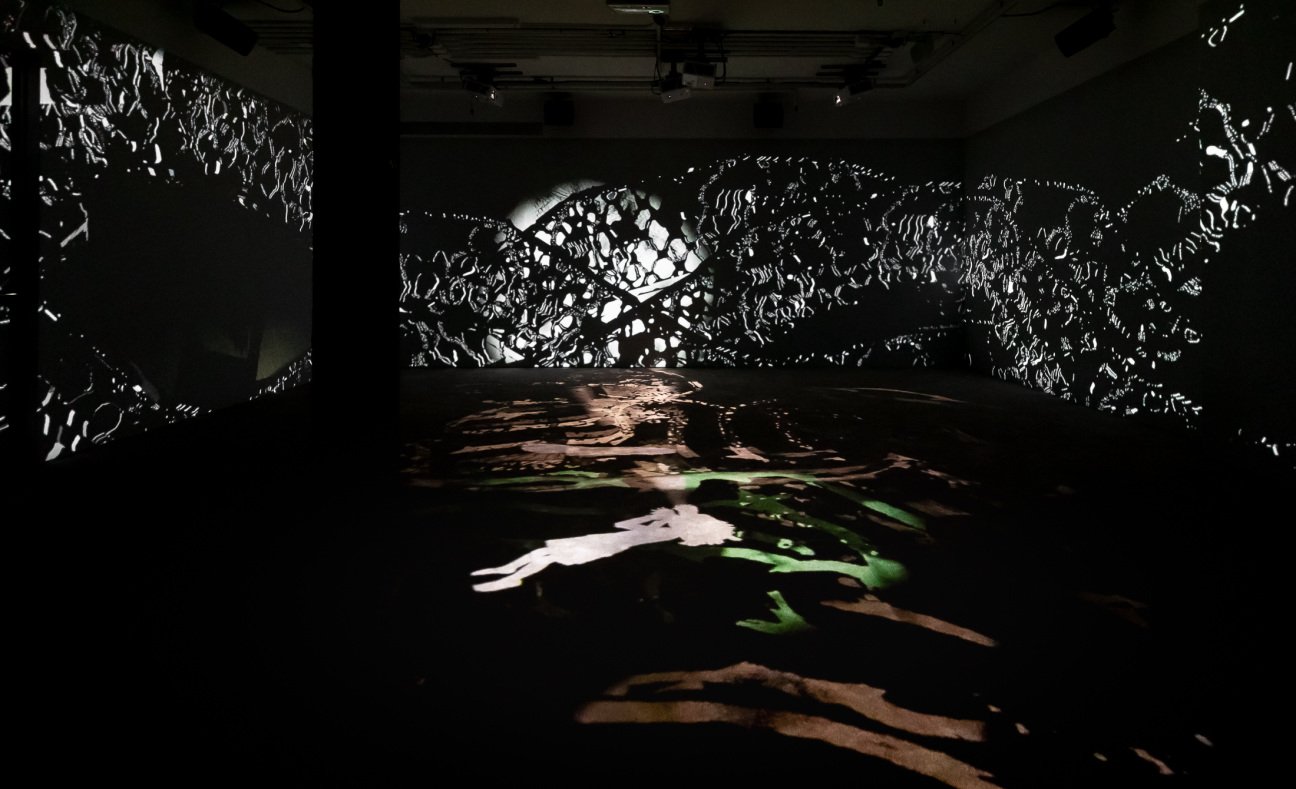 As a second-generation immigrant, Lam is well aware of how the diasporic imagination affects cultural memory, sometimes reshaping ideas of tradition and home. "We write the narratives of things we might not fully comprehend," she says. In her work, we feel her desire to fill in those gaps. She is a connector of distanced histories, linking Chinese restaurants and chinoiserie and ombres chinoises (shadow puppetry) to wrestle with hard truths around imitation and interpretation, facsimile and cosplay. "It's almost like I'm time traveling through my material," she says. "It brought me to Gothenburg, the city where the East India Company and early trade relations with Canton started, and now I'm under the sea and expanding into a longer history."
A future chapter, she hopes, will take her to the stage. Lam has plans to create a performance inspired by Cantonese opera. I ask if her art-making feels like an act of resurrection, given the many afterlives she gives her subjects. "It's a potential resurrection," she says. "Maybe it's a personal resurrection."
"Tales of the Altersea" is on view through August 27, 2023 at the Swiss Institute in New York.