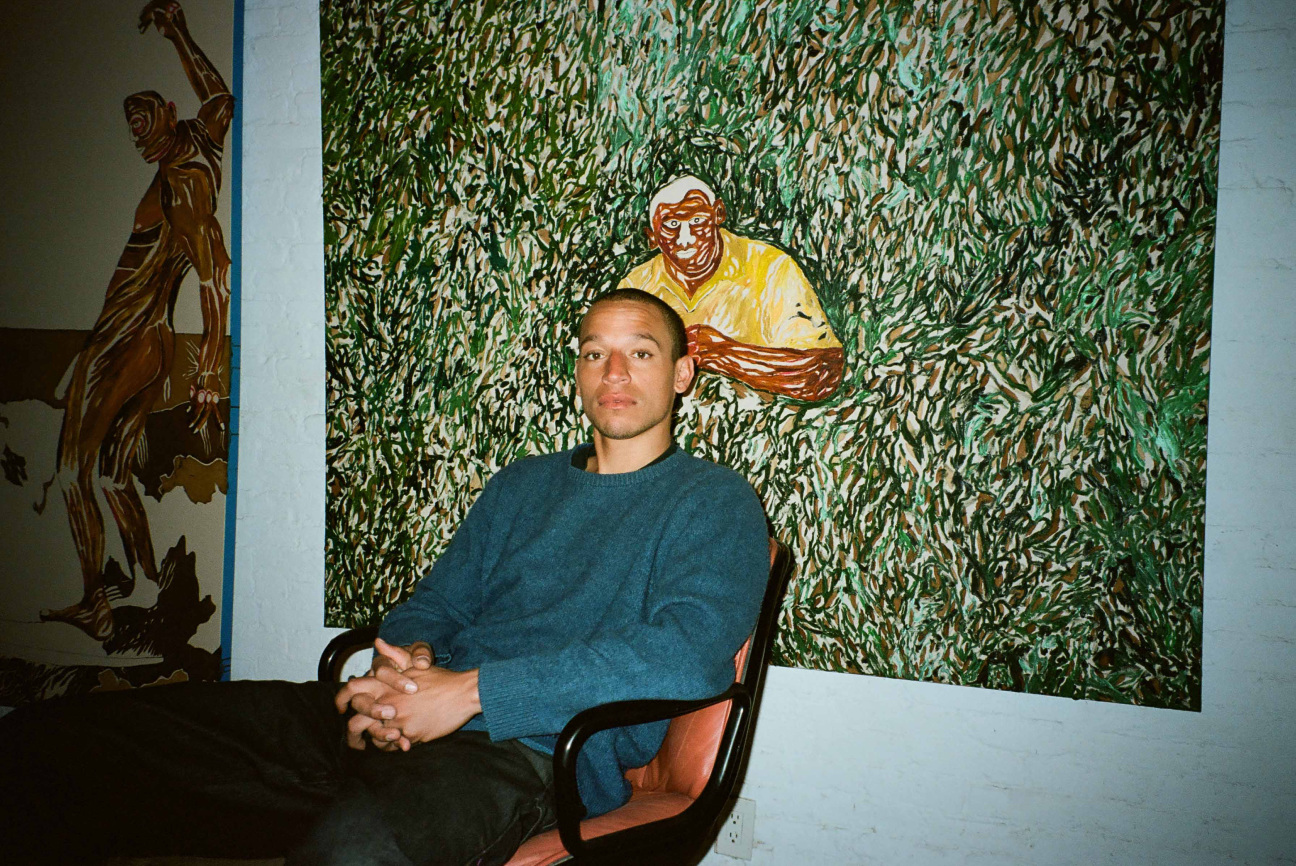 An artist's studio is a haven—a sounding board for ideas good and bad, a companion on dark days and inspired ones. These spaces play occasional host to curators, collectors, and friends, but in the day-to-day hum of creation, they wrap their protective arms around their artists, enveloping them. CULTURED asked six makers whose work spans the disciplines of architecture, performance, painting, and sculpture to reflect on their relationship to music, and share the sounds that keep them company in the studio.
This year, Chase Hall developed a relationship with the opera. The New York and Los Angeles–based artist was commissioned by the Metropolitan Opera to create a set of paintings inspired by Luigi Cherubini's Medea last fall, and renewed his ties with the hallowed institution in the spring with a vast painting honoring Terence Blanchard's Champion—an epic chronicle of boxer Emile Griffith's life—which was blown up to even more colossal proportions to adorn the building's facade. This summer, the CULTURED Young Artist 2021 alum confronts another behemoth, Jackson Pollock, in an exhibition at the Aspen Art Museum, the second in a series of artist-led presentations called "A Lover's Discourse." For the painter, music is a mirror, a history book, and a portal to transcendence.
What is the role of music in your practice?
Music has been a father figure, a brother, a mentor, a diary, a Pandora's box, an ancestor, a journey, and a mirror of my questions and concerns. It has allowed me to locate what art is and to see how it disseminates into real-time culture and humanity. I'm like a poor man's Rick Rubin—I can't play a lick, but I know what I like and feel, and what it has showed me of myself, others, and the world.
What sounds have influenced the work that will be on display at the Aspen Art Museum?
Free jazz, percussion, samba, freestyle rapping—areas of music that are challenging, intuitive, guttural, spiritual, and informed by the many years prior to their action. The possessive qualities of painting often remind me of someone catching the Holy Ghost, or their eyes rolling back into their skull as they blare through their saxophone. Music is a space, and so is painting—it's about making that space one you love to come home to.
First sonic memory?
Growing up, my mom always played Elton John and Tupac [Shakur] in her old black Toyota 4Runner, smoking cigarettes. Those two are etched into my memory.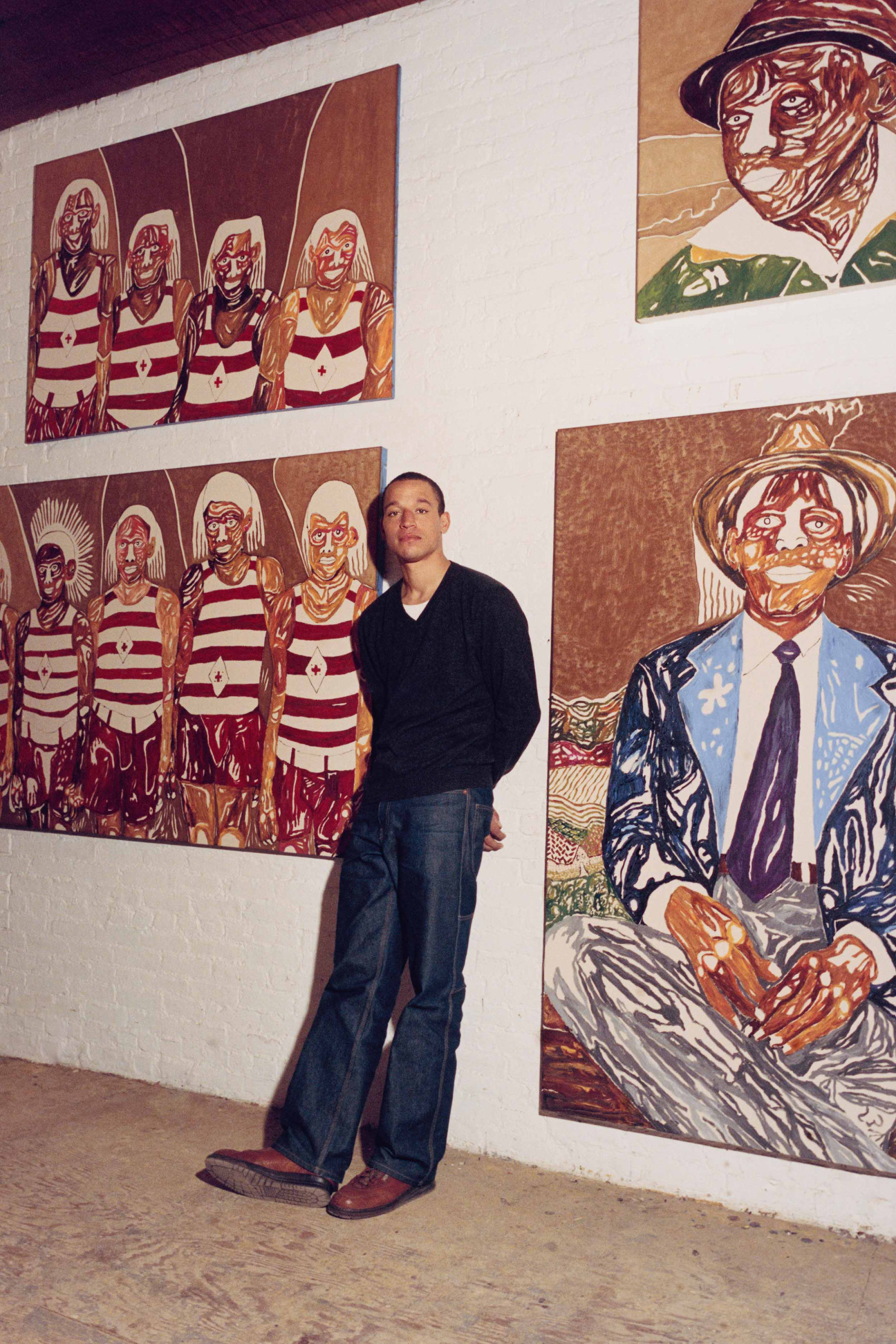 Tell us about the "A Lover's Discourse" exhibition you will be presenting at the Aspen Art Museum.
The exhibition I am presenting is a two-person exhibition pairing my new painting, Field Painting, 2023, in dialogue with an untitled 1951 work by Jackson Pollock. Stella Bottai, curator at the Aspen Art Museum, and I are considering the relationship between Pollock's work and my practice while also critiquing its relationship to labor. Pollock and I both use the drip; we both deploy origin and consider making painting in new ways; we dance around the canvas pouring our paint. We navigate a trust as we paint into nothingness, hoping that the final product will attempt to capture the performance of pouring, striking, and layering.
We both often paint on a larger scale as a one-to-one relationship to stroke and body. The potential for producing new language and visuals motivates my practice. Being and becoming at the same time were vital to Pollock, and I too feel similarly. There is a violence, but also a compulsion to continue. We both navigate personal hieroglyphs and are creating to move the needle forward for painting, life, and what it means to be an artist from America.
Pollock was a vital artist in my discovery of what painting can be, back when I was really getting into it. I used to joke that he spilled his paint, or ran out of it, or that his canvas was the drop cloth for manual labor. But Pollock showed me alternative ways to consider agency and tenacity, and now, I find it intriguing the way he made paintings and built language for them to exist outside of the literal paint splashed on top of canvas. This transition of thought has opened my eyes to art-making over the last decade.
I also thought a lot about "Charles White—Leonardo da Vinci," curated by David Hammons at the Museum of Modern Art in 2017. This juxtaposition of da Vinci and Charles White showcased the ways in which an exhibition context can set the stage for dialogue, critique, and communication.
What feeling or information do you want the public to carry away from the exhibition?
That how we consider the titans before us is ever in flux, and that we have the ability to question authority, canonical histories, and elitist areas that have long excluded Black intellect. I want to focus the conversation more on mark-making, color, stroke, and painterly qualities while making room for new futures.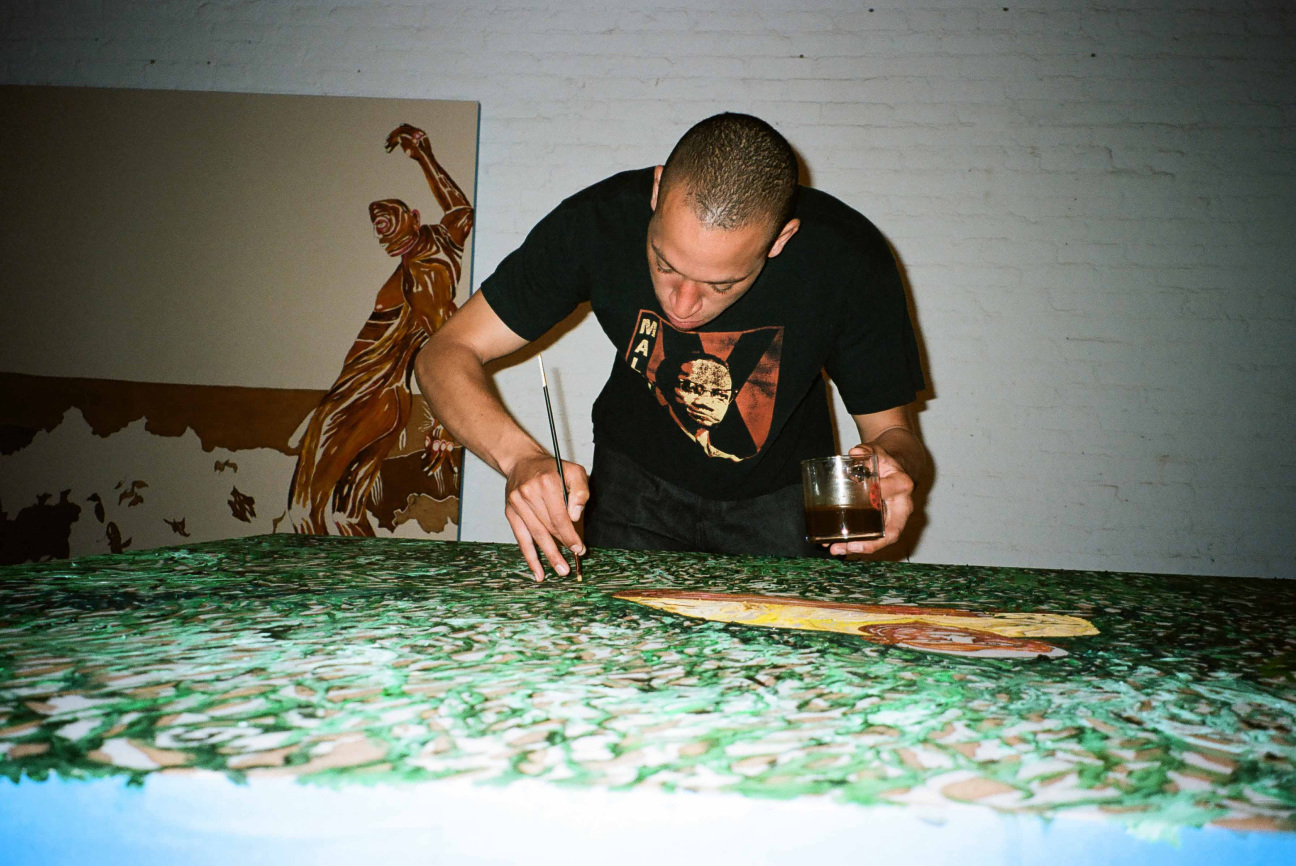 You've been commissioned by the Metropolitan Opera. Are you an opera fan?
Dodie Kazanjian asked me specifically to create these works, and scale was never a part of her concern or prompt. I was filling the space that Rashid Johnson had, which had an 18-foot, 2-ton painting installed on it, so it was more a response to what was possible and using this project as an opportunity to demand more out of myself and my practice. The work I made for Champion was a large painting, and it ended up being printed as a banner that hung on the Met Opera building at Lincoln Center, at about 30 by 65 feet. I'm grateful to Dodie and Peter Gelb, the general manager of the Met Opera, for believing in me.
I had never experienced opera outside of Bugs Bunny cartoons. When I started to research Medea, I came across Black Voices Rise: African American Artists at the Met, 1955–1985, a CD compilation of Black opera singers. It opened up a history to me that I was able to locate myself in. That allowed me to consider new relationships to the genre. I am a big fan of Broadway, musicals, and performance, so I knew it would be something that would strike me. The emotionality and projection of voice—they don't use microphones—in the opera house is truly something everyone should experience at least once in their life.
What's your favorite way to listen to music?
Loud! I like that experience to stand out from other aspects of my day-to-day. It's like a form of church or meditation. Music connects you with spirits and ancestors, aligns emotions, sets the tone, and calls forth a presence that allows for honesty, emotion, and trust. Most people can't be free, but music gets us that much closer. Lyrics and sound are a catalyst for memory and smell, and it can trigger the happiest and darkest times. That depth engages me.
Favorite sound?
Waves crashing and the quiet moments before going to sleep.
What's the best soundtrack to paint to?
It's always changing and, ideally, aligning with the moment, but I always go back to Lyfe Jennings's Lyfe 268–192 and A Tribe Called Quest's The Low End Theory.
What song or album represents where you're at in your life right now?
"It Ain't Over 'Til It's Over" by Lenny Kravitz or "Tokyo Blue" by Najee.
Below, listen to a playlist of Chase Hall's favorite artists and songs.