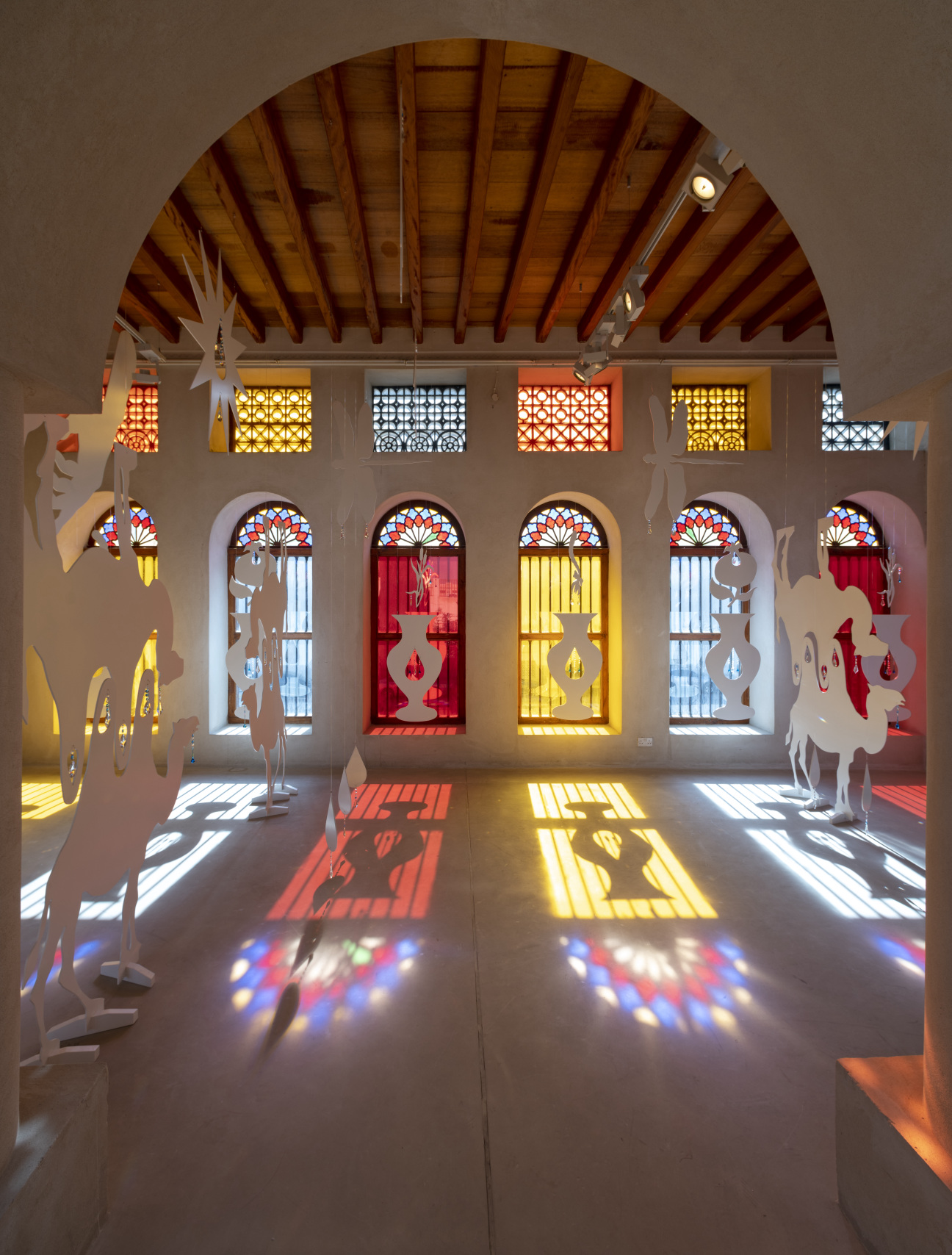 "'They told me that any direct descendant was entitled to citizenship. All we needed was to show them our grandfather's birth certificate. [...] We could all become Mexicans. Do you know what that means?'"
Tania El Khoury passes down her father's question to us in a quiet voice from a dark corner of a lockbox in her room-sized installation Cultural Exchange Rate, 2019, set up in a concrete bunker resembling the back rooms of a bank, with walls covered with security deposit boxes, but with a traditionally set dining table at it's center illuminated by a sparkling crystal chandelier. The tiny video played inside a box behind a tray of marzipan fruits, a popular dessert in the region, on offer to visitors. (Taste me, the brass sign in front of it urged.) El Khoury tells her family's story—from Akkar, a small Lebanese town on the militarized border of Syria, to her great grandfather's pursuit of a new life in Mexico, and everywhere in between—in the form of a treasure hunt, giving every listener a set of keys and a clue to get started. Like many families whose generations are separated by borders and eroded by exile, the artist's family history is communicated in secrets and segments, through hidden-away objects of sentimental and financial value. It's difficult to bring much with you when navigating displacement—even the family story risks being locked away if it becomes too painful. But family history is powerfully linked to the homeland, and—long after the passports are replaced—is often the last bridge back to it.
El Khoury's father and grandfather collected Lebanese lira as a hobby. During Lebanon's multiple financial crises, the coins lost over 90 percent of their monetary value and were worth more as antiques. When the artist moved to London to attend university, her father gave her some as a gift. She involves her father as an artistic collaborator in Cultural Exchange Rate, offering visitors a chance to sit at his desk behind a curtian and exchange some of his collected paper currency for money of their own. One security deposit box leads to another, and eventually we encounter a shrine-like installation honoring the artist's grandmother. An altar—containing a glass box of her grandmother's hair and stacks of her favorite soap—is ringed by photos of the artist washing her grandmother's hair while recordings of their conversations play in the corner. El Khoury's gift for world-building captures her family members' legends and secrets, the inheritance offered by those whose roots have been involuntarily severed.
Like much of the work on view in Sharjah Biennial 15, an immense exhibition of featuring over 150 artists and taking place in several art museums (the Sharjah Art Museum, the Foundation's galleries, the Khorfakkan Art Centre), public arenas (Calligraphy Square), and repurposed spaces (the Old Al Dhaid Clinic, former office buildings, the Kalba Kindergarten, the Old Al Jubail Vegetable Market) across several cities in the emirate of Sharjah in the UAE, Cultural Exchange Rate examines the ways in which politics come to life, and ways of navigating postcolonialism, decolonization, and creolization today.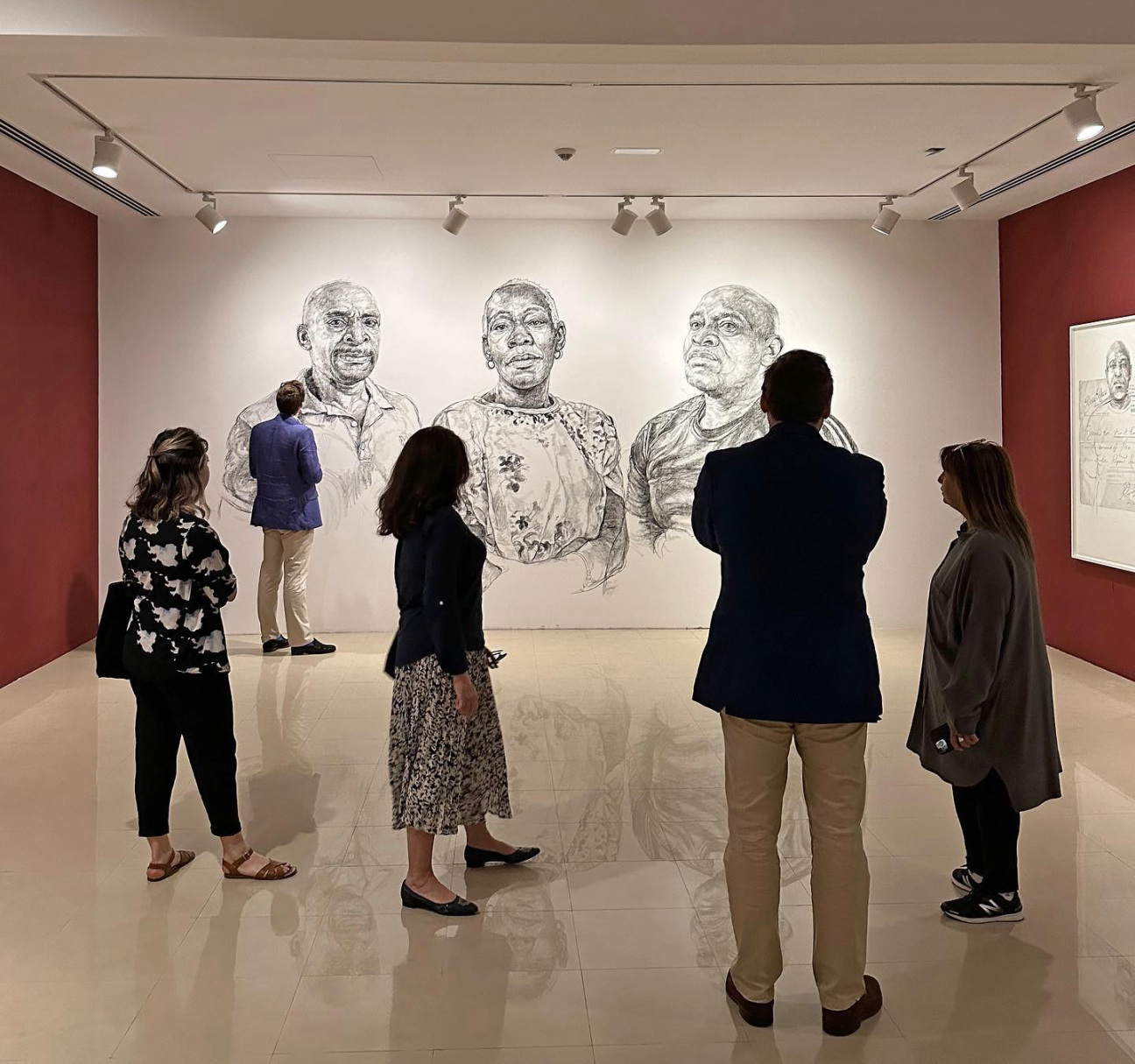 This year's concept was originally developed by the late curator Okwui Enwezor (who curated the 2015 Venice Biennale and was director of Haus der Kunst in Munich when he passed away in 2019), the exhibition was curated by Hoor Al Qasimi, director and founder of Sharjah Art Foundation.
The biennial's annual March Meeting uses Enwezor's 2003 essay The Postcolonial Constellation: Contemporary Art in a State of Permanent Transition as a starting point for a four-day-long program featuring artists in the exhibition, visiting curators, and students exploring the biennial's themes. The program, which launches Mar. 9, is titled The Postcolonial Constellation: Art, Culture, Politics after 1960, and features conversations around First Nation and Indigenous practices, creolisation, diasporas, and living as stateless citizens. Participants include Tayeba Begum Lipi (artist and co-founder and trustee of Britto Arts Trust), Al Qasimi, John Tain (Head of Research at Asia Art Archive in Hong Kong), and artists Maria Magdalena Campos-Pons and Mithu Sen.
Across Sharjah, the works on display commemorate personal and collective experiences of statelessness and heritage. Helina Metaferia's installation spotlights the descendants of civil rights figures such as Frederick Douglass and James Baldwin, as well as several of the artist's own family members from Ethiopia. In Kader Attia's work, Le Grand Miroir du Monde, mirror shards ripple in the sunlight at the bottom of a drained swimming pool in the Sheikh Khalid Bin Mohammed Palace. The broken glass evokes memories—reflections—fragmented by exile, trauma, and separation that can resurface even in moments of relaxation and pleasure. Anita Pouchard Serra's Searching for Oran is a visual tribute to her mother, who escaped to France from her native Algeria during the country's struggle for independence. Ali Eyal's Don't let the beautiful colors fool you, who would draw Goofy inside the rooms of grownups? re-creates his family's home in Iraq, contrasting sensory memories from childhood with the deep scars left by years of violence following the U.S. invasion. Erkan Özgen's devastating short film Wonderland takes a different approach, with the 13-year-old Muhammed telling his story of fleeing Syria and the Islamic State. Due to a hearing impairment, he recounts his experience with haunting gestures instead of words.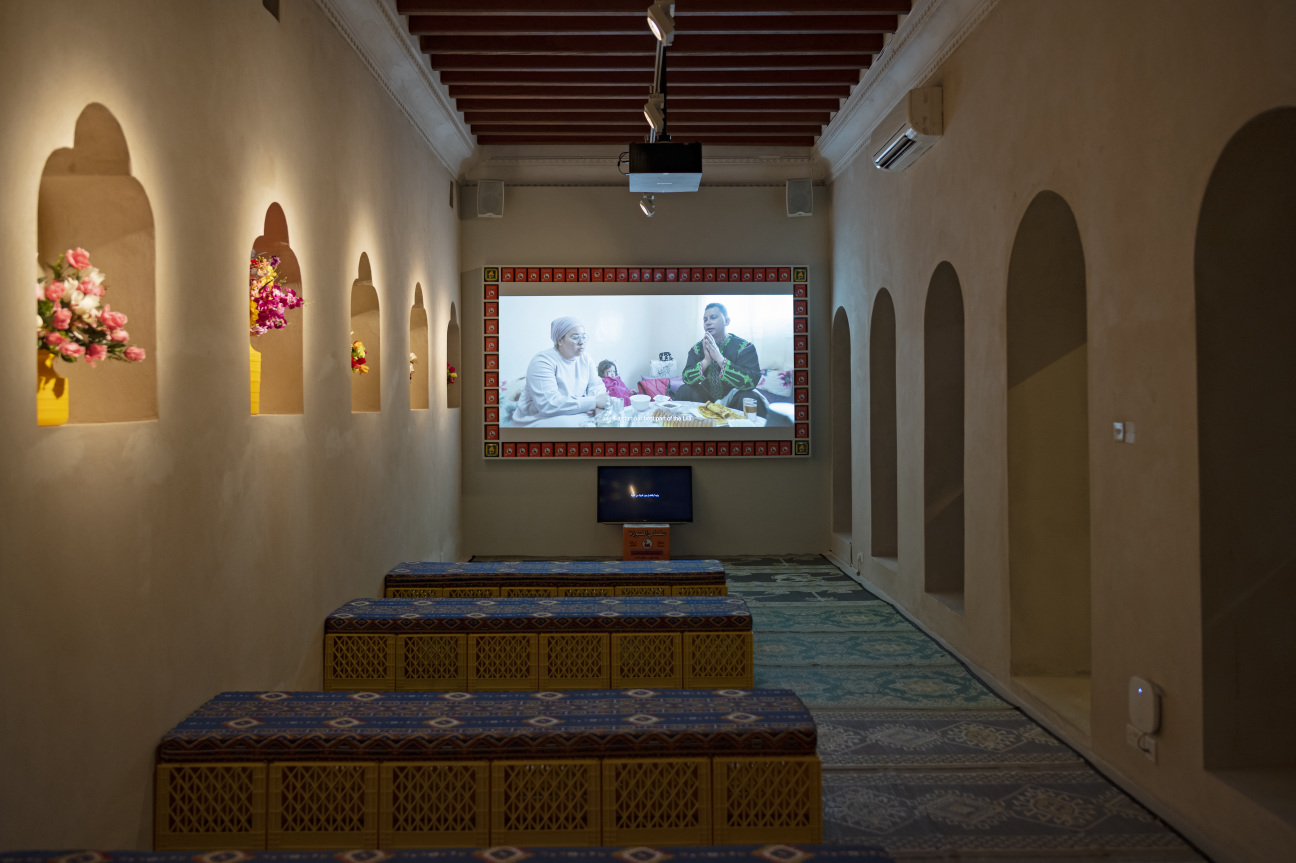 Other artists featured in the biennial use film as a vessel for narratives of diaspora and displacement. Adam Khalil and Bayley Sweitzer with Oba's vampire film Nosferasta: First Bite follows the multidimensional journey of a Rastafarian vampire who was bitten by vampire Christopher Columbus in the fifteenth century and was then moved from West Africa to the Caribbean and is fighting a legal battle today to disengage himself from Columbus, as he is unwilling to his colonization coconspirator. Hassan Hajjaj's feature-length documentary Gnawa Capoeira Brothahood follows the fusion of Maghrebi and western pop culture, tracing the communal Gnawa dance, musical, and reading performances from the Sufi Islamic tradition with the Brazilian martial art of capoeira through their shared movements and styles from their shared origins—the history of the slave trade.
Forced migration also catalyzes people reaching out to each other past their immediate family ties to build community and support, as seen in Hajra Waheed's Hum II (winner of the Sharjah Biennial Prize, along with Bouchra Khalili and Doris Salcedo), a large white conical sound chamber padded with white carpet and playing songs of resistance—many of which have been censored or banned—including K-pop group Girls' Generation (SNSD)'s "Into the New World"; music from a performance by Chilean feminist art collective Las Tesis; katajjaq, or Inuit throat singing.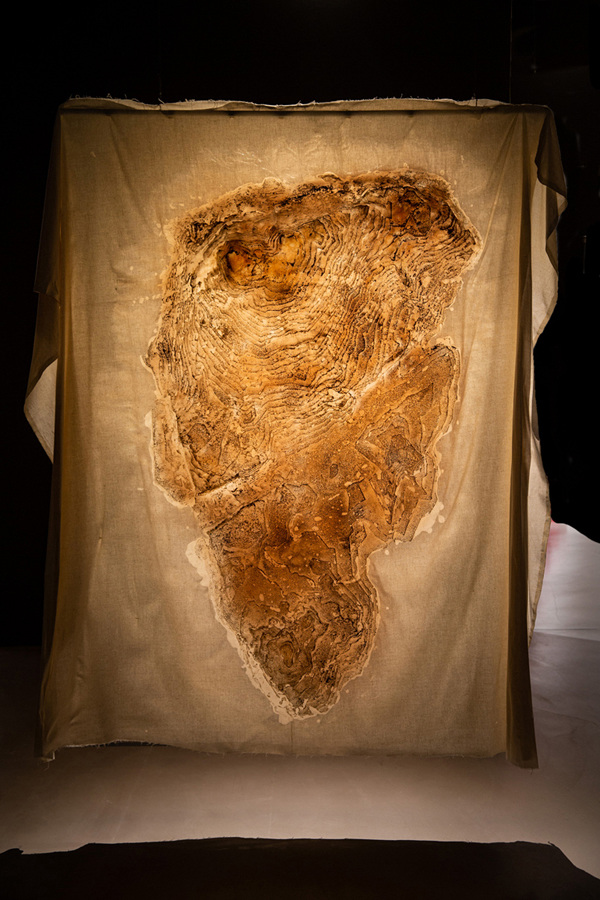 Oral histories also echo in the natural world, as seen in the work of Reena Saini Kallat's Chorus, Chorus I, and Chorus II. The project presents hybridized animals and trees which merge specimens from countries that share contested and volatile borders, such as Mexico and the U.S., Palestine and Israel, the U.K. and Ireland, and India and Pakistan. Commanding pre-radar warning machines used in WWII play out the delicate bird calls, not privy to the concept of divisive borders, in the lobby of the Bank Building, an abandoned high-rise lining the exterior of the foundation's galleries. Dala Nasser's Red in Tooth traces the ecological history of the Al Wazzani River flowing from Lebanon into Palestine with rainwater-washed fabrics held down by coral rocks collected in Sharjah and floating outside in the courtyard breeze, abstracting a natural border between the two countries. Joana Hadjithomas and Khalil Joreige's Under the Cold River Bed tells the story of the Nahr el Bared camp in their native Lebanon, built for Palestinian refugees in 1948, which was later destroyed in a 2007 military standoff against the extremist group Fatah El Islam. Reconstruction unearthed the ruins of the Roman city of Orthosia under the rubble, later sealed to build over it anew. The artists' installation gathers resin, soil samples, and newer concrete layers to preserve its geological, and inherently geopolitical, history flourishing underneath the ground. These accounts serve as a reminder of how political actions—and their human toll—are impossible to comprehend isolation. We never act alone.
The 15th Sharjah Biennial is on view through June 11, 2023 at various locations in Sharjah and across the emirate.