From the outside, mega-gallerist David Zwirner's first Los Angeles space can look deceptively small. The newly opened gallery occupies an adjacent pair of former Hollywood prop shops on Western Avenue, where their single-story facades have been painted an unassuming white. On the inside, however, a soaring wooden bow-truss ceiling pours a soft diffusion of natural light through freshly installed skylights. In late 2023, if all goes according to plan, these spaces will be joined by an additional three-story, 15,000 square-foot new construction by Selldorf Architects.
"It's going to be our flagship gallery," says Zwirner at the opening Tuesday night, extolling the "great proportions" of its forthcoming viewing rooms and offices. "I would almost say it's the kind of gallery you find in Chelsea, but you don't really have in Los Angeles yet."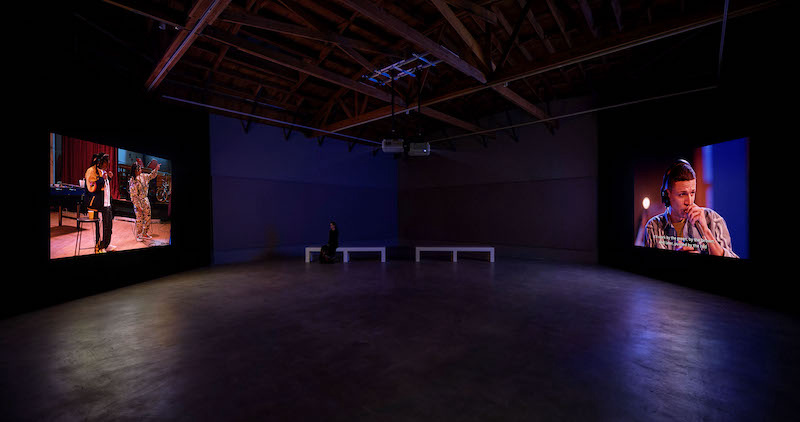 Zwirner is the latest of more than a dozen New York galleries to open an LA location in the last year, having bought the flagship site in 2021 for $6 million. As part of a burgeoning East Hollywood gallery scene, its neighbors include the recently opened New York transplants Clearing, Shrine, Sargent's Daughters, and James Fuentes, plus the new location of LA gallery Morán Morán across the street. Fittingly, the new space opens with solo shows of two celebrated LA residents: painter Njideka Akunyili Crosby and multidisciplinary artist Stan Douglas, who splits his time between LA and Vancouver.
Part of Zwirner's motivation to open a space in the city, he says, is that, "We work with many artists who have never or not in a very long time shown in Los Angeles. Audiences may know their work from international shows in Venice or London, but not locally, and so it's exciting to show them here."
For his first solo exhibition in LA in more than 20 years, Douglas presents two bodies of work from his 2022 representation of Canada at the Venice Biennale: ISDN, a two-channel video of a remote rap battle between Cairo and London, and "2011 ≠ 1848," a series of five alarmingly high-definition aerial photographs from major global uprisings in 2011. Each image—ranging from the protests of New York's Occupy Wall Street to Tunisia's Arab Spring—is actually a digital composite that combines staged reenactments with high-resolution location shots. "While these are very faithful reproductions of actual events that happened historically, they're also sort of evidently hyperreal," says Thor Shannon, one the gallery's directors, noting how each individual looks strangely synthetic. "They have too much detail in each image."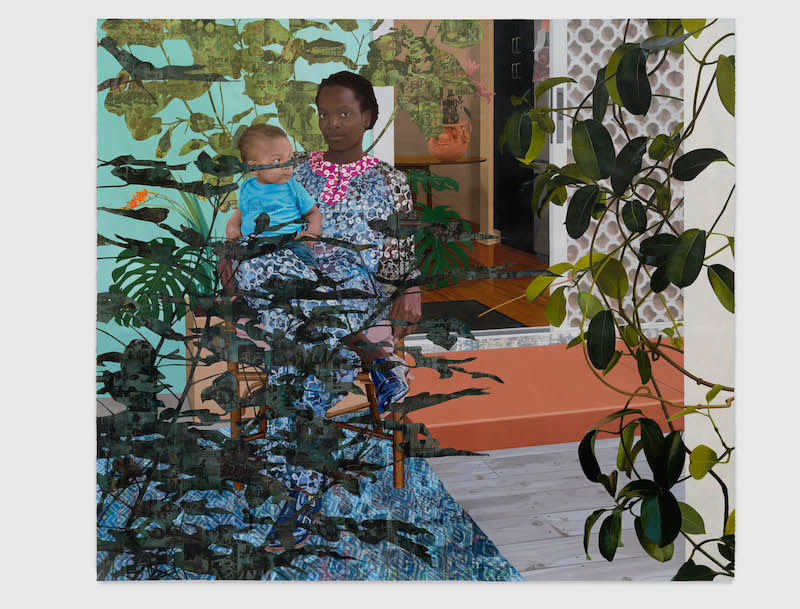 This is the 16th Zwirner show for Douglas, whose first was when the gallery opened in 1993, and the first for Akunyili Crosby. When she joined the roster in 2018, "We shook hands on her first show being in New York," says Zwirner, but plans changed. "When we got this wonderful space, I realized I wanted her to be the opening show together with Stan, so I asked her to pivot."
Titled "Coming Back to See Through, Again," Akunyili Crosby's solo exhibition includes both new and recent work, which, like Douglas's, merges different moments in time and place into a single image. She collects vintage photographs and magazine pages from her native Nigeria, and transfers those images onto lovingly rendering paintings, often of family members—including her partner, son, and mother—inhabiting rich domestic spaces. The intricate and highly detailed layers of each large-scale collage tenderly speak to an admiration for a multiplicity of identities.
"They really talk about having these two realities of being American and Nigerian," says Zwirner. "It's a slow process because it's so labor-intensive. Her research process is very involved and precise, so it will take a while not just to think about the image but also the parts of the image that she feels are relevant and have metaphoric energy."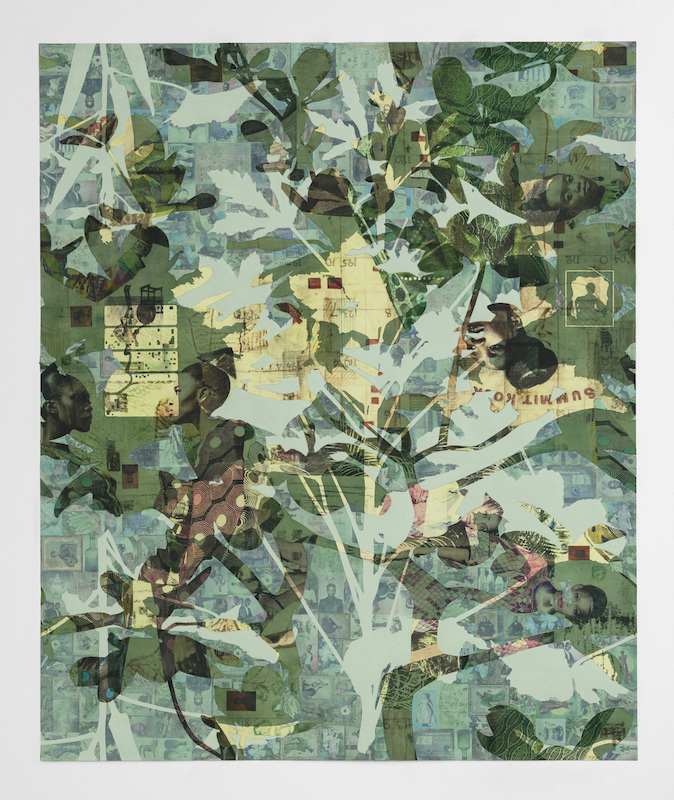 "But she's made it very clear that she cannot be rushed," he adds, "and I always respect artists that have their own cadence and their own timeline."
Since the first David Zwirner location opened in New York 30 years ago, and through subsequent expansions to London, Paris, and Hong Kong, "Los Angeles has always been an important part of my gallery," the gallerist says. His current roster features 14 LA artists and estates, including Barbara Kruger, Shio Kusaka, and the late Noah Davis, in addition to Akunyili Crosby and Douglas.
"I've always been so excited about the local artist community," he adds. "Now I'd like to see what else is out there."
"Njideka Akunyili Crosby: Coming Back to See Through, Again" and "Stan Douglas" will be on view from May 23 through July 29, 2023 at David Zwirner's 616 and 612 N Western Avenue locations in Los Angeles.