If you're in the New York area this month, you are poised to experience an unprecedented moment in art history: a burst of independently organized, essential art exhibitions featuring works by contemporary Native American women artists.
"This is the largest wave we've ever had, and it's more than a wave," says Candice Hopkins, executive director and chief curator at New York's Forge Project, which organizes a fellowship for Indigenous culture workers. "I think that this time, it's going to stick. I've been trying to make this space happen for more than 20 years."
Perhaps the most prominent of the current exhibitions is Jaune Quick-to-See Smith's retrospective at the Whitney Museum of American Art, the first of a Native American artist organized by the institution. The Whitney will also open a presentation of New Mexico-based artist Rose B. Simpson's larger-than-life-size concrete figures on June 3, with a billboard on Gansevoort Street opening September 18. Meanwhile, the Smithsonian National Museum of the American Indian in New York is opening the first major retrospective of Mohawk artist Shelley Niro on May 27; sculptor Marie Watt's solo show at Marc Straus has been extended through May 20; and Sargent's Daughters is showing Wendy Red Star at the Independent Art Fair this week and in their New York gallery (through May 20). Further up the Hudson River, the Thomas Cole National Historic Site in Catskill is featuring several Native female artists in the exhibition, "Women Reframe American Landscape," on view through October 29.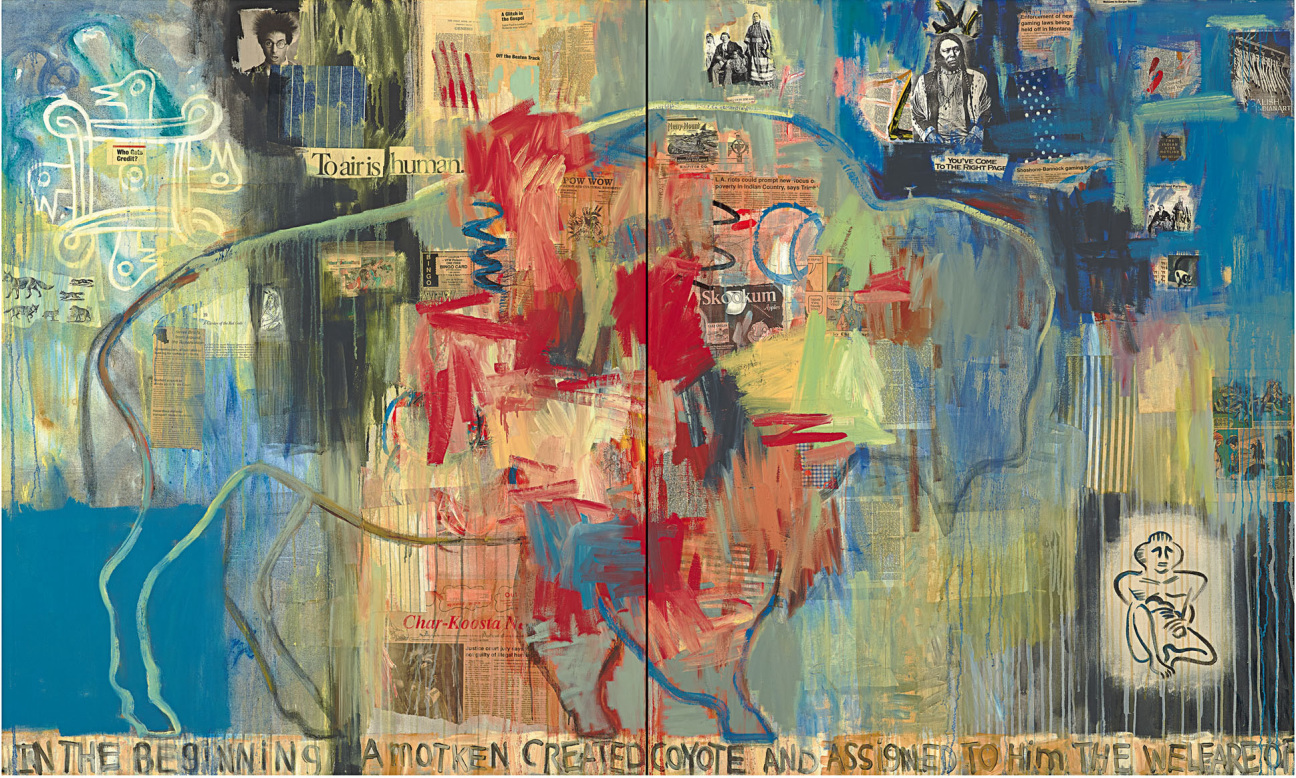 The spring surge offers a small taste of the diversity of art created by Native women, from Smith's abstract paintings embedded with newspaper clippings and pop imagery to Niro's humorous films and photographs using herself and her family as models. The spotlight arrives at a time when mainstream museums and galleries say they are looking to incorporate artists and histories they have historically excluded. There's "a desire to grapple with history at a moment that feels like it is changing rapidly in front of our eyes," says Whitney curator Laura Phipps, who organized the Smith retrospective. But this is only possible because the artists, and their relentless supporters, have been steadily working to build an ecosystem for themselves while the rest of the art world wasn't looking.
One key advocate is Smith, who helped form the artist collective Grey Canyon in the 1970s, and organized the first U.S. traveling exhibition of contemporary art by Native women, "Women of Sweetgrass, Cedar and Sage," from 1985 to 1987. She is also curating the National Gallery of Art in Washington, D.C.'s first exhibition of contemporary Native American art in 70 years, which opens in September. In her own work, Smith flips historical narratives, sometimes literally spinning maps of the U.S. onto their sides, as part of her "life's work [of] … examining contemporary life in America and interpreting it through Native ideology."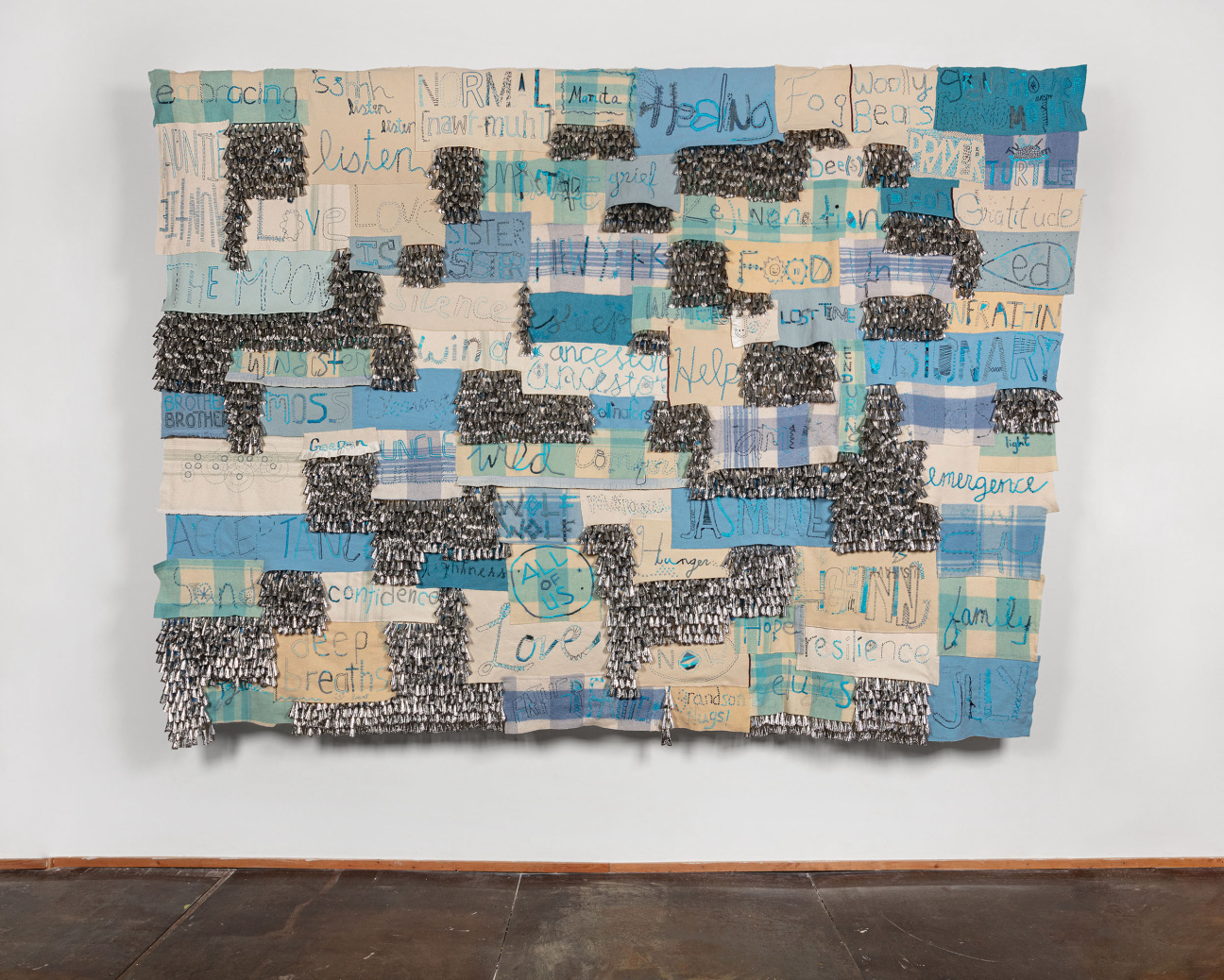 "Would I be here without someone like Jaune Quick-to-See Smith?" asks Watt, a member of the Seneca Nation, from her Portland studio over Zoom. "There have been many trailblazers, and this is just the tip of the iceberg." Watt's striking fabric and mixed media work was recently included in the Whitney Museum's "Making Knowing: Craft in Art, 1950–2019," where she hosted a series of sewing circles, inviting the public to collectively sew responses to a question inspired by the U.S. Poet Laureate Joy Harjo: What would you like to sing for this moment? The work that resulted is now on view at Marc Straus.
When Watt was in school in the '80s and early '90s, she says she could not find a monograph on a Native artist anywhere. But Indigenous art's influence runs deep. "The histories of modernism in the U.S. have been haunted by Native art, but it's unacknowledged," explains Hopkins, a Carcoss/Targish First Nation citizen, citing Jackson Pollock's interest in Indigenous sand painting as one example.
Hopkins notes that institutions in select regions—such as the Southwest, the Northwest coast, Denver, and Oklahoma—have focused more deliberately on Native artists, while commercial galleries like Bockely Gallery in Minneapolis and K Art Gallery in Buffalo (one of the only Native-owned spaces of its kind in the U.S.) also provide sustained support. The most powerful platforms in the art world, however, "have been the most reluctant to both self-educate, and realize they cannot tell the history of American art in a partial way any longer," she says. "We get the art history we are ready for."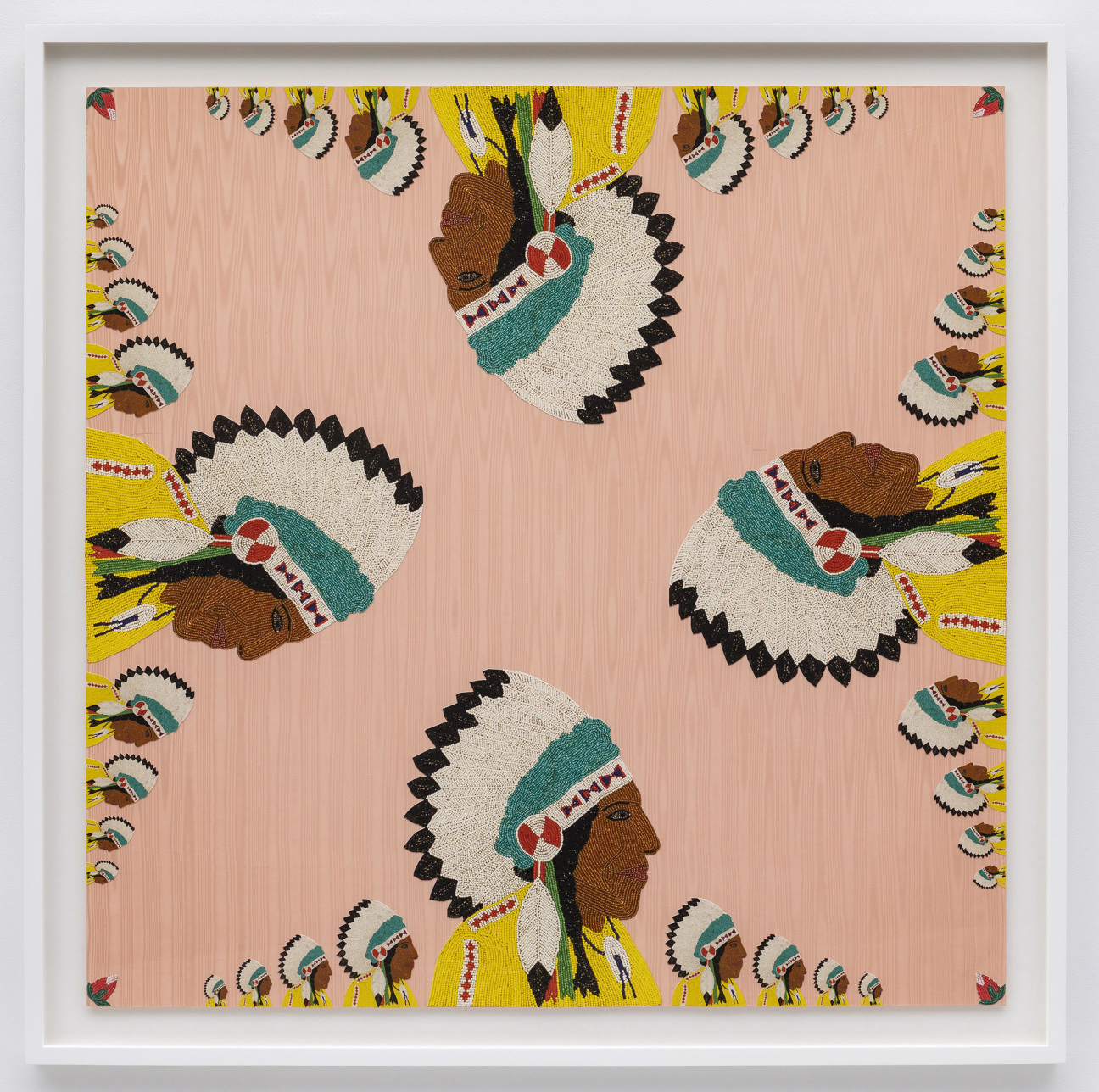 The many reasons the mainstream art world has not been "ready" for Indigenous history are the same reasons that traditional school curricula and pop culture haven't been, either. "Indigenous genocide is the unspoken trauma of the founding of the United States, so it continues, because people don't want to address it directly," says Hopkins. "It is the one thing that challenges narratives of U.S. nationalism." (Even today, Indigenous women are far more likely to be raped and murdered than other groups.)
Smith coined the term "buckskin ceiling" to describe the barriers facing all Native artists. And while Indigenous female artists from traditionally matriarchal societies offer a unique perspective on feminist ideology, they face a double bind in an art world that privileges men.
Newer initiatives to support their work include the Native Women Artists Working Group, funded by arts patron Helen Kornblum and co-founded in 2020 by Hopkins. The self-described "direct-action group" brings together artists and curators, and helped lead to a current Faye Heavy Shield exhibition at the Pulitzer Arts Foundation in St. Louis, according to Hopkins.
To Simpson, the current recognition is "a reflection that maybe humanity is willing to grow and look at things we haven't been comfortable looking at for a long time." A member of the Santa Clara Pueblo (Kha'po Owingeh), Simpson has been reluctant to exhibit in Native-only spaces, where she sees a higher risk of "objectification and stereotyping."
"I want so badly to have a conversation about what it is to be human," she says. Her thinking is informed by watching her own mother, a contemporary ceramicist, "try to break out in her own way of the Native arts world, where—put a feather on it, or be loud about Native issues," she says. "I saw that as another form of Othering."
It is also the risk this article takes by naming a group phenomenon. But the artists themselves, by virtue of being and making, are the ultimate testament to the contrary: from Niro's decades of witty photographs to Red Star's researched retelling of Apsáalooke (Crow) history to Simpson's sculptures, at once vulnerable and powerful. As Hopkins says: "We need to heal, too."