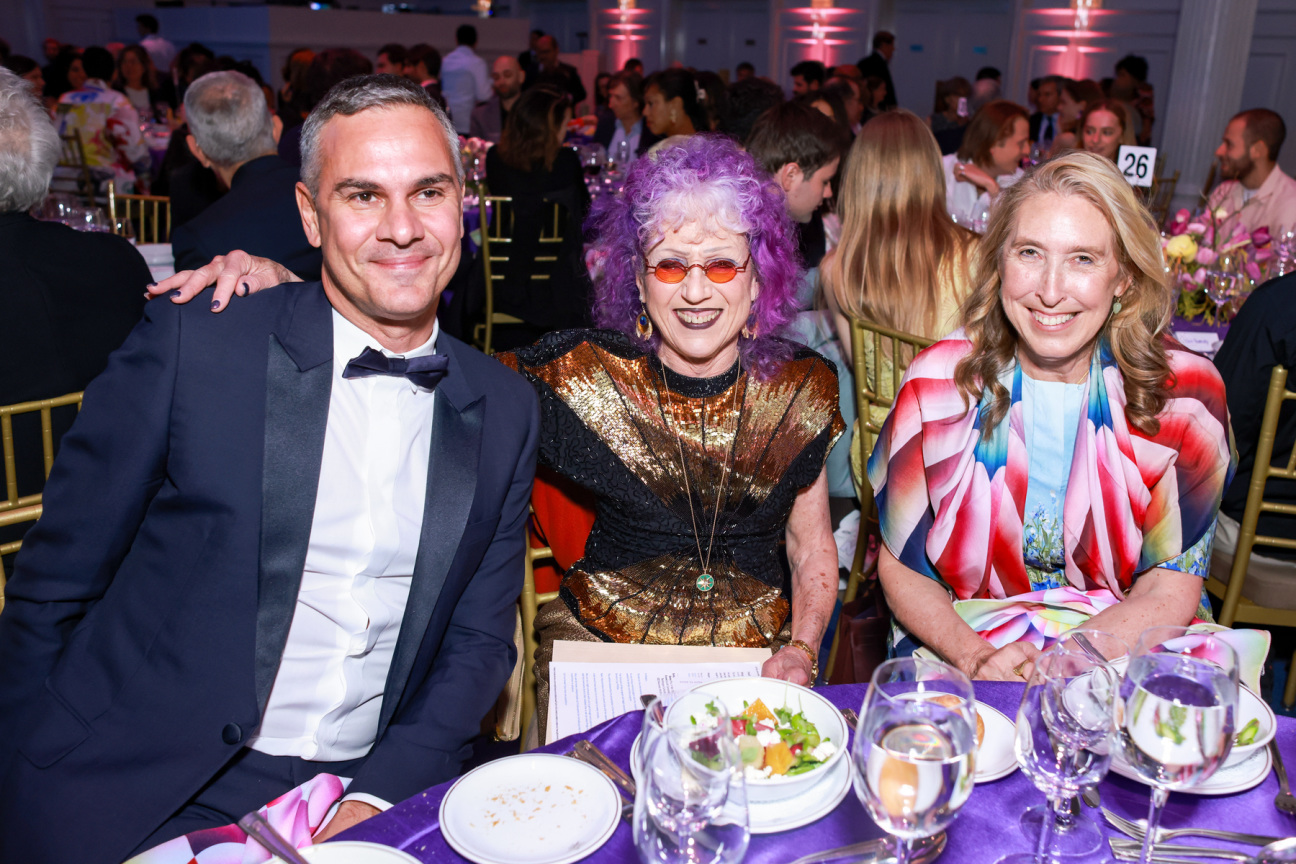 Tucked into the historical Battery Maritime Building's Cipriani South Street, New York's art world came together last night to celebrate the New Museum for its 2023 annual Spring Gala. Honoring the visionary Judy Chicago—whose first New York museum survey will open at the museum this fall—and art collector Charlotte Feng Ford, the fête raised $2.5 million.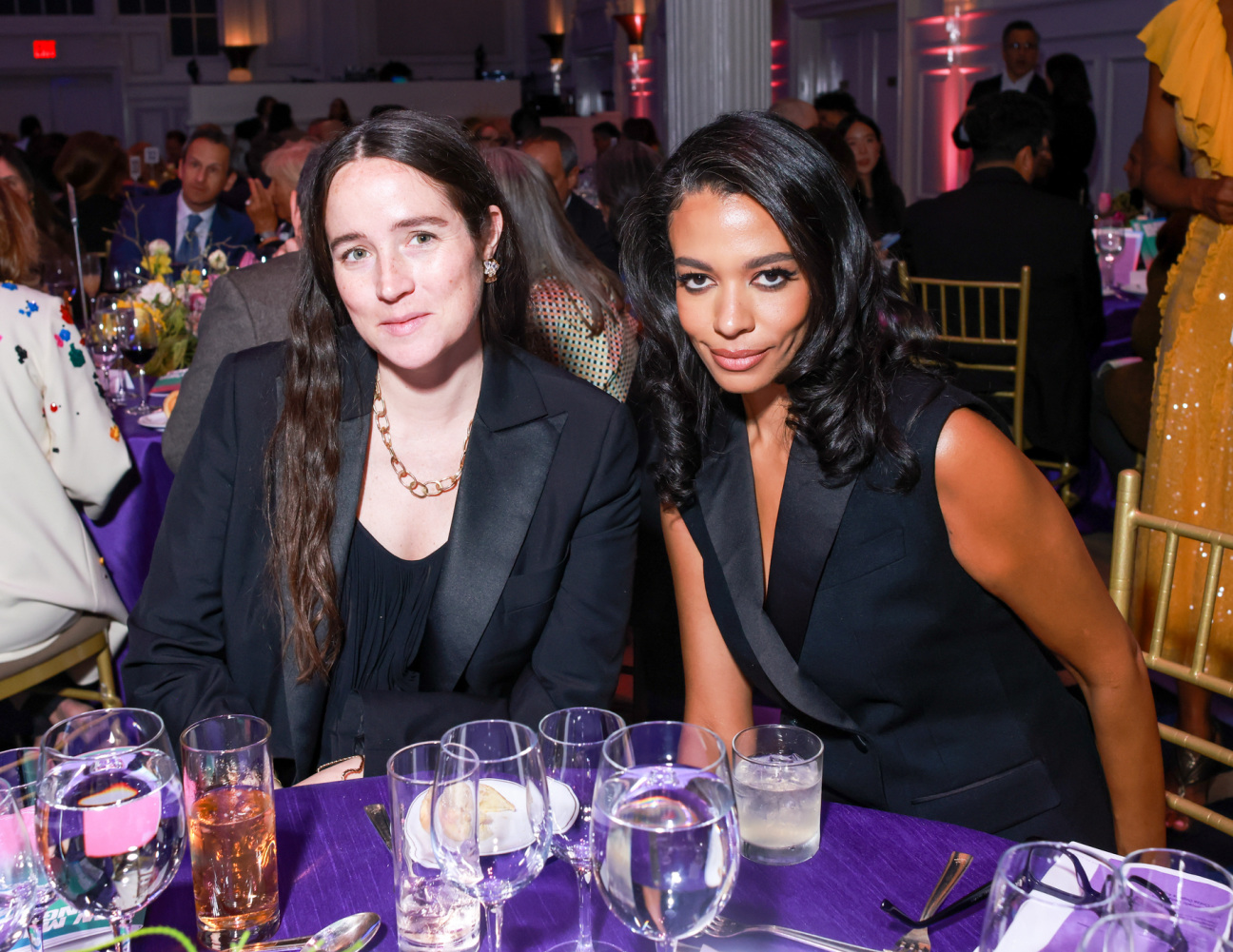 DJ April Hunt provided a lively soundtrack as attendees—including Cindy Sherman, Bethann Hardison, Chloe Wise, Joan Jonas, Antwaun Sargent, Hannah Traore, Meriem Bennani, and Mickalene Thomas—milled around during cocktail hour. The gala's dress code was "Electric Sunset," a wink to Judy Chicago's magnetically colorful oeuvre. Because this is New York, many guests, including Honorary Chair Aurora James and Emily Bode, opted out and went for more muted attire.
As the night wore on, attendees took their seats to dine, finding overflowing floral centerpieces and custom napkins citing Chicago's Let It All Hang Out from 1973. After opening remarks from the museum's leaders, including Toby Devan Lewis Director Lisa Phillips, artist and filmmaker Ryan Trecartin introduced honoree Charlotte Feng Ford, who he remembers as the first collector to pay attention to his work. In her speech, Feng Ford emphasized the New Museum's fearlessness as an institution and its commitment to "recognizing, valuing, and empowering artists."
Artistic Director Massimiliano Gioni then presented Judy Chicago, who he called "the high priestess of art." The crowd rose to give Chicago a standing ovation, which she cut off by letting out, "Are you sure you want to applaud me before you hear what I have to say?" The 83-year-old artist went on to detail her childhood inspirations, her marginalization by the art world throughout her career, and her commitment "to make a contribution and to create a new kind of art, one that celebrates instead of denigrates."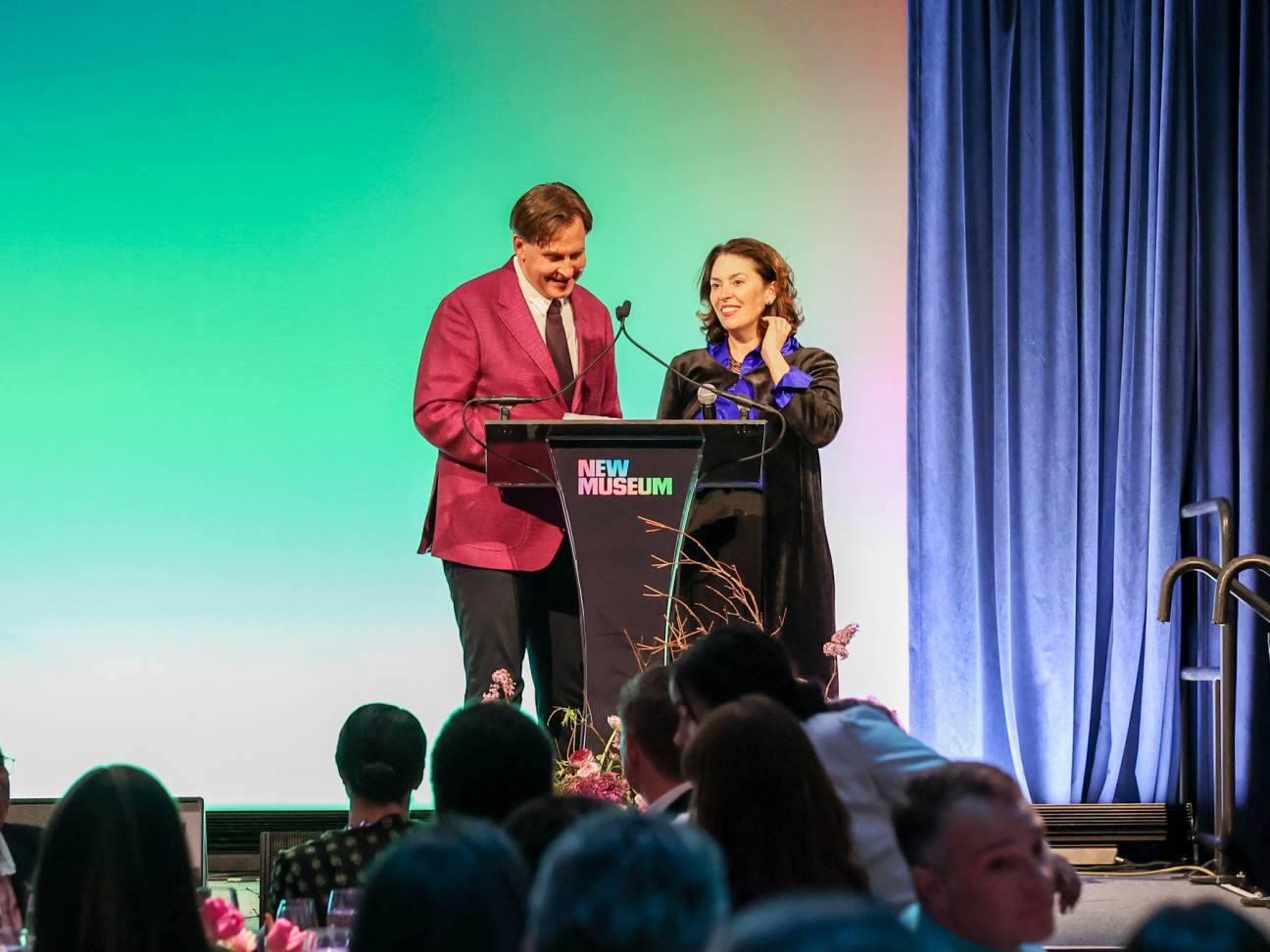 As the second course was served, Amy Cappellazo, former Sotheby's Fine Art chairman and founding partner of Art Intelligence Global, LLC, led a live auction of works by Jamian Juliano-Villani, Andrea Bowers, Cecilia Vicuña, and Jim Shaw. The latter contributed a personalized masterpiece in the form of an oil paint commissioned portrait. To punctuate the night's festivities, Samora Pinderhughes serenaded guests on the piano, accompanied by a majestic ensemble of vocalists. Before closing the New Museum gala, Pinderhughes reminded the crowd that the artistic community is "a force to change the world." On that inspired note, attendees spread back out to their separate pockets of Gotham, moved by gusts of spring wind.