Last weekend in the heart of Paris, crowds from across the world gathered for the Saut Hermès. Now in its 13th year, the French House's three-day level 5* show jumping competition marks a milestone in the equestrian calendar, and offers visitors an opportunity to revel in the generations-deep craftsmanship at the center of the House's ethos.
Since 2022, the Saut has taken place at the Grand Palais Éphémère—a billowing structure erected in the stately gardens of the Champ de Mars, across the street from the historic 18th century École militaire, and a short walk from Napoleon Bonaparte's tomb at Les Invalides. The Grand Palais Éphémère offers an elegant, temporary alternative to the Grand Palais, the iconic cantilevered, glass building erected to house the Universal Exhibition of 1900, which has been the Saut's home since it began. The iconic exhibition hall, which has hosted fashion shows and art exhibitions for over a century, was closed for renovations in 2021 in preparation for the 2024 Olympics in Paris.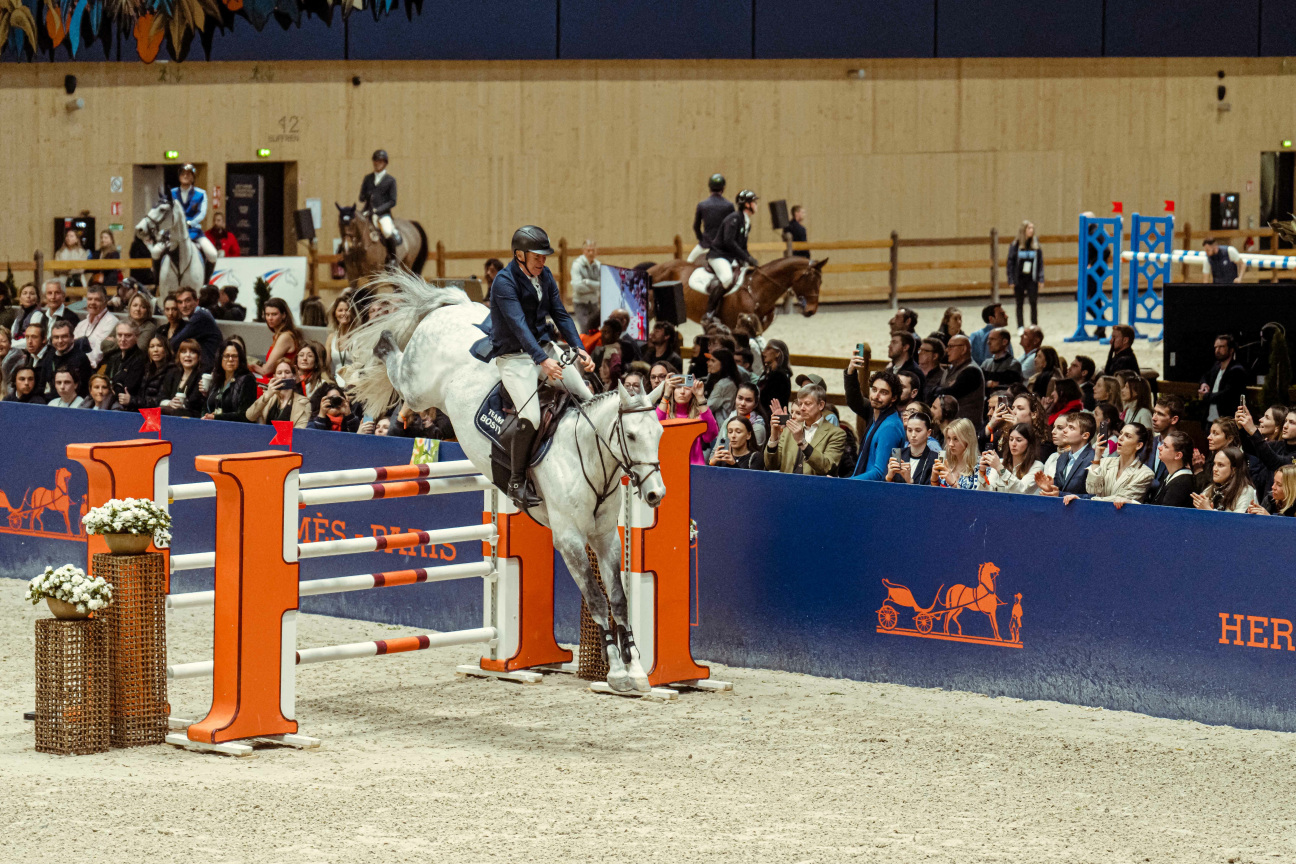 Horses—and the celebration of equestrian traditions—are inseparable from the brand's legacy since its inception in 1837, when Thierry Hermès opened his harness workshop in the Grands Boulevards quarter of Paris. To this day, the distinctive artisanal techniques pioneered by Thierry and his descendants are manifested in the House's menswear and womenswear designs, as well as in its carefully maintained saddle making practice, which continues to meet the needs of equestrian clientele. An installation of Hermès saddles sculpted from sumptuous, richly-hued leathers was on view at the Grand Palais Éphémère during the Saut; visitors were encouraged to run their fingers across them while observing a number of expert saddle makers immersed in the craft.
The Saut, like any top-level equestrian competition, is an exercise in eager anticipation. The equestrian theatre sits at the center of the Grand Palais Éphémère illuminated dome, swelling with cheers as riders enter the arena, and falling eerily silent as they traverse the course. A total of 55 riders from across the world journeyed to Paris for the event, including 14 Hermès partner riders. This year, the event's Grand Prix course was co-designed by Santiago Varela Ullastres and Grégory Bodo, who will also design the course for the upcoming Olympic Games. After two days of nail-biting competition, it was the Luxembourger Victor Bettendorf—ranked 35 in the world—and his favorite horse, Mr. Tac, who claimed the weekend's title. "I can't really get my head around it," Bettendorf said of the victory, "...I never believed I'd win the Grand Prix." The same sense of wonder is present in all aspects of the Saut's presentation.