Stepping into a Hermès store is truly a novel experience. In almost two centuries, the family-owned maison has created a total of 306 retail locations across the globe, with a majority designed with French design firm RDAI. Eight-and-a-half years in the making, the pair's latest collaboration finally opens its doors. Uniting the house's men's and women's boutiques under one roof, 706 Madison is Hermès's new U.S. flagship, building a link between its hometown Paris, the Big Apple, and its storied universe.
"It is a bit of Hermès culture in New York but what is most important is that there is a little bit of New York in Hermès," says Pierre-Alexis Dumas, the house's artistic director and sixth generation family member. "New York inspires us. Never have we worked so hard to invent, create, and design a store in such great detail. You have to understand for us Parisians, New York is a dream."
Located on the corner of Madison Avenue and 63rd Street, the five-story Neo-Federal-style building was previously the Bank of New York and Trust, which was built in 1922. In its transformation to 706 Madison, RDAI's Denis Montel sought to combine French and New York cultures, preserving much of the classical backbone of the bank, including its original red-brick exterior and entrance while replacing the windows and doorways with modern touches. "We wanted a feeling of being in the bank, but, of course, it was completely revised and reinvented," explains Montel. "The design of the ceiling is inspired by the original one, that is why it is a bit more classic and more formal." Other elements saved include an original clock located above the cashwrap, a plaque of board members—which features Aaron Burr and Alexander Hamilton—located on the back wall of the men's universe, and a winding marble staircase. One of the two outdoor terraces featured in the building is visible on the landscaped rooftop, which showcases a Napoleonic equestrian statue: the figure holds two original Hermès silk scarves.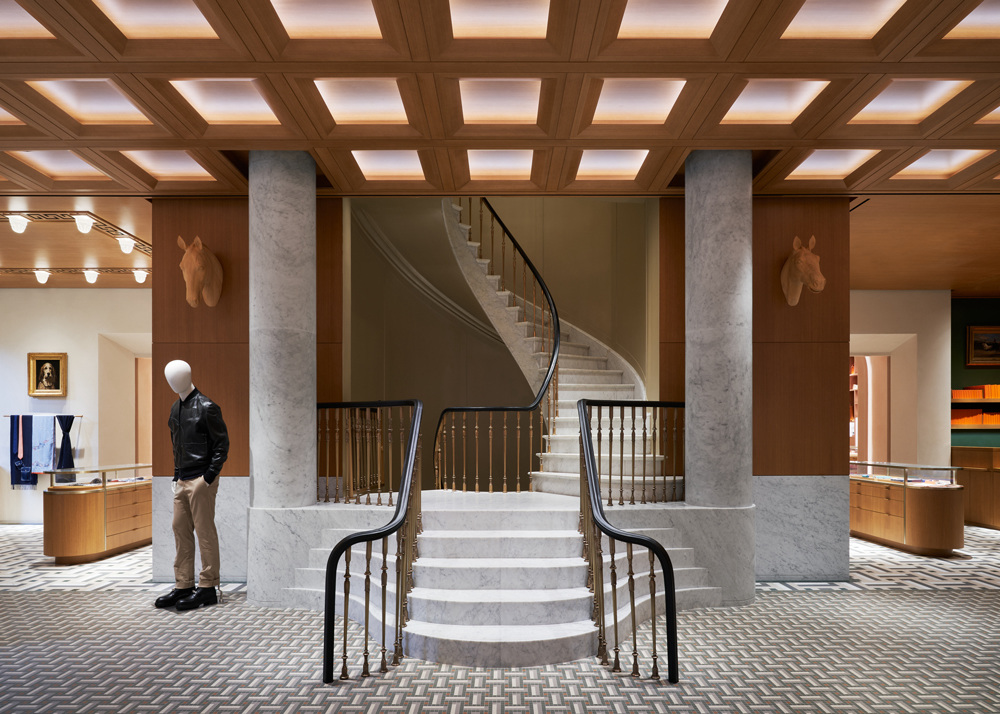 The new flagship offers an array of exclusive versions of the house's iconic scarves, including a men's edition featuring the building itself in its pattern and another that is an homage to Gene Kelly. "We have the Madison 706 Bicycle," and several bags designed specifically for the store," reveals Hermès CEO of the Americas Robert Chavez. Downstairs, a presentation of saddles honors the brand's origins. ("We always say that the horse was our first customer," Chavez jokes.) The store will also offer experiences such as a champagne bar, coffee bar, garden, VIP rooms, and—for the first time ever—Hermès will have a concierge desk as well as a butler service to further personalize the shopping experience.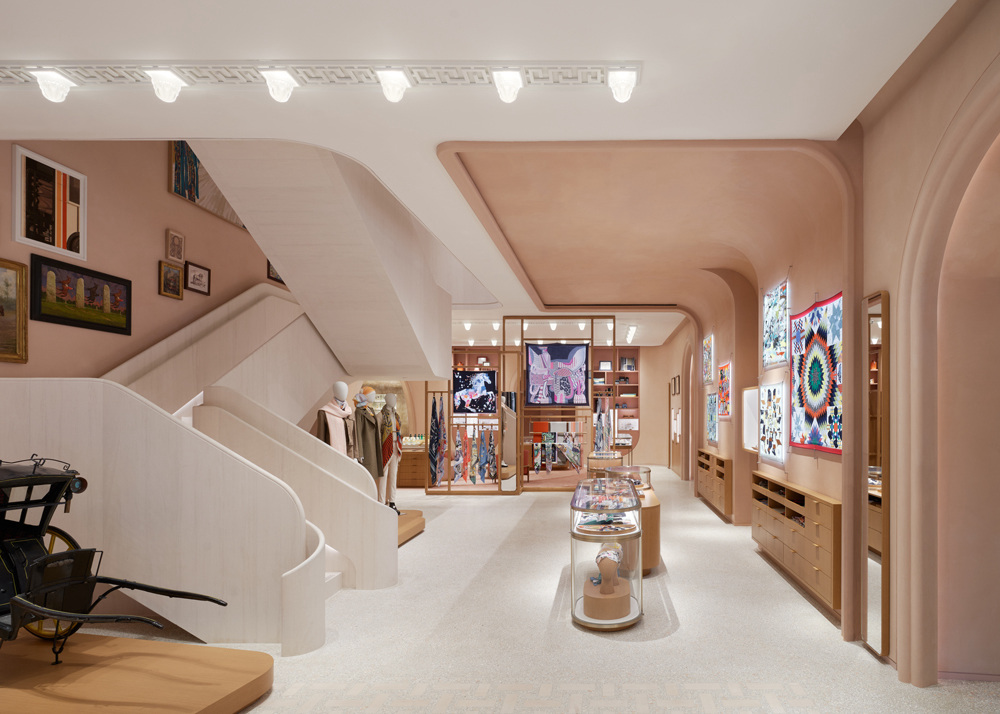 For generations, the Hermès family have been dedicated art collectors, so it is no surprise that 706 Madison is the new home of some of the most iconic equestrian-related images and objects of the 19th, 20th, and 21st centuries. "One hundred and fifty people are working here, so we have put 150 works of art on our walls," Dumas explains. "Although the art around the store may look arbitrary, it is full of invisible links. Culture is about thinking and learning, but also about serendipity." Some of the most notable works include two pieces by Mary Cassatt, who also designed scarves for Hermès, as well as the drawings for Rosa Bonheur's 1853 work, The Horse Fair.
Not all the works on view are historic, however. Hermès commissioned Kansas City, Missouri-born, Brooklyn-based Mike Perry to create an intricate window display that is an ode to its adopted home. "The goal was to really celebrate the idea of the city, the block, and how neighborhood-oriented New York is," says the contemporary artist. "I grew up in a pretty rural environment; everyone used to say how the city wasn't very personable. I've lived here for 20 years now, it is like the smallest town I've ever been in. That is what the piece is; that is what the energy I've been getting from Hermès about the project is, too."
Dumas points out the most symbolic artwork of this location—a midsized model of a yellow-and-black British horse drawn cab from the 1800s. "When we found it a few years ago, my team and I knew we had to put it in New York. It is a wonderful reminder of how our cultures are linked."
Hermès is now open at 706 Madison Ave, New York, NY 10065.