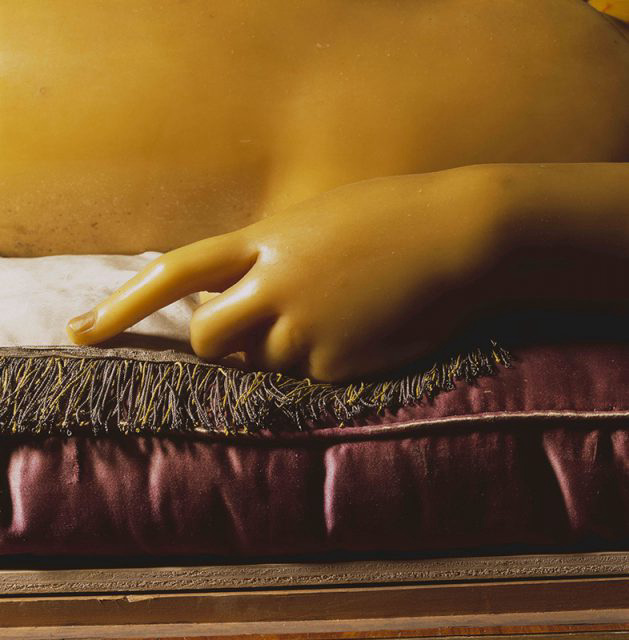 Welcome to This Week in Culture, a weekly agenda of show openings and events in major cities across the globe. From galleries to institutions and one-of-a-kind happenings, our ongoing survey highlights the best of contemporary culture, for those willing to make the journey.
"Cere Anatomiche: La Specola Di Firenze David Cronenberg"
Fondazione Prada Milan
In collaboration with one of the oldest science museums in Europe, La Specola, and film director and screenwriter David Cronenberg, Fondazione Prada is presenting a two-part exhibition exploring historical works through a modern lens. Part one features a series of artifacts, namely ceroplastic works and copies of anatomical drawings, including four life-sized, female wax figures who inspired the name, "Cere anatomiche," which means "anatomical waxes." A new short film from the director will accompany the figures and is poised to raise questions about depictions of the human body, a staple of Cronenberg's eternally eerie works, and to reinterpret the objects for a contemporary audience. "Cere anatomiche" will be on view from March 24 through July 17, 2023 at Fondazione Prada in Milan.
"Art Basel Hong Kong"
Convention & Exhibition Centre Hong Kong
In this vibrant and dynamic cultural hub, Art Basel Hong Kong welcomes international visitors back for the first time since the pandemic began. The two-day event will bring together artists from around the world, with a particular focus on Asia-Pacific diversity and modern and contemporary works. The fair will feature 117 exhibitors from 32 countries; screenings of films, including a Cannes Film Festival Palme d'Or winner; and talks on topics including figuration, patronage, and Sinofuturism. Art Basel Hong Kong will take place from March 23-25, 2023 at the Convention & Exhibition Centre in Hong Kong.
"Deep Dive" by Tunji Adeniyi-Jones
White Cube Hong Kong
In his first solo exhibition in the region, Tunji Adeniyi-Jones unveils a new series of paintings that dissect historical topics through a contemporary viewpoint. In his works, themes of mythology, religion, and ceremony are presented with nodes of African, American, and European cultural nuance. The artist uses oil and acrylic paint to create life-size figures with the recurrent background of foliage, updating the style of the 19th century Arts & Crafts movement and of African literature that often references the jungle. "Deep Dive" will be on view from March 22 through May 20, 2023 at White Cube in Hong Kong.
"Particulates" by Rita McBride
Hammer Museum Los Angeles
Rita McBride's installation, "Particulates," toys with notions of light and gravity with its new, maleable form. The piece iinaugurates The Hammer's new gallery, which was previously a bank office. Through the use of high-intensity laser beams and bursts of mist in the air, the object reinterprets the corporate space, its shape only becoming visible as waters droplets and errant bits of dust come into contact with the green streaks. "Particulates" will be on view from March 26 through November 5, 2023 at the Hammer Museum in Los Angeles.
"George Voronovsky: Memoryscapes"
High Museum Atlanta
In the first exhibition of his work at this scale, the High Museum in Atlanta, Georgia, is celebrating Ukrainian World War II refugee George Voronovsky. The self-taught artist resided at the Colony Hotel in Miami, where he filled his room with hundreds of paintings and hand-carved styrofum sculptures depicting a colorful and vibrant vision of Ukraine. Passing by the residence, photographer Gary Monroe spotted Voronovsky's work through the window and became a self-appointed steward of his career and oeuvre. This first major exhibition of Voronovsky's pieces allows visitors to see the entirety of what once caught Monroe's eye through a window. "Memoryscapes" will be on view from March 24 through August 13, 2023 at the High Museum in Atlanta.
"River" by Every Ocean Hughes
Whitney Museum New York
The latest performance piece from Every Ocean Hughes examines the many interpretations of "crossing." She juxtaposes the piers lining the West Side of Manhattan, notorious gathering spots for the queer community, with the well-covered facsination with descending into the underworld. Loss, legacy, and cultural inheritance are up for interpretation in this moving commission from the museum. "River" will be on view from March 24-26, 2023 at the Whitney Museum in New York.