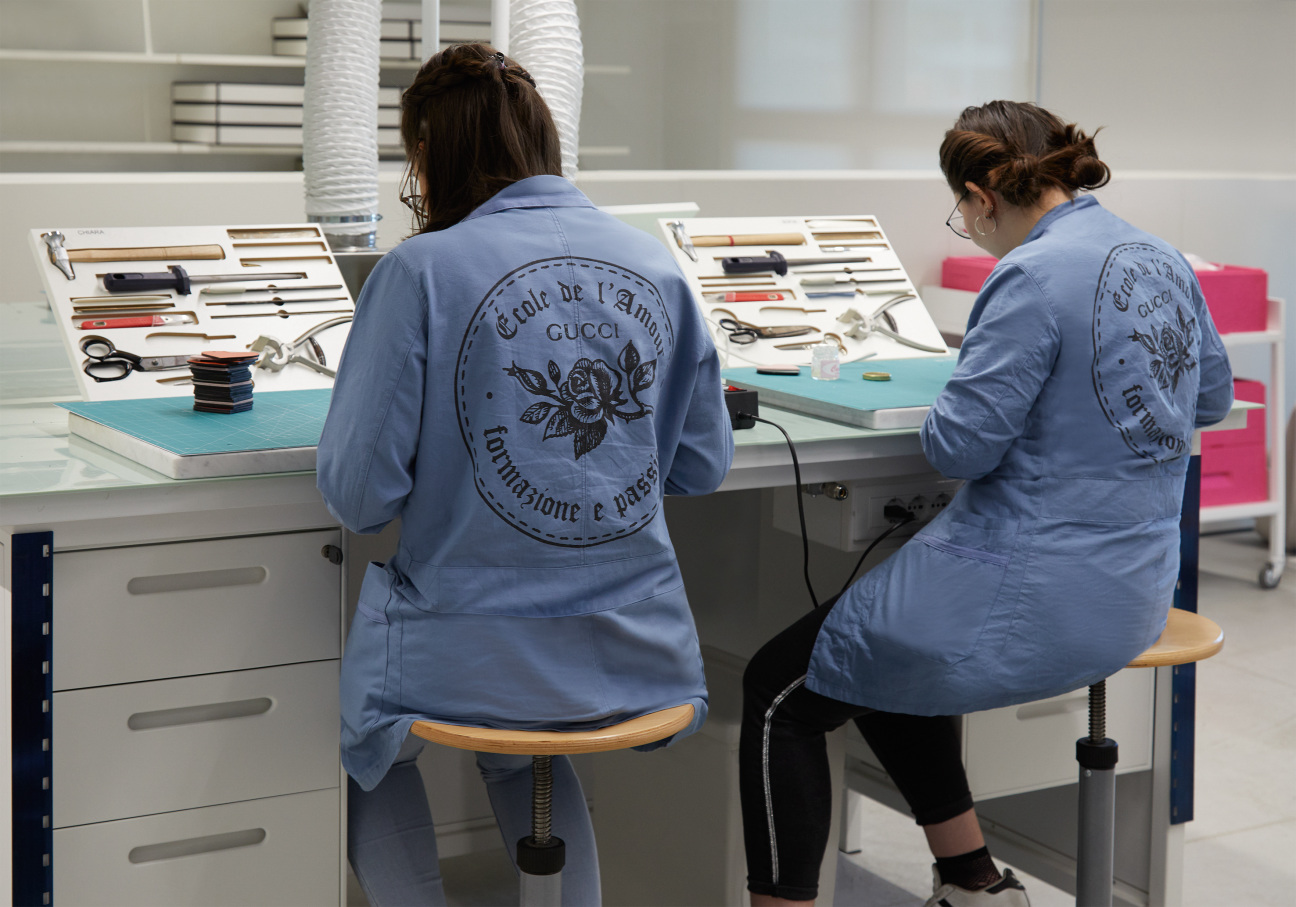 Traveling along the motorway from the ornate epicenter of Florence to its industrial peripheries feels like zipping through the fabric of centuries. Renaissance-era palazzos slowly give way to rows of squat 1960s apartment buildings, and later to low-slung warehouses and gray-faced factory complexes. The irony of this nondescript sprawl is that a good portion of Italy's high-end leather accessories are developed and produced here. What began centuries ago as a Tuscan artisan leather tradition has evolved into a booming industry, largely fostered by the high concentration of luxury brands that call this Florence suburb home. But while most hide their operations behind anonymous concrete walls, one stands out: Gucci ArtLab, a sprawling campus devoted to prototyping, sustainability, and artisan education.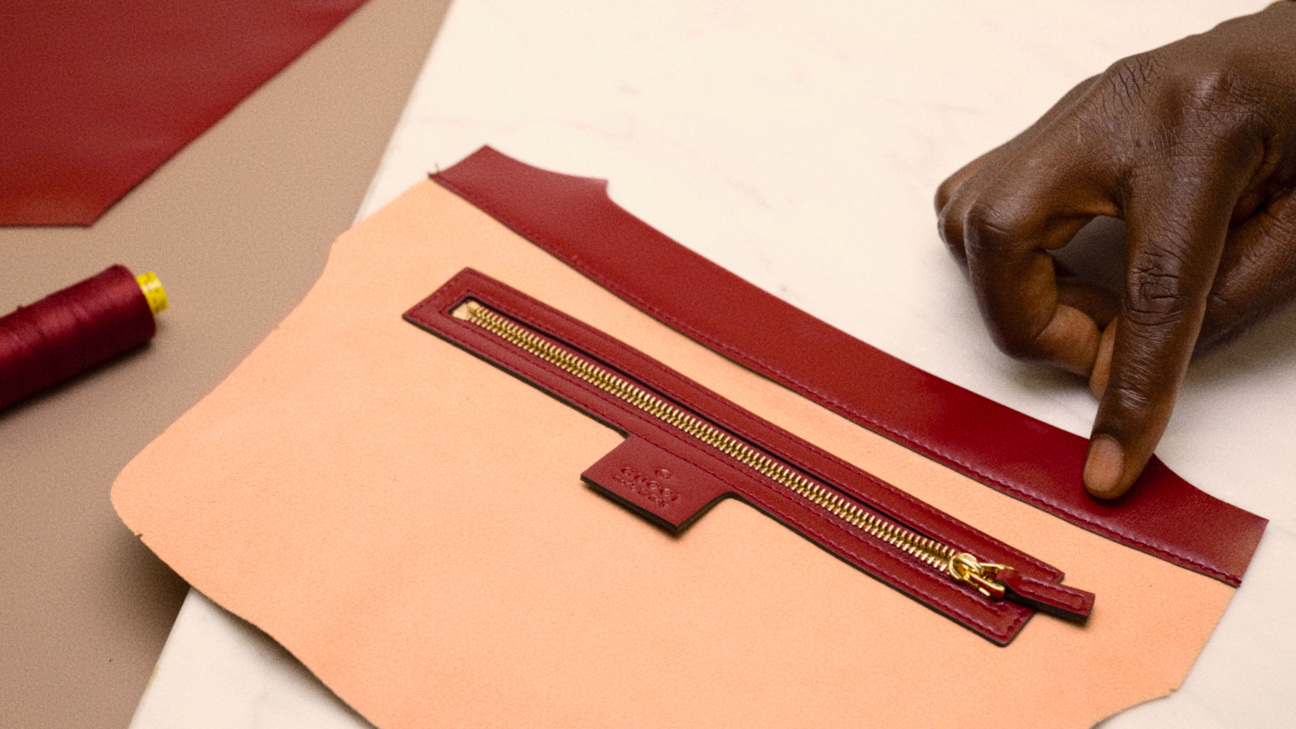 The 37,000-square-meter space is a stark departure from Gucci's former factory and workshop, the stately Palazzo Settimanni in Florence's Oltrarno neighborhood that dates back to the 15th century. The brand was founded by Guccio Gucci, a native Florentine who immigrated to London in 1897 to work as a porter at the Savoy, one of the most luxurious hotels of the era. Day in and day out, Gucci ferried well-to-do tourists and fin de siècle stars through the hotel's lavish halls, studying their refined trappings: polished steamer trunks, drumlike hat boxes, and soft leather suitcases, all monogrammed with their owners' initials. He brought those memories home to Florence when he returned in 1902, and then to life 19 years later, when he founded the house of Gucci out of a small storefront on Via della Vigna Nuova. There, he sold the same kinds of sumptuous luggage and travel accoutrements he had coveted during his early years in London, expertly constructed by the master craftsmen of his hometown. Over a century later, the brand continues to employ the artisans of Tuscany—but its methods of production have evolved with the times, largely thanks to the innovation of the Gucci ArtLab, which launched in 2018.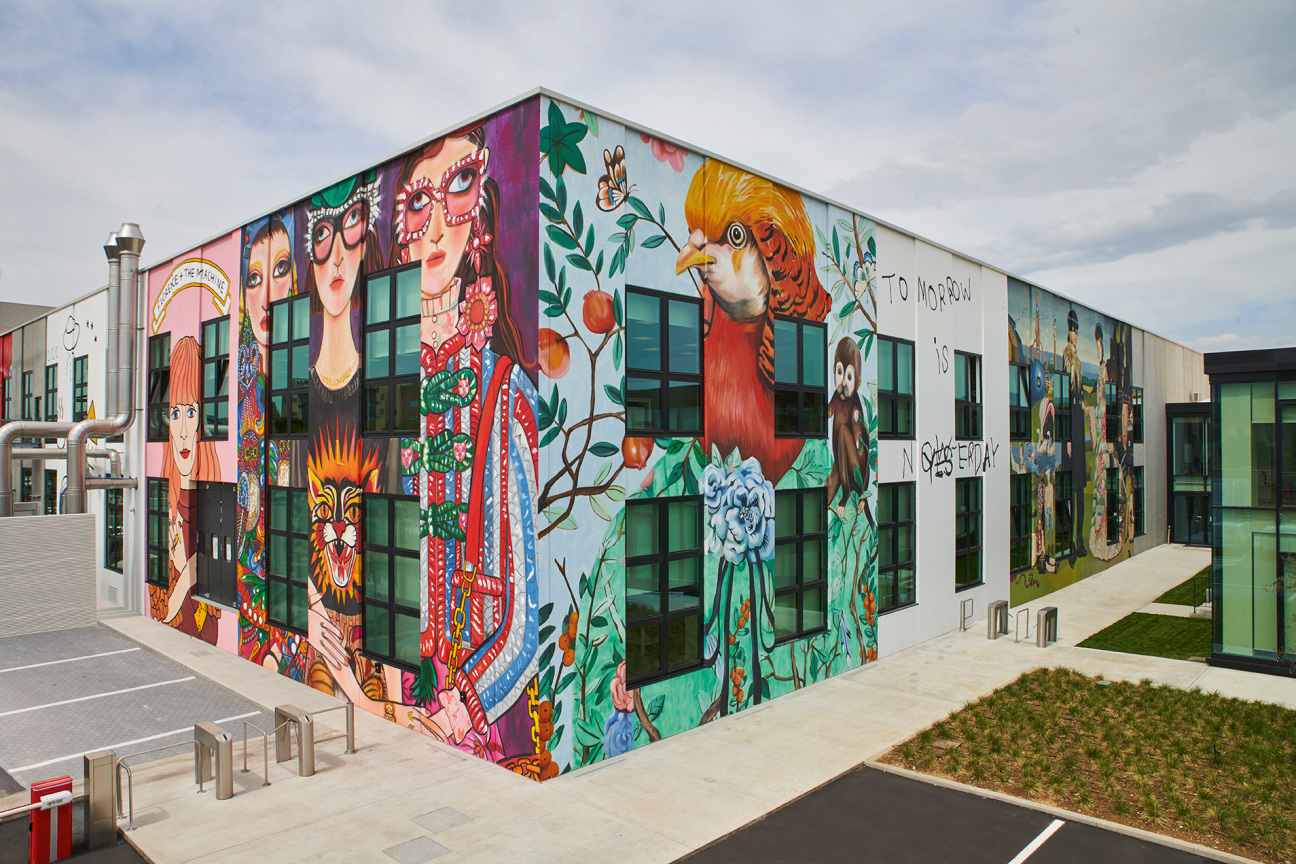 In front of the vast, two-story complex, visitors are greeted by bright, whimsical murals by artists such as Angelica Hicks and Ignasi Monreal. The building's exterior is awash with vibrant illustrations, but its interiors are pristine. Wide glass windows punctuate the whitewashed hallways, framing busy workshops where teams of artisans stitch together bag and footwear prototypes, and tidy laboratories full of chemists and engineers test the coming season's collection before approving it for production. In one lab, a glossy robotic arm jostles a mannequin—clad in Gucci tweed and wearing two of the brand's signature crossbodies—as if it were a marionette doll. The jerking movements mimic the effects of several months of wear, revealing how daily life would shape and stress the leather, seams, and hardware.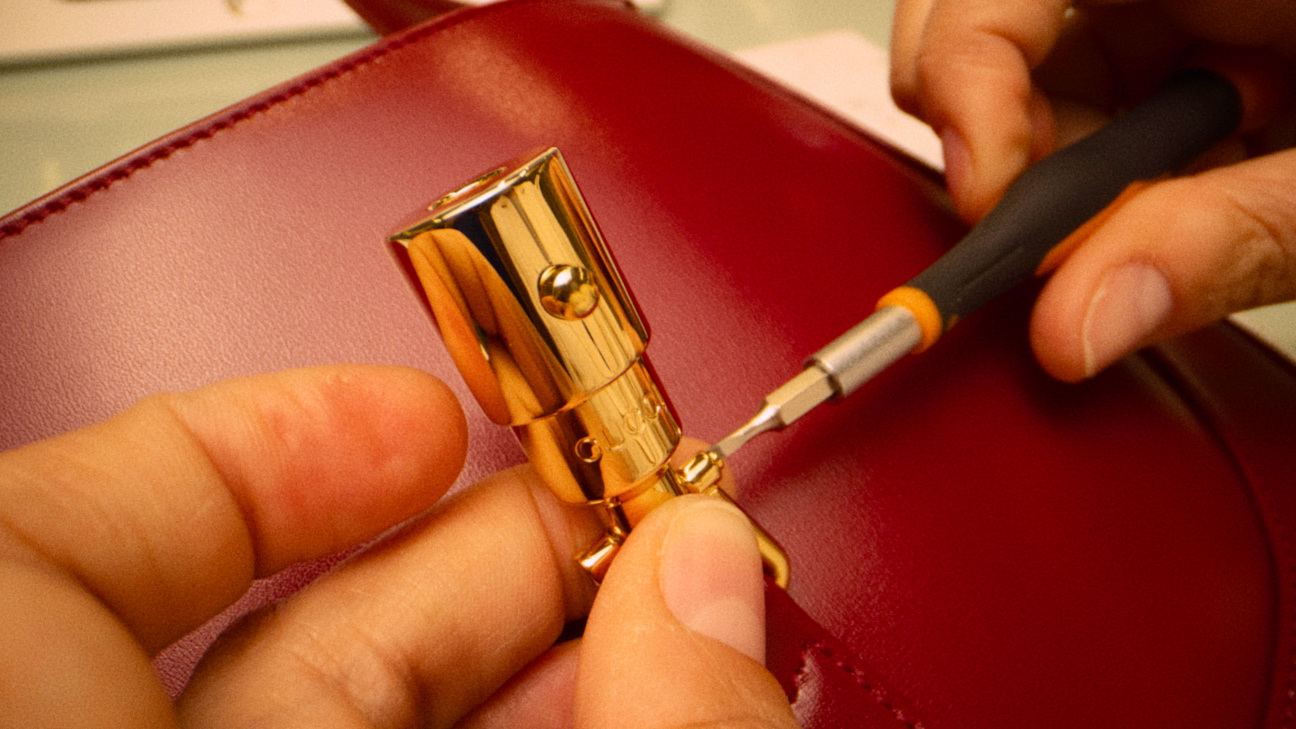 Gucci ArtLab is more than just a place to refine and road test new designs— it's a dedicated think-tank and research lab devoted to the brand's sustainability efforts. In 2021, Gucci reduced its total environmental footprint by 49 percent, a cut that Antonella Centra, Gucci's executive vice president and general counsel on corporate affairs and sustainability, credits in part to Gucci Artlab initiatives including Gucci-Up, which reintroduces scrap leather and fabric into the production cycle; and the development of Demetra, the house's own animal-free leather. "Though we are a leather brand at heart, it's important to us to have an option to satisfy those consumers who don't like to use animal-based products," says Centra. Derived from wood pulp, Demetra undergoes a chrome-free tanning process similar to genuine leather, resulting in a soft and supple material the brand has been using to construct sneakers.
Though Gucci has made significant progress in meeting its sustainability goals, Centra makes it clear that new ideas are perpetually incubated and hatched at the ArtLab. "We are constantly researching new ways to make our production process and supply chain more sustainable," she says. "In this chapter of our journey, we are very much focused on regenerative agriculture." The sustainability team has launched an experimental effort to grow cotton in Puglia, and is planning an initiative to return silk farming to Italy's southern province of Calabria, all with the hope of restoring the production of raw materials to Italian soil.
While Gucci ArtLab exists to innovate and push the company forward, the guiding principle behind the project is a return to tradition, cultivating an environment reminiscent of the one that first nurtured the brand's signature aesthetic a century ago. Take, for example, L'École de l'Amour, the ArtLab's training program for would-be artisans to learn the fundamentals of craftsmanship traditions, and for seasoned employees to refine their skills.
"In recent years, there has been a declining interest from young peopleto become artisans," explains Centra. "Our goal with the school is to show how the profession has evolved with technology, and to create a new generation of trained craftspeople who can work with us at Gucci ArtLab and in our workshops." With a focus on tradition in mind, the brand decided this past year to launch a contemporary iteration of one of Guccio Gucci's original designs, the Valigeria line of travelware, which the house's visionary founder sold in his Via della Vigna Nuova shop in the 1920s and '30s. Thanks to the work of Gucci ArtLab, the collection— composed of trolleys, trunks, suitcases, hat boxes, and beauty kits— is designed and fabricated to minimize impact on the environment while maintaining the same heritage-inspired style that continues to set Gucci apart. It is named the Savoy collection—after the place where it all began.