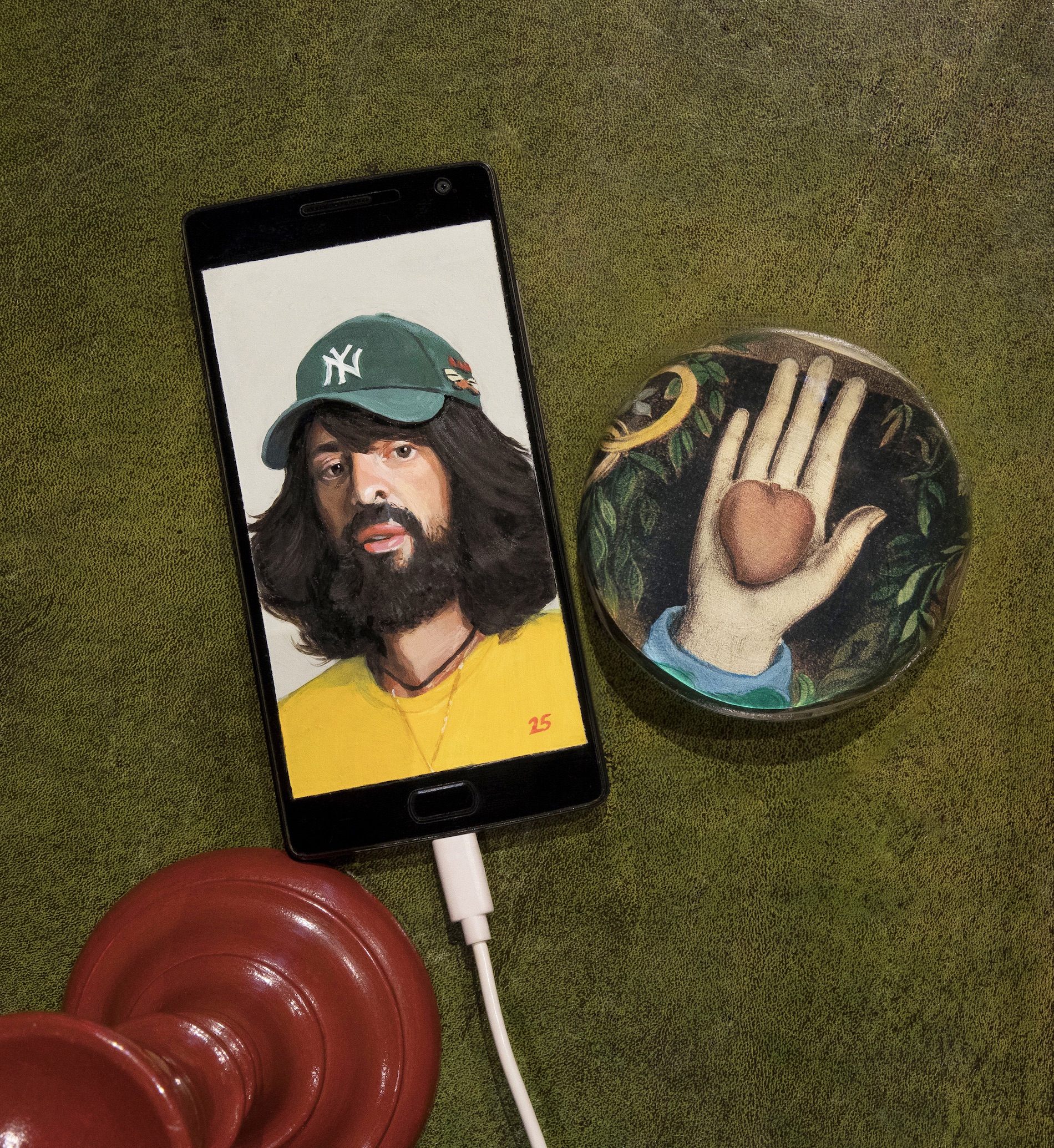 Spanish painter Ignasi Monreal draws upon a world of fantasy. This month, his dreams became reality with a special capsule collection for Gucci's Alessandro Michele, who he began working with in 2015 on brand campaigns. The new line of sweaters and garments that draws the fashion house into a fantastical realm.
You've been working with Gucci since 2015. How would you describe the evolution of your collaboration? In crescendo.
How would you describe Gucci under Alessandro Michele? Alessandro plays the role of a modern Medici, he's not afraid to take risks and that is the key of his success.
The work you've done for Gucci often includes a fantastical element. Where did you develop your appetite for telling fairytales? I've always had my head in the clouds, but after moving to East London the longing for escapism increased.
What artists from the past or present do you admire and why? From Velazquez to Snoop Dogg, I admire people who don't play by the book but get away with it.
When you are looking for inspiration where do you go? Are there art spaces you frequent? I travel and look around. Art spaces are great to get inspiration for form, but content comes from life. I frequent both Tates in London but my favorite is El Prado in Madrid.
What role do you see humor having in your work? in Gucci? It's always there in some level, I can't help it. It allows me to navigate certain topics or aesthetics that otherwise can feel a bit inappropriate.
Can you describe your cover illustration for Cultured? How did the idea develop? What are the elements pictured? It looks digital but it's real, which is the contrary of what is usually said about my work.
It's a photo of Alessandro Michele's desk, there's a smartphone on it with his portrait painted using enamel paint. This is the first prototype of something I've been wanting to do for a very long time and never managed, so it was a very cathartic project. After spending too much time in the computer I wanted to get dirty and use actual paint. I imagined the screen as a canvas and the stylus as a brush, and so the idea took form. I have a bunch of old devices and screens around, so this is a way to give them a new purpose: send me your old phone and I'll paint your portrait on it.
There's a capsule collection coming out featuring your images. Can you tell us about this project? Yes, it's very exciting! It's a limited edition of t-shirts and jumpers to celebrate the success of the SS18 Campaign.
When asked to take on the campaign, what were the guidelines you had to work with? Alessandro wanted a darker mood. He asked for Ophelia and Hyeronimus Bosch, but the rest of the brief was "do your thing."