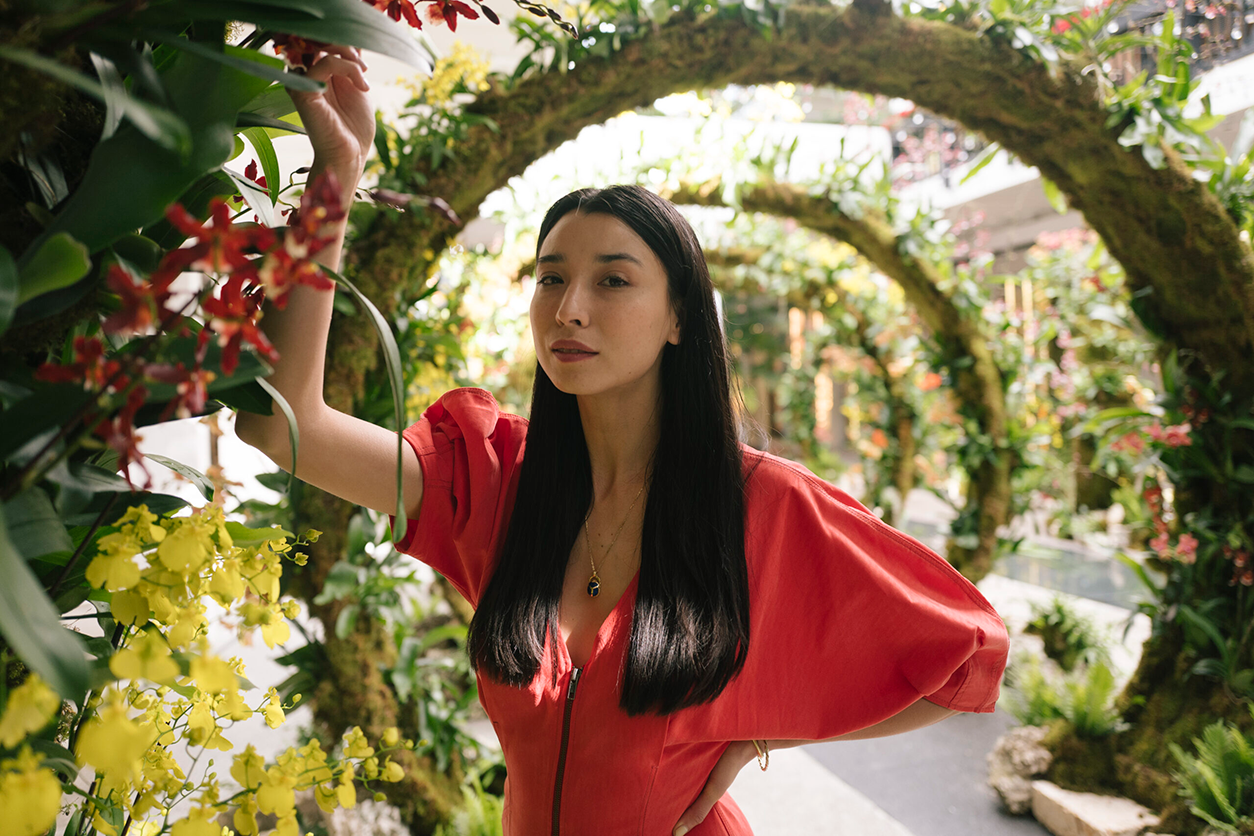 Lily Kwong shares a heady bit of horticultural insight as we stand in the shade of orchid-dappled monolithic rock formations she'd envisioned for the New York Botanical Garden.
"Many people think that we have been attracted to orchids and cultivated orchids because they have a bilateral symmetry—you can see that they mimic how the [human] face is structured," says Kwong, the designer behind the 20th edition of The Orchid Show. "A sunflower or a daisy has a radial symmetry: it goes around and they're not as easily anthropomorphized. Whereas orchids actually call us towards them. We feel like some version of ourselves is being reflected back."
I suddenly find myself picturing The Orchid Show's namesake stars as gaping little spectators peering back at us verdure-voyeurs.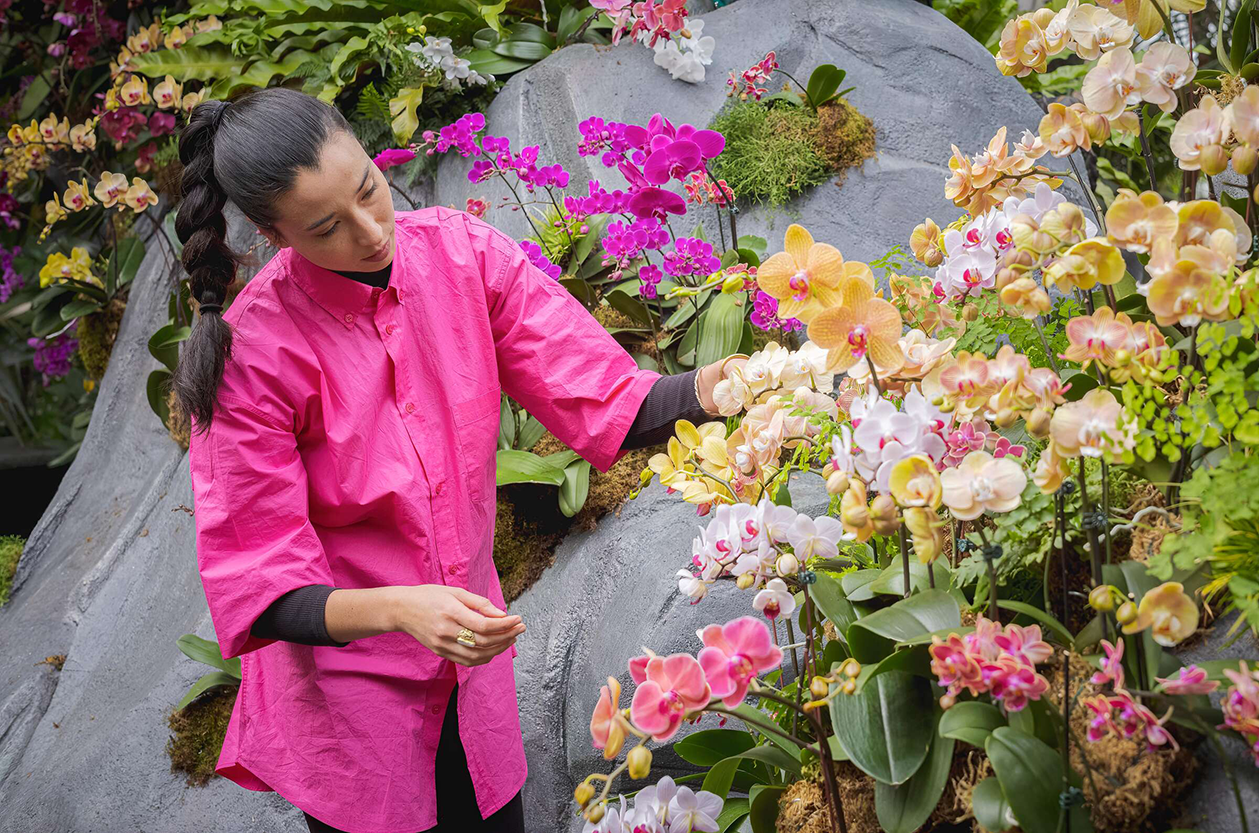 "Compared to a daisy or a peony, this is very human. In the context of flowers!" she adds with the grin of one delightfully immersed in their area of expertise. The observation is especially resonant given Kwong's concept for the show, which, aptly subtitled "Natural Heritage," takes inspiration from the 34-year-old's heritage as the granddaughter of Chinese immigrants. Already among the most prolific landscape designers of her generation, she's previously employed thousands of orchids for a project in Bal Harbour unveiled during 2019 Art Basel Miami; however, from the outset of planning The Orchid Show, with Kwong's collaboration underway as of last summer, it was NYBG's top-notch horticulture team that ultimately enabled her to curate a dizzying array of innumerable orchid varieties with Asian origins.
Likewise, the show's layout centers motifs connected to her ancestry, both in broader cultural and directly personal terms. Among the major original installations brought to fruition within NYBG's Haupt Conservatory are exact replicas of what Kwong describes as "mountainous landscape," depicted on four scrolls her grandparents brought to America from their native Shanghai. The illustrations, displayed in her family's living room, enthralled her childhood imagination. "I would stare for hours at these paintings, and just get lost in the fantasy of them," Kwong recalls.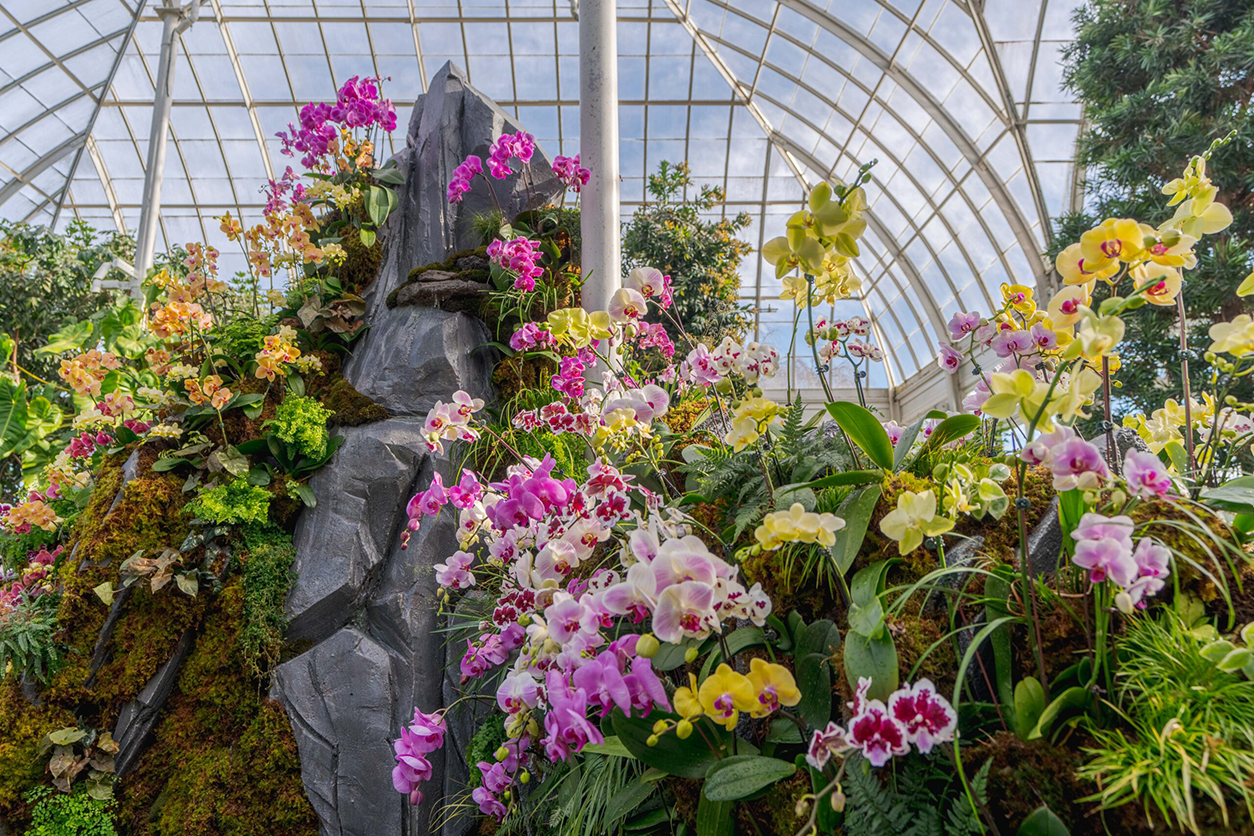 In one of the atriums, the physical recreation of part of the landscape painted on the scrolls towers over the greenhouse, a craggy formation jutting out of a pool of water, much of it blanketed in think green moss and topped off with mirthful swirls of pink and white orchids. "Sometimes that's how the proverbial homeland can feel—like this fantasy, it feels like something that you're attracted to," Kwong continues. "To get to build this in real form in this space…It feels like these ancient teachings have been brought closer to my everyday lived experience."
The magnum opus of "Natural Heritage" resides under the conservatory's Palm Dome. Also modeled after part of the landscape on the Kwong family's scrolls, the fully realized installation looks to have burst from the ground, with boulders of various shapes and sizes stretching toward the space's iconic turn-of-the-century glass-and-metal dome, their sides glistening with trickling streams of water as brightly hued orchids casually cascade down.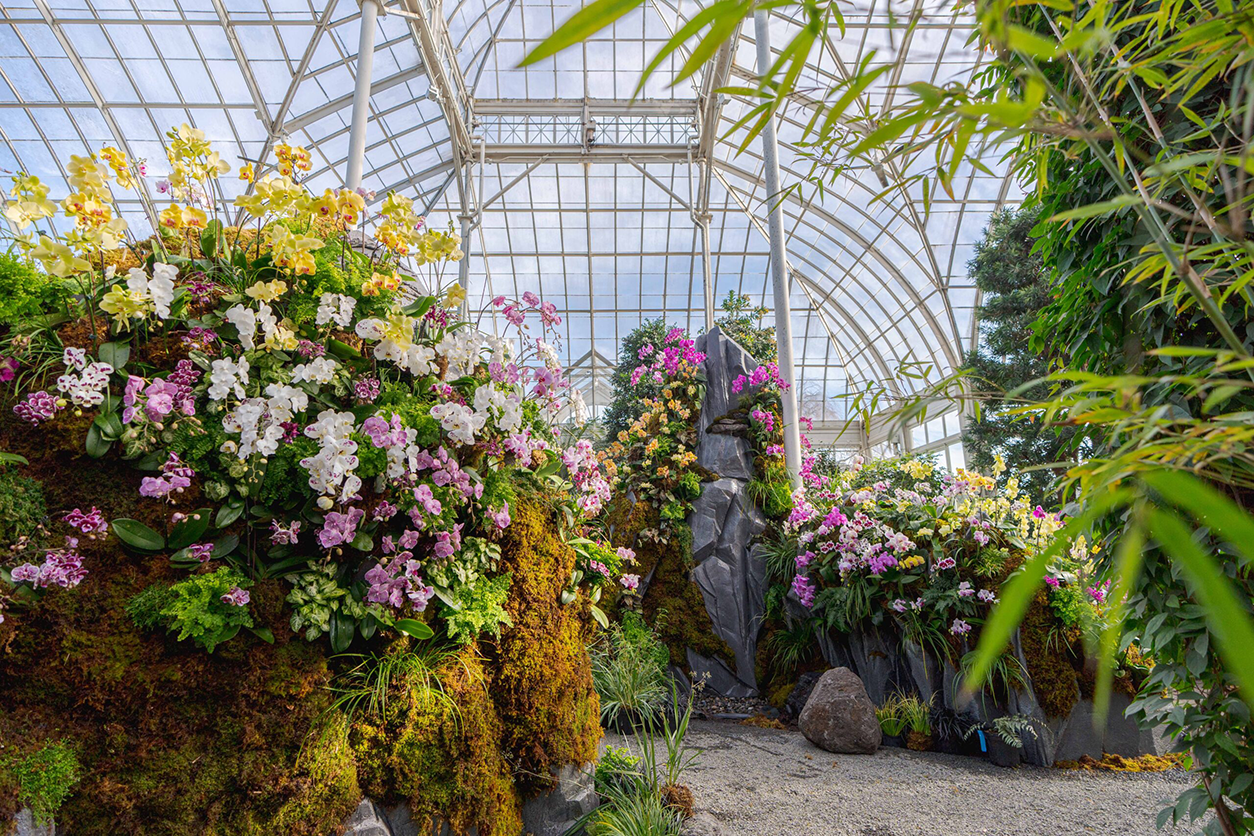 The orchids' easy presence on the steep slopes of these faux mountainsides is further emblematic of Kwong's conceptual touchstones in devising the show. "Confucius said that orchids grow where others cannot, that they are found in these mountain valleys, on sides of rocks, not in soil, that they kind of grow in these impossible conditions," she notes. "He really cemented them as a symbol of refinement and nobility and integrity. And that's carried throughout and reflective of so much of Chinese calligraphy, prose, paintings — this idea that the orchid is this symbol of refinement."
Confucius's commentary on the topic is no less significant as yet further evidence of human culture arising from orchids' strangely universal appeal. The flowers have found themselves imbued with such vast symbolic weight, often rife with existential implications, across cultures and generations. Yet here they are in New York City, the descendants of so many plants from halfway around the globe, comfortably taking up swathes of trees, moss and boulders, looking as light as air.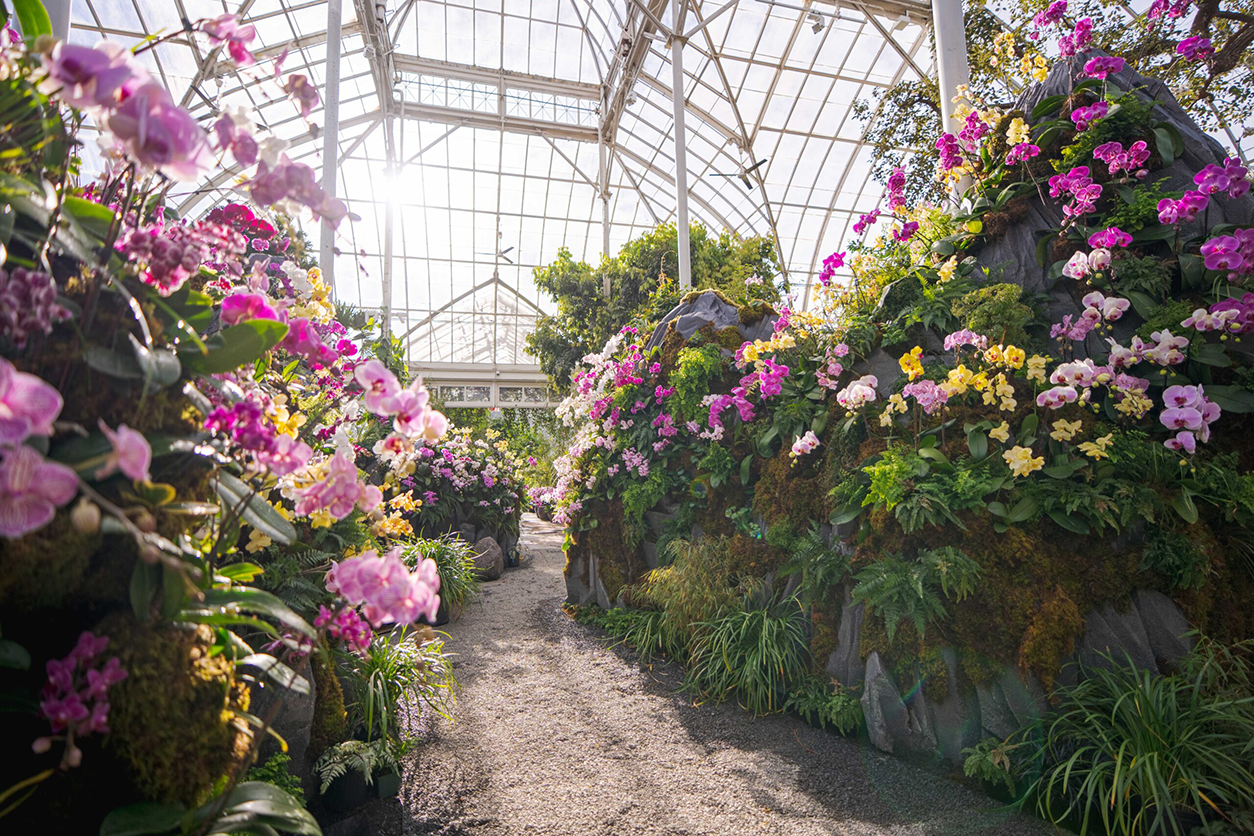 "The Orchid Show: Natural Heritage" will be on view from February 18 through April 23, 2023 at the New York Botanical Garden in the Enid A. Haupt Conservatory.