Among Donald Trump's deluge of detractors, one New York art institution stands out: the Guggenheim Museum. Former curator Nancy Spector countered a presidential request to hang a Vincent van Gogh painting in the White House with another idea: a loan offer of an 18-carat gold toilet entitled America, 2016.
It was created by Maurizio Cattelan. Though the artist is notorious for his political satire, the inspiration behind it purportedly did not come from Trump's then-oncoming inauguration but rather from an aesthetic fascination with toilets as vessel for meaning. In a 2016 article published by The Washington Post, Cattelan described his piece as "one percent art for the 99 percent." The Guggenheim's take, however, was more forthcoming. On the museum's website, Spector posited that America was a "cipher for the excesses of affluence," contained neatly within a vessel for flatulence.
The appropriateness of such a counteroffer for Trump, a notorious lover of gold and gaudiness, was immediately apparent. The painting he had requested was van Gogh's Landscape with Snow, as inoffensive a canvas as you could hope to hang in the White House's private quarters. Painted in oil and watercolor, a late winter day is depicted with charmingly vague figures of a man and a dog walking into the distance as snow melts on multicolored grass. Allegedly inspired by Japanese woodblocks, the piece is a far cry from the exceedingly opulent toilet with a politically pointed name.
Spector, an outspoken dissenter of Trump's, had her offer met with a mixture of applause from leftists and heavy criticism from rightwing politicians and news outlets. Fox Business host Stuart Varney demanded Spector's resignation, while The Art Newspaper's Georgina Adam decried the curator for her perceived juvenility. Philip Kennicott, chief art and architecture critic for The Washington Post, opined instead that the exchange recollected a 1959 art scandal in which Yves Klein sold Zones of Immaterial Pictorial Sensibility—a meaningless, intangible concept—for gold, all to illustrate the absurd intersection of capitalism, art, and status symbols by way of ownership.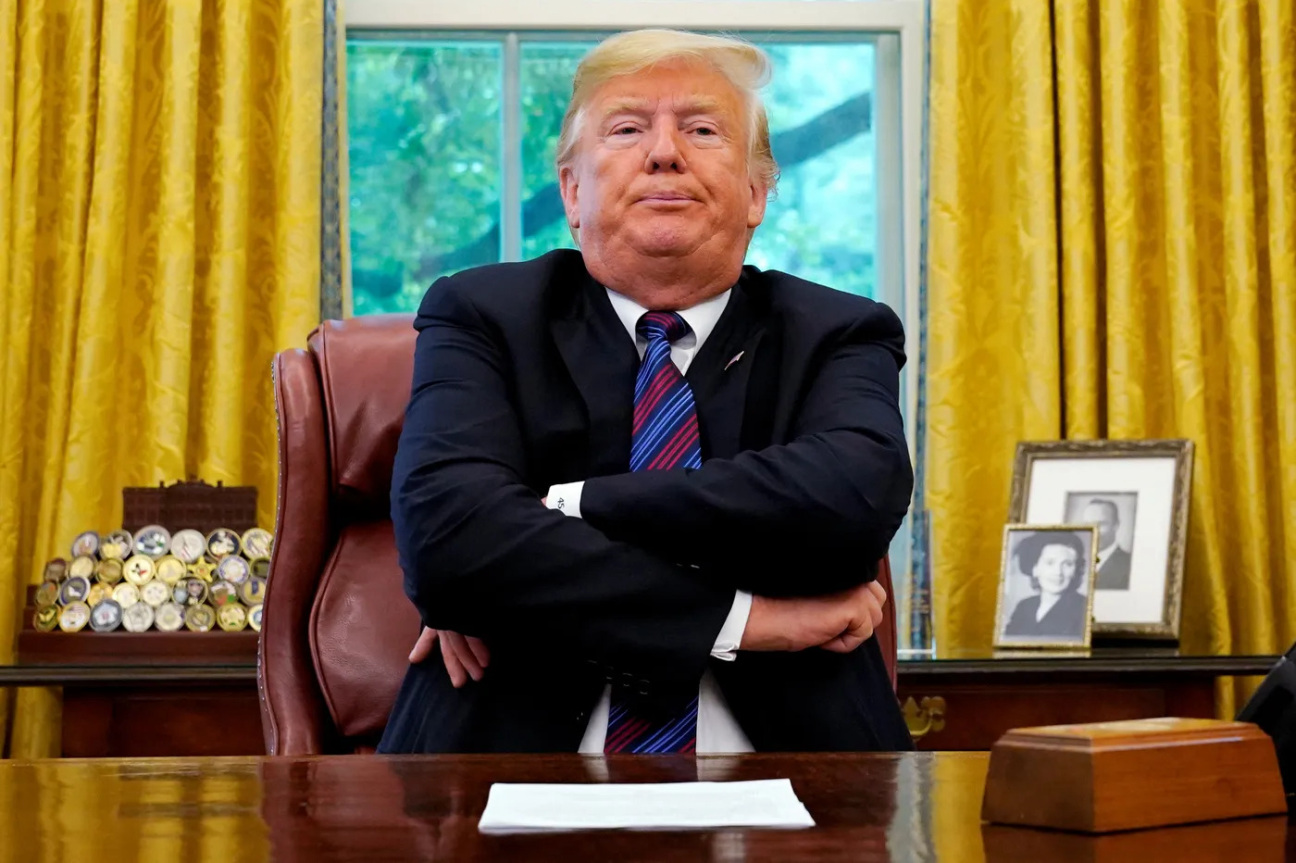 Spector, of course, is only one of the many figures in the art world who openly defied and ridiculed Trump's presidency. From Chris Santa Maria's monstrously huge canvas entitled PRESIDENT TRUMP, to actor Jim Carrey's political cartoons comparing Trump with Hitler, anti-Trumpian art has become a genre of its own. That the piece was not created specifically with anti-Trump sentiment in mind is irrelevant, with Kennicott casting the Guggenheim offer as an artwork in and of itself.
Cattelan's amused referral to the Guggenheim for all related press inquiries about the scandal served as its conclusion, the jester smug with his provocative golden toilet. Feces, it seems, has become the great equalizer: as the artist once claimed, "Whatever you eat, a two-hundred dollar lunch or a two-dollar hot dog, the results are the same, toilet-wise."