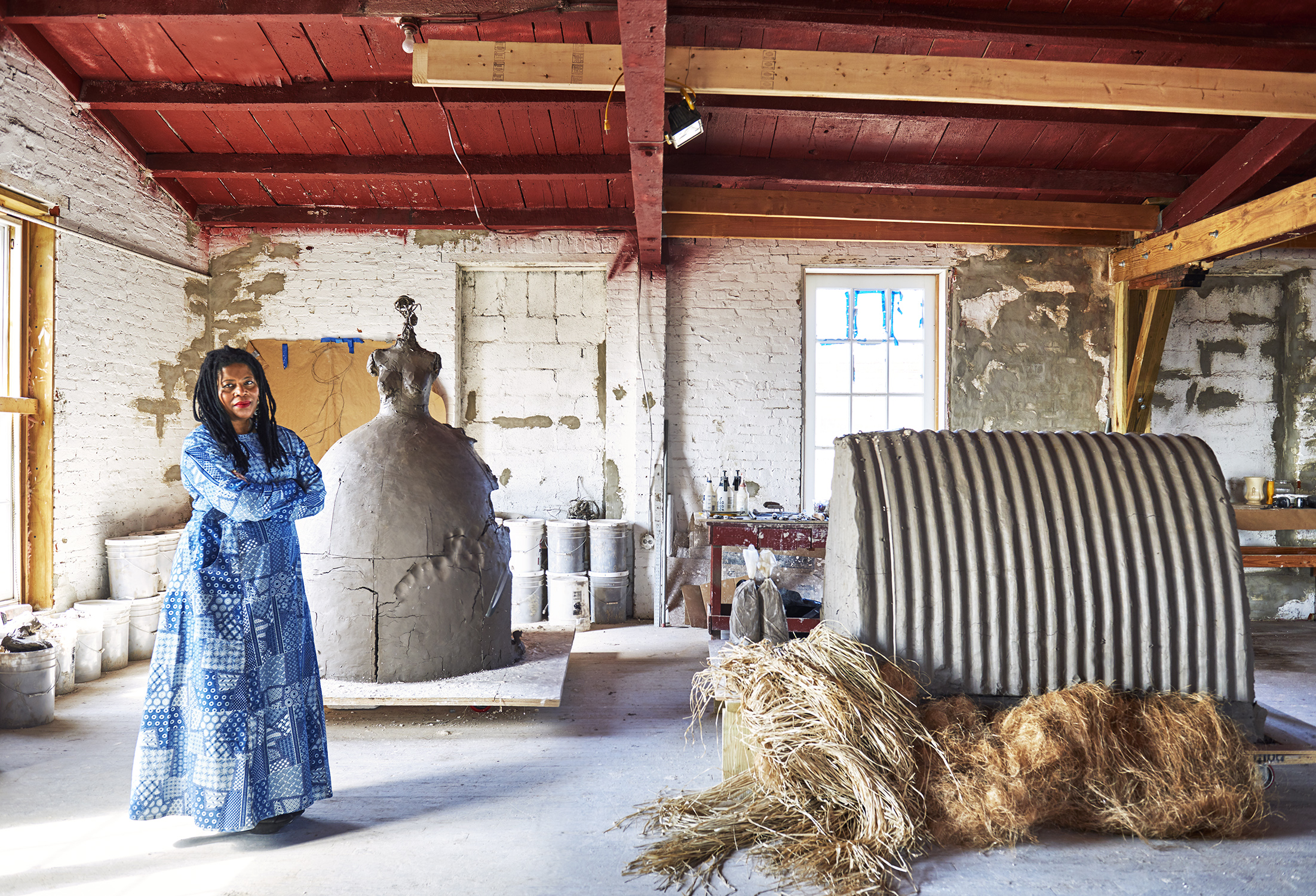 In October of last year, Simone Leigh was named the recipient of the 2018 Hugo Boss Prize. The news was a welcome conclusion to a year that in many ways saw culture in decline. From the Trump administration's continued threats to defund the National Endowment for the Arts to the end of the Metropolitan Museum of Art's choose-what-you-pay admission for all (reminiscent of the financial fiasco at Cooper Union that ended free tuition in 2013, even after the city's recent announcement that a fraction of the Met's revenue will go to smaller cultural nonprofits), it has become increasingly normal to feel neglected by those institutions whose role it is to serve.
Leigh's win wasn't an antidote to this, but rather a confirmation of the multiple narratives that always run through history. Born in 1967 in Chicago, Leigh is the first black artist to win the Hugo Boss Prize and is only the second black female artist to be shortlisted behind Lorna Simpson. The achievement capped off a decade of successes for Leigh, whose rise is as much a story of an artist who has elevated the medium of sculpture as it is of someone who has acknowledged and uplifted the black female experience in contemporary art.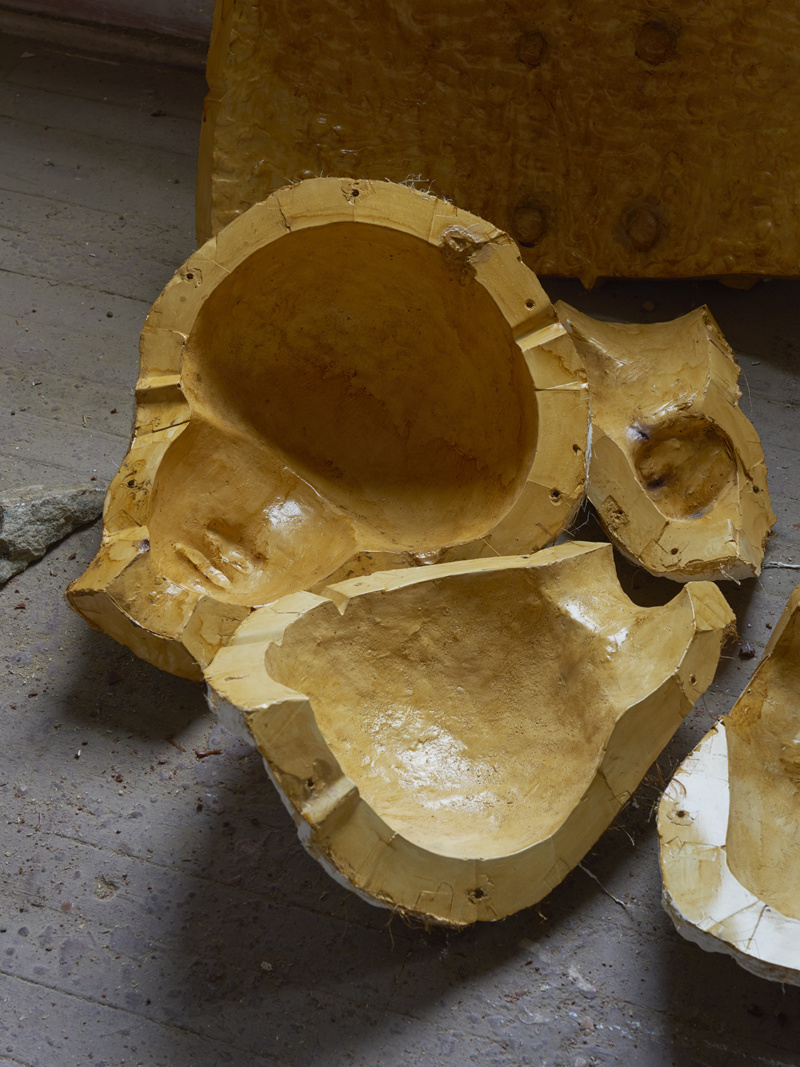 "My recent successes have brought a kind of seriousness that I didn't expect. Part and parcel with success is responsibility," Leigh writes to me over email. She is busy preparing for her exhibition "Loophole of Retreat," which opens at the Solomon R. Guggenheim Foundation on April 19. "I had numerous mentors, for example Peggy Cooper Cafritz and Bisi Silva, and I've had role models, like Thelma Golden. I'm standing on the shoulders of many that got me to this place... they also modeled how you can hold the door open for others. That's part of my job now."
The Hugo Boss Prize, which was established in 1996, is awarded every other year to an individual contemporary artist or group working in any medium. Along with $100,000, recipients are awarded a solo show at the Guggenheim. "Loophole of Retreat" takes its title from a chapter in Harriet Jacobs's (1813–97) 1861 memoir Incidents in the Life of a Slave Girl. The chapter describes how Jacobs hid from her abusive owner for seven years in a small garret above her grandmother's house in the antebellum South.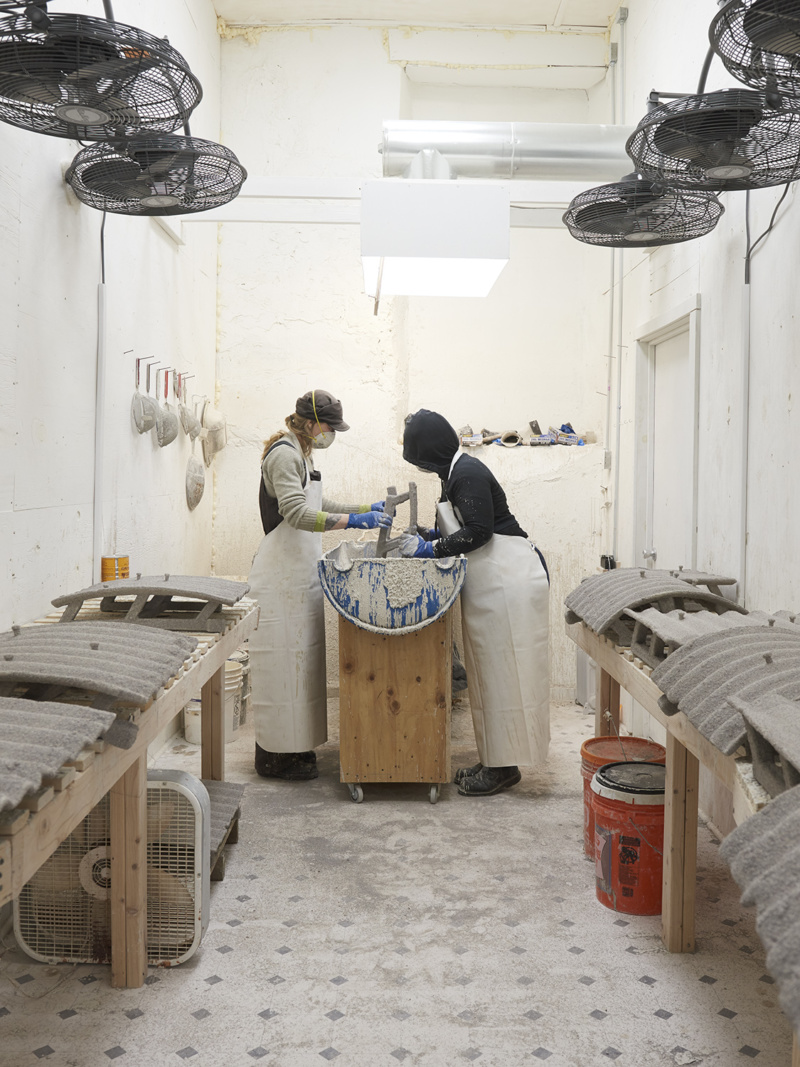 "If you consider the state of black women to be de facto some form of incarceration, the point of view of 'Loophole of Retreat' is one of the best examples of a quality of blackness. Maybe you could call it make-a-way-out-of no-way-ism." Leigh is explaining what initially drew her to Jacobs's text. "The exhibition is not related to the life of Harriet Jacobs. I'm interested in describing epistemologies or ontologies of black women and femmes."
In a 2018 interview for her book Fired Up! Ready to Go!, Leigh's late mentor, the great patron, educator, and collector Peggy Cooper Cafritz, defined this act of survivalism as cultural mentality: "It was an expected trajectory that every generation should be better than the next, that we should be better than the last."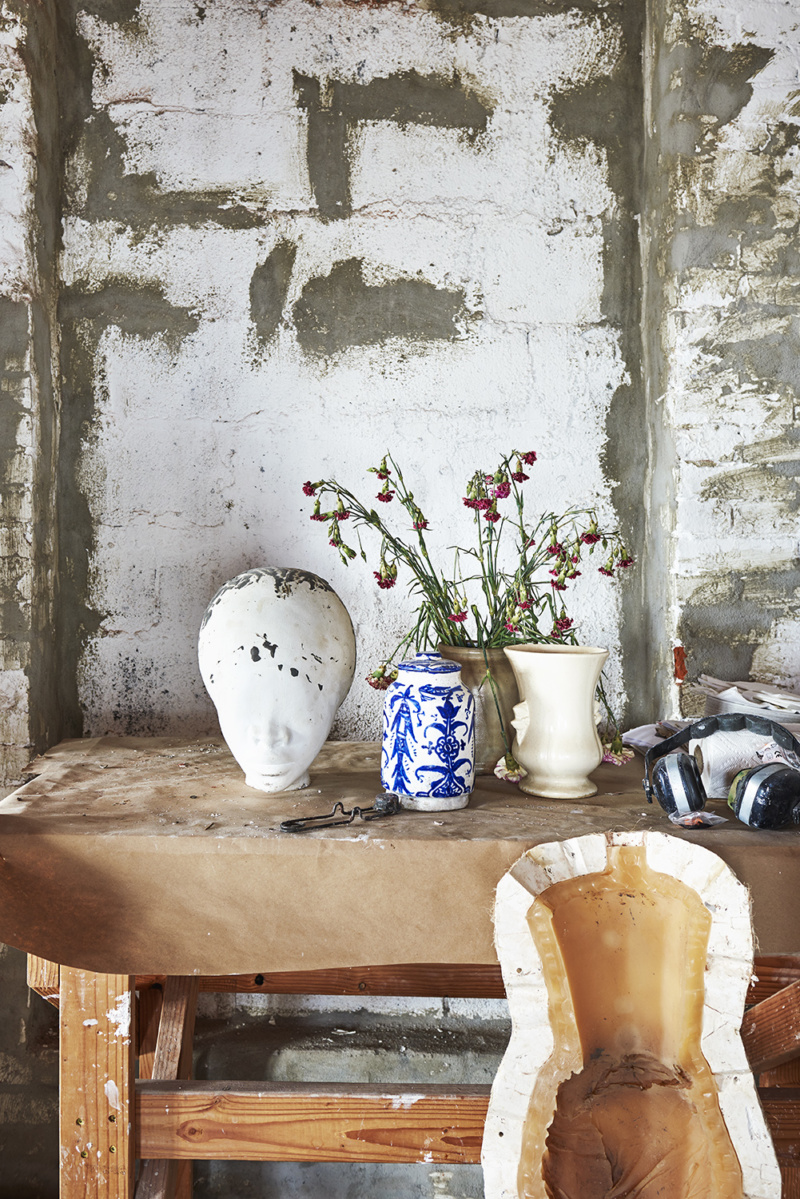 Leigh is part of this history, and her work fits into a microcosm of this ethos. Her shows have grown in scale and sophistication— along with the monumental 16-foot-tall sculpture Brick House that unveils this April on the High Line, "Loophole of Retreat" may be her most ambitious institutional show to date. A new series of sculptures constitute the main body of work and include familiar elements like bronze busts and voluminous raffia skirts. With raffia, a fiber that comes from palms native to tropical regions of Africa, Leigh is continuing her investigation into architecture, specifically the hierarchy placed on formed material in Western culture. "I'm trying to write a grammar, to show parts of the full vocabulary of my work in sculpture," says Leigh.
Two video works, an updated version of Untitled (M*A*S*H), originally commissioned for the Berlin Biennale in 2018, and a new work will debut during the run of the show, as well as a sound piece made in collaboration with Philadelphian musician and experimental poet Moor Mother. Leigh will also collaborate with the scholars Saidiya Hartman and Tina Campt in the form of a conference that gathers black women thinkers and artists together to celebrate the intellectual contributions of women of color to society. While not a sociopolitical act of art making like her Free People's Medical Clinic (2014) and The Waiting Room (2016)—Leigh told me that she "will not create social practice works anymore, at least not anymore public-facing works," as too much of it was "out of [her] control"— the conference supports a related idea Leigh stated in her 2013 text "Everyone Wants to be Subaltern."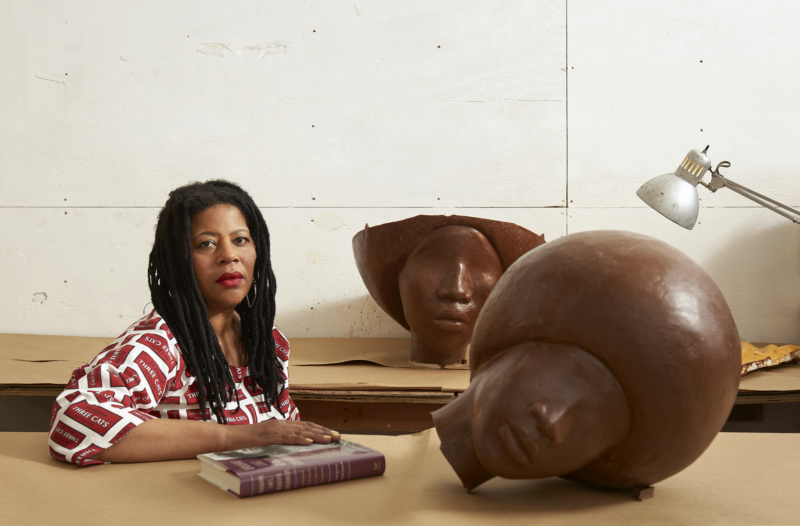 Referencing the indexical artwork University of Local Knowledge (2000–ongoing) by Suzanne Lacy, which reveals "the bodies of information stored in the daily lives of residents" of a British council estate, Leigh wrote of her excitement at finding "viable antidotes to colonial anthropology." While not as literal as Lacy's community index, seeing Leigh's work in institutional settings, and the formality attributed to her decidedly African forms and material, does offer a long-desired alternative to the colonial narrative. It is also thrilling to imagine her works alongside the Guggenheim's Brâncusi collection, another sculptor whose Romanian heritage meant his influence was not wholly from the Western canon.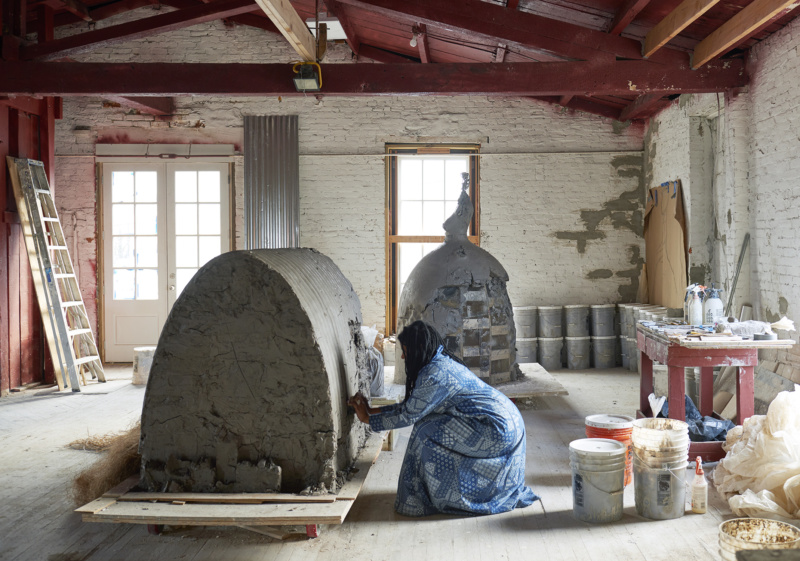 "I would hope that I have been able to gaze even more inwardly as I explore my subalternity. The more specific I get the more people I reach. And I'm so proud of my heritage," says Leigh. The growing recognition of artists who are women and women of color within institutions is in large part due to Leigh and her contemporaries' direct and multifaceted engagement of race—their subalternity—in the post-black era, first supported by women like Cafritz, Silva, and Golden. "We have a black renaissance afoot when it comes to art and scholarship in multiple fields. We are making the change," Leigh signs off.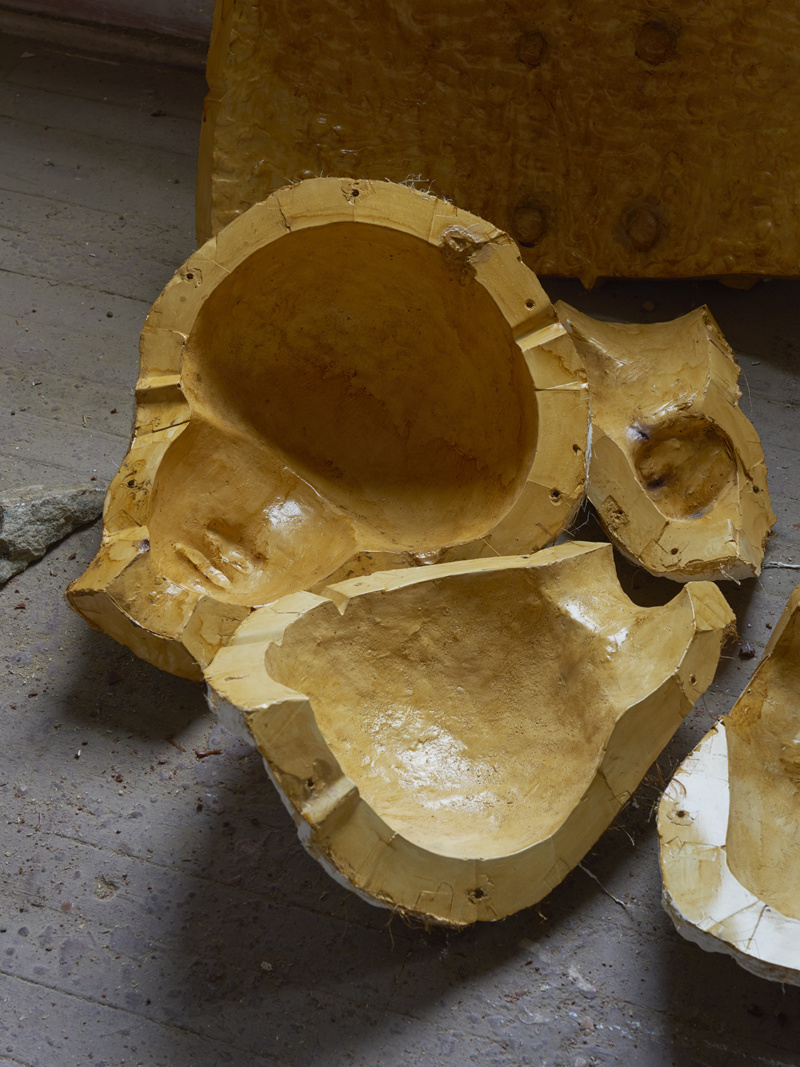 Leigh's unfaltering dedication to place black femininity at the center of her narrative has allowed a younger generation to not only bear witness to these lives but acknowledge and accept them as part of the fiber of contemporary art. Her work has taken us closer to the universality with which we view the white experience. This acceptance of the black female body is at the heart of what is so important about Leigh's win. It has sparked further understanding of the complexity of an artist's identity, and therefore our own. Nearly 30 years ago, the first museum show my parents took me to was of Dale Chihuly at the Portland Art Museum. How different the world would have appeared if it had been Simone Leigh.