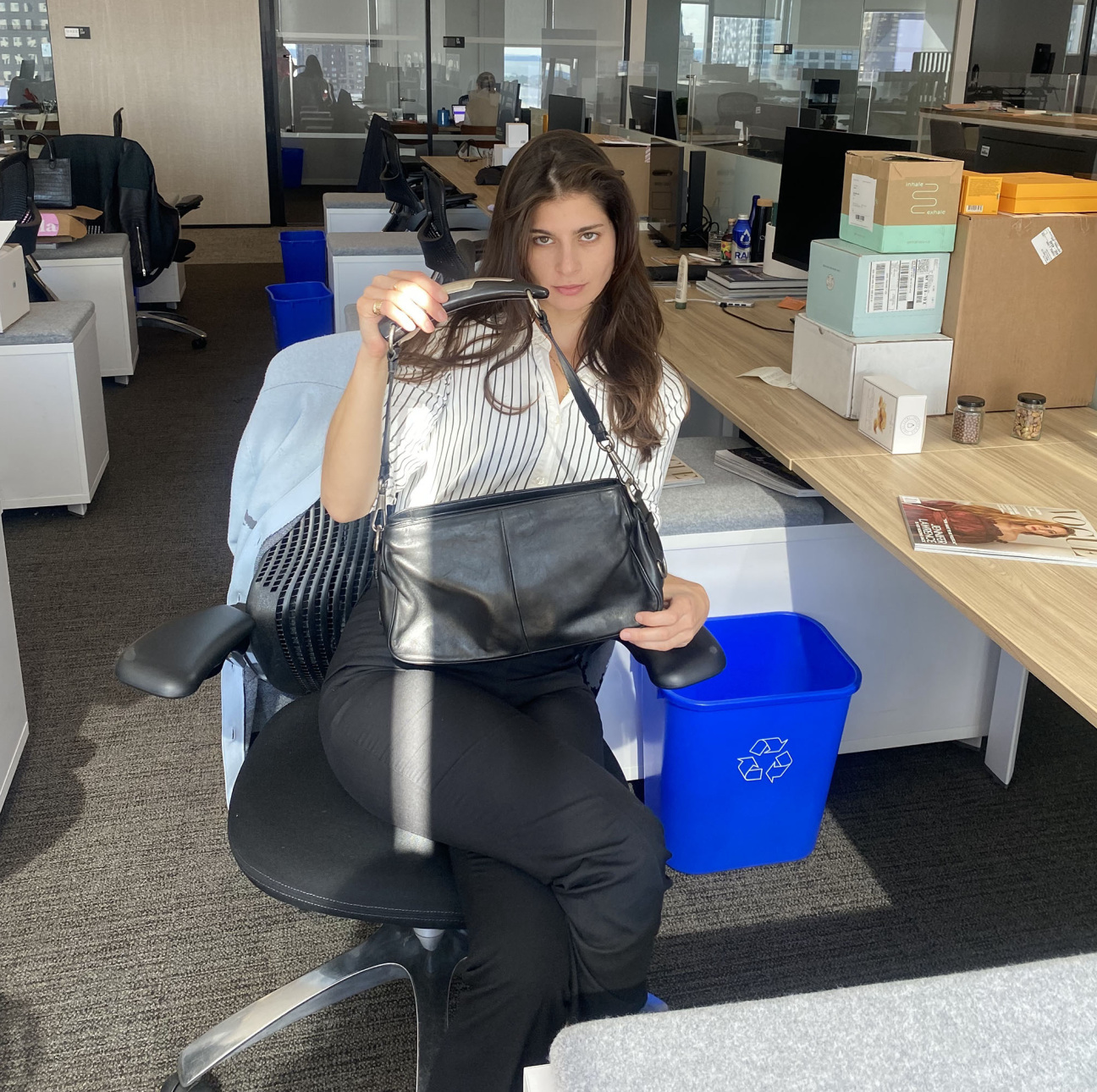 This is The DMs, a deep dive into all things Internet culture—from the viral to the very niche—brought to you by the most online people you know.
Liana Satenstein is a connoisseur of cult fashion, Vogue senior writer, and host of #NEVERWORNS—an Instagram Live series dedicated to ridding figures like Susan Alexandra, Heidi Gardner, and Devon Lee Carlson of their guilty purchases. Through dry wit and a thoroughly old-Internet bent, Satenstein acts as a medium, ushering her more than 35,000 Instagram followers into communion with choice style moments of yore: the '90s mall aesthetic, our aggressively wholesome candy-striped Gap sweater phase, and the nipped powerbroker suiting of the Sex and The City era, to name a few. She's a champion of accessible high fashion—a secondhand devotee and a student of the archives who believes there is a cork wedge out there for every foot.
To ring in the new year, CULTURED caught the fashion forecaster, Papaya dog in one hand and iPhone in the other, as she boarded the C train. Here, she opines on the plight of the girl boss, her impending steakhouse takeover, and the case for vintage fur.
CULTURED: So you're on the train now?
LIANA SATENSTEIN: I lied. I'm eating a papaya dog and walking to the C.
C: Describe your internet presence in one sentence.
LS: I'd say it's humorous but a little saucy and freaky. With a sometimes spiritual glaze.
C: What do you post?
LS: I post promos for my show, #NEVERWORNS, that always have killer inspiration— aka Girl 6, want ads, Craigslist personals. Also: Madonna moments, filthy shoes from eBay, my butt in ripper Tom Ford-era Gucci pants from '99, great Vogue archive images, and pieces I believe should make a comeback, like YSL's Mombasa bag.
C: What's the most recent Internet rabbit hold you've fallen into?
LS: I watch a lot of male barbershop moments. They put a full wax mask on them, sometimes covering up all the breathing holes, and rip it off their faces.
LS: It's on my FYP…eeek. And I just keep scrolling.
C: What's a comeback you've predicted for a while that everyone else is just catching onto?
LS: Are these going through? I'm underground 😳😳😳 But YSL Mombasa! I've been screaming it!
C: What's a trend you're convinced we'll all regret?
LS: Knocking vintage fur and promoting faux fur. One has been dead forever and one is making us dead.
C: What's your white whale (something you've been scouring the internet for)?
LS: A suit with a jacket that is suffocatingly nipped at the waist that Helen wears in Kissing Jessica Stein. It's the opening scene in the gallery. It was a custom piece so it's probably impossible!
C: What are three "in"s for 2023?
LS: Women at steakhouses, classic suits with incredible heels, designer briefcases, no-name quality bags, and shopping your closet.
C: The first one is so spot on.
LS: Nothing makes me feel more powerful than sitting across from one of my hot, successful, dressed-up friends sticking my fork into the juciest steak at some old school steakhouse, talking about how we will rule the world. I swear steakhouses wil becomes women's clubs in 2023.
C: The Wing 2.0?
LS: Ugh, I'm hungry. Maybe this is another article.
C: What are three accounts we should all follow?
LS: Oooo accounts! @madonnabrunetteofficial, @thatbagisfake2.0, and @collectedgoodgood. Also my closet account @schmattashrink hehe. I'm relaunching for 2023.
C: What's a recent online purchase you regret?
LS: Ugh, it's not that I regret it, but it doesn't fit my butt: a vintage Ralph Lauren pinstripe brown suit. I'll bring it to my girl Ornela to let it out.
C: What are your thoughts on blue checks?
LS: Misleading.
C: Tumblr?
LS: Never was that girl.
C: Private Instagram accounts?
LS: Cute if they're for friends. Not everything has to be blasted to the public.
C: Depop?
LS: Some sellers have great, poetic, TMI descriptions.
C: Girl bosses?
LS: Please bury this term forever. Girl bosses have turned me into a meninist. Or a libertarian.
C: But they're still out there and we can't ignore that.
LS: Ok then I hate all bosses!!!! Girl or not.
C: Who you block?
LS: I block weird dudes and the occasional freak antisemite…one and the same!
C: Who you stalk? Omg this guy @rabbisneakers. I love him!!! Such a tender, nice guy who puts spirituality into literally the lowest thing…shoes!!! So cute and innocent. 🥰
C: Who's on your close friends list?
LS: It's inactive tbh…I have a separatete account for that. 🤓
C: Describe your followers in three words.
LS: Rabid weird lovers.