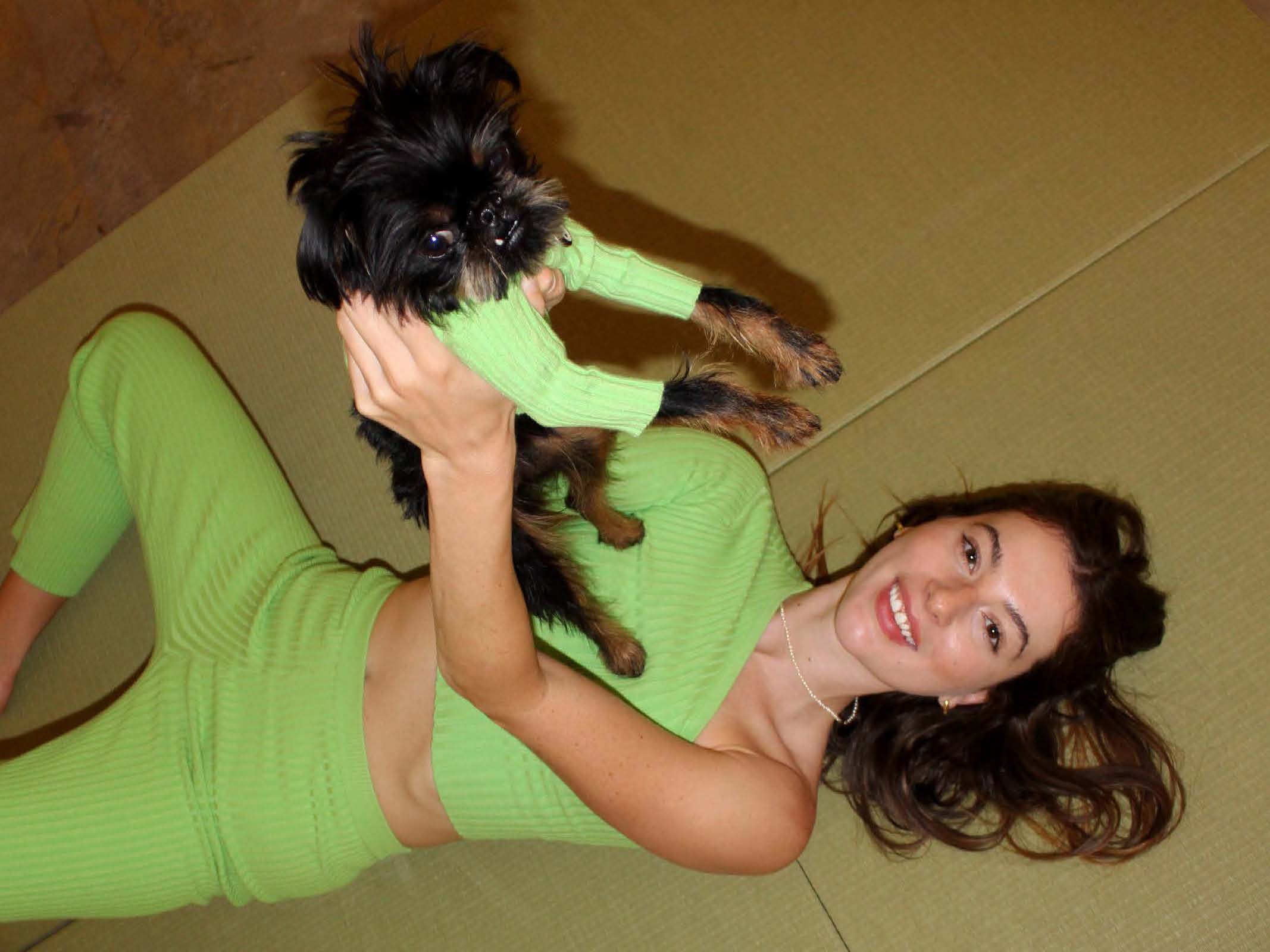 Beached on my bed, a ribbed turtleneck calls to mind the bell jar-shaped body of a squid. Robbed of its human context, it manages to maintain a 3D quality albeit a bit flatter. The sweater's charming independence as a sculptural object devoid of gender or style is ultimately one of the reasons I am attracted to body-hugging knits. I like the androgyny of their resting faces—the openness that a package without a final shape suggests.
This fluidity of form is ultimately what drew Parsons School of Design and Central Saint Martins graduate Giuliana Leila Raggiani to follow in her fashionable Sicilian grandmother Palmira Giglia's footsteps. In 2013, she launched a knitwear-based line affectionately called Giu Giu, her childhood pet name. On the phone from Paris (Raggiani lives between France and Los Angeles), the peripatetic designer recalls receiving an impossibly small package from her mother containing two original tight-but-chunky Vaccaro turtlenecks designed in the 1960s by Raggiani's nonna. "They looked like aliens," she says of the iconic sweaters. "It got me thinking about what other lives they could take on."
Giu Giu can be seen as an ongoing experiment dedicated to unlocking the potential of this ambiguity. It also makes it hard for Raggiani to answer the question: Who is your customer? "I make clothing for everyone," she says. "I want people to feel when they are wearing my clothes that they aren't locked into a certain identity, a certain style. It's important that the clothing has no agenda. It becomes more of this chameleon brand that adapts to you."
This adaptation goes both ways. Raggiani's impulses inform Giu Giu's offerings. A former dancer and self-confessed ADHD creative, the designer operates best when she can brachiate her time between different modes of working. This method necessitates the creation of both a permanent Nonna collection and a rotating seasonal capsule. The designer describes working on new mutations of the same motif for Nonna as an almost meditative, transcendent experience. Like artist Bridget Riley's transfixing repetitions, Raggiani drills down on the nuances to be found between the lines of technical parameters, whether honing a fit or subtle adjustments to color. "It's fun to zoom into that one technique and see all the different variations you can make," she says. "It's inspiring to have limitations. I think of those cooking shows when you only have a certain number of ingredients, you're forced to think outside of the box."
When the pandemic struck, Raggiani faced down a new set of restrictions. "People assumed I was designing like crazy but I needed the pause," she confesses. "Without the input of living out in the world I felt completely uninspired on top of feeling paralyzed." Questions raised by COVID-19 about the ethics of production forced a return to her origins. "I had to rethink why I started Giu Giu in the first place," she continues. "I wanted to bring people joy and help them shop and hopefully live better. And once I got back to that mission, it helped catapult me out of my writer's block."
Giu Giu's SS21 collection, Illusione, doubles down on its commitments to universality and simplicity with a genderless, out-of-this-world palette and layerable basics that can be tucked under or over things you already own. Launched with a film made in collaboration with animator and videographer Amia Yokoyama, the garments feel slightly more otherworldly than past iterations displayed inside the surreal excrescences of the Yokoyama's world. I like to think that with each passing season, Raggiani draws ever closer to the truth about that extraterrestrial touch, which makes ribbed turtlenecks freaks in bed and perfectly invisible everywhere else.