Following her debut at the Venice Biennale this past spring, Iranian-born American multimedia artist Sheree Hovsepian was busy this summer working on her solo show at Rachel Uffner Gallery, which opens today. Thematically similar to the work Hovsepian created for the Biennale, the pieces pieces integrate photography, natural materials, ceramics and her keen and poetic sense of geometry and totemic architecture.
"With these newer works, I'm abstracting the body and trying to finish it with these forms that are handmade, that are not indexical sort of shapes," she says. "They're just kind of a personal shape that I've taken on from an act of drawing. A lot of this idea is rooted in locating myself within a certain amount of time, space and place. I'm an immigrant, and so this act of inserting, or placing, or giving myself a surrounding is a way of recording a trace of my physicality."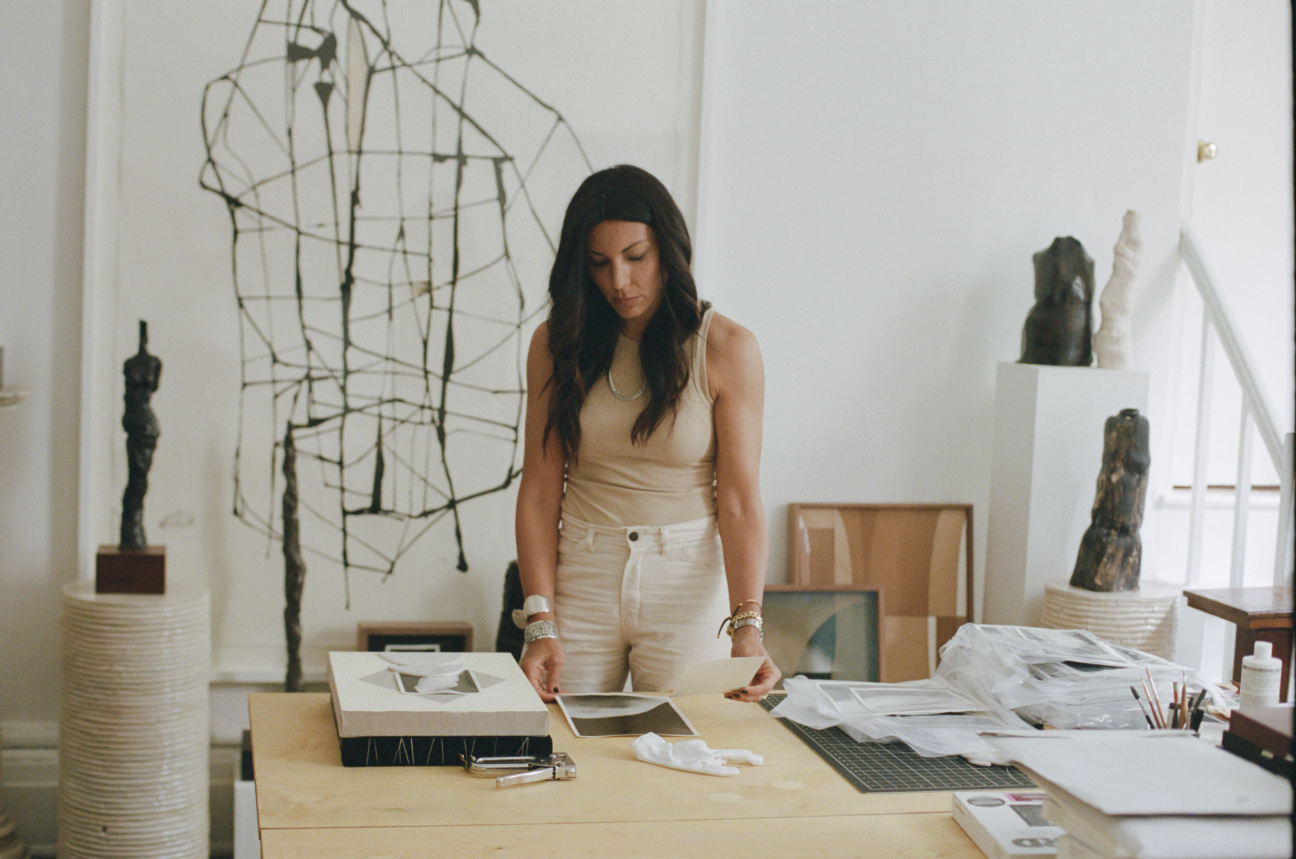 When looking at Hovsepian's work, there is a sense that one has entered a tunnel of mirrors or have been handed an unfamiliar map. There is an opacity to her art, a coy abstraction of intimacy that proves itself as enticing as it is labyrinthine. What one can name within her images is skewed: an arm, a hip, a string of thread, a handmade ceramic pillar, a smiling semi-circle of walnut wood—their meanings render the longer one engages.
Hovsepian's cartographic process of locating, crafting, and fixing objects and images into shared space extends to the materials incorporated. Materially, she makes both intuitive and practical decisions. "A lot of the objects that you find in the photograph that are not the body are things that were just laying around in my studio," she admits. Other materials even hint at some of Hovsepian's personal experiences—like the use of string or thread and its associations to various (and often gendered) forms of hand work, string art or embroidery—things that she used to do with her mother growing up.
"The act of actually tying the string and deciding where to put it was a very meditative and calming process," Hovsepian explains. "I also liked that it became a line. It became a way to draw and it was tentative. If I didn't like it, I could redo it."
In general, things tend to slow down when Hovsepian steps out of the city as most of the equipment she uses is too cumbersome to travel with. While in the Hamptons, she has time to rest and entertain. Sometimes she strolls the local galleries. She reads photography books and theory by Hélène Cixous, Sylvia Wynter, Clarice Lispector, Hagi Kenaan and Sarah Ahmed, a hobby that directly influences and contextualizes her art—many of her works' titles come from her readings. And she hones her ceramics practice, taking classes at a local studio.
"I've been really drawn to ceramics," she says with a gentle smile. "I like the idea of my body having a direct impact on something I've made. Ceramics actually has a lot in common with photography: they both take an impression, they both go through a chemical process, and then there's a threat of failure also. It kind of has its own agenda." For Hovsepian, the thrill is in its newness, and the constant learning the medium encourages. "I like working with materials that I don't have a lot of historical knowledge about," she explains. "That way I don't have so many preconceived ideas of what can and can't be done."

"Leaning In" is on view at Rachel Uffner Gallery until November 5, 2022 at 170 Suffolk Street, New York, NY 10002.