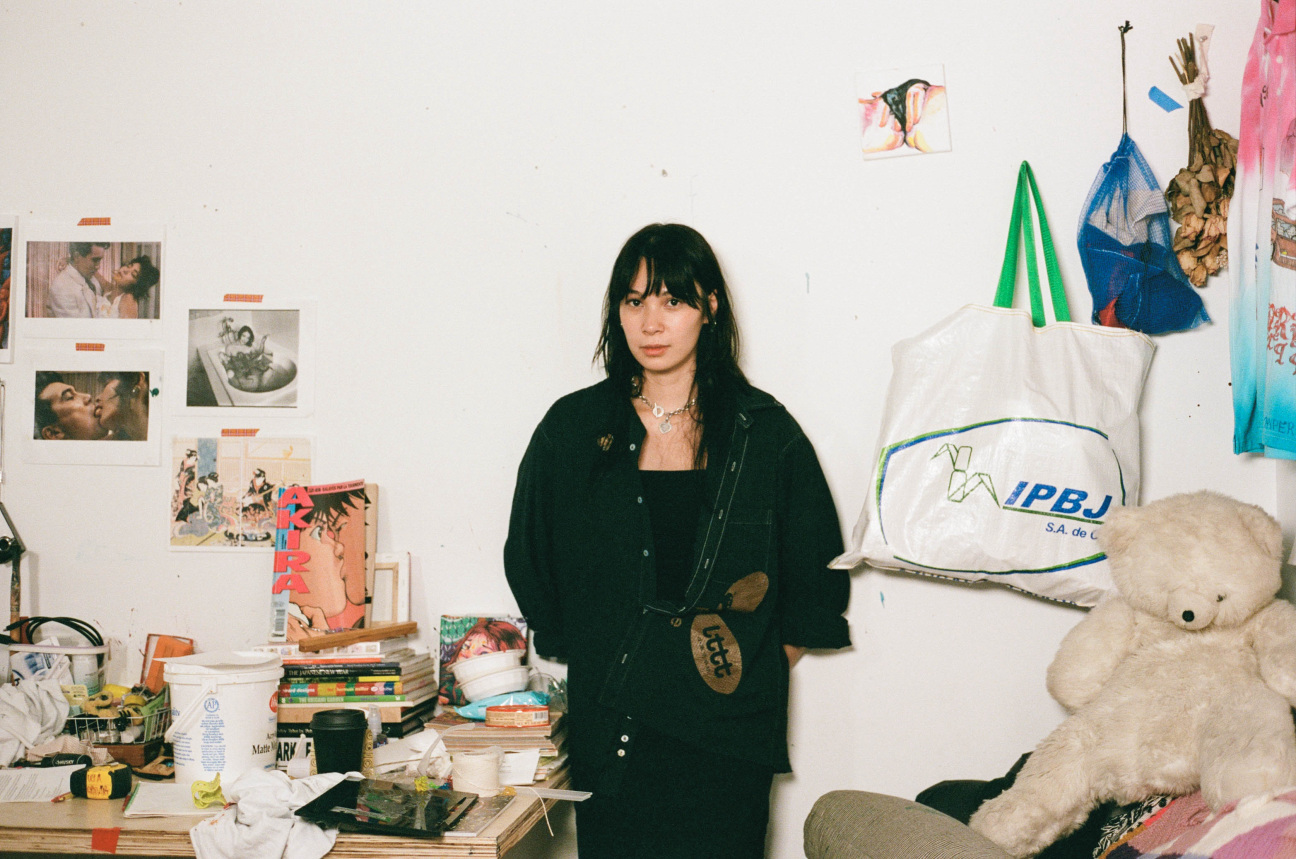 In Zoé Blue M.'s oil painting, Two Lines, a woman sits at the edge of her bathtub holding an oozing peach. The bathroom is the color of marigolds, the scene surreal and warm. The figure is at rest, daydreaming, but she encapsulates the inexplicably live feeling of Blue M.'s paintings. Her subjects are wide-eyed and glowing, like cartoons about to step off the canvas; once you look away, it seems, they'll move.
Blue M., 28, who was born in France and grew up in Los Angeles, has a French father and Japanese-American mother.Two Lines is based on Momotarō, a Japanese folktale about a couple who find a peach that, to their delight, contains a small boy. The painting is part of a series presented at Independent Art Fair 2022—all of them referencing other folktales from Japan, as well as nodding to the five element theory of traditional Chinese medicine. Blue M. finds inspiration in storytelling—fables, archetypes, Noh theater, anime, manga—and in her own memories, retelling them in her paintings and exploring the physicality and emotions of womanhood, its joys and horrors. Her massive, colorful girls cry foot-long tears, load slingshots, stick out their bright tongues. "They're kind of me," Blue M. says, "and they're kind of my friends, my mother, my grandmother, historical figures...They appear in my mind much like a memory or a dream." There's a visceral physicality to Blue M.'s process, partly due to the energetic vitality of her figures. "They have agency. I'm working on a painting with a lot of figures in the space. One particular figure...I felt a responsibility to render her in a way that she deserved."
The dialogue between Blue M., the worlds she loves, and her paintings is palpable. At both the LA and New York City iterations of "Wonder Women"—an exhibition of 30 Asian American and diasporic women and nonbinary artists at Jeffrey Deitch, curated by Kathy Huang—Blue M.'s paintings Mie Cut: Loss and Spot Marked, Light Feet feature ping-pong players, a sport the artist herself loves (Blue M.'s brother, Jiro, founded Little Tokyo Table Tennis, an informal community of players, in LA). Still, she says, "I find that people's projections of their own relationships onto my work are as valuable to me as what I've put in it to begin with. As hard as I can try to paint something to be exactly what I need it to be, you're still coming to the table with your own experiences. I think that is amazing. I think that's what makes images so powerful."