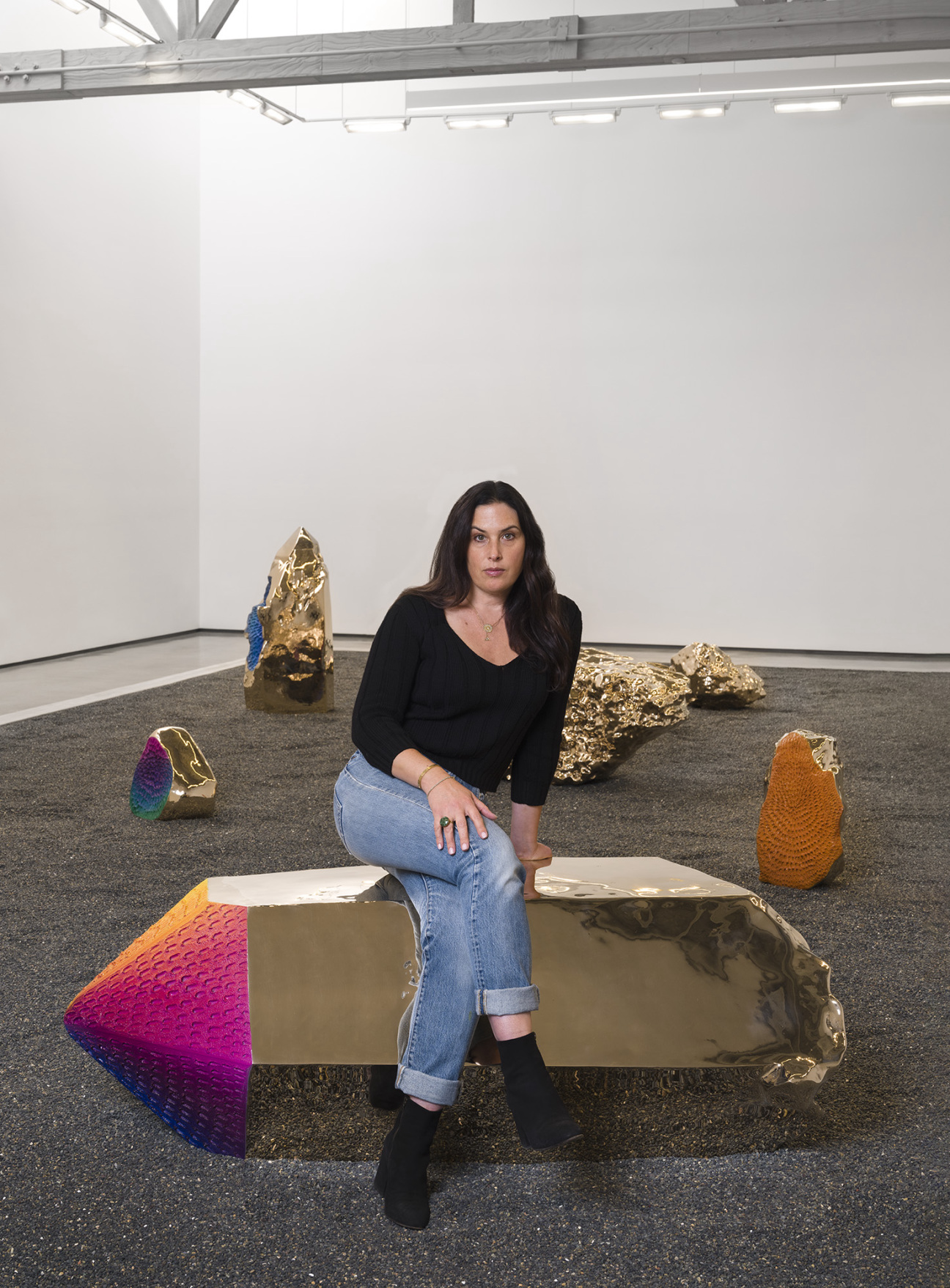 "I consider them rock sculptures," says Jennifer Guidi of her latest solo exhibition "In the Heart of the Sun," which opens tonight, at David Kordansky Gallery in Los Angeles, where she resides. The new works—painted bronze crystalline, meteorite and coral polyp creations—may feel like a departure from the chromatic energy-field paintings that have fueled a clamor among critics and collectors. And in many ways they are.
In fact, Guidi has been mulling over this step since 2018, when she visited Hong Kong for her Gagosian debut. She recalls finding unexpected inspiration on a detour to Shanghai. "I became drawn to the very large stones placed in temples," she tells Cultured. "In some cases, there are massive rocks when you walk in. The idea is that the stones keep evil spirits out and good energy within the walls of the compound." Back in LA, Guidi began fashioning small objects from clay— playing around, by her measure—though, Covid-19 lockdown ultimately propelled her forward. "It was a quieter time, and I created a rock garden in my studio," she reflects. "At first, I was thinking about how the rocks and small sculptures related to some of the mountain paintings I've made. Then, over the last year, I started experimenting with bronze as a material, and finally I put it all together. Now, I carve them and add my sand mandala because I want to make my mark and transmit that energy. To me, sculpture and painting feel like the same world."
Indeed, few artists ever achieve as clear a visual vernacular as Guidi, whose oeuvre is synonymous with sand strata, repetitive thumb divots, and the spiritual symbol of the mandala. Rest assured: her anticipated exhibit brings major new sand mandala paintings, including rainbowed compositions of the artist's signature technique in all its splendor—Guidi is a hypnotic, virtuoso colorist. A California-naitve, born in Redondo beach, with an MFA from the School of the Art Institute of Chicago, the artist cites LA's Mid-century architecture and blanched light as early aesthetic influences. In 2010, Guidi began mixing sand with oil paint, applied to flat canvas for a textured ground. "Anytime I've seen work that had sand in it—old Picassos or a Kandinsky or Alberto Burri, even if it was just a sprinkling in one little section—I've always been interested," she says. "Sand struck me very much as a more granular paint pigment." Twelve years later, "In the Heart of the Sun" finds an increasing inflection to Guidi's luminous voice—layers upon layers of sand and paint wash ground mosaics of pointillist alliteration.
For Guidi, her meditation practice has long pervaded her artistic one. The patterned cadence of her paintings conjures a tangible mysticism. But as the world emerges into the post-pandemic reality, she hopes her art sparks unadulterated joy, as she grasps the significance of in-person experience of her particular craft. "There was so much hardship we were watching everyone go through as a collection, it made me want to make work that's more joyful to give something back. When I create work now, I think about wanting people to feel good. I want them to feel that there are greater things than ourselves," Guidi says. "In this show, there's more of a joyful quality as the works become more complex. It's really about standing in front of the paintings and the optical effect that you get with each detail. For me, it's such an important part for someone to stand with my work and see what's happening."
Jennifer Guidi's "In The Heart of the Sun" is on view from November 5 to December 17, 2022 at the David Kordansky Gallery in Los Angeles.