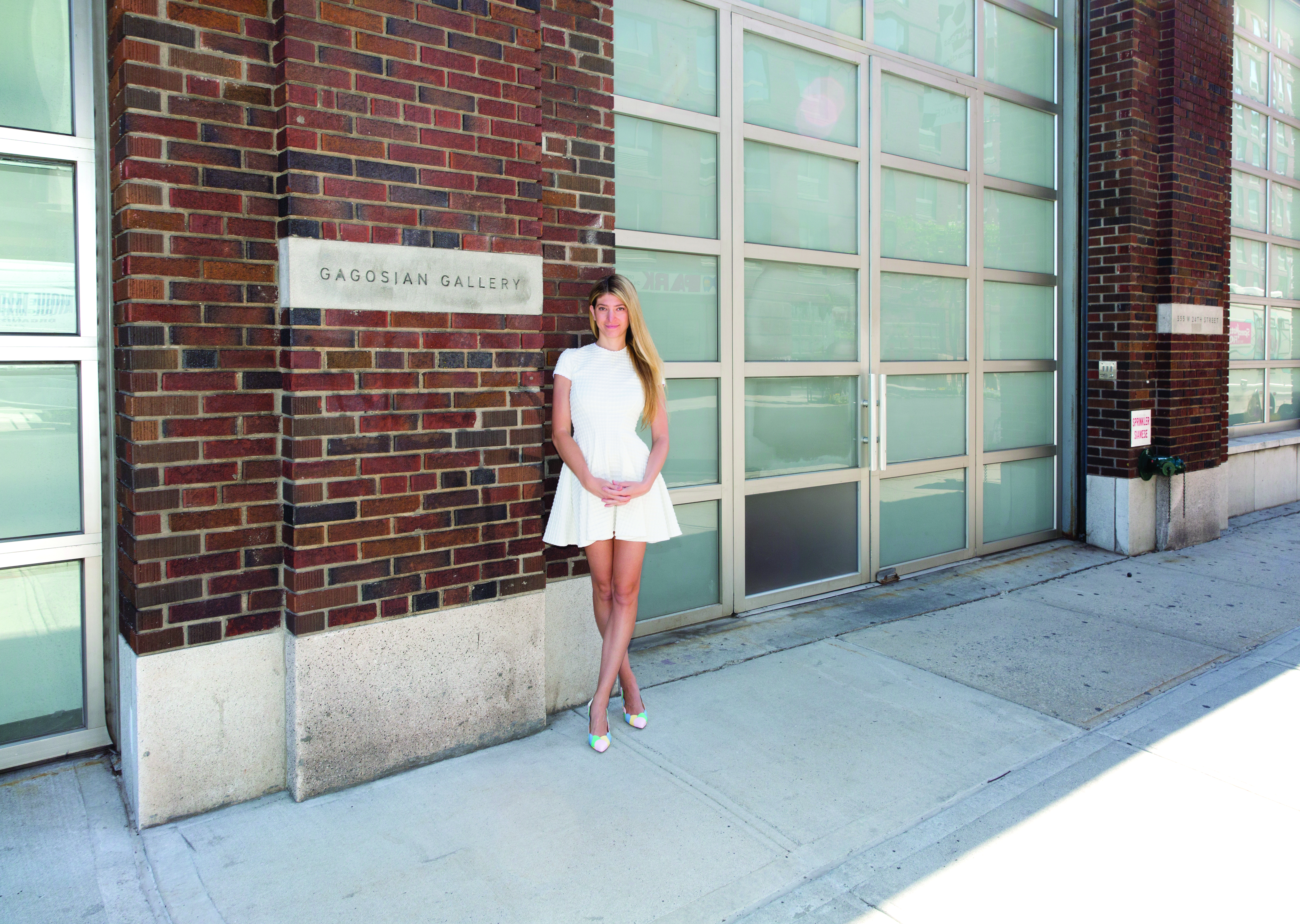 As a salesperson and artist liaison for Gagosian, Sarah Hoover operates in a rarefied echelon of the art world. A charming mix of humor and poise, the 31-year-old spends the majority of her time connecting powerful people to the things they want most. Like Gagosian, Hoover's home base is New York, but her reach expands beyond the local and into the international marketplace.
What is the biggest misconception about working at Gagosian? One of the biggest misconceptions is that it's all about money. Larry has been dedicated to the most interesting artists and their projects regardless of sales potential. He's made so many projects possible that wouldn't be achievable in any other context. No other gallery or museum has given more artists the resources to dream big.
What was your favorite art show of 2016 so far, and why? David Hammons at Mnuchin Gallery—no artist has continued with the arc of the assisted readymade (after Duchamp) and brought it into the context of the American experience like he has. Any show of David Hammons is important and required viewing for all of us because the African diaspora and its art define us culturally.
What do you think about the movement of galleries Uptown? There are galleries all over New York City now! My husband [the artist Tom Sachs] tells me that in the '80s you could see every gallery in New York in one day. They were in just a few little areas. Now, almost wherever I am running an errand or taking a meeting, I can stop in and see a show nearby. Art should be everywhere, so that's great news. It means more people in different demographics have access to art, either in galleries or in the public space. I was lucky as a kid because my parents took me to museums, but not everybody has parents who make that a priority. Seeing art, especially when you're young and developing your visual vocabulary, can deeply impact your whole life.
What makes New York such a dynamic place for the art market? Even though escalating real estate prices are making it more and more difficult for artists to live and work in New York, there's more cultural diversity here than almost anywhere. Not only does New York have many museums and great support for public art, but there's also just a lot of weird stuff going on here. People of all types walking around the streets—you can get away with anything. That mix is special.
What does being an artist liaison mean? It means being an advocate for the artist. The artist's job is making art. My job is facilitating that process, organizing exhibitions and sales, production, documentation and archiving, etc.
How does one satisfy the needs of both the collector and the artist? I'm a facilitator, and I like connecting art with people. Collectors and artists aren't at odds with one another at all; they both want great art to go to great homes. I find joy in placing works in homes where the art is appreciated. That makes both sides happy.
How would you describe your work style? I pride myself on integrity, attention to detail, and follow-through. I'm a good Midwestern girl, so I try to be direct and honest, and as kind as possible. You can make anything into a nice exchange if that's important to you.
What do you consider your biggest work accomplishment to date? I loved working on Ellen Gallagher's Tate retrospective. Seeing her Watery Ecstatic works all hanging in a room overlooking the Thames was incredibly beautiful. It took more than a year of planning so I felt extremely invested in it. A lot of my projects are more short-term, and it really paid off to work for so long on such a special project.
What goes into choosing a new piece for your collection? I just have to like it! My husband and I try to agree on any major investments, but that seems to happen pretty naturally.
Which art fairs do you attend? Do you think it's important to go? Art fairs are great places for collectors to see everything all at once. It's sort of like being inside an encyclopedia. It is probably the most efficient way to see what is going on in the art world at a given time.