I wanted to start with how you two met.
Chloë Sevigny: I was single for a while. I wouldn't say I was really on the hunt, but I was open to trying new things. My friend Lizzi Bougatsos is an artist in the band Gang Gang Dance. She's from Long Island and has a very funny attitude about everything. One day she was like, "There's this boy that works at Karma and I love talking to him about art. He's got a good sense of humor. He likes to talk shit." She kept bringing him up for months and months. She'd told me he was younger and I was like, "Does that mean he's too young?" She was like, "No, you have to meet him. We should go to the gallery."
Siniša Mačković: We met the night of Spencer's opening but we didn't really speak though.
CS: Spencer Sweeney, who's a painter and one of my oldest friends, was having a show uptown [at Gagosian]. There was an afterparty at that Japanese restaurant that [Larry Gagosian] owns. I went with Lizzi and I think maybe [artist] Aurel Schmidt, who's another one of my close friends. And Lizzi was like, "That's the boy that I was trying to introduce you to." Siniša and I started staring at each other. We might have talked. The details are a little blurry.
SM: We locked eyes and kept looking at each other for a while. Then after that we didn't really speak for a minute but we were asking our friends about each other [laughs]. Then we had our first date at Souen, across the street. A lunch date.
CS: You were also here for a party one night.
SM: That's true.
CS: We danced together at the Karma party.
SM: We did dance but was it before or after?
CS: One of your friends was like, 'Something's going to happen with those two.' That was before. Yes, remember you told me that? Then a few nights later, it was the joint Canada and Karma gallery dinner for Christmas. I went. Siniša came down and sat across from me and just stared at me again. I was like, "Wow, this kid is bold." I was like, "All right, I like this." Then I was like, "I think you should ask me out on a date."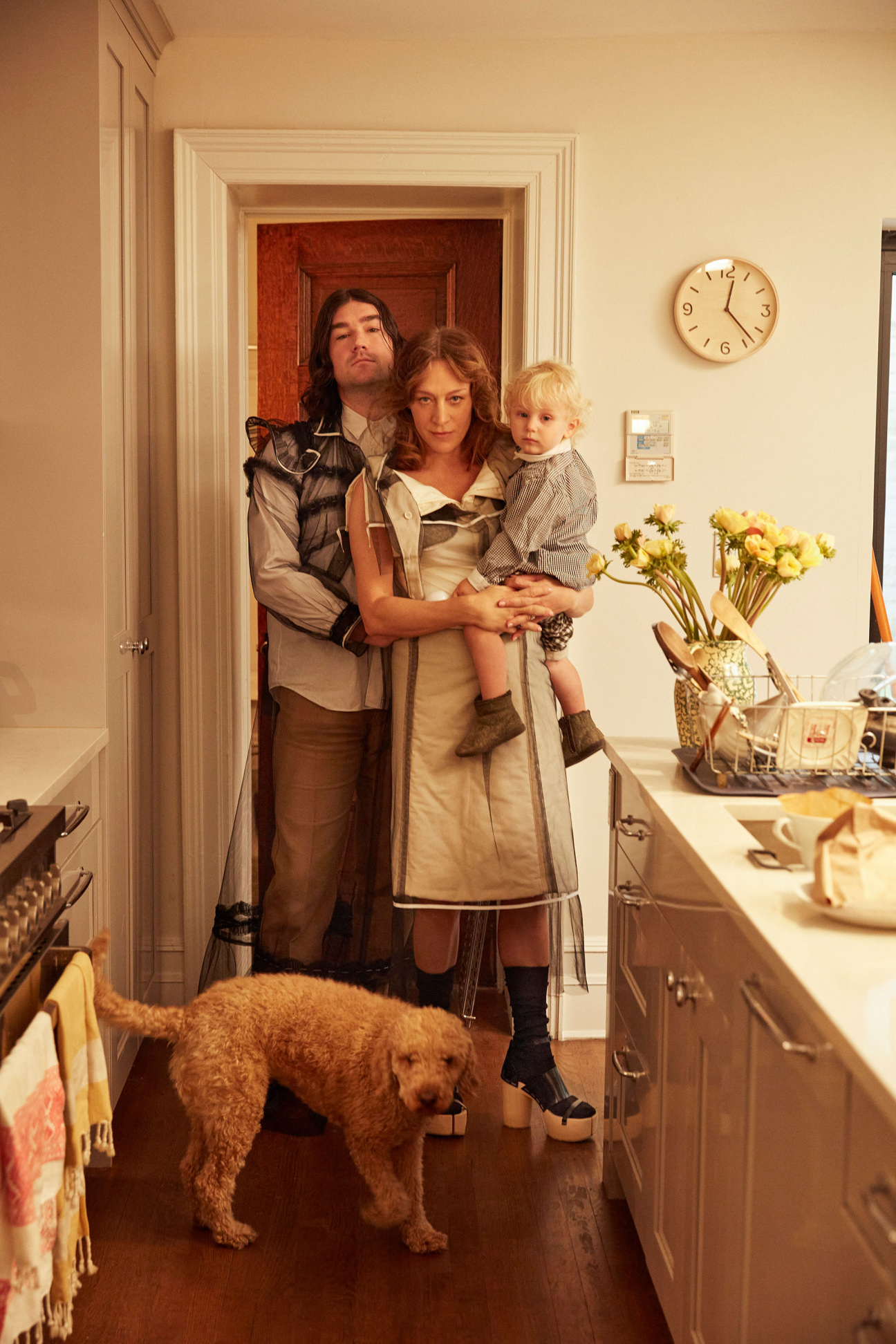 SM: That was all a preamble.
CS: Then we went out on our first date. Souen. I thought, this is not going to be fun for me because… I like to be prioritized [laughs]. But the date lasted all night. He played hard to get for a little bit. I would tease him about it and he would go, "Well, I'm here now, aren't I?" He was playing the long game or something.
SM: And then one night we went to the Pyramid Club.
CS: Which is our favorite thing to do together. We were once dancing at a party together before we started dating. I was dating some other boy, and I saw him outside. I think Siniša knew I was dating this other boy and he was like, "Can we see each other or hang out?" I think I kind of extracted myself from the other situation to be available.
Do you guys all like dancing together too?
CS: Vanja loves to dance. He was always dancing in the womb. Siniša is a wild dancer if you've never seen him.
Have y'all had an occasion to dance recently?
SM: We were at some house party in LA and it was like people were dancing but—
CS: The music wasn't right for dancing.
SM: It felt like we were going to dance and then we didn't and that was a bummer.
CS: Remember one night we just danced on the street. One of our first dates. There was music coming out of a window, right?
SM: Yes.
CS: We went to Omen [a Japanese restaurant in SoHo]. I kept trying to be a high roller to seduce him. He brought me some fancy books. Early on when we were dating, he'd always bring a book, which was very charming.
SM: Books are such a good present because you can really connect with somebody through it. It's not just an object.
CS: Long story short: We went dancing one night at the Pyramid Club, now we have baby Vanja.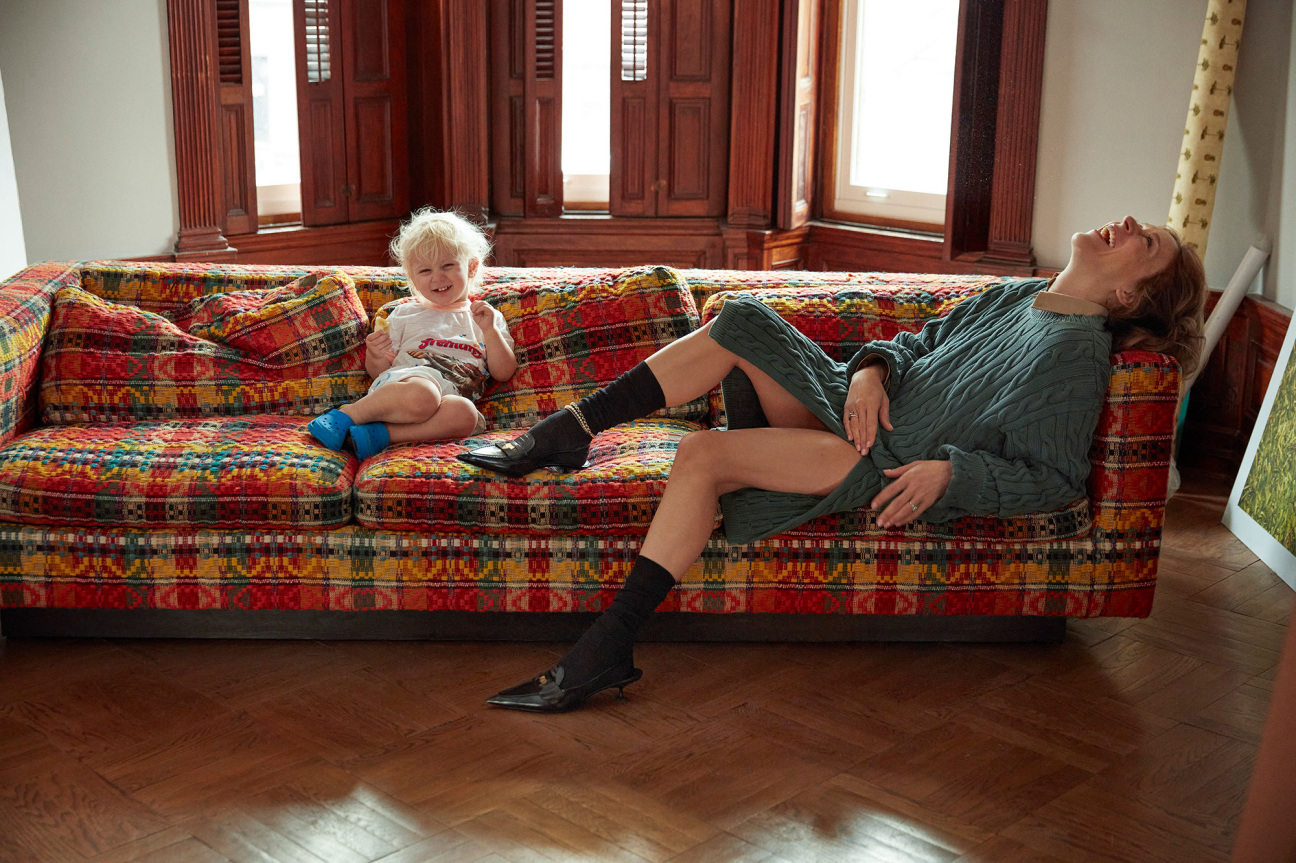 I was trying to figure out when the media decided you were dating. There was a Page Six article about you two making out in the part and then it skipped to the pregnancy announcement. Artnews called you the pioneer of the Hollywood-art world crossover.
CS: I'm a really indie version of Jennifer Lawrence and her art husband [laughter]. But I remember those pictures that they took. It was right around the corner. Of course, we live in SoHo and part of the perils of being over here is the paparazzi presence. I think I was even pregnant in those kissing photos, but we hadn't announced it yet. Then we actually staged a photo because my publicist was like, "This is a way to control it. This is what all celebrities do." We went for that. We dressed up and now, we're both embarrassed by our effort.
SM: Press is all about controlling the narrative or whatever. It's as Hollywood as it sounds.
CS: Like when Rihanna posted her [pregnancy photos] recently. The ones in the pink coat. She obviously had done the same thing. I was like, "Look, they did it too."
SM: Theirs were better.
I was going to ask you something about being called a power couple but instead I found an article in Vogue calling you the ultimate cool parents. Do you identify with that?
SM: I think we're a power couple actually. Cool parents—I don't even know what that means.
CS: Right. Well, I was always labeled cool, an "It girl," yada yada. I think just by virtue of being in New York we will remain fairly "cool." I think keeping current is really important.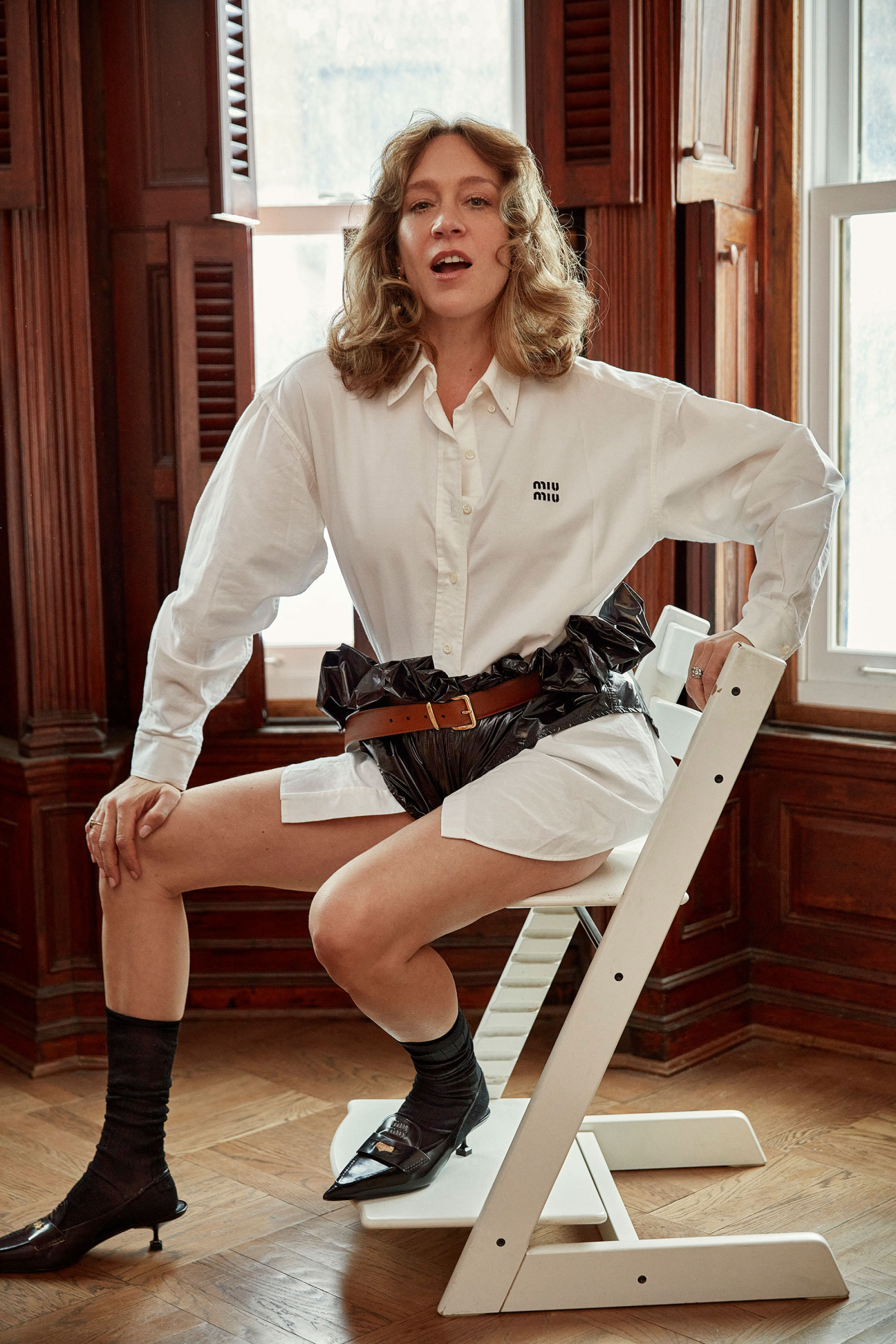 SM: We definitely both work in culture, whether that's cool or not. It's just such a funny idea being cool parents [laughs]. Were hippies cool parents?
CS: At a certain point, you're just not cool anymore, I feel like I'm not cool, but I feel like I can provide Vanja with a stable base to discover his own cool.
SM: I always find it funny to think about how I grew up and who my parents are. I grew up in the suburbs and I had to find out everything for myself. I found out what kind of music I was actually into from watching films and going to shows.
CS: Now is such a different time with the internet. It won't be the same, right?
SM: It's similar. It's a similar kind of process.
CS: My dad had a very cool record collection and I had an older brother who was way cooler than me. That's how I learned.
SM: I didn't have any of that. Vanja has all that. He lives in New York City.
CS: I am a little bit nervous about that. I want Vanja to have somewhere to aspire to be. Which was our experience growing up in Connecticut. It was like, 'We want to get to the city.' Vanja's already here.
He seems really sweet, for now.
CS: Yes, he seems kind-natured. He likes to share his toys with the other kids to get them to play with him. He's also very playful and goofy and likes to make funny faces and funny noises.
SM: Yes, he's intentionally entertaining. He does that all the time.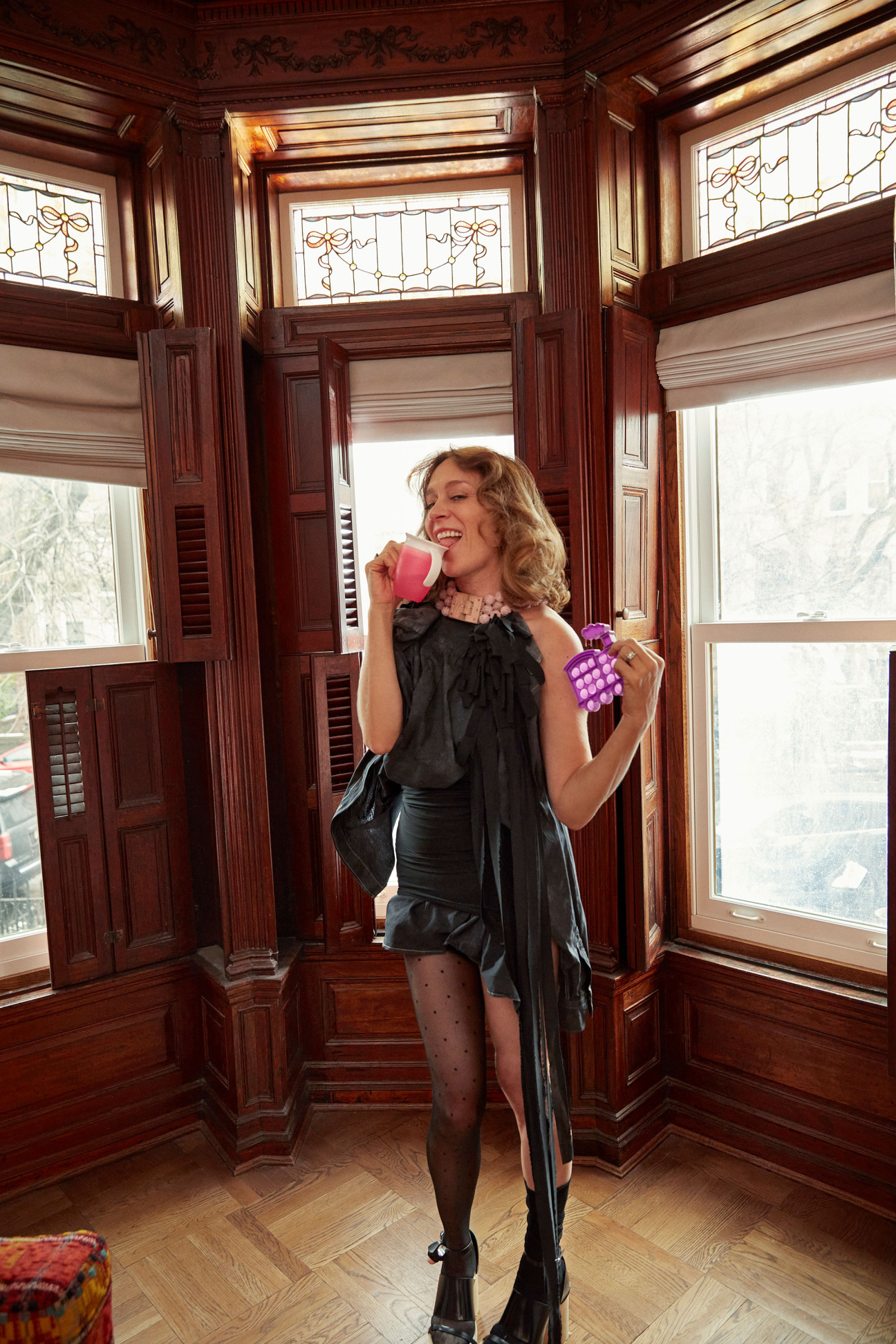 He wants to make you laugh?
SM: All the time.
CS: It doesn't seem serious or maudlin or anything. Thank goodness. I guess that comes when they are teenagers. Have you ever watched the Seven Up! series?
No. Tell me.
CS: It's a very interesting documentary where they follow this group of kids from age 7, every seven years. It started in the '60s and the filmmaker is making the case that like, 'At 7, you are who you're going to be,' which is why the formative years are so important. By 7 you are who you're going to be when you're 70. I really recommend watching it. It's terrifying to watch people age really...
I feel like kids speed up time because they make for compelling clocks. You can see them getting older.
CS: It's like the one thing people say: 'Oh, it happened so fast.' That's what you hear most often, right? 'Enjoy it because you're going to blink your eyes and they're going to be teenagers.'
SM: Even now, he's not even 2 but it feels like it's been four days or something like that. It's so compressed.
Did being a gallerist, an art-dad, prepare you at all for being a dad-dad?
SM: No.
CS: You have a nurturing role at the gallery. You help artists navigate opportunities.
SM: That's what a gallery does in general, I think.
CS: Right but a lot of people just think you sell art. They don't realize what that actually means. My mom still has no idea [laughs].
SM: You can imagine [artists] like kids and gallerists like parents, in that you care about where they're going to school or who their friends are. But I think that's infantilizing. Because the stakes are obviously higher with a kid. They're helpless without you for a long time. That's why I see myself more as a partner with the artist rather than someone who holds their hand to cross the street.
Chloë, did playing a mom on tv help you prepare to be a parent?
CS: My girlfriends always said that I was the most maternal of our group, but I think I was also maybe just a little more successful, able to take care of people financially a little more, and also a little more practical and sane. So that role fell on me.
How about playing a mother who's lost a child in The Girl from Plainville?
CS: It was very profound and emotional. Everything was right there on the surface, very easy to access as far as imagining what losing a child might feel like.
SM: And Vanja was going down there with you while you were filming.
CS: Sometimes. I was really missing him when he wasn't. It was the first time I was working away and was navigating those emotions. It was pretty hectic.
When you are together what do you two like doing most?
CS: Going to bed together [both laugh].
Doing nothing?
SM: When we can, yes.
CS: Yes. We had Vanja in bed with us for a long time because we liked all being in the bed together.
SM: Yes, it's very sweet.
CS: He also loves to have us cuddle with him and tickle him. He's very into dragging us to the bed for cuddle sessions. We used to really like going out with him till he started walking and then he didn't want to be contained. We're hoping that's going to pass.
SM: We would take him to dinner and stuff like that.
CS: He loves Omen. It will make us sound like total assholes, but the ladies there love him and he loves all the little plates. We're going to start bringing him out again.
SM: We also like walking around. On weekends, we don't really do activities or anything like that. We just walk.
CS: And we like being on the beach. That's one of our favorite activities. We were trying to make it a thing to go to Provincetown every summer. Vanja's first summer we went. The second summer, I got a job in Savannah so we had to cancel our plans. Those were some of the nicest days we've had with the baby. He also loves going in the water.
SM: We were in Jamaica for a little vacation in January. He was just running all over the whole resort. We didn't get into a car for a week. He had the run of the place.
Do the three of you ever see art exhibitions together?
CS: Sometimes. I wanted to see that puppet show at the Museum of the City of New York and that Goodnight Moon show. They made a room that looked like a book.
SM: That seems weird.
CS: It still probably would have been charming. Could have been very like, Alex Da Corte. You'd never stick it out [laughs].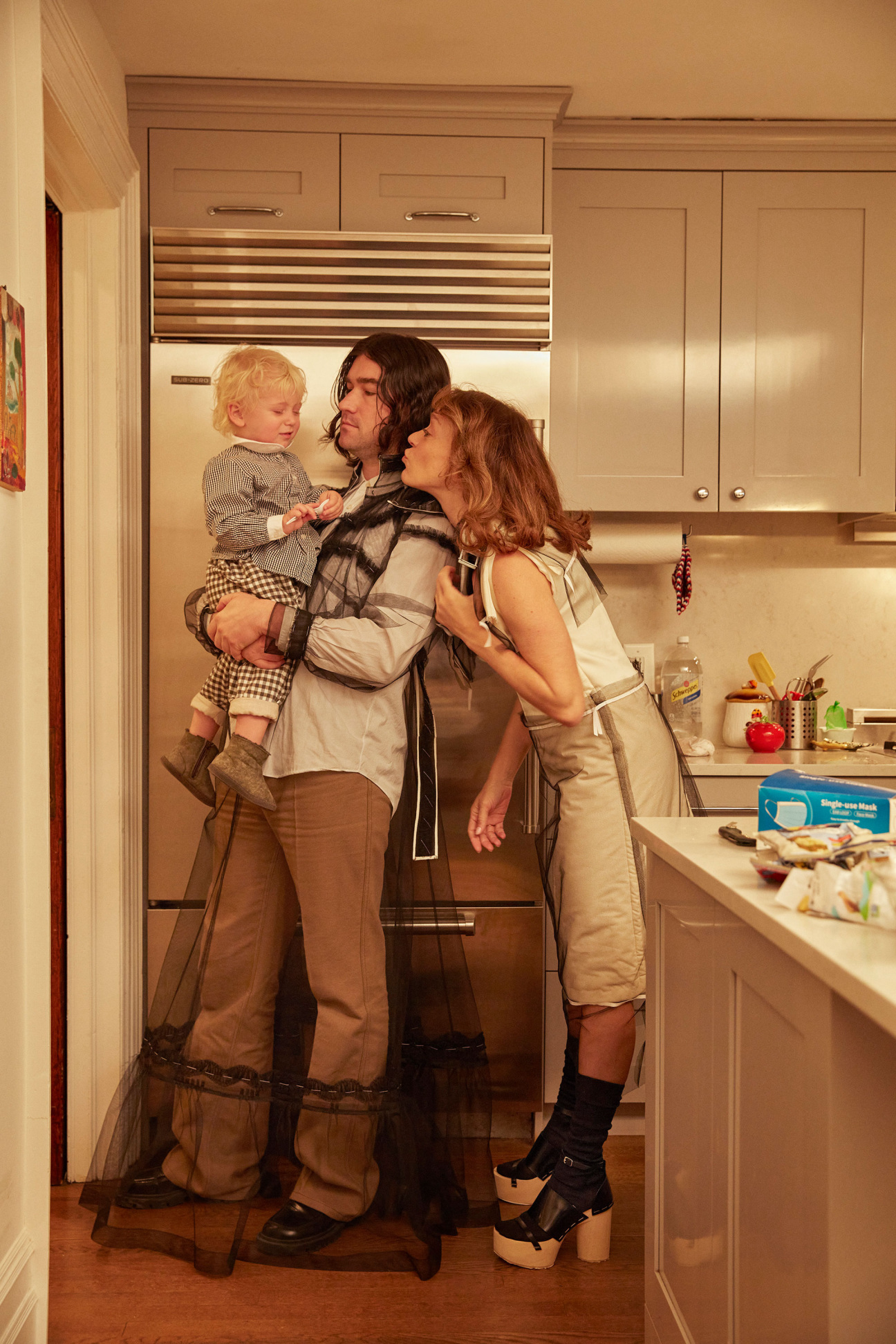 You both have spent your lives working with artists. What are the upsides and the downsides to that demographic?
SM: I like working with artists even if they're difficult to work with, whatever "difficult" might mean. They do have a singular kind of vision, and it's fun to be a part of that.
CS: When working with an artist there is a level of risk you have to be willing to take on. I was probably into the worst Werner Herzog and Woody Allen movies.
SM: I think also with directors, it's very different because directors are much more world-creating.
CS: Artists can be too.
SM: Yes, for sure, but each film is a very elaborate world, whereas an artist's practice just kind of keeps going.
I was thinking about how the phrases "artist's artist" and "cult filmmaker" end up in the same soup or something.
CS: Right. Or auteur. Because they seem to be more pure of heart or not wavering in their… I don't know, who's really an artist's artist? I have a lot of artist friends and they're all in their own worlds. I guess I would consider a lot of my friends to be artists' artists. I would also consider certain filmmakers to be that, but I feel like there's also ways to exist within a bigger system and still do that. Like the Coen brothers, or David Fincher. He doesn't even write his own movies. There's a lineage of that in film. Film is so collaborative but I feel like certain filmmakers give more credit to other people's contributions than maybe fine artists do.
What's it like inviting Vanja, a new cast member with his own storyline, into your picture?
CS: When I was younger I was like, "Do I want a baby or do I want a family?" And the truth is I wanted someone who would be here for me [laughs]. I have some friends who have kids that they are really close to, like Mary and Mario Sorrenti and Rita Ackermann—they're very much in their kids' lives.
SM: Because the kids still probably live with them.
CS: Well, that's a good thing. If we can make a bigger apartment, then it's more appealing.
I feel like this whole apartment makes New York look more like a Richard Scarry book.
CM: Oh, my God. Those are our favorites. We do a lot of Busy, Busy Town. Vanja calls it "town." I Am a Bunny is one of my favorites. I really want to get I Am a Mouse.
Speaking of surroundings: what was it like combining your art collections? From snooping I knew Chloë had a Damien Echols work and a Karen Kilimnik.
CS: We haven't really. There aren't that many walls in this apartment. And I like space.
SM: I've brought a few things over, like Ann Craven and a Mark Flood.
CS: He really wants to get another apartment, so we can have a library. That will be nice.
SM: I have a lot of books too.
My boyfriend and I are trying to keep our bedroom to just a crucifix artwork by our friend Elizabeth Englander and a bed.
CS: I would like to live minimally, but we have this small child…
SM: Yes. I can't believe we can even fit all the stuff. It just keeps going. He has his own room now. He's going to keep growing.