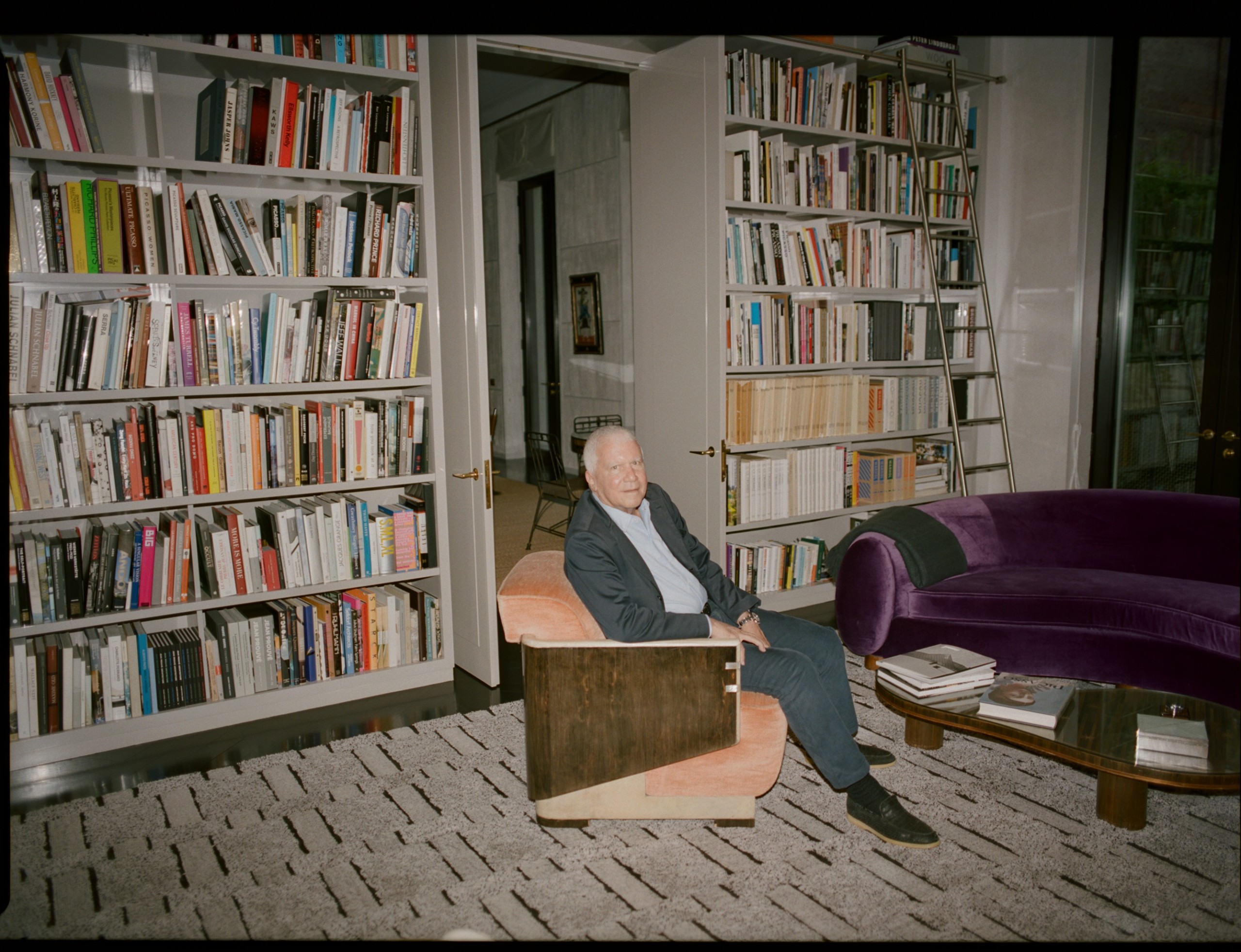 Larry Gagosian
On one of the first days in May that truly felt like summer, Larry Gagosian left his Upper East Side townhouse for a walk in Central Park. There, he clocked Leon Black, the former MoMA board chair, who was disgraced after his involvement with the Jeffrey Epstein scandal was revealed, and who seemed to have had the same idea as Gagosian on that warm day. "The times sure are changing," Gagosian remarked, eyebrows raised, after returning home.
The larger-than-life gallerist sits beneath one of Andy Warhol's Double Elvis silkscreens from 1963. "I was Warhol's last dealer," Gagosian, who is now known as "the man who makes the art world go-go," says proudly of a time when he was just getting started in New York in the early 1980s. In fact, Gagosian hosted Warhol's last show at his seminal Chelsea space on 23rd street between 10th and 11th Avenues, which he rented from the artist Sandro Chia for $3,500 a month. Gagosian remarks that the current recession of New York real estate presents a good opportunity for young gallerists.
"If you've got a good idea and some artists—it might be a good idea to go into the business now. You could probably cut some pretty big deals now, I imagine," he says. When Gagosian cut his first set of good deals in Chelsea back in 1988, he says, the area had no other galleries. "There were a lot of hookers, and crack vials on the sidewalk. It was fantastic. I loved it. It was really rough."
"I knew it was an oddball location, and I was new to the art business in New York. So I made it a point to do the best shows possible." Among those, he hosted a show of Willem de Kooning, the Warhol show, and a pop art show of work from the collection of Emily and Burton Tremaine. Though he left that original space for what is now his Upper East Side flagship, he returned to Chelsea in 1999 to a space on 24th that he purchased for $5 million in 1999. In 2006, he snatched another space just a few blocks away on 21st Street. All the while, Gagosian was creating the veritable global empire we know today of 17 total spaces, and a shark-like reputation for eating up promising artists from smaller galleries.
"People see me as a hard-charging, aggressive, business-oriented, money-oriented person. And it's all true," Gagosian confesses. "But I really love art. I really love working with artists. My favorite day is going to artist studios. Maybe people don't see that, but that's okay."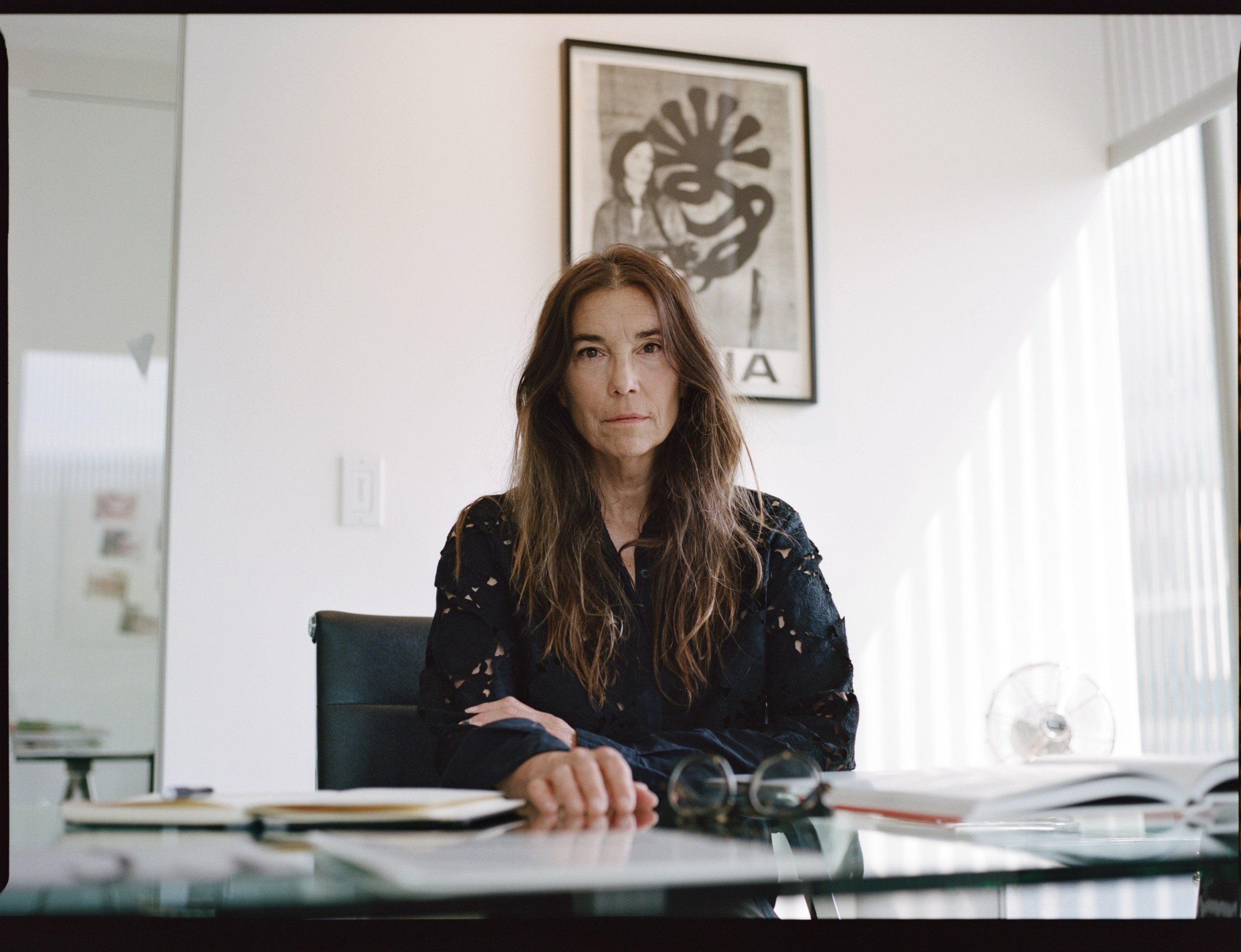 Lisa Spellman
"I don't really think of myself as successful," Lisa Spellman, founder of 303 Gallery, confesses. Though the gallerist has been an art world stronghold for the past 37 years, she feels a certain level of envy for the generation of gallerists that preceded her, particularly those in the 1970s that got to work with the Pictures Generation, and the new vanguard of galleries, particularly 47 Canal, 56 Henry, Essex Street and Fortnight Institute. "I'm stuck in the middle!"
In 1984, Spellman's first gallery opened in what was then known as the Photo District (but is now called Flatiron) before migrating to the East Village and eventually SoHo. Then, two friends of hers, the Armory Show's founder Paul Morris and art dealer Pat Hearn, called Spellman to let her know of a groundfloor space in a brick storage warehouse building on 22nd Street. The call came to her in "this really weird, personal moment." Her mother had just passed away, and on the day she got the call, her landlord let her know that other tenants wanted to expand into her space. "It literally all happened within 24 hours," she says.
Since that day, Spellman has used the space to build one of the most robust rosters of artists in the neighborhood, nurturing the careers of artists such as Doug Aitken, Alicja Kwade and Karen Kilimnik, and more recently, Tala Madani and Sam Falls. Despite Spellman's reservations about her own success, she's maintained her space in Chelsea—which sits directly across from Gagosian's—for a remarkable 26-year run. "I've been really blessed to start galleries so early, and during such an incredibly important period for young artists in New York," she says.
Spellman frequently bikes from the Battery up to George Washington Bridge, delighting in seeing all the ways the city has evolved each time she does so. She expresses her appreciation for being able to see the additions of the Whitney and the High Line to her neighborhood, and, contrary to popular opinion, doesn't mind the addition of Hudson Yards. "I mean, you can really hate Hudson Yards for sure. I do! But they're going to do incredible programming at The Shed," she explains. "The way the city keeps developing into the piers, into green spaces, is really critical."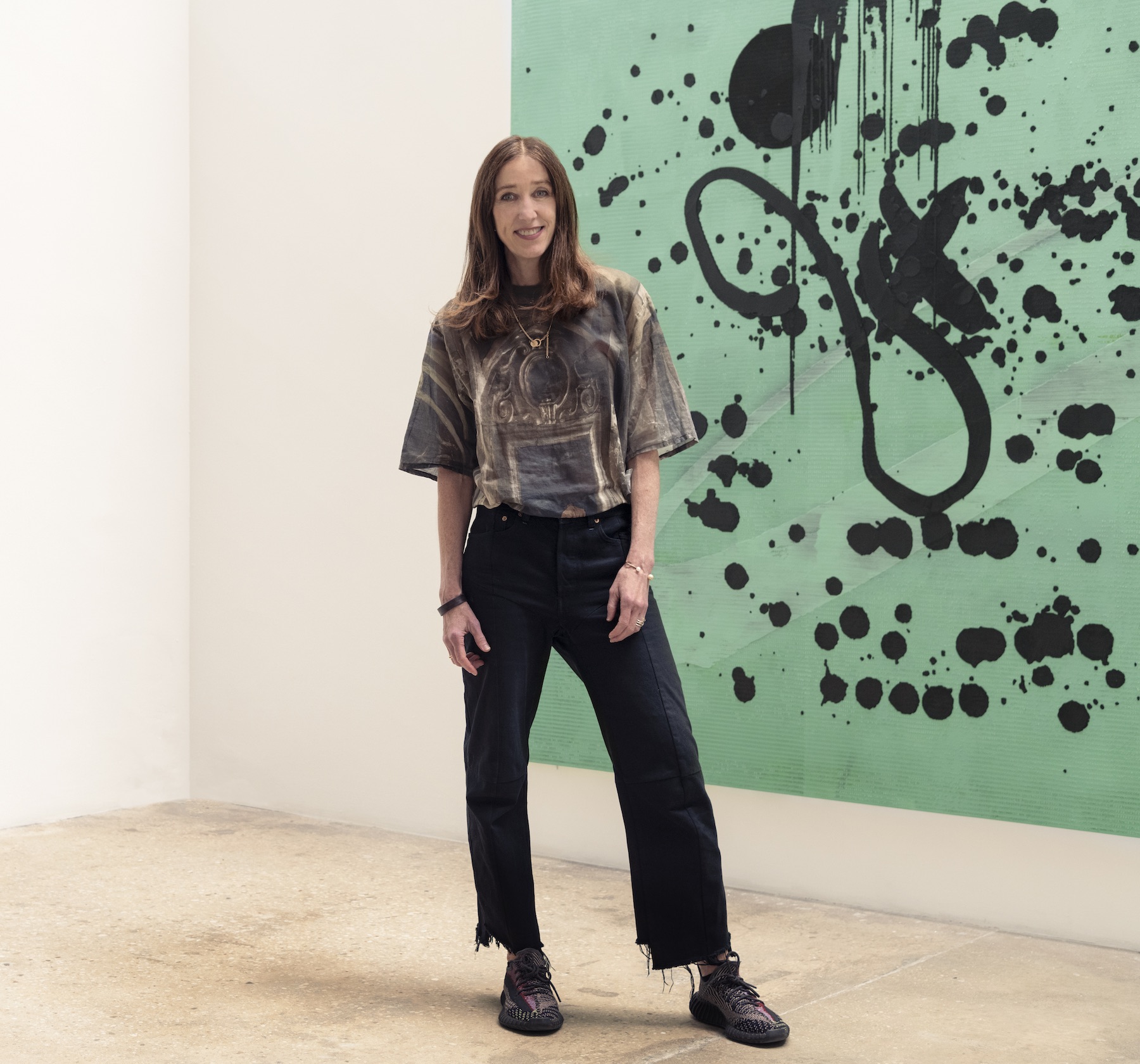 Carol Greene
Sitting directly across from Carol Greene in her office within Greene Naftali on 26th Street is Rachel Harrison's sculpture Studio 54 (1996). "Pick one or two artists that you would do anything for, because you believe in their vision and they're great," Greene says of her advice to young gallerists. "And everything else will follow."
For Greene, those artists were Rachel Harrison and Jacqueline Humphries. Her eyes light up when speaking about it. "That's from my first show with her in 1997. Isn't it extraordinary?" Slats of cobalt plywood pile on top of each other to create a floor sculpture that evokes the piles of government-sanctioned barrier posts that often accumulate on street corners in the city—particularly in the very industrial Chelsea.
"When I started looking [for a gallery space in Chelsea], the Dia was open, and Matthew Marks was open. I loved the character of the neighborhood. It was so edgy and industrial. I wanted it to be an experimental gallery, and I wanted artists to be able to do whatever they wanted."
The building she found, she's stayed in since 1995. At that time, it was also occupied by the artist studios of Glenn Ligon and Gary Simmons. "I knew that if the gallery was in the building with that kind of activity, we'd immediately get recognition. I felt confident here immediately," Greene says of coming into the space, though she didn't quite yet know what to do with all of the square footage. "For years, I had this ginormous party space. I would have these art shows and then these crazy parties in the back. And that's what it was like back then. It was really fun." At those parties, people like Thurston Moore of Sonic Youth and bands such as The Jon Spencer Blues Explosion would play, or PhD candidates in art-related fields would come to do readings. "It was a very cross-disciplinary feeling."
Though the raucous parties may have slowed down, that mixed-use feeling still permeates the gallery, as it's currently hosting artist Aria Dean's inaugural show with Greene Naftali. "Did you come to the opening?" Greene asks. "It was a really dynamic mix of artists, curators and collectors."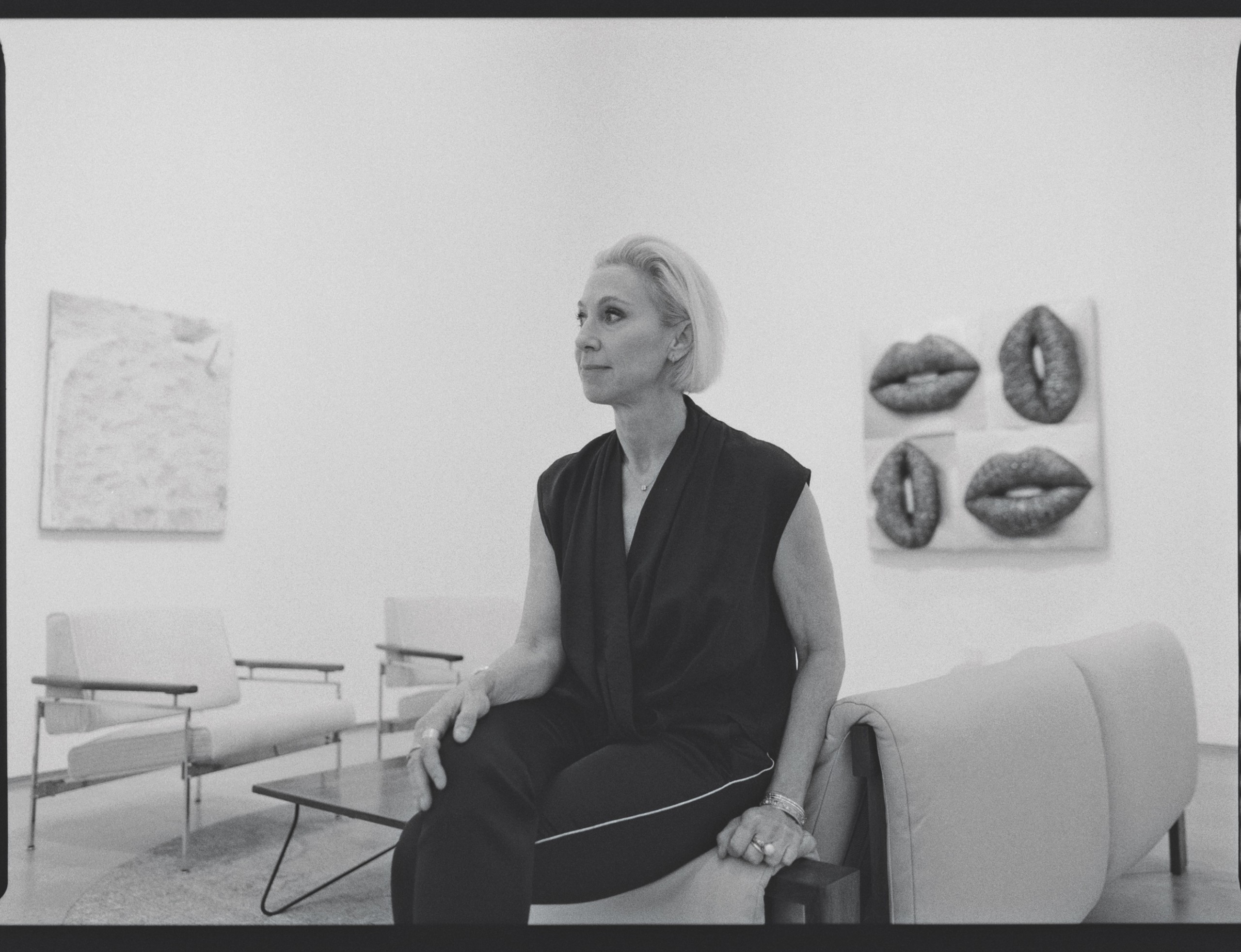 Marianne Boesky
Rockefeller Plaza currently hosts Oracle, a new public art project by Sanford Biggers. "After 25 years," Biggers's gallerist Marianne Boesky says, "This felt like a true high point for me in my career." Weighing in at a whopping 15,000 pounds and standing over 25 feet tall, the bronze sculpture is the latest in his Chimera series, which collages traditional African masks with the conventional European sculpture style seen all around the US, and more recently, seen toppled over in the US.
"It comes from such an authentic place, and the idea that it was unveiled in New York City at this time in that location, it just felt like we did something right," Boesky, who began working with Biggers in 2017, continues. "It wasn't contrived. It wasn't a reaction to Black Lives Matter. It was something that was in us already. And to make a commitment and see it through during Covid was completely stressful for everyone, emotionally and financially. It felt like it was meant to be. It was my first moment where I was like, I should be proud of that."
Boesky opened her gallery in 1996, and by the early 2000s, she was representing artists who would go on to become international powerhouses like Takashi Murakami, Yoshitomo Nara, Barnaby Furnas, and Lisa Yuskavage, and planning for an expansion into the ground floor. Still though, she confessed that she felt like "the little sister" in a way.
"It turned out I was right to be nervous," she says looking back. "When we finally were ready to open, Murakami announced that he was leaving the gallery, and basically gave my show to Gagosian. Then, Lisa Yuskavage also announced that she was leaving the gallery out of nowhere, and gave David Zwirner my show. So it was a very scary time."
Boesky endured, however, by selling some of the works from the artists who left the gallery and proceeded with the expansion. "I was able to complete the building and keep going, and add new artists, and transform the program in a new direction." Things began to click for her, and she's since had spaces in the Lower East Side, the Upper East Side, and even opened Boesky West in Aspen, Colorado, as well as expanding her Chelsea space even further.
"There is no defeat," she says. "I have to go down on my own terms."
Craving more culture? Sign up to receive the Cultured newsletter, a biweekly guide to what's new and what's next in art, architecture, design and more.