At the age of 15, Saniyya Sidney has already met most of her idols. Though most people are just getting to know her after her breakout role as Venus Williams in the biopic King Richard, the young phenom has already acted alongside Hollywood royalty. She speaks of them fondly, gushing over Mr. Will's transformation into the Williams sisters' father, or mentioning the "young women" conversations she had with Miss Viola after reuniting with her on the set of the upcoming drama The First Lady. The show is Sidney's second time working with the Oscar winner, and her second time playing a public figure in so many years, Sasha Obama to Davis's Michelle.
One of the most talented young actresses, Sidney is a force. In King Richard, she completely embodies Venus Williams, balancing the tennis star's immense talent and quiet confidence while also showing her as a 14-year-old girl. In one of the film's closing scenes, after Williams loses her second professional match, she shows the vulnerability that sports fans don't get to see, no matter how many times they watch the match tape. Sidney shows just how much it took to become Venus the person, not just the superstar.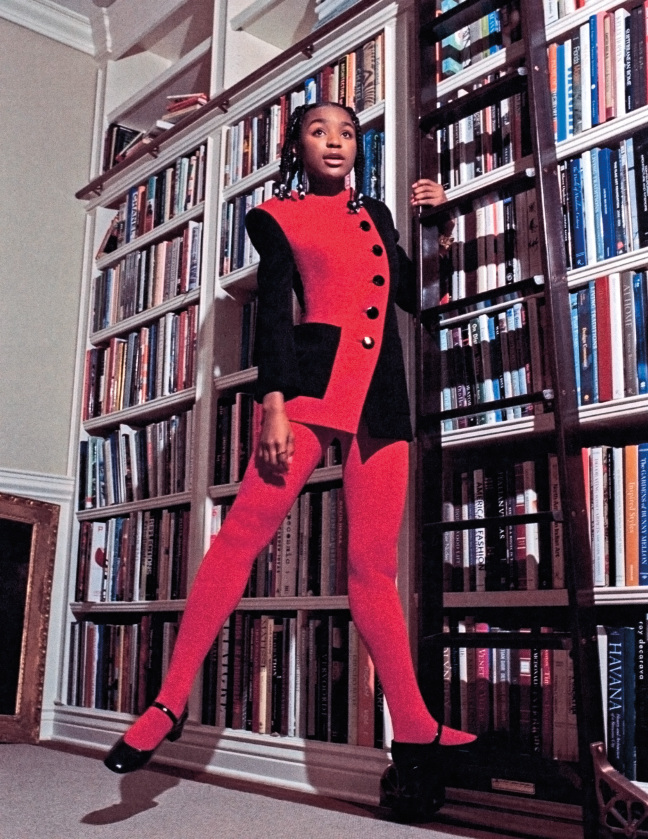 In addition to providing breakout roles for Sidney, King Richard and The First Lady will likely go down in history as masterclasses for Black public figures telling their own stories. The Williams sisters, who executive produced their biopic, also brought on their sisters Lyndrea and Isha Price to discuss their childhoods with the film's actors. Davis had regular phone calls with the former First Lady throughout the show's production. (Sidney did not get the chance to speak with Obama but says, "She knows of us, so that's enough for me.") Now Sidney, who's interested in producing herself down the road, has several examples of seeing Black people have a hand in telling their own stories, which is unfortunately still a rarity in Hollywood.
The young star has learned so much from working with the highest echelon of actors, the type that you can identify through one name. Denzel. Viola. Will. She considers them mentors and sort of parents, giving life lessons that she humbly accepts, maybe without realizing that one day, as she stays on her stellar trajectory, she'll be a household name too. Saniyya.
"I do kind of get like, what? That's crazy. Mr. Will, Miss Viola, they're giving me advice? I love everything about all three of them, and they've been doing this for as long as I can remember. So I definitely listen when I'm supposed to."
That respect and urge to listen to her elders extends to her family too, even more than the acting legends she works with. So much of her drive and even her hobbies come from lessons learned growing up. Listening to her mom and grandma's radio influenced her old school music taste, Smokey Robinson and Ella Fitzgerald and "anything Nineties." Her love of baking comes from being introduced by her grandma to the Food Network at age eight (though now her favorite cooking show is Netflix's Nailed It!). In essence, Sidney is an old soul, soaking up wisdom.
"A lot of people growing up used to tell me, like, 'Girl you've been here before.' I think it's just, knowledge is key. I learn a lot from my mom. She inspires me more than anyone. So I just listen to what she has to say and my grandma and that'll get me far."
You could say her work as an actor centers on being a conduit for wisdom, especially with the real-life stories she loves to tell. It's one of the many things she does wonderfully in King Richard, passing down the lessons of Venus Williams, who internalized the lessons of her father and became a role model leading the representation of Black girls in tennis. When asked how she feels about now being a role model for young Black girls interested in acting, Sidney lights up, saying it makes her feel "overjoyed and empowered."
"It just makes my heart sing when young girls come up to me and my other peers and say, 'Wow, you made me wanna go out there and start gymnastics again or pick a piano,' stuff like that. It's motivation."
Despite everything she's accomplished, Sidney's quick to remind you that she's still a kid, who loves playing with her dog and spending time with her family. She's a little Black girl who believes deeply in the power of little Black girls, who are capable of anything. Like Venus and Serena, and Kerry and Viola, she carries along the quiet grace of women who know that the only person in this world that they have to prove their greatness to is themselves. Just like Venus Williams after that first pro tournament, Saniyya Sidney has a long way to go.