Only for Louis Vuitton can newness be, paradoxically, synonymous with heritage. The testament to this? A design world without Louis Vuitton's Objets Nomades seems hardly conceivable, in the same way a world without Flos, Cassina, Kartell, Artemide and Vitra would be. This despite the fact that it's only been a decade since the first collection of 16 travel-inspired furniture and objects premiered in 2012 to celebrate the House's sense of adventure.
That's not to imply that the Objets Nomades series is divorced from Louis Vuitton's heritage. If anything, its success is primarily thanks to how the brand calculatedly leveraged existing resources into new endeavors. When designers, architects and artists are invited to ideate an Objet, they most certainly don't design in a vacuum; the brand's artisans are involved through and through, safeguarding the craft across techniques in leathercraft and beyond. They produce the items in-house, ensuring that the Louis Vuitton savoir faire is meticulously, painstakingly articulated into fully functional items in the same way as it would for any other ready-to-wear piece of clothing, like, say, in the lining, the embossing or the weaving and braiding of leathers. "It's a great workshop in which any designer could play for a long time," Dutch furniture designer Maarten Baas says. Design duo Fernando and Humberto Campana agree: "We were impressed with the archive of materials as well as the artisans' ability to detect distinct colors in the leather and to assemble various pieces in slightly different shades to achieve the effect of a specific color." Savoir faire, as Louis Vuitton defines it, isn't just about technique but access to resources as well. The raw material sourcing is a significant perk of its own; in their exhilarating experimentation, Louis Vuitton invited designers get their hands on the house's legendary materials, including its caramel-hued Nomade leather and its waterproof Monogram canvas. They also get coveted access to state-of-the-art technology in innovative, experimental fabrics.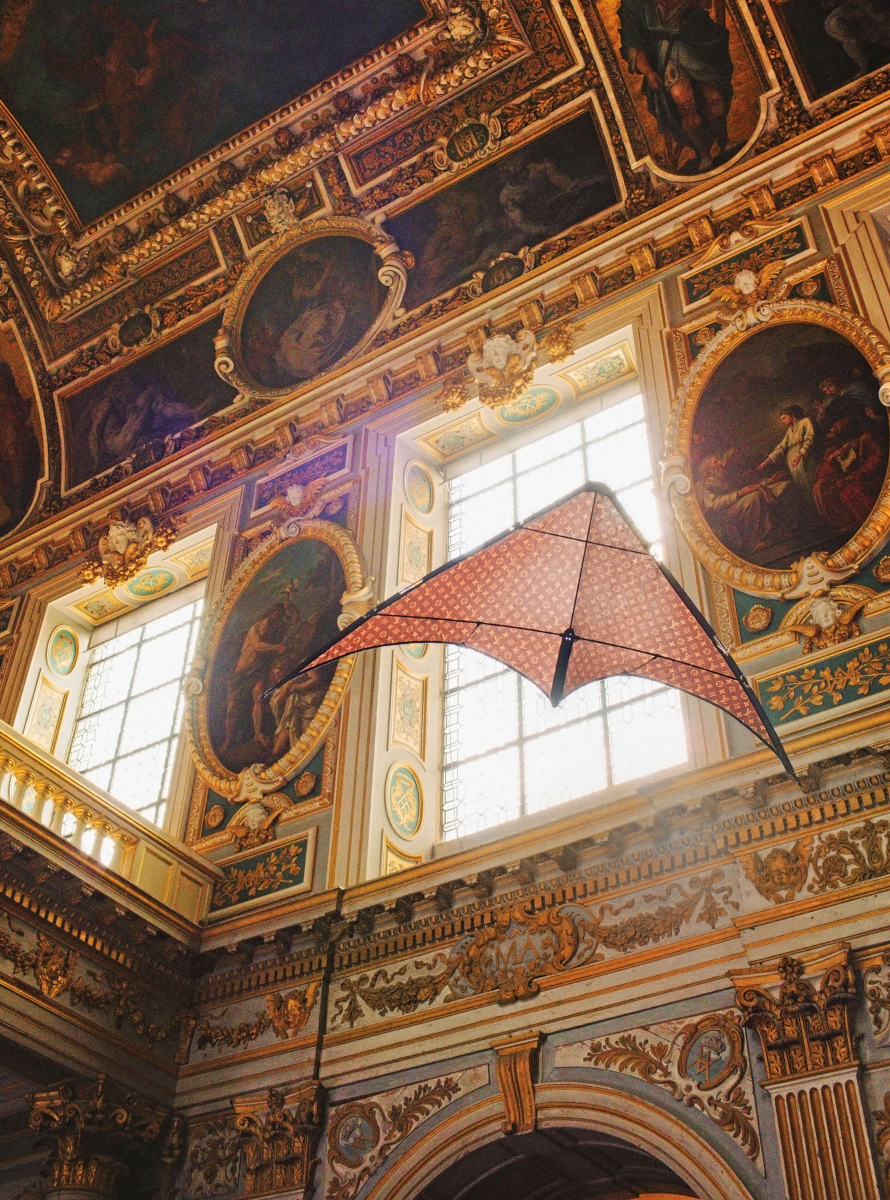 The debuts of these Objets are consistently a highlight of the most prominent design happenings across Milan, Hong Kong and Miami. Five new items were unveiled at Louis Vuitton's women's store in the Miami Design District during Design Miami 2021, including pieces by Raw-Edges, Frank Chou, Marcel Wanders, the Campana Brothers and Studio Louis Vuitton. They were displayed across an environment with clusters and imaginary plants by designer Patricia Urquiola—a mesmerizing desert landscape that set the stage for a total of 40 pieces. Urquiola's layering nudges a memory of dunes somewhere even warmer than Miami. These launches are all retrospectives of some sort, considering that the Objets—some of which occasionally relaunch in updated iterations—continue to travel from show to store over the years in a growing, permanent collection that is exempt from any seasonality. "I actually first started a conversation with the brand in 2010 with the idea of a collection that went back to the brand's roots of when luxury travel began. I loved this idea; the concept of traveling and the memory of the iconic Louis Vuitton travel trunk," Urquiola says. The Spanish designer has been involved since the start with her 2012 Swing Chair, a hanging seat produced in hand-knitted mesh and finished with a fringed hem shaped to resemble the quatrefoils of its Monogram. Meanwhile—400 feet away from Urquiola's environment, also in the Miami Design District—a massive fa ade baptized the house's second standalone men's store in November 2021 to coincide with the Spring/Summer 2022 menswear show. It's an all-white, latticelike, aluminum structure inspired by Marcel Wanders's 2017 Objets Nomades Diamond Screen (a partition that reinterprets the Monogram motif into 60 modules of leather held together by brass clips and propped on a marble base). The new façade cheekily nods to MiMo, or Miami modernist architecture, in its stylized cladding.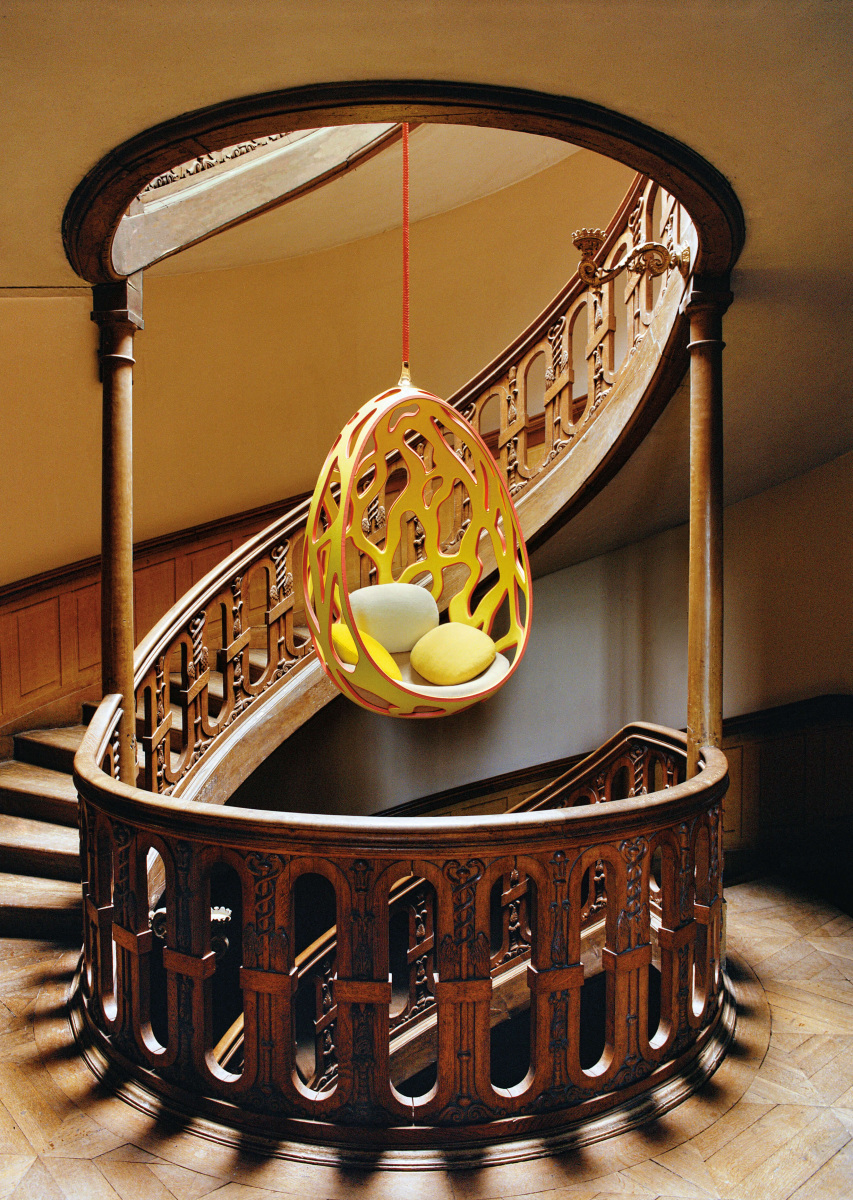 These instances of Urquiola and Wanders's Miami designs aren't exactly "Objets," but create scenescapes to house pieces that are. But the designers' curatorial involvement attests that the Objets Nomades collection has certainly grown beyond the experimental series it was when it first premiered—initially driven by many prototypes—into an empire of its own where that first invite from Louis Vuitton blossoms into actualized, multidisciplinary creations year in and year out.
Here, we look at the designers and studios behind the newest Objets Nomades launched during Design Miami 2021.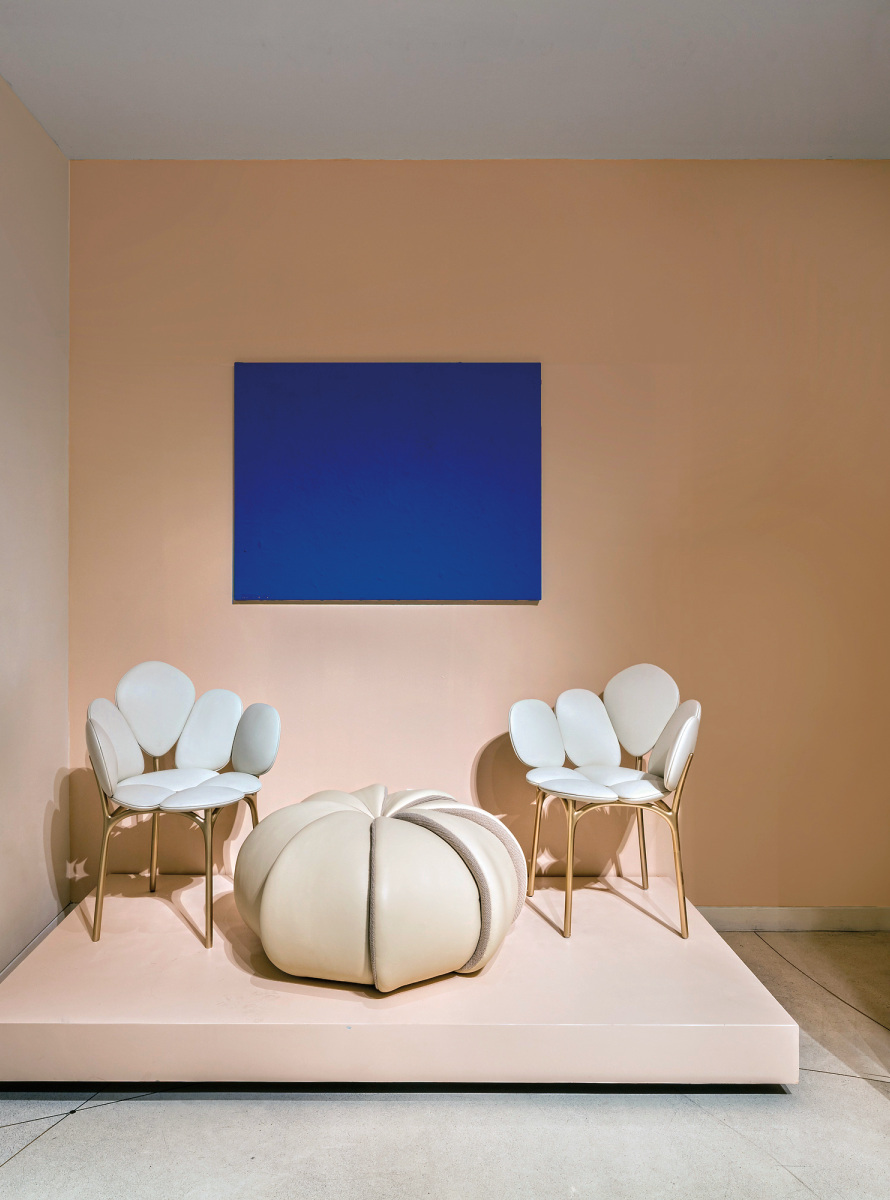 Marcel Wanders
"It is so rewarding to see others who believe that craft still matters," Marcel Wanders says. His studio's involvement with Objets Nomades this past year goes beyond the Louis Vuitton Miami men's store façade. The 40-person Dutch design practice first joined the world of Objets Nomades in 2015 with its Chaise Longue, wherein three independent modules in high-tech carbon fiber interlock like a puzzle. Its 2021 piece, Petal Chair, pays homage to Louis Vuitton's iconic Monogram flower. Its cream- or coral-colored, petal-shaped cushions are covered in hand-stitched calf leather and supported by legs of cast aluminum. The cherry on top? The LV initials embroidered on the central petal.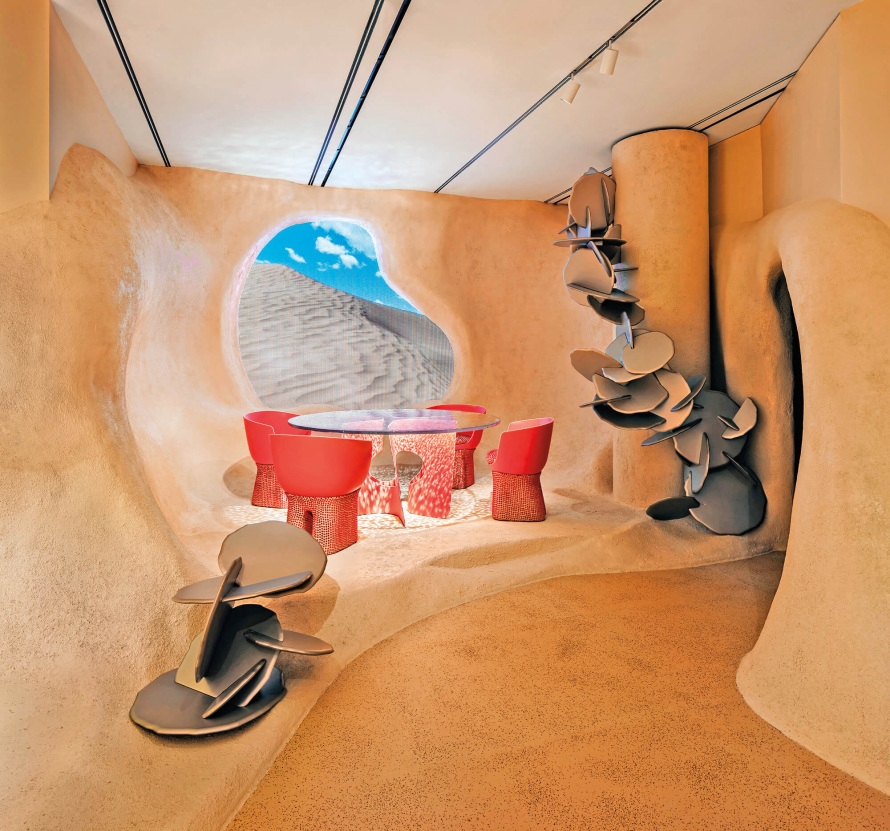 Raw-Edges
Yael Mer and Shay Alkalay—or Raw-Edges—play with form to "bring out the kid in all of us," they say. Their Concertina Chair made noise when it first premiered and instantly became one of the most iconic launches under the Objets Nomades series; it's one of the few items without the Monogram that somehow still effortlessly manages to announce its linkage to Louis Vuitton, likely thanks to the Nomade leather that wraps each of the chair's six accordion-like petals. "The products are quite complex in their geometry, so we had to consider both form and function very carefully," they say. Their latest Objet is their fourth so far: Cosmic Table features a carbon-fiber base covered with calfskin and is topped with a beveled glass disc—an organic structure brought to fruition with the house's cutting-edge techniques.
Campana Brothers
The Brazilian design duo's name sings like a legendary band: The Beatles, the Ramones, the Campana Brothers. Their creative, colorful energy laughs off the notion of gravity. With mind-boggling forms and colors like theirs, it's no surprise that Fernando and Humberto Campana's works feature in the permanent collections of numerous museums, including the Museum of Modern Art and the Cooper Hewitt in New York. The Campana Brothers dove into Objets Nomades from day one and have so far designed five items, each available in multiple variants. They debuted Merengue at Design Miami 2021, a pouffe that, as the name suggests, is inspired by meringue. Their iconic Cocoon swing chair was relaunched in a new leopard variation based on the Louis Vuitton Pre-Fall 2021 Wild at Heart collection. The brothers were seemingly omnipresent this past year—an animation inspired by their sculptural object, Aguacate Multicolore, also lit up Louis Vuitton's women's store façade in Miami.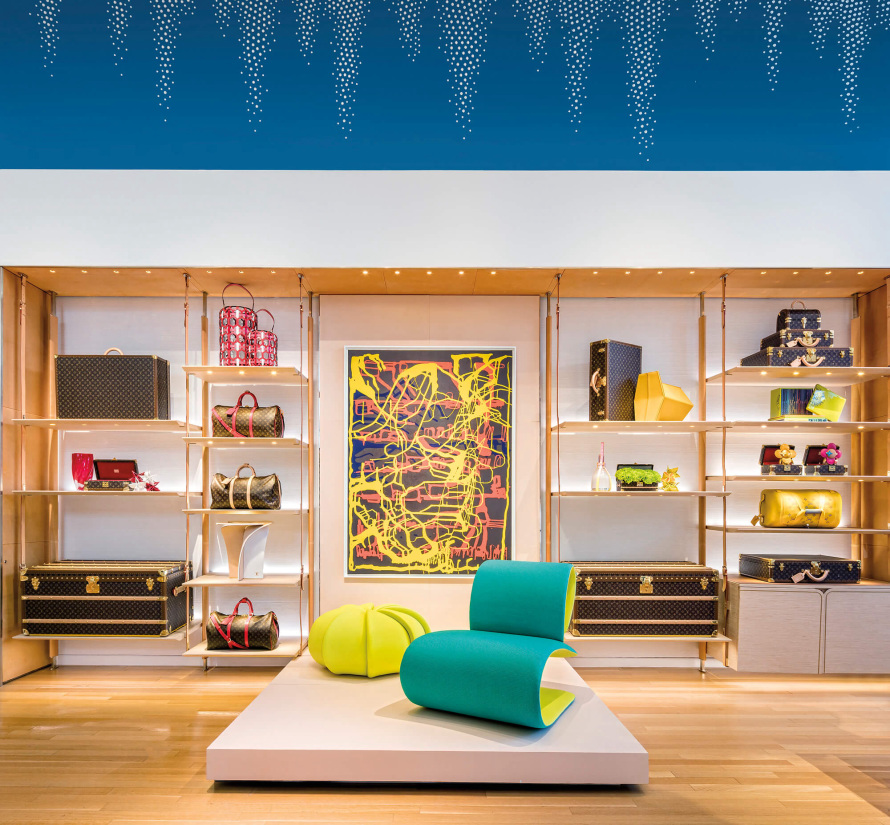 Frank Chou
In 2021, Beijing-based designer Frank Chou joined the growing roster of Objets Nomades designers, instantly making a grand entrance with his armchair and sofa designs. The collaboration seemingly went without a hitch, and Chou didn't need to sacrifice his vision at any point. "Louis Vuitton really encourages designers to keep their own spirit and character," he says. "We figured out how to combine our DNA with the brand as the project developed." The Signature Armchair and Sofa were inspired by the terraced fields in Yunnan, China and the Antelope Canyon in Arizona, and signal the very first time the Objets Nomades series sees an item designed specifically for the outdoors. "In bringing value to the concept, we found more possibilities with an outdoor piece," Chou explains. Ready for the wear of everyday, the seating set is equipped with Louis Vuitton's waterproof canvas and Brio rope yarn fabric by the Italian textile company Paola Lenti.