"Gringo go home!" is a recent refrain heard and seen written in graffiti around Puerto Rico's capital city of San Juan. If you're a mask-denier, spring breaker, cruise-goer or on the hunt to suck resources from a struggling economy to benefit your next capitalist venture, this probably refers to you. Years of relentless catastrophes (hurricanes, earthquakes, corruption, economic devastation) has stifled the local population while the pandemic threatens Puerto Rico's already fragile health care system. Luckily, high vaccination rates have prevented it from collapsing during the pandemic so far. So, if you're vaxxed, boosted, masked (and woke!), this refrain may not apply to you. Conscious travelers, welcome!
Despite the local challenges, culture in San Juan has thrived thanks to the boundless talent and the fiercely independent spirit of local artists, curators and cultural workers. 2015 saw a mini-boom of small galleries and artist-run spaces open (which, in full transparency, includes Embajada, a gallery cofounded by yours truly), a trend that has persisted in part thanks to a tight-knit art community, supportive local patrons, increased grant opportunities and a recent fervor for all things Latinx. Over the years, the neighborhood of Santurce—a 10-minute ride from Old San Juan—has developed into an arts district boasting galleries, alternative art spaces, artist studios, museums and endless murals.
The self-made spirit applies not only to the visual arts but to the hospitality and food sectors as well. Airbnbs abound but more importantly, an informal agricultural ecosystem of small local farms has developed. These projects such as ​​El Departamento de la Comida (the department of food), Puerto Rico's first multi-farm CSA, work to encourage food sovereignty and support a network of small restaurant projects by ambitious local chefs. Despite all, it's the creativity and will of its inhabitants that has kept this island city afloat.
Where to Stay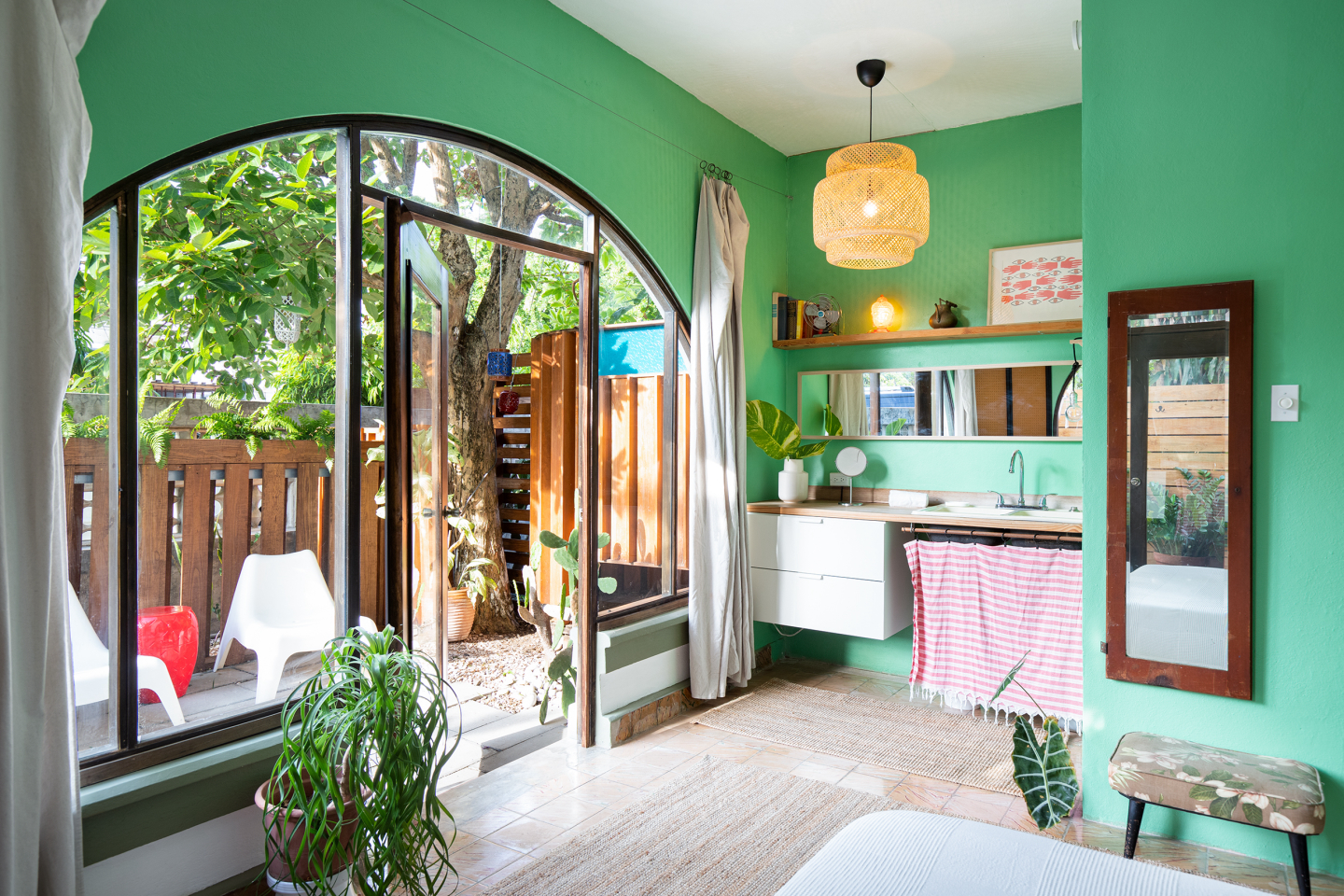 The Dreamcatcher
Located in the pristine neighborhood of Ocean Park, this beachfront boutique hotel is indeed a dreamy spot. Each room is individually designed with an eclectic mix of hand-selected art and design objects by local artists. Hammocks and outdoor showers are plentiful, imbuing the atmosphere with a sense of romance and relaxation while a locally sourced, vegetarian-only kitchen promises a healthy and tasty menu.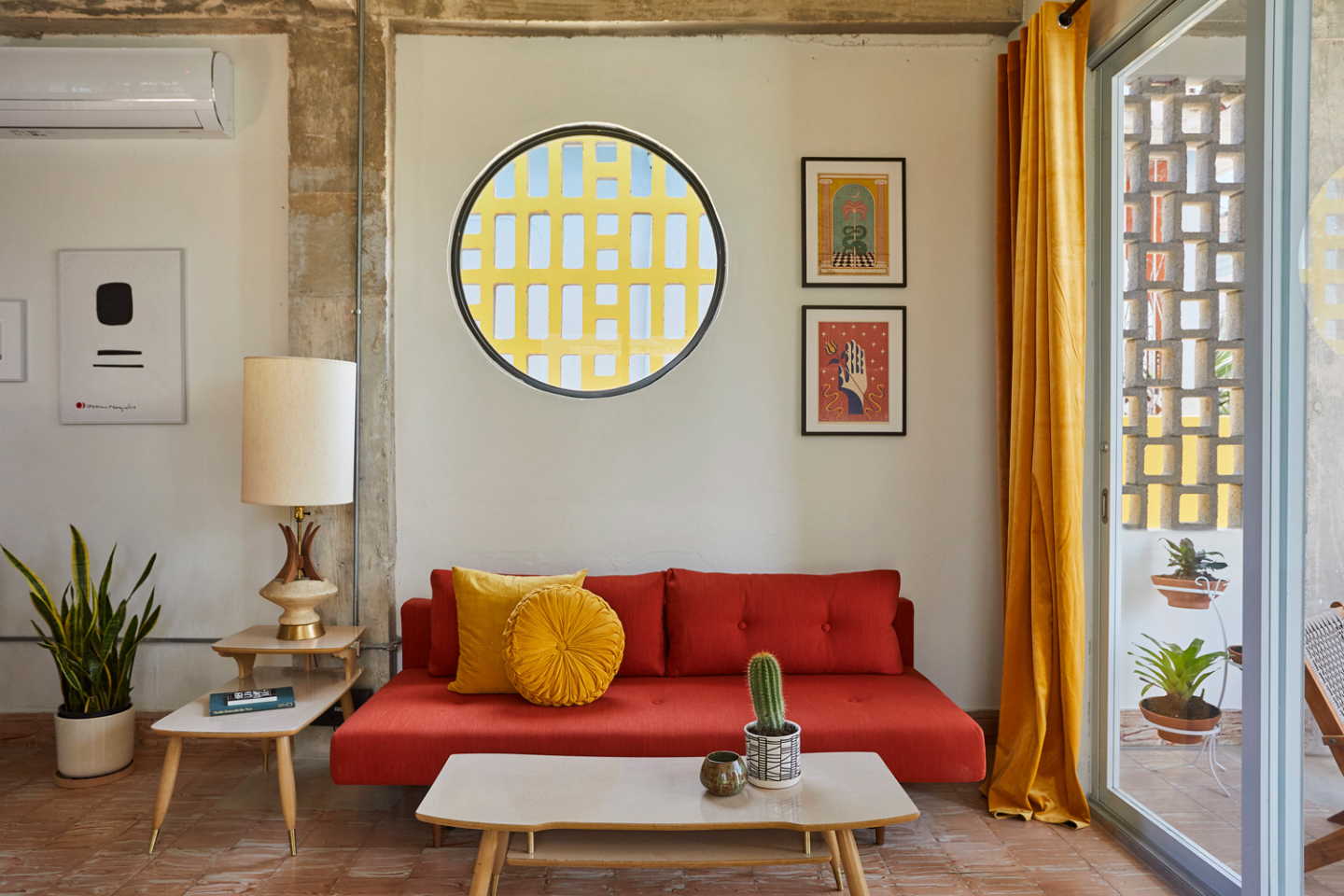 Dadajaja
For those on a budget but uncompromising when it comes to design, Dadajaja, and its sister property, Mood Haus, feature a small number of self–check-in properties also located in the beach accessible neighborhood of Ocean Park. Founded by the same owners of The Dreamcatcher, these properties are a bit further inland but still walkable from the beach and designed with a mix of vintage and modern furniture in a lofty industrial space.
Where to Eat
Azucena
Founded in 2018, Azucena features a delicious selection of Puerto Rican and Caribbean dishes and flavors elevated with molecular cuisine techniques. The kitchen serves as many local products as they can, approximately 70 percent of their menu. Vegetables are sourced from nearby farms, the fish of the day from the local fisherman and fresh tortillas made by a neighbor. The restaurant is decorated with its fragrant namesake lily, picked and sold daily by a beloved local purveyor who is immortalized in a painting hanging on the wall by contemporary artist Radamés "Juni" Figueroa.
Casita Blanca
Casita Blanca is one of the best local restaurants featuring traditional Puerto Rican cuisine that tastes like grandma's cooking and has the charm to match. Complimentary soup and cod fritters are offered upon sitting down at a table. The menu, written on a chalkboard, is shared by all and includes classic dishes such as stuffed avocados, mofongo and arroz mamposteao. For an authentic experience, this restaurant is not to be missed. A word of advice: make sure to check out their Facebook page to confirm hours of operation beforehand.
What to See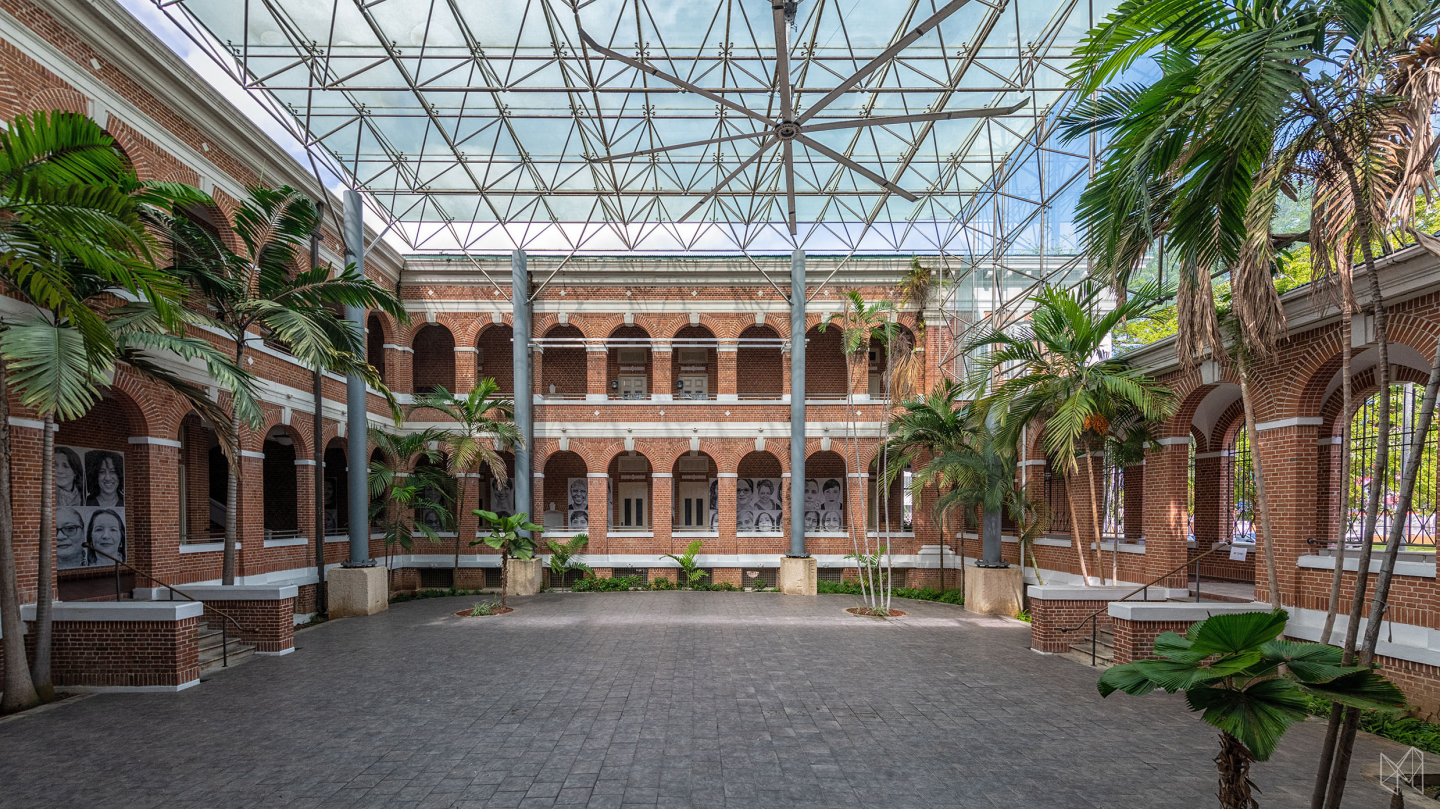 Museo de Arte Contemporáneo de Puerto Rico (MAC)
Since Marina Reyes Franco joined the MAC in 2019 as curator, the exhibition program has undergone a transformation, instigating a more rigorous and radical engagement, including the ambitious three-part project De Loíza a la Loíza (2019/2020) by artist and recent MacArthur Fellow Daniel Lind-Ramos and the interactive exhibition "La llave / la clave" (the key) by artist Tony Cruz Pabon in 2021. Founded in 1984, the two-floor museum is housed in an impressive building, formerly a public school, with a beautiful courtyard at its center where talks and performances take place. A recently commissioned mural by Argentinian artist Adriana Minoliti greets visitors while exhibitions by invited curators exploring Puerto Rican and Caribbean themes are currently on view. This spring, the MAC will launch an exhibition of works from their permanent collection, featuring new video art acquisitions and installations. Museum admission is only $5 and the galleries can be seen in under an hour.
Calle Cerra, including:
KM0.2, Calle Cerra (Pda.15) #619 Santurce, Puerto Rico 00907
El Lobi, 621 Cll Ernesto Cerra Local 1A, San Juan, 00907, Puerto Rico
Calle Cerra is a street located in the heart of the Santurce arts district. A graffiti art mecca featuring loads of murals, this bustling street includes restaurants, shops, cutting-edge contemporary art galleries and artist-run spaces such as Km0.2 and El Lobi, which exhibit work by top emerging Puerto Rican artists. Explore this street and the surrounding neighborhood by day and make sure to check out the bars and clubs that make up its lively nightlife.
What to Explore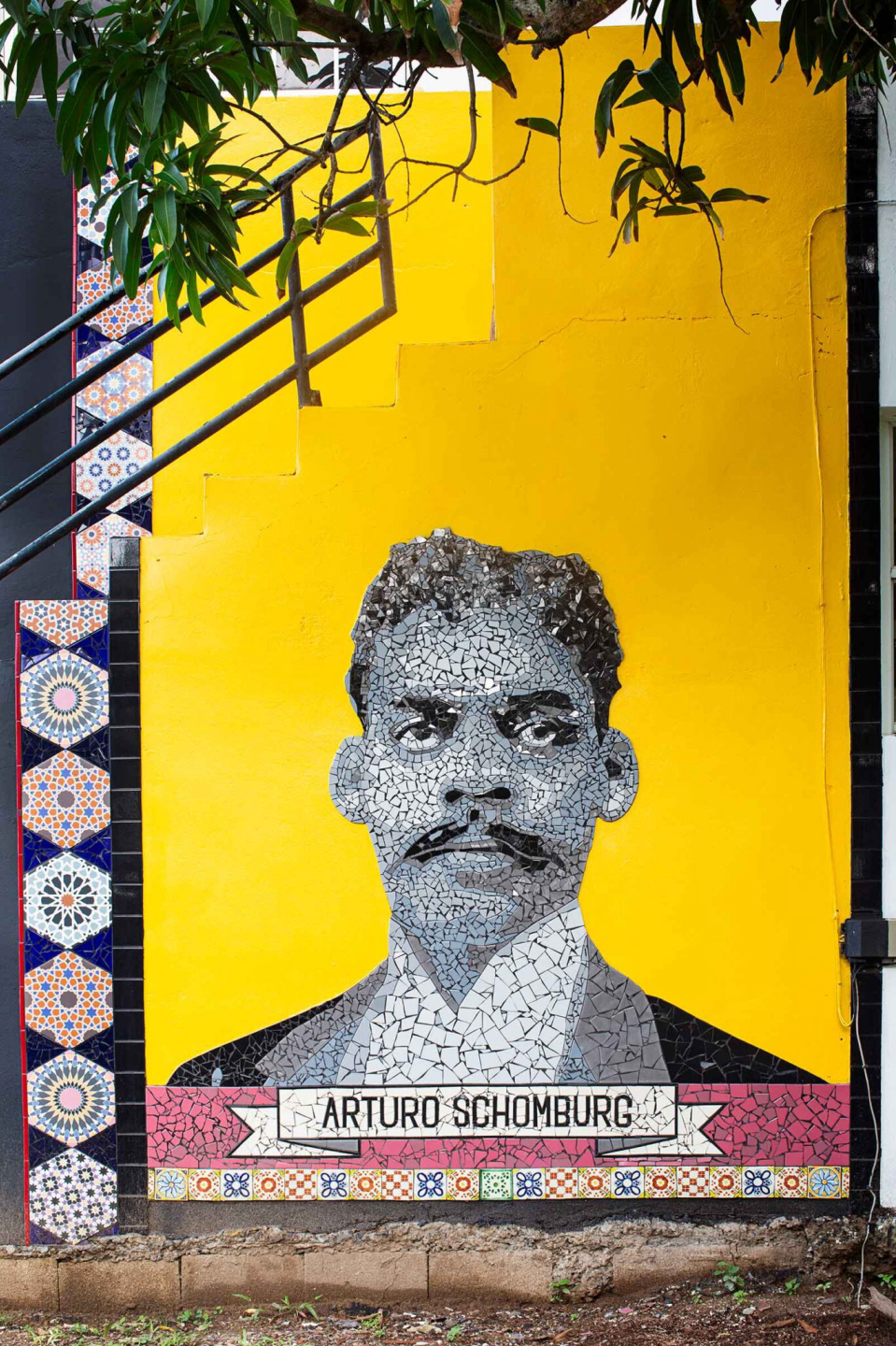 Casa Afro, Loíza
The cultural center and gallery Casa Afro is located in the municipality of Loíza, known for its African heritage and distinct for its Afro-Boricua culture and population. Just under an hour drive from the neighboring San Juan, Casa Afro looks to dismantle Eurocentricity in favor of promoting Afrocentric critical thinking and aesthetics, exhibiting Afro-Boricua artists such as Lind-Ramos or Las Nietas de Nonó. The program looks to connect and explore expressions of the African diaspora within America, hosting programs such as Mare Residency that invited Black artists whose practices are rooted in honoring Afro-diasporic legacies for a month-long residency. A permanent mosaic of the Puerto Rican-born Arturo Alfonso Schomburg who advocated for the study of African-diasporic culture adorns the art space's exterior, standing as
an emblem of the its mantra.
El Depósito, Caguas
A half-hour drive outside of San Juan is the vibrant city of Caguas of which El Depósito is a highlight not to miss. The space is founded and run by collector José Hernández Castrodad, a prominent businessman with a strong commitment to the development of local contemporary art. Castrodad, whose expansive art collection could be considered the largest and most in-depth collection of art by living Puerto Rican artists, founded El Deposito in 2020, dedicated to showcasing works from his collection as well as exhibitions by the local artists he supports. The space is open Monday to Saturday from 1 to 5 PM. DM @coleccionhernandezcastrodad on Instagram for directions and details.