"There's a notion in Western media that Middle Eastern women are victims that need to be rescued," says Iranian artist Arghavan Khosravi. "This is not the image of the Middle Eastern woman that I know. I want to make sure the people viewing my work see that as well."
On the heels of "Black Rain," her first museum solo show at Brandeis University's Rose Art Museum, Khosravi is already shifting her focus to two new presentations. The first, "True to Self," opened last Saturday at Rachel Uffner Gallery in New York, with the second eponymous exhibition premiering at the Newport Art Museum in Rhode Island on Nov. 18.
"True to Self" showcases her latest sculptures, including mixed-media wall-mounted pieces and larger-than-life freestanding figures that the artist treats like paintings, adorning their surfaces with stunning portraits of women. Centered on themes of agency, identity, and womanhood, the show reflects on the artist's own life and the collective experiences of oppression that women face in Iran and across the world.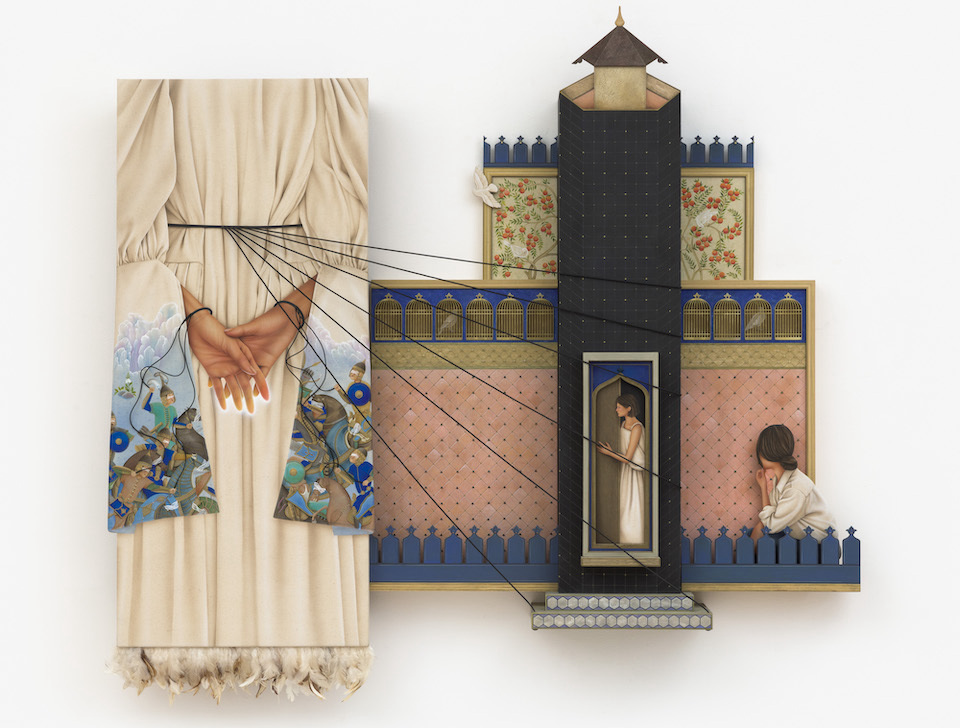 Women are the main protagonists in Khosravi's work. Though there are visual similarities, she doesn't intend them to be self-portraits. "What's more important are the experiences I imagine these women have gone through–misogyny, oppression–which happen around the world. I want my work to be relatable to all women who have experienced the same or similar things regardless of their backgrounds," she says.
In her wall-mounted sculptures, Khosravi draws inspiration from the flat perspective and iconography of Persian miniature paintings, including the architecture, floral motifs, and scenes of warriors on horseback. In The Battleground, 2022, a woman stands with her hands wrapped in black threads behind her back, the long ends dangling as if having just been cut, perhaps by the male warriors painted on her sleeves. Though partially freed, she remains connected by another thread to a tall tower where two other women are seen, a metaphor for the work still to be done as people around the world remain oppressed.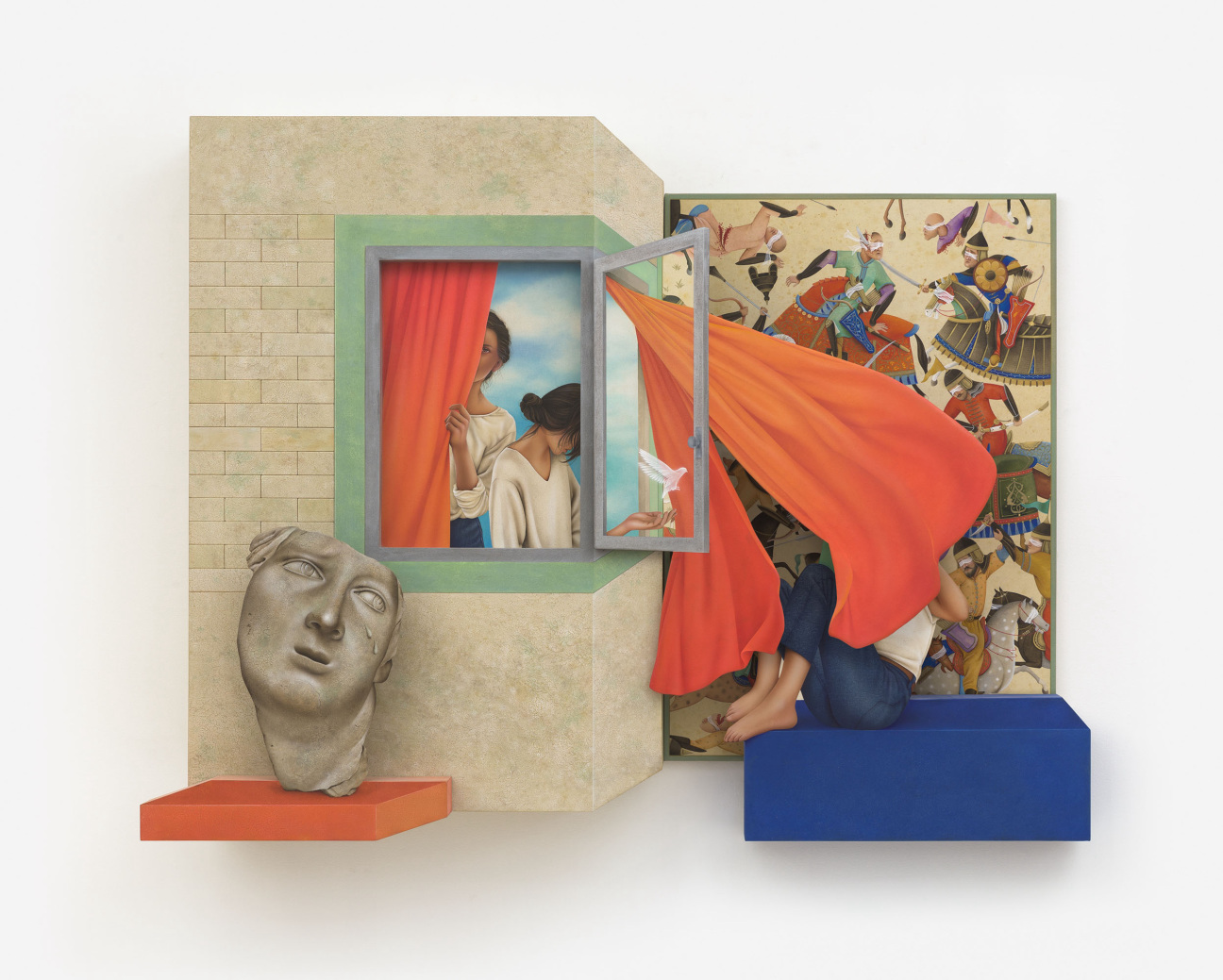 "I imagined this as part of a battlefield. Not a literal war, but the war between women and the patriarchy in Iran," she says. Throughout Khosravi's practice, juxtapositions appear among contrasting colors and materials, as well as in anachronistic details. She intentionally blends secular and religious iconography, showing her figures without traditional clothes, such as hijabs.
"These contradictions reflect the dual existence that women face everywhere, but even more so in Iran," she says. "For many Iranians, their lifestyle is at odds with the beliefs and laws the government imposes. We have to adhere to Islamic regulations in public, but in private we can have our freedom. In the last year, women have been defying these restrictions and fighting back," says Khosravi, referring to the rise of the Zan, Zendegi, Azadi (Woman, Life, Freedom) movement that arose in response to the murder of Mahsa Amini in September 2022.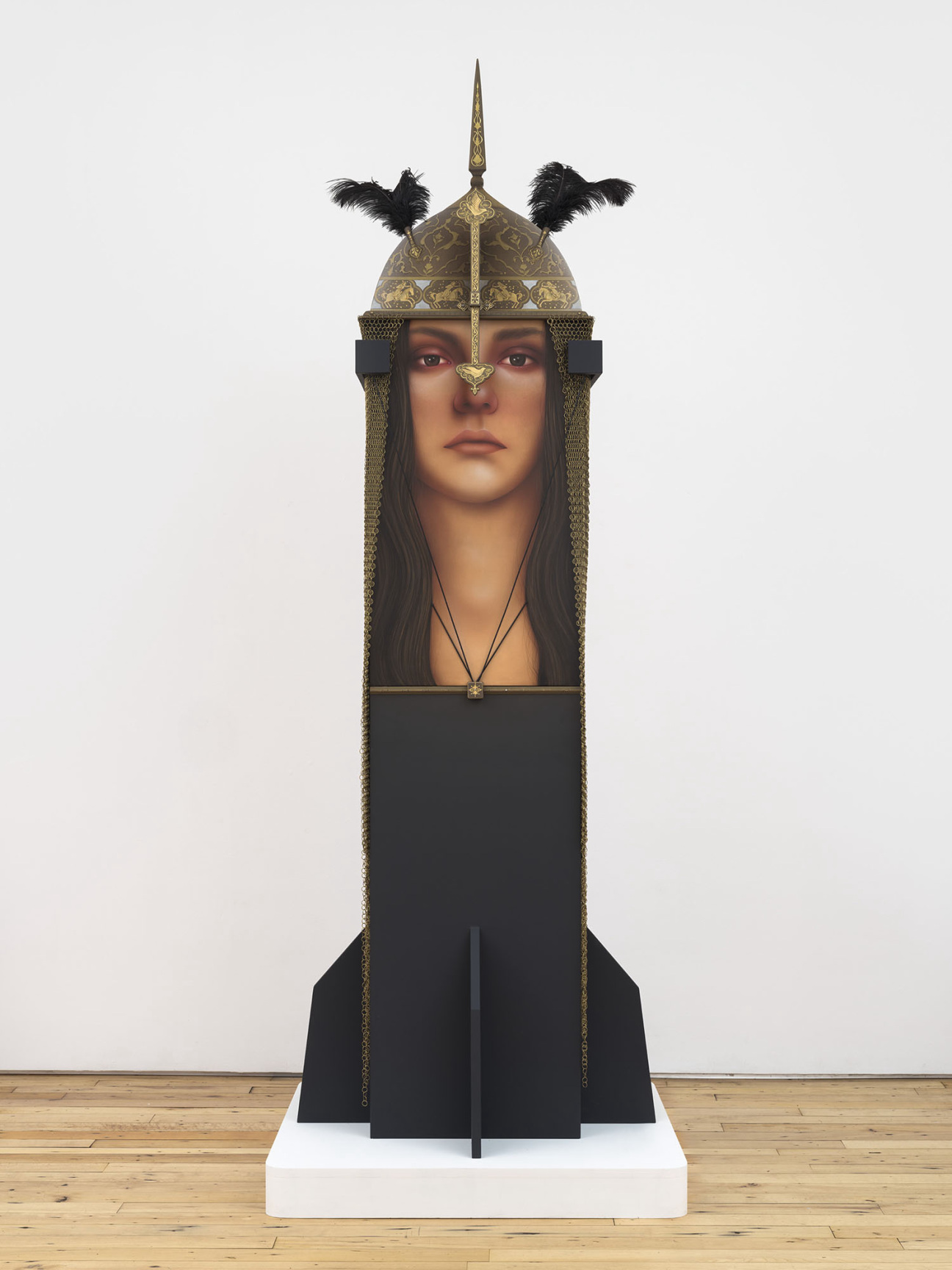 In the time since the movement began last year, the artist has been making freestanding, mixed-media sculptures using materials including wood, nails, feathers, and leather. The large-scale pieces take the male warriors seen in the artist's previous works and recasts them as women. In doing so, Khosravi endeavors to reframe how her subjects are understood by a Western audience.
Rather than depicting them as victims, Khosravi's women appear resolute and strong, bearing stalwart expressions. In The Warrior, 2023, the face of a woman stares directly at the viewer. Armed for battle, she wears a helmet and chainmail that hangs just above the floor. At nearly eight feet tall, her strength is palpable. "Iranian women have gone through decades of suppression," she says. "With the Woman, Life, Freedom movement, what is clear is that they have had enough. This is the message I aim to convey."
"True to Self" will be on view from November 11 to January 6, 2023 at Rachel Uffner Gallery in New York. "Arghavan Khosravi" will be on view from November 18, 2023 to May 5, 2024 at the Newport Art Museum in Rhode Island.