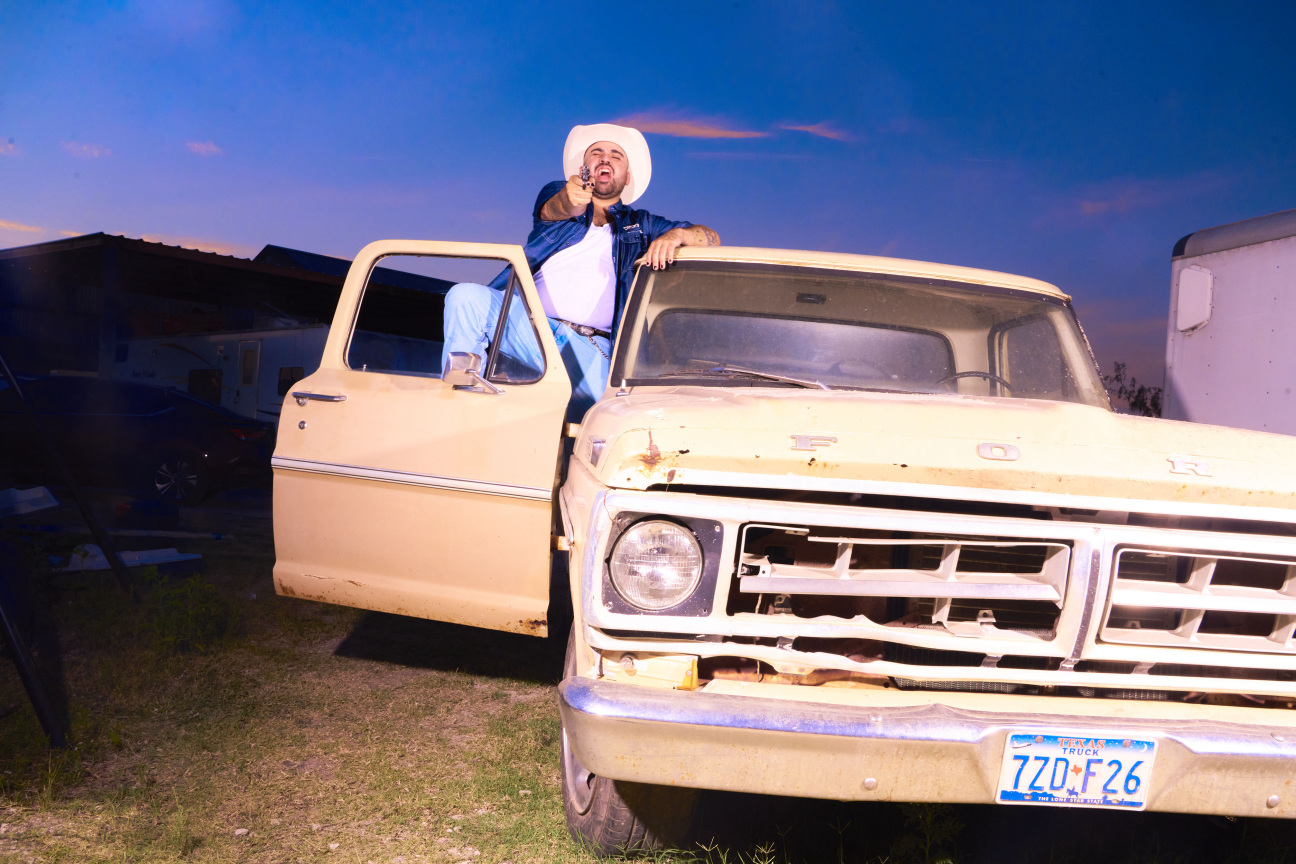 Among the Spring Breakers-esque photonovelas and live concert souvenirs that populate Alejandro Hernandez's Instagram, another protagonist emerges: his four-year-old daughter, Jupiter. There she is, dressed as Pikachu, Batgirl, or Yoda; riding horses; shopping at Hello Kitty Land; or picnicking in front of the Austin, Texas, skyline.
Like her father, Jupiter has her own camera (a Polaroid) and often accompanies Hernandez on his photographic excursions. "I want to show her that you can do whatever you want," he explains of the duo's preferred bonding activity. "This is all coming out of nowhere. I created this space myself."
Much of the self-taught photographer's success stems from the Instagram account he made for himself a few years ago under the moniker 512c0wb0y. His pseudonym—which he already had tattooed across his stomach—is a mash-up of the Austin area code and the Western aesthetic he's reclaiming, Tejano-style.
Hernandez, who still works full time at the Austin Parks Foundation, isn't shy about making sure his work gets seen—"I DM artists. I DM venues." The photographer stakes out the South by Southwest music festival annually, refining his concert photography skills and building a portfolio that includes Thundercat and PinkPantheress. In 2022, Hernandez's diligent outreach finally came back to him when Pussy Riot's team sent him a DM. "It was the first time someone out-of-state reached out to book me," he remembers.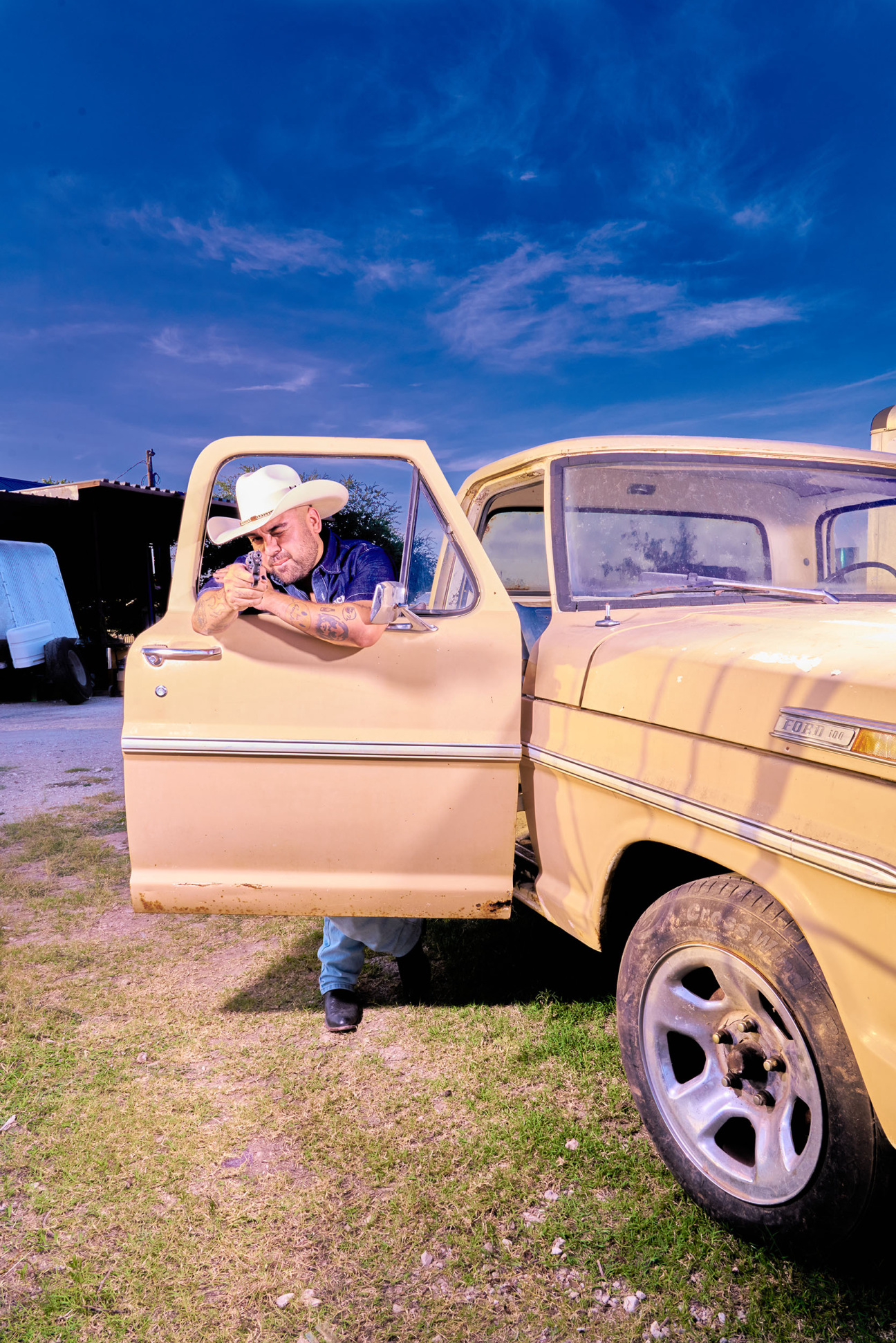 The journey began when Hernandez was at Texas State University studying sociology and business management. A friend gifted him an old camera and after fiddling with it for a while, he decided to put it to work, setting up backdrops at local events and shooting portraits for tips. Collaborations began to trickle in with local fashion brands and companies. Then, the photographer says, "I started having my own ideas."
A lightbulb moment occurred in 2021. He was listening to "Punk Planet" by Enjoy, the solo project of the Garden's Wyatt Shears. "I was like, Why don't I just take my punky friends and shoot around Austin? They look insane—black leather, big boots, barely any clothes on." Hernandez's signature aesthetic came together when he opened his aperture and turned the flash on. "We were just pulling up to places and shooting until we were yelled at and had to leave," he recalls.
While his process involves an authority-enforced time limit, Hernandez foments plans for his electric scenes over long periods, plucking references from '90s movies like Fear and Loathing in Las Vegas, psychobilly bands like the Cramps, rappers like Mike Jones, and the corrido music his father listens to.
For a recent shoot, inspired by Scarface and the Cramps's "Bikini Girls with Machine Guns," the photographer took a few prop guns and two bikini- and fishnet-clad friends from high school onto Lake Travis. A friend loaned him a boat and kept watch for cops who might mistake the guns as real.
In that moment, like in many of his shoots, Hernandez felt like a kid again. "I'm linking up with my friends, they look ridiculous," he says. "We dress up, and it feels freeing. We worked a 9-to-5 today, and now we're on a boat playing with a fake gun. There's no questions asked."
Want to meet more rising stars? See CULTURED's full list of 2023 Young Photographers here.