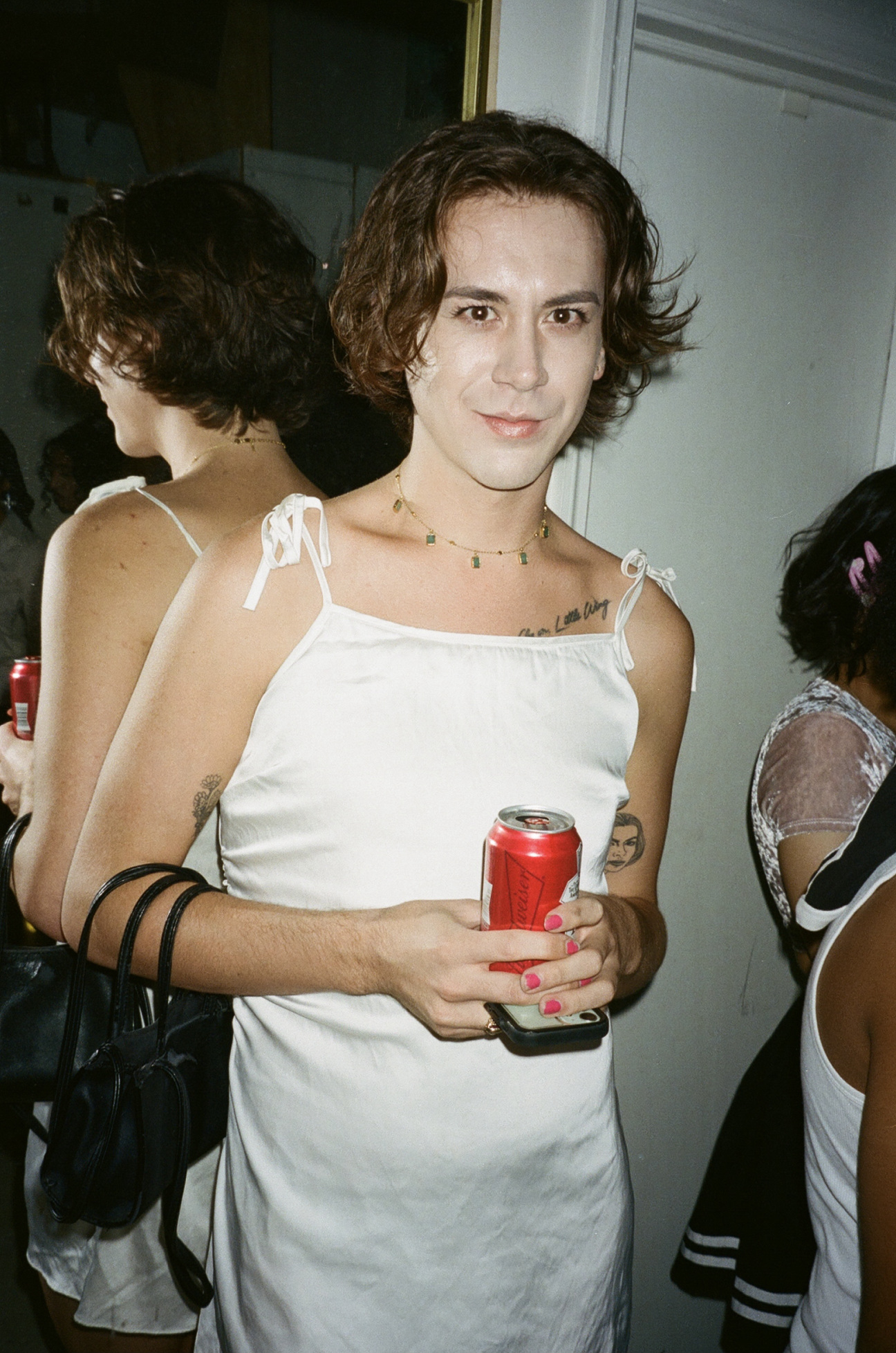 This is the Art of Living Well, a column from CULTURED that explores how tastemakers think about luxury: the luxuries that are free, the ones that cost way too much, and the little ones that punch above their weight.
If you are at the same party as Brock Colyar, you are probably doing something right. Colyar is the dynamic voice behind New York magazine's cult nightlife newsletter "are u coming?" (They also wrote that controversial profile of Sara Ramirez, who plays Che Diaz on HBO's Sex and the City reboot.) Anyone who parties as hard as Colyar also needs to put serious energy into rejuvenation and restoration. Below, the writer dishes on the moisturizer and croissants that bring them back to life after a long night out.
What product do you use every day that instantly improves your mood?
My weed pen, at the end of the night, when I need to turn off my brain and sink deep into my mattress.
What is a splurge you reserve for special occasions?
A really expensive cocktail at a fancy hotel bar. Hotels are so sexy to me. My favorite is Jacques Bar at the Lowell. Cheers to the painfully fabulous fellow Southerner Savannah Engel for taking me there on a messy "martini crawl" through the city last winter.
What's your favorite small luxury to give to someone else?
I know I stole this idea from someone but I can't remember who… It's this literal bucket of Maldon sea salt. It's a perfect housewarming gift and feels sort of fancy even though it's $15. (It also arrives quickly, from Amazon.) If I like the person more than a bucket of salt (and am comfortable with being around them semi-naked), then maybe a trip to Bathhouse in Williamsburg.
What do you do when you need to feel grounded?
I can't believe I'm admitting this, but as a Tennessee girl at heart, I love to go barefoot. I know New York streets are horrifically dirty, but I'm not afraid to step outside in the middle of the night and smoke a cigarette on the sidewalk in front of my apartment wearing no shoes. It makes me feel connected to the Earth (or, the generally pretty clean street in Greenpoint). Also, Stevie Nicks.
What is something you'd love for someone to buy for you, but would never buy for yourself?
A staycation in the penthouse with a terrace at the Bowery Hotel. 😉
What's your favorite smell?
Honeysuckle, which grew in my backyard as a kid. I'm allergic to them, so I also can't smell them for too long before I can't smell anything.
What's a luxurious ritual you inherited from someone in your life?
When I started painting my nails as a teenager, my parents were, thankfully, cool with it. But my mother can't stand it when they're chipped. If you're going to paint your nails, at least keep up with them. So, I always have a perfect manicure. I don't remember the last time I stepped out in public without my nails done. I feel naked without them. This summer, I'm all about making French tips less basic.
What's a generic that's just as good as the original?
I'd much rather buy a cheap Steve Madden dupe of a designer shoe than the real thing. This city destroys all of my shoes. Paying big money for them in New York feels like a waste.
What is the best thing you've put on your face recently?
I'm not a skincare nerd by any means, but I'm addicted to Sunday Riley's C.E.O. Glow products––both the moisturizer and the face oil. I really do feel like they brighten my complexion. There's turmeric in them: I don't know what it's for, but it makes my face smell like a spice market, in the best possible way.
What is your favorite luxury that costs less than $20?
The $8 "twice-baked" pistachio croissants at Radio Bakery in Greenpoint.
What's a wellness ritual you think is overrated?
Face masks. I don't get it. There is nothing relaxing about putting a slime sheet on my face and being unable to smoke, drink, or eat for even 10 minutes. Although I do love that "blood mask" from the Ordinary. It burns. I feel like I've worked for my skin when I use it.
What is the most luxurious thing in your life that's free?
Gossip!
For other tips on how to live well, see our interviews with designer Aurora James and actor Jemima Kirke.