A few years ago, "the boys are rolling" was just a chant heard in the halls of New York's Calhoun School, where brothers Miles and Arno Sugarman met Crosby Spagnoli. The trio began collaborating on beats, and now some of the biggest names in hip hop — Joey Bada$$, J.I.D, Ice Spice, and 070 Shake—are calling on the producers to bring their music to life. Here, they share how a music theory class led to their creative partnership.
CULTURED: How did Boys Are Rolling come to be?
Miles Sugarman: I took a music theory class with Crosby Spagnoli in high school. As I was getting closer with him, I realized he was making beats on his computer. At the time, I knew no one else our age doing that besides my brother, Arno, so I had to introduce them. They hit it off so quickly, and Boys Are Rolling started a few months later.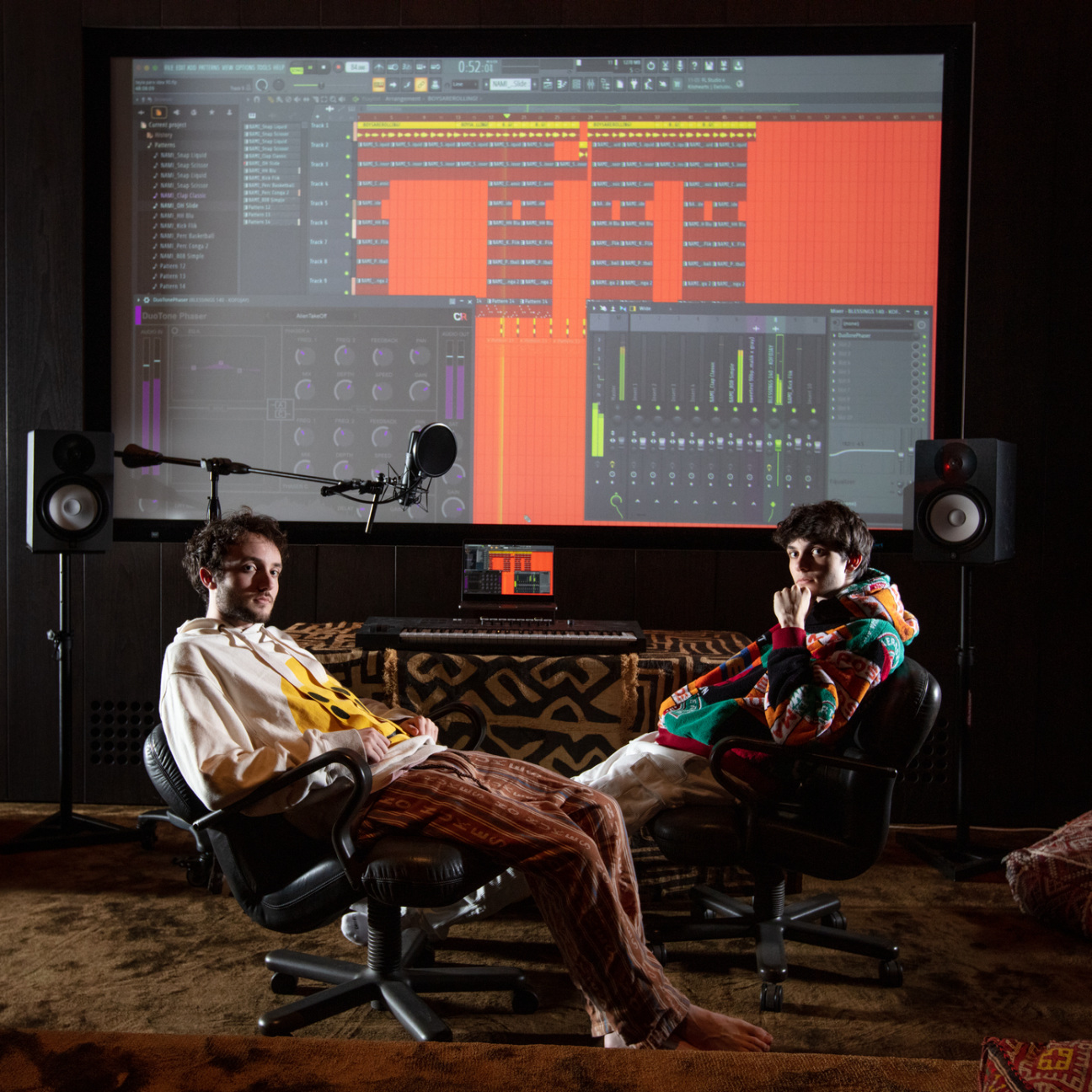 CULTURED: What does the name mean?
Miles: Crosby played hockey for a bunch of years, and it was a term you would say to pump up the team. He would just say "the boys are rolling" all the time. At one point everyone in our high school was saying it.
CULTURED: I like to steer away from genre, but it does help to situate music. What genres and artists influence your sound?
Miles: We grew up listening to many different types of music, whether it was our parents playing Jimi Hendrix, the Beatles, Red Hot Chili Peppers, 50 Cent, Biggie [Smalls], jazz records. Music never was just one genre.
Arno Sugarman: What really got me into producing was 808 Mafia's early work with artists like Future and Young Thug.
CULTURED: How does your upbringing influence the musical cultures you gravitated toward?
Arno: We have so much pride for our city—the three of us were born and raised in Manhattan—so we want to tie New York into as much of what we are doing as possible.
CULTURED: Tell us about your production process.
Miles: If I want to describe it to a friend or parent, I say, "Everything that isn't the vocal from the artist is what the producer does." It's the instrumentation that doesn't have to do with vocals.
CULTURED: Describe the interplay between music and fashion—I see you each share a lot of "drippy" posts.
Miles: Music and fashion go hand in hand. It's a complete picture. When people walk through the door of our studio, I love to see what they're wearing. It's an open door into who this person is in a way they probably couldn't describe themselves, at least not as easily. Fashion can speak a thousand words.
CULTURED: How do you build a song?
Miles: When we have an artist over, we love to get to know them for the first hour. We'll ask them what they've been listening to recently, go through their playlists, and have them plug into the speakers. Sometimes that just brings
out inspiration that the artist didn't even know they were looking for.
Arno: The creation of songs really varies from artist to artist. Many of the trap acts we work with like to come to the studio and hear beats we've been working on for them and select from that batch to record on. Usually, once the recording is done, aside from a few minor tweaks in post-recording, the song is pretty much complete. On more long-term projects, like the upcoming Joey Bada$$ album, many of those records start out the same way, but much more editing happens in post-recording.
CULTURED: Who is in your music community?
Arno: It all started when we turned my bedroom into a real recording studio. We worked with a few innovative artists making waves in the revitalized SoundCloud scene, and word spread in the underground about the unique
vibe we were creating. That opened the door to work with many talented artists who have also become friends.