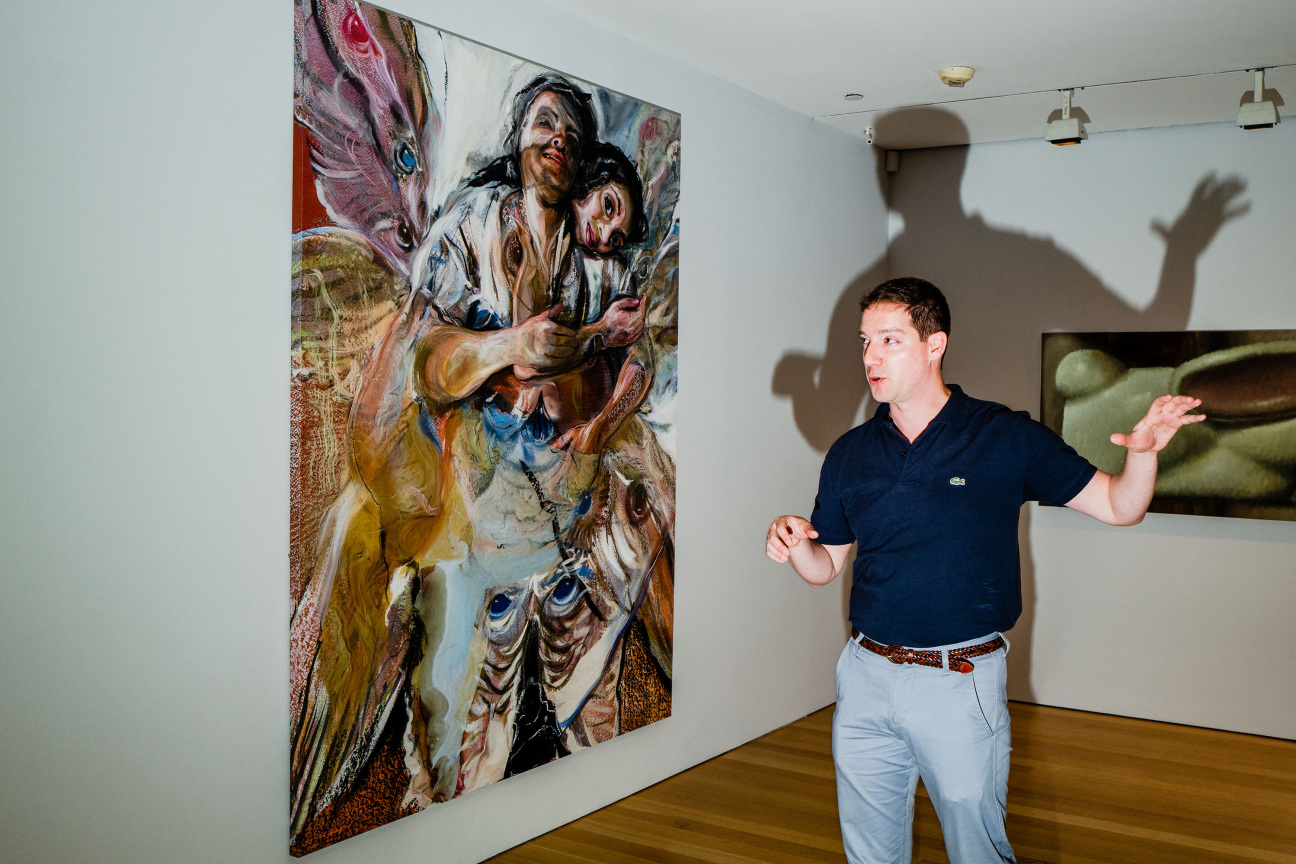 Last Friday, CULTURED partnered with Mastercard™ for a priceless™ experience at the Flag Art Foundation in the gallery-lined Manhattan neighborhood of Chelsea. Guests arrived to take a private tour of the foundation's current exhibitions—which include works by some of the most sought-after contemporary artists working today—led by Director Jonathan Rider. First up was a focused presentation of a single work: Lauren Halsey's portal hoppin hood poppin, 2023.
The sculptural wall piece is an intimate collection of photographs and other materials immortalizing the artist's community in South Central Los Angeles, including pop culture touchpoints (think Funkadelic and Lionel Richie) and altar-like tributes to deceased friends and family. The work gives viewers the chance to see an intimate side of Halsey, who also created the buzzed-about architectural installation now on view on the roof of the Metropolitan Museum of Art. In an accompanying text by historian Robin D.G. Kelley, Halsey describes the piece at Flag as "a very non-linear description of time and space centered around my inherited family and us being in this neighborhood together on 106th Street [in South Central LA]."
Next, the tour traveled through the first floor exhibition, Somaya Critchlow: Paintings and Drawings. The collection of more than 30 works comprises the young British artist's first institutional solo exhibition in the United States. Her depictions of women draw from pop culture, her own photographs, and life studies. "Critchlow's figures are forceful entities, often alive in their pleasure and the pleasure of being looked at, first by Critchlow, and perhaps another pair of eyes in that corner over there," the writer Hilton Als explained in an essay accompanying the exhibition. Around a bend hung the only self-portrait in the show, a postcard-sized depiction of the artist from the neck up.
Upstairs, Rider took visitors through a show titled In New York, Thinking of You, named after a Girl In Red song called "hornylovesickmess," which opens with the line "I'm in New York, thinking of you." On view is a collection of never-before-exhibited artworks by more than two dozen female-identifying and nonbinary artists inspired by the lyrics of the song. Cecily Brown, Anna Park, Anna Weyant, Issy Wood, Natalie Frank, and more made appearances.
Once guests had the chance to take in each piece, they were invited to discuss them over wine and small bites. Those needing a moment off their feet could recline on two benches made by artist Finnegan Shannon, one of which read, "I'd like to linger here. Sit if you agree." For those in attendance, it was a welcome invitation.