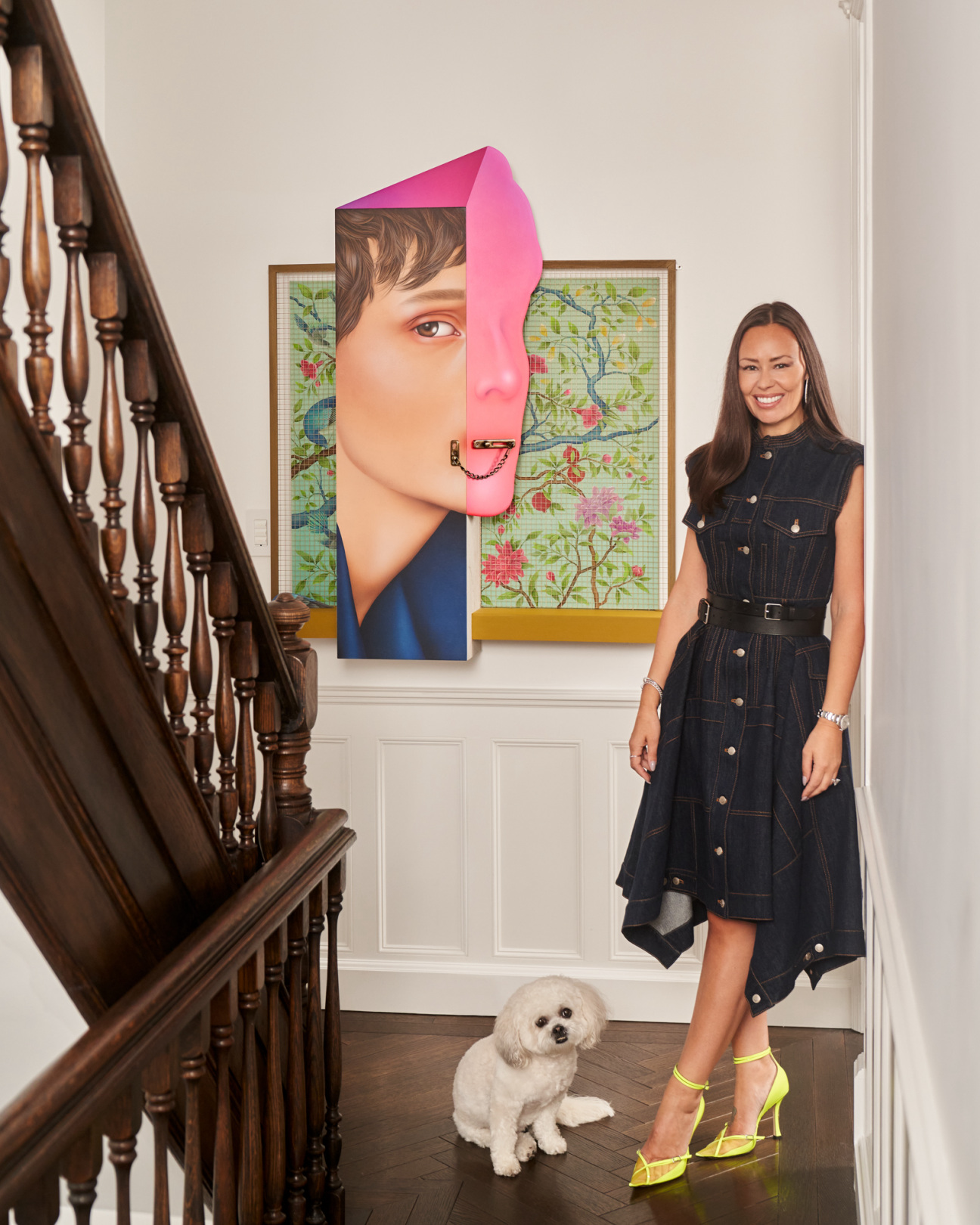 CULTURED: What do you think makes the New York art scene distinct?
Gillian Dubin: In New York, there is an abundance of museums, street art, galleries, and artists that reflect so many different cultures, ideas, and perspectives. I find it overwhelming to keep up with every aspect of it—so I don't. I have found my own avenue, which is following what intrigues me. I think that's what makes the New York art scene so unique. Once you open your eyes to it, you realize how influential and inspiring it is.
CULTURED: Where does the story of your personal collection begin?
Dubin: I really began collecting when I was designing interiors. I needed to complete the atmosphere of the finished interiors with appropriate art. When you have put so much effort into how it will look and feel, you want something that will complement and help define the space. So I began visiting studios and learning about all sorts of different artists. It was impossible not to fall in love with the creativity and emotion that pours into the works.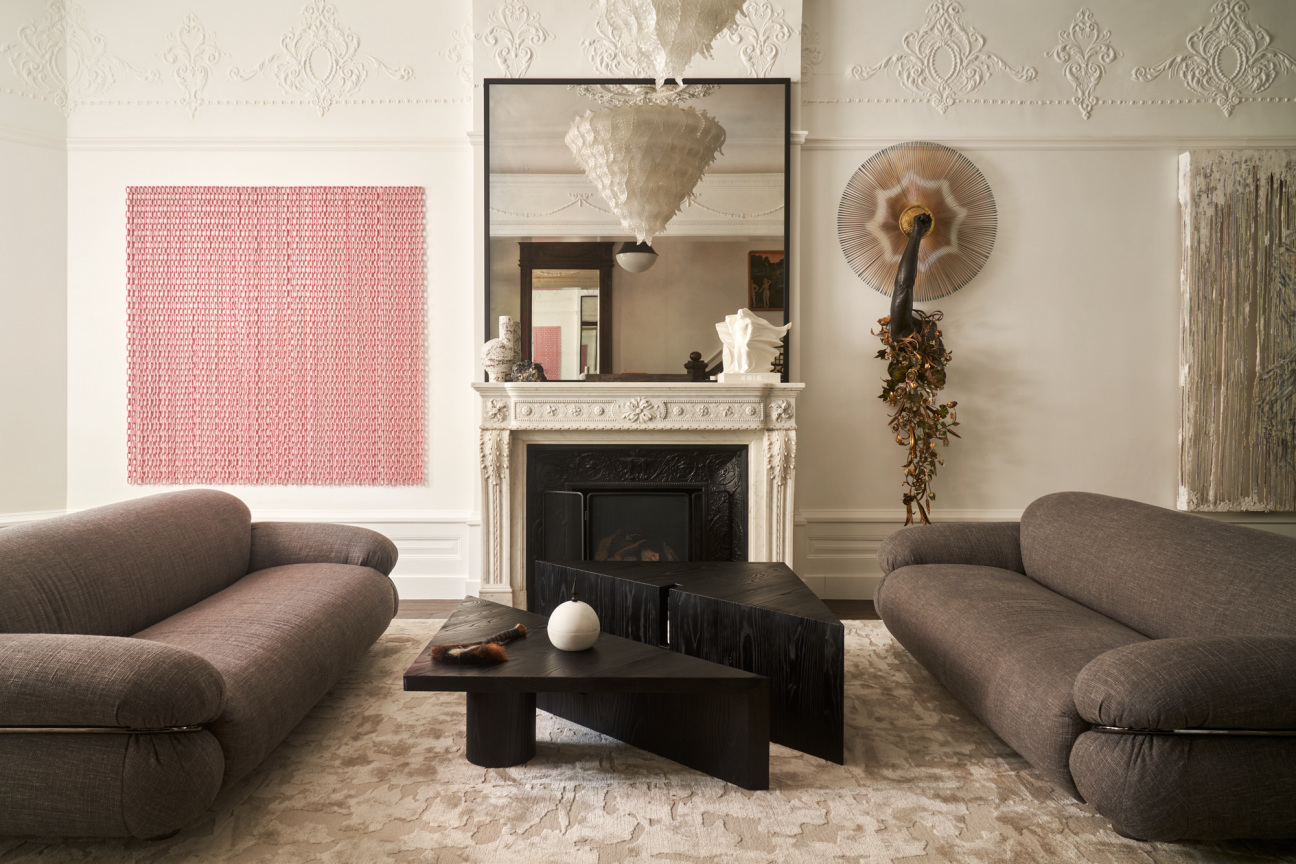 CULTURED: What the first piece you ever bought?
Dubin: Davina Semo's Block, 2019, which is [made of] pink galvanized chains. It was perfect for my first piece. It's still everything I love, and tend to seek. The pairing of soft and hard, feminine and masculine—it's multidimensional, yet quiet and calm. It creates a significant impact while somehow remaining understated.
CULTURED: Which work provokes the most conversation from visitors?
Dubin: Most people seem drawn to Diana Al-Hadid's Dreams of Zoe. It is soft in color, imposing in size, and delicate but edgy because of the negative space. First, people are struck by its beauty. Then, upon a closer look, curiosity sets in regarding how she created it.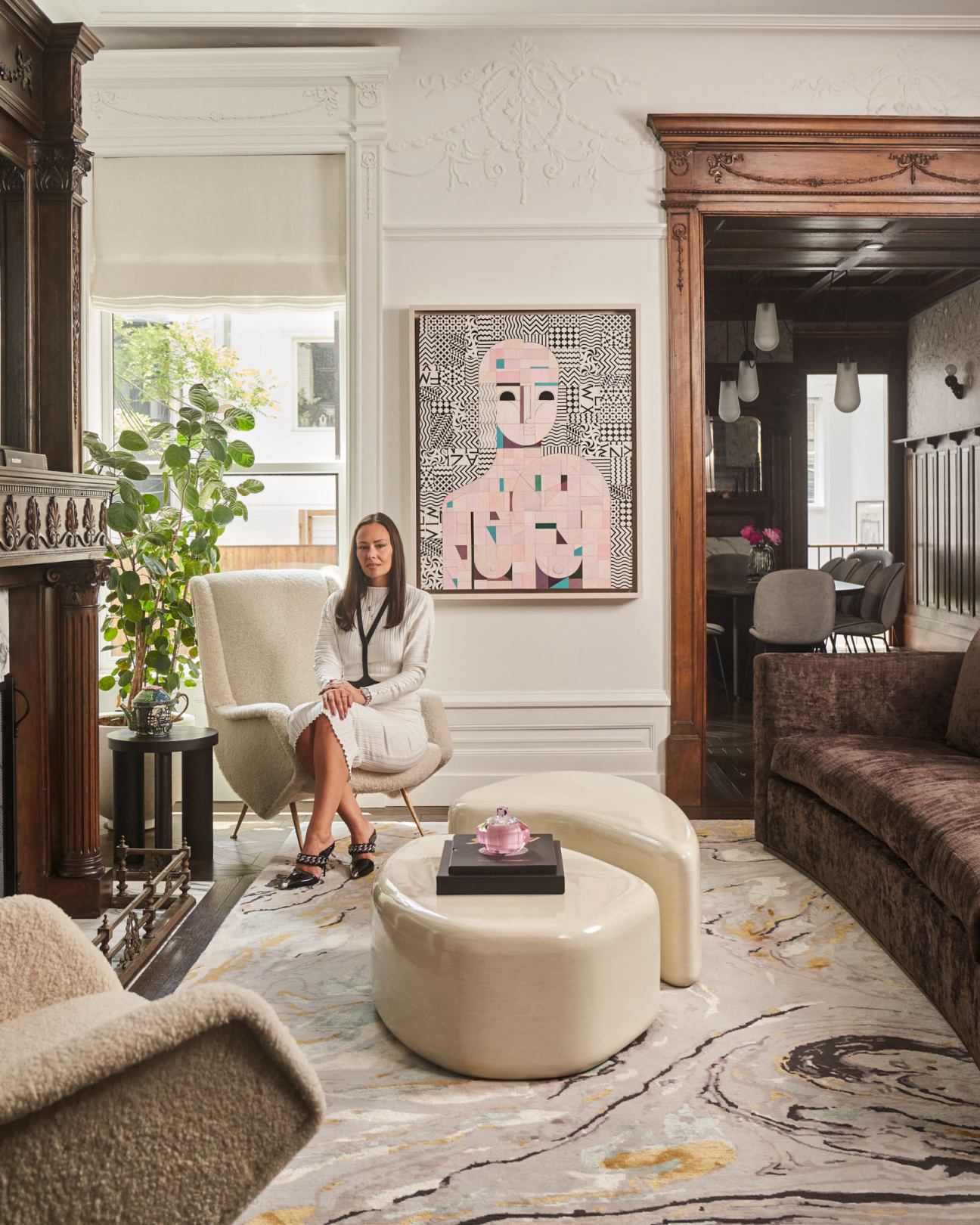 CULTURED: Which artist are you currently most excited about and why?
Dubin: I'm always so excited to see Arghavan Khosravi's new work. Everything she does blows me away. I'm really into the unlikely combination of the unexpected, the dimensions, and the vibrant color palette she employs. The way she marries her fine art with hard, unexpected materials, like a lock and chain or a cage, is so creative. Her work is very thought-provoking.
CULTURED: What factors do you consider when expanding your collection?
Dubin: I impress my personal style and emotions with the way I collect. All my pieces have a dialogue with each other. Even though I didn't create them, I connect with every piece. It's almost vulnerable because collecting is so personal, and then you display that connection publicly.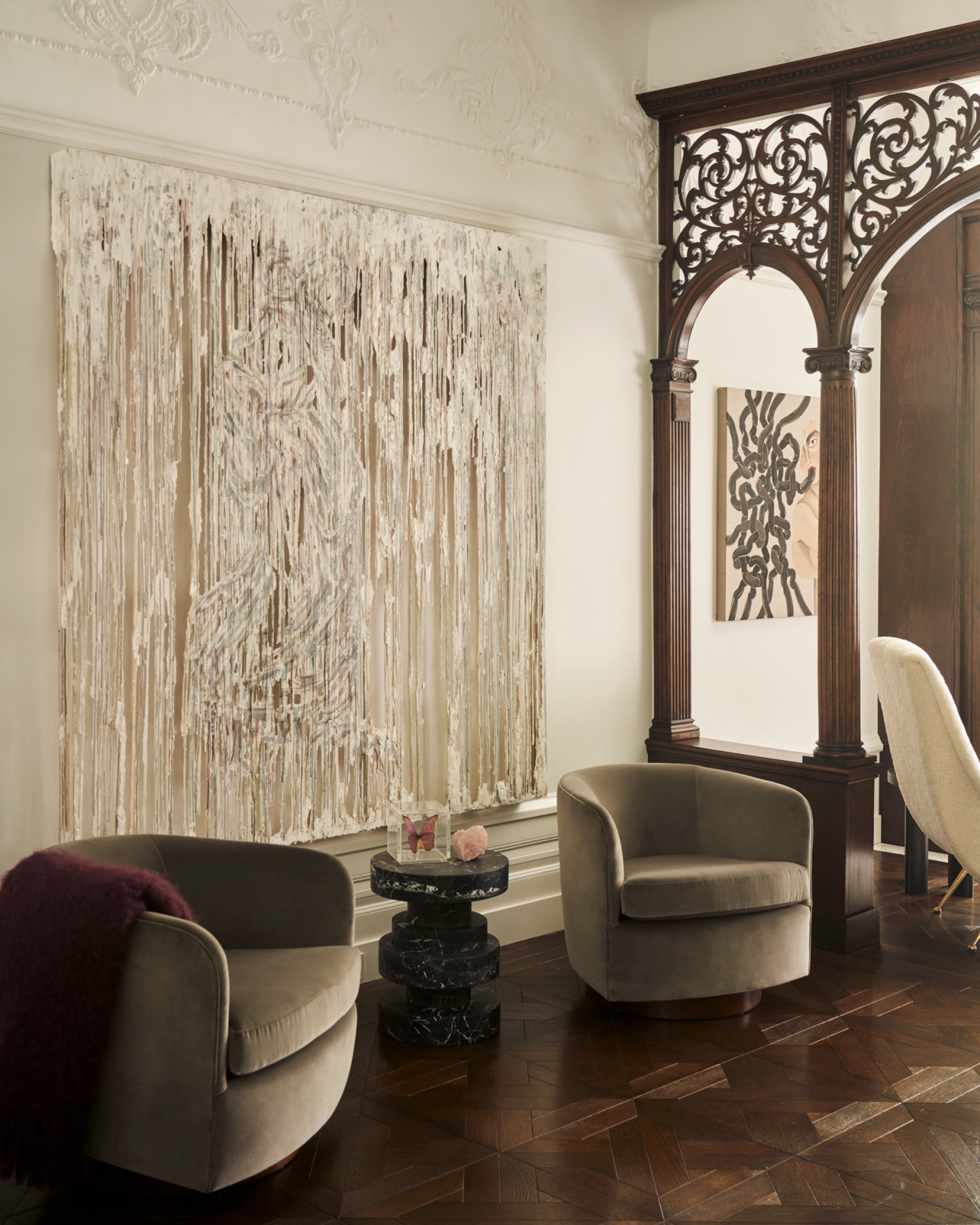 CULTURED: What was the most challenging piece in your personal collection to acquire?
Dubin: Nick Cave's Arm Peace. None were available, but I was told they were in production. My husband is a civil rights attorney; we really wanted one because the piece truly spoke to us. It was my first purchase from Jack Shainman, and they didn't know me. I emailed the gallery often. I wanted to make sure I wasn't going to miss the opportunity to get one. When they were finally due to come in, I had a few people reach out to other contacts at the gallery to secure my request. Thankfully, I got in and had the first choice out of four pieces. It felt like a massive victory after a yearlong pursuit!
CULTURED: Is there one piece that got away, or that you still think about?
Dubin: A Kennedy Yanko, from her latest show. I had the opportunity to own a stunning piece that was perfect for me. But it wasn't good timing, and I wasn't sure where I would put it, so I passed. I wanted to be able to enjoy it. That was a loss I know I'll remember.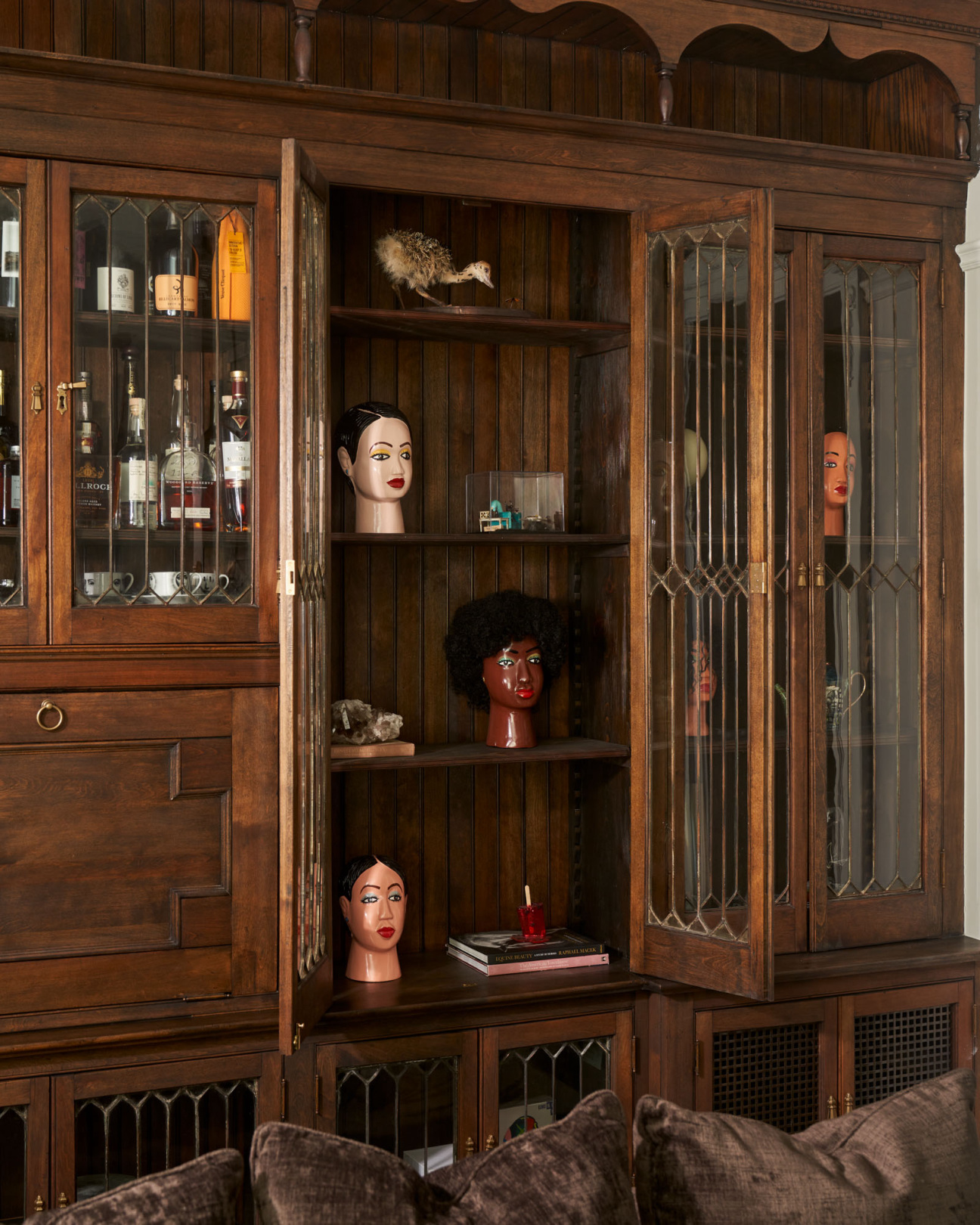 CULTURED: How does working as a designer affect the way you approach collecting?
Dubin: As an interior designer, I believe art should fit in the environment. I don't mean simply accenting the interior, but rather, providing a contrast and relationship that brings the whole space to life. Without the right art, the spaces can feel flat. And the same for the art—some interior designs don't support a particular piece.
I've had clients with lively art that required toned down interiors to create the right pairing, making both experiences sing. Alternatively, some clients have put so much trust in me with the interiors they need guidance to start collecting appropriately for the house and them personally. After working with clients to build interiors, you end up with a very personal relationship. You have a sense of what will make them excited and what will work in their environment. To me, art will always finish the space, but it is challenging. It takes time, and you can never rush to find those magical pieces that just "belong" in their homes.